Almost Identical to the NordicTrack Commercial 2450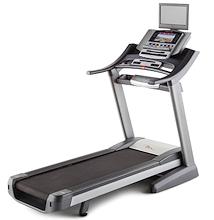 The Free Motion 790 treadmill is built by Icon Fitness, which also builds NordicTrack and ProForm treadmills.  Actually Icon Fitness sells treadmills through numerous brand names and often the treadmill under one brand name is almost identical to another model under a different brand name.  This strategy allows Icon to offer exclusivity to different retailers.
In the case of the FreeMotion 790 treadmill, you will find that it is almost a clone of the NordicTrack Commercial 2450 treadmill.  A very popular model that has received very positive customer reviews.  Both models are designed to both entertain and motivate as you exercise.  And both models are the most feature rich treadmills that you will find on the market.
This model has been permanently discontinued.  We recommend you instead check out the FreeMotion 1500 GS.

It should also be noted that the FreeMotion 790 treadmill received a "Recommended Buy" from a prestigious consumer magazine.  They gave it an "Excellent" rating for ergonomics and exercise range.
The FreeMotion 790 Treadmill Features
Entertainment and Motivational Features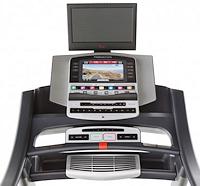 15" HDTV – Probably the single most popular diversion while walking or running in place is watching TV.  On the FreeMotion 790 treadmill HDTV located exactly at eye level above the console.  This saves you the expense of buying a TV for your workout area and mounting it in a optimally perfect place for viewing.
10" Android Browser Display – You get a full color, touch screen display that not only gives a visually rewarding display of your stats, but also allows you to access the Internet as you workout.  With the NordicTrack Commercial 2450 you get a 7" display.
iFit Live Technology – iFit Live is an optional feature on the FreeMotion 790 Treadmill.  With iFit Live you can create customized workouts based on your fitness goals.  The workouts cover several weeks and are progressive.  They include audio coaching from professional fitness trainers like Jillian Michaels.
In addition, you can trace routes on Google Maps and your FreeMotion 790 treadmill will simulate the terrain by adjusting the incline.  You can watch your progress with your Android browser on Google Maps.
All your stats are downloaded to your iFit.com personal account, allowing you to monitor your progress towards your fitness goals.
One last feature is regularly sponsored races where you compete with other subscribers of iFit Live.
2 HD Video Workouts – There are two videos included that simulate running through Hawaii.  Similar to the iFit Live feature, as you run the video keeps up with your pace and simulates the terrain with the incline feature.  There is audio coaching and feedback on interesting sites along the way.
Speakers and MP3 Input – Speakers are fairly standard on treadmills these days.  However, Icon install above average quality speakers.
FreeMotion 790 Treadmill Specs
4.2 Continuous Duty HP Motor – Unless you are a marathon runner that weighs 300 lbs, this motor will be more than adequate to handle your workouts.
20" x 60" Treadbelt – This is a fairly standard size at this price range and can handle the long strides of runners.
Ability to Decline -3% – Not only can you incline the treadmill to simulate running up hills and mountains, you can also decline the deck to simulate going downhill.  This also allows you to target different lower body muscles.
Warranty – The FreeMotion 790 Treadmill is backed by a Lifetime Frame and Motor Warranty, 5-Year Parts Warranty and a 2-Year Labor Warranty.
Final Thoughts on the FreeMotion 790 Treadmill
As I mention in my NordicTrack Commercial 2450 review, the FreeMotion 790 treadmill is not only built to handle the abuse of runners, but it is also designed to entertain and motivate as you run in place.  Both treadmills are the most innovative treadmills available.  Icon Fitness realized that a significant number of treadmill customers abandon their machines because of boredom and lack of motivation.  I personally find working out on a treadmill requires some type of distraction.  Well the FreeMotion 790 treadmill has an array of distractions that will make running in place more appealing.  And it has the endorsement of a very prestigious consumer magazine, whose name I cannot mention.