ProForm Pro 2000 Treadmill Review
| | |
| --- | --- |
| Brand: | ProForm |
| Expert Rating: | |
The ProForm Pro 2000 Treadmill is ON SALE!
Rated "Best Buy" by Leading Consumer Magazine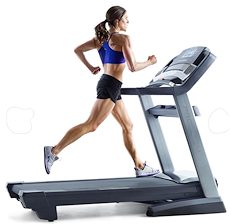 The best selling ProForm Pro 2000 treadmill is built by Icon Fitness, which also builds NordicTrack treadmills. It's a great machine loaded with features, yet sells for a relatively low price. When we tested the ProForm Pro 2000 treadmill at the Icon headquarters in Logan, UT, we were impressed with not only the leading edge technology, but also on the overall performance. This machine screams "Value".
The company excels in giving you the best value for your money. In fact, in their recent ratings a leading consumer magazine gave the ProForm Pro 2000 a "Best Buy" rating. It was rated "Excellent" for ergonomics and exercise range, which is impressive.
In this line you can also get the ProForm Pro 9000 with a 22″ Smart HD Touchscreen.
The ProForm Pro 2000 is priced at $1,799. 0% financing is available for up to 39 months. Free shipping.
The ProForm Pro 2000 is designed for walkers, joggers and runners, although we would suggest that fanatical runners consider upgrading to the Pro 9000 model with their stronger motors. You will find that when selling for $1,299, the Pro 2000 generally will out specs the competition in regards to the major components. It also is iFit Ready, which offers some very innovative features designed to motivate you to achieve your fitness goals.
In particular, we like the fact that you can incline and decline the ProForm Pro 2000 deck from -3% to 12%, giving you the sensation that you are running up and down hills. It also offers the benefit of targeting additional lower body muscles.
What's Up with the NEW Pro 2000 vs the Original Pro 2000?
In 2018, ProForm decided to add a new and "improved" version of the Pro 2000 with some update features. For this new version, it now comes with a 30 day iFit membership trial, 10″ HD Touchscreen, and their new ReBound Pro™ Cushioning.
ProForm Pro 2000 Treadmill Features
3.25 Continuous Duty HP Motor — ProForm designs their motors to run cooler and to use less energy than the competition. This is a decent motor, however if you are going to be jogging or running frequently, we would suggest upgrading to the Pro 9000.
10″ HD Touchscreen – This display will allow you to monitor your fitness stats while you're exercising. It also lets you view your iFit programming. A very nice feature to have on this machine.
Bluetooth®3 Audio Capabilities with Dual 2" Speakers – ProForm is known for having some of the highest quality speakers on the market. So, crank up your tunes – plug in your favorite device and get moving!
Declines and Inclines — The ProForm Pro 2000 treadmill has a deck that both inclines to heart racing 12% and declines to 3%. This allows you to simulate running up and down hills, and lets you target additional lower body muscles.
20″ x 60″ Running Surface — When we were out to visit the company they made it a point to tell us that the 60″ is the actual running surface. They mentioned that other companies advertising a 60″ treadbelt may have a running surface as much as 4″ shorter because part of the belt is covered by shrouds. This is an excellent length for speed and interval training.
iFit Ready — iFit allows for 2-way communication between your ProForm Pro 2000 treadmill and the Internet. This is how it works: You create a profile and define your fitness goals on iFit.com. Through your Wi-Fi connection, iFit will download personalized workouts programs that cover an eight week duration. They are designed and led by world-class trainers. You can access workouts from iFit's library of on-demand workouts, or join a class and take advantage of live interactive training. Your stats are recorded in real time and are downloaded to your iFit.com account, allowing you to track your progress. There are also a series of training routines for 5K, 10K, and marathon races. Here are some more benefits of iFit: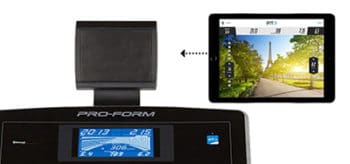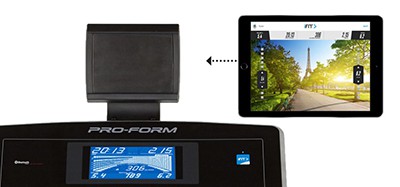 Sync with Google Maps: In addition, through Google Maps, you can simulate exercising on trails and roadways throughout the world. With the use of a smart device that you can place on the console, you can define a route on Google Maps, and your treadmill will simulate the terrain by adjusting the incline or decline. In addition, you can see a street, satellite, or earth view as you run the route. There is also a library of existing routes through famous city-scapes or national parks. We tried it when we were at their corporate headquarters and were able to virtually run down our local streets 2000 miles away.
Things to Know about iFit on the Pro 2000: The main downer for this program is that iFit does require an additional subscription cost. Fitness tracking programs from some of the competition offer similar features for free. This machine is listed as iFit Ready. This means the Bluetooth capability is already built into the machine. The ProForm Pro 2000 comes with a 30 day FREE membership so you can try out the iFit features before paying a subscription fee.
Service Coverage — The ProForm Pro 2000 comes 10-year frame, 2-year parts, and 1-year labor warranty.
ReBound Pro™ Cushioning — This is the newest cushioning technology that ProForm has to offer. This technology will reduce impact to your joints so your knees, ankles, feet and hips will experience less stress during your workout.
Check out our Comparison Chart of all ProForm Treadmill models here.
Our Review — ProForm Pro 2000 Treadmill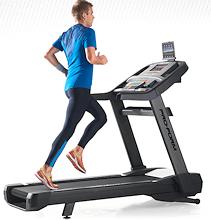 If you have read some of our other ProForm and NordicTrack treadmill reviews, you will find them repetitious because many of the components and features are similar.  However, the overriding theme on most of these reviews is that fact that both brands offer you some of the best value for your money.  For the price, you are getting some impressive components.  In addition, you get a decent sound system, iFit compatibility, and the ability to decline the deck.  It is all covered with a generous warranty.
Our only suggestion is this – if you are a fanatical runner you will probably want to upgrade to a treadmill in the $2,000+ range. The ProForm Pro 9000 is a good choice. That said, for your typical treadmill user the ProForm Pro 2000 is an excellent choice, and apparently a leading consumer magazine, whose name we cannot mention, agrees.
Go to www.proform.com/treadmills to learn more.