Having worked in the treadmill industry for over 10 years I know alot about the brands and their reputations.  I know what companies offer good value and quality products,and which ones are selling you a mechanical nightmare.
I was the former V.P. of marketing for a fitness equipment company, and I understand how the business works and who are the players.
I make it my job to keep up with the latest developments and product releases.  For example, I was just out at the corporate offices of Icon Fitness, builders of ProForm, Weslo, Image, NordicTrack, Reebok and Epic treadmills.  If you want the most up-to-date information on treadmills and how they rate, check out my site at Treadmill Ratings & Reviews.
Buy Smart and You Will Buy Right!
Buying a treadmill is by no means a simple process. There are countless models that range in price from a couple of hundred dollars to $5,000, and consequently the quality can vary dramatically.
When purchasing a treadmill it is very important you find a model that is geared towards your usage, like walking, jogging or running. In addition, you want a machine that can handle your height and weight. Other factors to consider are motivational programming features and whether they are important to you in reaching your fitness goals.
Below I discuss the different components that make up a treadmill. This treadmill buyer's guide is designed to make you an informed consumer, and to help you overcome some of the confusion you may have encountered in your pursuit of a healthy lifestyle.
Treadmill Motor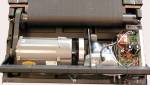 A treadmill motor is one of the most significant components to consider when buying a treadmill. It is what drives the treadbelt. Depending on the quality and power, it can make the difference between a smooth running machine and a loud noisy treadmill that struggles to perform. For example, the NordicTrack Commercial 2450 comes with a 4.0 continuous duty HP motor. This powerhouse will accommodate serious runners, and will run effortlessly at higher speeds and steep inclines. In comparison the ProForm 590T comes with a 2.25 HP motor, which is better suited for walkers. However, with very cheap treadmills you can end up with a 1.5 continuous duty HP motor, which generally has insufficient power.
---
Click here for our Treadmill Best Buy recommendations.
---
When comparing treadmill motors you want to go by the horsepower of the continuous duty, not peak horsepower. Peak horsepower is the maximum horsepower a treadmill motor can reach. Continuous-duty horsepower is a measure of sustained power during regular use. The continuous motor power is what is consistently delivered during heavy usage, over an extended period of time.
Since peak horsepower is usually significantly higher than a motor's continuous capability, continuous horsepower better helps you determine which treadmill will accommodate your intended exercise use. Generally speaking, the larger the motor the more powerful it can operate at a continuous rate. Although some quality motors may have a lower continuous duty HP rating, and yet be better.
Continuous duty is the standard in comparing horsepower. Unfortunately there is no official standard rating and often treadmill manufacturers will exaggerate the actual continuous duty horsepower. Regardless, the continuous duty horsepower rating will give you some guideline.
An indication of the quality of the motor will often be reflected by the extent of the warranty. A 90-day warranty will suggest lack of quality. However, you will find most treadmills in excess of $800 come with a lifetime warranty.
We suggest the following guide for continuous duty horsepower when selecting a treadmill. If you are over 200 lbs you may want to add .5 hp to the motor level:
| | |
| --- | --- |
| Walking | 2.0 Continuous Duty HP + |
| Jogging | 2.5 Continuous Duty HP + |
| Running | 3.0 Continuous Duty HP + |
Belt/Deck Size
Belts vary in length, depending on whether the unit is geared more for walkers/joggers or runners. Belt widths range from 16″ to 22″, while lengths vary from about 45″ to 62″. In most cases you want to stay away from 16″ belts. They are extremely narrow and offer very little room to move. For walking, an 18″ belt is adequate, but 20″ is preferable. If you are going to jog or run you definitely want a 20″ belt. There are also several manufacturers that offer 22″ wide belts. (See NordicTrack Commercial 1750 & Sole F85.)
We recommend the following guideline for treadmill belt and deck lengths. For walking 50″-54″ is adequate, depending on your height. If you plan to jog we suggest at least 54″. If you are tall or a runner with long strides, you should be looking at a 58″+ belt.
Note: Many manufacturers measure the length by the length of the treadbelt. That is not a true measurement, since often part of the belt is covered by plastic shrouds.
In the past a treadmill with a 60″ long belt would often cost a minimum $2,000. Icon Fitness, which manufactures NordicTrack and ProForm, is now offering treadmills with 60″ belts for as little as $1,000.
Treadbelt
With a treadbelt, you want low noise and high performance. You also want a minimum 2-ply belt for long wear and sufficient cushioning.
Quality treadmills will have belts that are pre-lubricated/waxed to provide minimal maintenance (if any). Expect up to 25,000 miles of service by simply keeping the unit clean (free of dirt). This lubrication/wax system is a special blend of high-pressure synthetic compounds.
The design and make-up of a treadbelt is a science onto itself. What is important is you want a belt that will provide extended wear and comfort. Once again, warranties on the belts are an indication. Any warranty less than a year would suggest potential problems in the future.
It is important to keep your treadbelt clean. Occasional vacuuming is recommended. Dirt, dust, dog hair, etc., can get into the machinery and cause problems.
Shock Absorption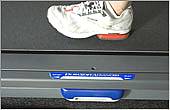 Most treadmills have an elastometer design. They use rubber grommets that look like marshmallow to absorb the shock. You want a treadmill that sufficiently reduces the shock of your impact without overcompensating. Runners may prefer a stiffer impact, which is what you will find on the Sole Treadmills.
A variation of the elastometer design, is the diving board design. You have larger rubber grommets in the front part of the deck, which absorb the impact, however there are smaller grommets towards the rear of the deck. That is because you want a stable, solid liftoff at the rear.
NordicTrack and ProForm shock absorption is slightly different. It acts like a suspension system on a car. There are external springs and internally there is a elastometer.  With every step you take the deck relieves that impact and propels you to your next step.  So there is not only impact absorption, but energy return.
With some low end models you will have the deck actually angle outward with the strike of your foot, and consequently your foot is twisting, which causes stress and strain.
Console Controls and Displays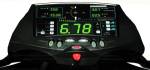 Computer panel displays are either LCD (Liquid Crystal Display) OR LED (Light Emitting Diode). The displays come in all shapes and sizes. Many cheaper treadmills have LCD displays that are not backlit, and they can be difficult to read in a low light environment. LCD displays usually have one window that shows multiple readouts, while many consoles with LED displays will have multiple windows.
Most treadmills have some sort of computer programming, ranging from a simple odometer and speedometer to preprogrammed workouts and storage capabilities. Computer controls can provide feedback such as speed, distance, heart rate, pace, calories burned, laps taken, time elapsed, incline and more (depending on the particular treadmill).
Keeping track of your progress can motivate you to increase the intensity of your workout and attain new goals.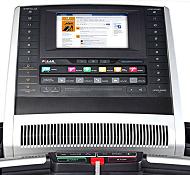 NordicTrack and ProForm are offering several models with a full color Google Android browser display. They are like tablets and they allow you to access the Internet as you workout. They also allow you to visually enjoy the full potential of iFit Live, which I describe below. Several models that have this display are the NordicTrack Commercial 1750, Commercial 2450 and the Commercial 2950. It should be noted that the Commercial 2450 also comes with an HDTV.
Installed Exercise Programs
Just about all treadmills come with a selection of pre-installed exercise programs. These programs control the speed and incline of the machine, and simulate various challenges like hill climbing and interval training. Having a variety of exercise workouts can break up the monotony of walking or running in place.
Usually inexpensive treadmills will include several basic programs. The more costly models will have a wider selection that will focus on fitness goals like weight loss, cardio burn or distance training.
In addition, some treadmills have user defined programs where you can create your own customized workout. The advantage of user defined programs is you can create a challenging workout and use it as a benchmark to go beyond. You compete against yourself.
iFit Live
A couple of years ago iFit Live was introduced on both NordicTrack and ProForm treadmills. This technology allows your treadmill to communicate with the Internet through wi-fi. There are several interesting features. First, you can go to iFit.com and define your fitness goals and a personalized 8-week training program will be downloaded onto your treadmill. It includes audio coaching. After every workout your stats are downloaded to your iFit Live account so you can track your progress.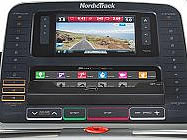 In addition, through Google Maps you can trace a route anywhere in the world and iFit Live will simulate the terrain by adjusting the incline. If you have one of their treadmills with the Google Android browser you can get a street, satellite or earth view of your progress. If you have one of their LCD models you can place a laptop, smartphone or tablet on the console for the Google Maps views. There is also a library of predetermined routes through famous city landscapes and trails in National Parks.
In conjunction to the Google Maps feature, NordicTrack sponsors races, where you can watch your progress in comparison to the leader and the pack. Their last race drew 2,500 participants.
Heart Rate Monitor and Control
There are a variety of heart rate options available on treadmills. The basic is heart rate monitoring, where you grip sensors to get a read-out of your heart rate.
There is also heart rate control, where either through holding the sensors or with a wireless chest strap, the intensity of your workout is controlled by your heart rate. This allows you to keep your workout within a preset zone. Most treadmills maintain your heart rate zone by adjusting the incline. Although some also have the option of allowing the speed to adjust the rate.
The treadmill determines a pre-set maximum target heart rate based upon the users sex, height, weight and age, or the user can adjust it to whatever maximum target workout rate they want. (This should be subject to the user's physical condition and determined after consulting with a physician.)
Note: The wireless heart rate control usually gives you a more exact reading of your heart rate.
Rollers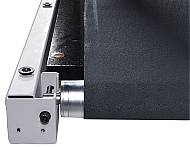 A major component in providing no hesitation walking/running and long treadbelt life is the roller system. In design, there is no substitute for size. Basically the larger the roller the better. That is why commercial treadmills are equipped with very large rollers..
The Benefits of Large Rollers…
Treadbelts can run with less tension. Less tension results in longer life to both the belt and roller bearings. This is because the larger roller diameter has more area to "grip" the belt (traction) and prevent slippage.
Large rollers turn more slowly at all speeds. This obviously reduces wear to the bearings. For example, treadmills with 2.5″ rollers run up to 43% slower then smaller rollers.
Small rollers mean small bearings. Large bearings in rollers mean large load capacity, up to 40% more! This adds longer life.
The treadbelt doesn't have to bend as sharp as it is forced over larger rollers. Support fibers (polyester) in the belt will last longer by staying cooler and not flexing as much. The more flex, the more heat, especially on a very tight belt (necessary to prevent slippage) with units using small rollers.
Larger rollers have more surface mass to absorb treadmill belt heat. Treadbelts can run hot! The cooler they operate, the better. The backing lasts longer, the splice is stronger and the PVC top coat doesn't "migrate" (bleed through) to the deck (causing friction).
Better precision bearing alignment is maintained. Because with large roller size, you also get much more strength. Larger axles (bigger bearings) are also stronger to minimize flexing between the mounting points of the roller.
You'll find that most of the Sole Treadmills come equipped with 2.75″ rollers, while a couple of NordicTrack treadmills have 3″ rollers.
Warranties
The warranty reflects the quality of a treadmill. A 90-parts and service warranty suggests a machine that lacks durability. A warranty that covers the parts and labor for a number of years implies a low maintenance machine. Over the last few years warranties have generally increased. In fact Sole, NordicTrack, Smooth, Yowza and Livestrong all have models with lifetime motor, 5-year parts and 2-year labor coverage. Smooth Fitness also has two models with lifetime parts warranties.
Company Reputation
No treadmill buyer's guide would be complete without mentioning the importance of the reputation of the company. Only purchase from a business that is known for both the quality of their products and their commitment to customer satisfaction. We strongly recommend that you do your research before you buy. It will pay off in the "long run".
Additional Treadmill Articles:
Treadmill Warranties – What to Consider
What to Consider in a Folding Treadmill