In this post we're revealing our number 1 pick for best treadmill under $1500. But first we'll define this price point and what you can expect from the treadmills you'll find here—so you can decide if this is the right price range for you to find the best treadmill for your body and budget.
The "Under $1500" Price point – up close and personal
When we're discussing treadmills under $1500, in this post, we're referring to a category that includes treadmills priced between $1000 and $1500. 
In this price range you'll have a wide array of choices, and you'll see machines with more features or "bells and whistles" than in the lower priced categories.
Treadmills that are priced around $1,500 offer sufficient quality and features that they really can't be considered part of the "budget" or "entry level" categories anymore. As such, we like to think of $1,500 as a mid-range price point that bridges the gap between the "entry level" or "budget" models and the higher-end, or commercial grade, treadmills.
Who shops for treadmills under $1500?
If you're shopping for a treadmill in the "under 1500" price range, you're committed to meeting your fitness goals and you're looking for value. When your fitness goals are growth-oriented, you'll need a machine that grows with you, and can hold up to the use you'll give it while still being affordable.
You may have already looked at treadmills priced under $1000, and decided you'd like something a little more robust with a few more features. Maybe you've even crunched some numbers and determined your budget allows you to go a little higher than $1,000. When you're able to purchase a higher quality treadmill with additional features, chances are you'll be able to achieve your fitness goals quicker. When your equipment includes tools to help you stay motivated and entertained, you'll stick with your workout routine consistently.
What to expect from a treadmill under $1500
Typically, the treadmills in this category will offer more features and the kind of performance you'd expect from a mid-range treadmill.  Treadmills in this price range are ideal for you if you are beginning your fitness journey and plan to grow into workouts of longer duration and higher intensity. You may find that models in this price range can withstand heavier use than casual walking or jogging brings, but if you are already a serious runner, you may want to look for a higher priced treadmill.
Our Thoughts on Price Range Flexibility
If you're shopping for a treadmill in the Under $1500 category, we advise you to dig deep and ask yourself seriously: Am I truly locked in to my budget?
If $1500 represents the absolute upper end of your budget range, then so be it. These days, most everyone is watching their pennies like never before. 
But if the $1500 mark is where you've begun your search, or if your deep-dive budget analysis reveals you could cobble together a few more hundred dollars, our humble advice is to at least look at the next price range up, in this case treadmills under $2000, to make sure you're making the right choice for you.
We say it in every post—with treadmills, you get what you pay for. The confidence you're making the right decision will bring you peace of mind.  
Our Process: How We Choose the Models We Recommend
We evaluate the fitness equipment we review based on:
stability

durability

warranty

features

digital programming

company reputation
The treadmills we recommend are manufactured by reputable companies with quality components.
Unlike the reviews you'll see on other treadmill review websites, our reviews are written by a team that actually visits the manufacturing facilities and tests the machines. We verify the manufacturers' reputations in person. So, at the end of the day, we only recommend machines we would use or would consider using ourselves.
The treadmills featured in this post are being recommended because the experienced experts on our Review Team believe they will deliver the best value possible in this price range.
Models from 4 brands made our list of Best Treadmills Under $1500 this year. Let's take a look.
Treadmills Under $1500 Recommended by Our Review Team
Here are the models available for under $1500 our Review Team recommends this year: 
Horizon Fitness Best Treadmill Under $1500
Johnson Fitness, the parent company of Horizon Fitness is the third largest fitness equipment manufacturer in the world. Johnson Fitness is also the parent company of Vision Fitness which makes a premium specialty line of treadmills, and Matrix fitness, which is currently the fastest growing commercial treadmill brand in the world.
Why does this corporate background matter? Because Johnson Fitness makes its own components instead of farming out the manufacturing of treadmill parts to a third party.
This vertical integration translates into fewer maintenance issues and lower costs for you.  So, if you're purchasing a Horizon treadmill, you know you're getting superior mechanical components and performance features for your money.
And by the way, our Review Team has also found that the  Johnson Fitness family of companies, including Horizon Fitness, all have excellent customer service.
The Horizon T303 treadmill is available for less than $1500.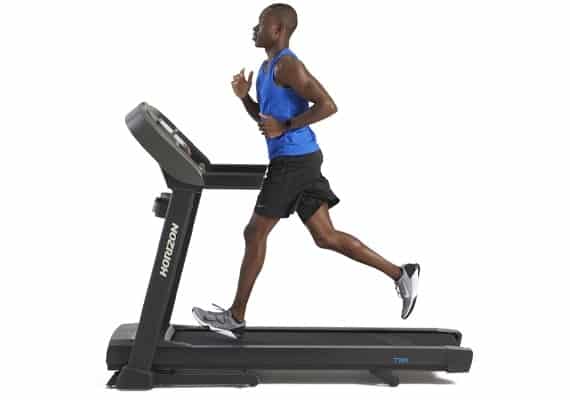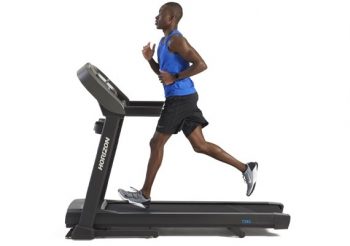 Interestingly enough, the Horizon T303 treadmill is marketed by the manufacturer as a "budget" or "entry level" model. However, because it's priced at slightly over $1000, we're staying true to our price- conscious readers and reviewing it in our under $1500 category, which we consider to be a mid-range category (see above).
We're calling out this distinction to keep you from being confused or distracted by marketing labels and categories you might see elsewhere or from the manufacturer. At the end of the day, what matters (with this or any piece of fitness equipment) is what you get for your money.
So… what do you get for your money with the Horizon T303?
Here are a few of the Horizon Treadmill T303 features and specs.
3.0 CHP Motor

– This is a substantial motor for any treadmill, especially one at such an affordable price point. That means whether your workouts consist mostly of walking, jogging, or running, you can do it all on the T303 without having to worry about burning out the motor. A motor of this size on a treadmill with a price tag under $1500 is extraordinary. When a company makes its own components and parts, it can afford to provide performance and power at a lower cost.

0-15% Incline

– A 15% incline is big even for a far more expensive machine. If you're a fan of hill days, or HIIT workouts, this treadmill will give you a literal run for your money. This steep incline capacity means your machine can accommodate your efforts to build more challenging workouts as you grow stronger.

5-12 MPH

– A top speed of 12 MPH rivals what you'll find on other machines in this price range. In other words, the Horizon T303 will never slow you down! Ever more challenging speed drills and HIIT workouts will be easy to put together with the help of this machine.

3-Zone Variable Response Cushioning

– Horizon's 3-zone cushioning helps you protect your joints while maintaining your proper stride. The front portion of the deck offers ample cushioning to decrease wear and tear on your joint when your foot strikes. The rear of the deck is firmer, allowing your foot to push off with more force and stability.

20" x 60" Tread Belt

–The 60" long tread belt on the T303 is ideal for tall runners and those with a lon stride. When you're working out on the T303, you'll have enough space to stretch your legs and run your best every time.

Backlit LCD Window & 3 LED Windows

–Horizon does not provide the big, bright, HD touchscreen monitors featured on other brands. However, the dashboard gets the job done, and the combination of LCD & LED windows means you can track your workout stats as you go without missing a beat.

Comfort Features

– The T303 includes comfort features including a tablet holder, Bluetooth speakers, cooling fan, and custom interval keys ensure your workout is just the way you like it.

Warranty

– Lifetime on frame and motor; three years on parts, one year on labor

Digital Programming

– Launched in 2021, FitU is Horizon's interactive digital programming feature. FitU integrates with your favorite fitness apps through your own devices, allowing your Horizon treadmill to work with virtually any live or on-demand fitness app. Here is a list of some of the popular applications that are compatible with FitU, click here.
This innovative take on integrative connectivity sets FitU apart from the subscription-based digital programming on other popular fitness equipment brands which require you to use their own interactive fitness technology and pay an additional subscription fee. With Horizon, you choose how and where you spend your money for interactive training, without your treadmill company dictating the options.
What we like and don't like about the Horizon T303
Ultimately, our Review team found that the Horizon T303 offers top performance features and superior quality along with a budget-friendly price tag. In fact, much of what the T303 offers rivals more spendy competitors.
Under $1500 is a great price point for a treadmill for anyone who is beginning to get serious about their fitness journey, and the Horizon T303 offers advanced performance features like a strong motor, a steep incline capacity, and a top speed of 12 mph that will keep pace with your needs as your baseline fitness level improves.
The Horizon T303 may be the treadmill for you if you are beginning your fitness journey and are looking for a machine that can grow with you. It will bring you great peace of mind to know you won't have to upgrade your treadmill right away.
And that brings us to the only real drawback we can find for the Horizon T303, which is this. Horizon T303 will support your fitness growth, but if you're already in an advanced training program, you may want to look at a more advanced commercial treadmill model.
Sole Fitness Best Treadmill Under $1500
Sole treadmills were originally built exclusively for in-room hotel guest use at Hotel Monaco, Omni Hotels, and Hilton Hotels. The treadmills were such a hit with hotel guests, that the company began manufacturing treadmills for home use as well.
This company history proves that right from the start, Sole treadmills were designed for rigorous use, constructed with the best quality materials, and engineered with performance features. The durability and integrity of their machines sets this company apart.
During our visit to Sole corporate headquarters in Salt Lake City, UT, the owners explained the company's goal is to offer the highest quality treadmills in their price range. Instead of spending money on bells and whistles, they invest in engineering and mechanical components that can withstand abuse.
Even so, in 2021 Sole rolled out is interactive fitness technology feature, known as Studio, which takes Sole's digital programming to the next level. Over the years, we've watched this company go from a relatively unknown brand to a major player in the fitness equipment industry, in part because it's willing to innovate and add features that keep pace with customer demand.
The Sole F65 treadmill is available for less than $1500.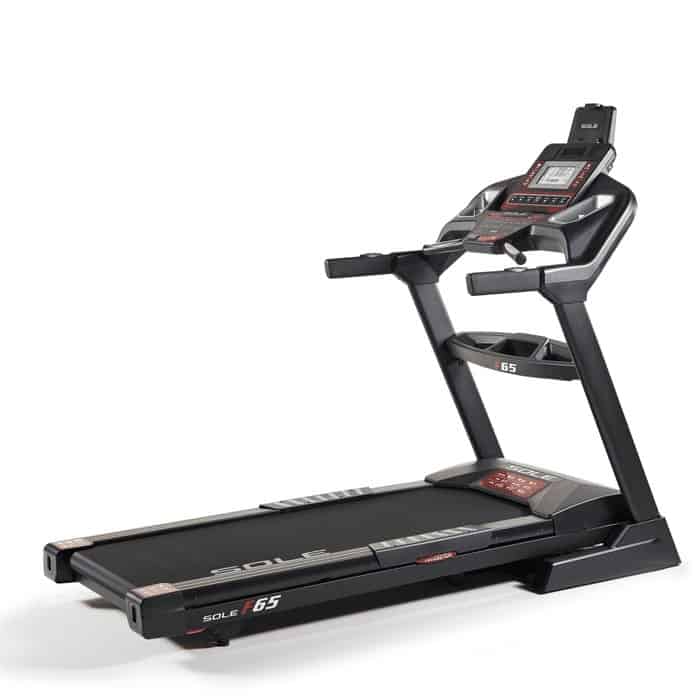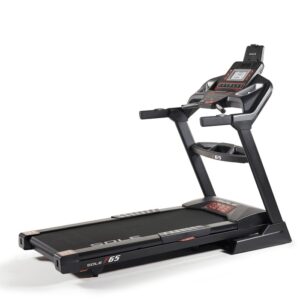 The Sole F65 treadmill essentially combines the features of the entry-level Sole F63 and the pricier Sole F80, at an affordable mid-range price point. As such, the Sole F65 treadmill represents a middle ground for the brand that is ideal for walking, jogging, and running.
 What do you get for your money with the Sole F65? Here are some of its features and specs:
3.25 Continuous Duty HP Motor

– This motor is designed for both walkers and runners and operates at speeds from 0.5 to 12 MPH.  It runs quietly and effortlessly even at higher speeds. It's worth noting that all Sole treadmill motors are extremely durable, which is why they come with lifetime warranties.

22″ x 60″ Treadbelt

– Taller individuals should always look for a treadbelt at least 60″ long. The length of this one is adequate for jogging and running, and the running surface is generously wide.

5" Rollers

– Most potential treadmill buyers do not realize the importance of rollers. Larger rollers extend the life of the belt, motor, and bearings. Larger rollers give the belt more area to grip.  2.5″ rollers are decent size rollers for treadmills in this price range.

Console Design and Layout

– Sole has always done an above average job of designing a user-friendly console that also looks good. The machine has a white 7.5" backlit LCD display that continually shows speed, incline, time, distance traveled, calories, pulse and pace.

Speed and Incline Adjustment on Handrails

—Our review team has always liked this feature. You can adjust the speed and incline right on the handrails rather than having to break your stride and make changes on the console. The incline goes up to a challenging 15%.

Cushion Flex Whisper Deck

– The shock absorption on this machine is advertised to reduce impact up to 40% in order to protect your joints.

Weight Limit and Dimensions

– The suggested weight limit for this machine is 350 lbs. The machine itself weighs 262 lbs. The dimensions are 82" L x 37" W x 66" H. It has a step-up height of 8".

Additional Features

– Easy Assist Folding for storage; Bluetooth speakers; USB port, tablet holder, cooling fans, chest strap included, along with 10 built-in workout programs.

Warranty

– Lifetime frame and motor; 3-year deck, electronics, and parts; 1-year labor.

Digital programming

—As mentioned above, Studio is the subscription-based interactive digital fitness program featured on Sole machines. Studio offers a real-time community leaderboard, a fitness point system known as FITCOIN to incentivize your progress, and an emphasis on real-time biometric data integration.
It's worth noting here that the monthly subscription fee for Studio is very affordable in comparison to the other subscription-based digital programming features available on other brands.
What we like and don't like about the
S
ole
F65
We're big fans of Sole in general after watching them rise to the level of a major brand. Year after year, their models have been awarded numerous "Best Buy" and "Excellent" ratings and reviews in different categories from reputable magazines and review websites (including ours). That's what happens when you offer exceptional quality at a great price.
One significant feature that sets Sole apart from other top brands in the industry is their outstanding equipment warranty. Over the years, we've seen a large increase in the price of treadmills, a decline in the quality of the equipment, and in addition – diminished warranty offerings. This is NOT the case with Sole: Their warranty remains as robust and solid as their equipment.
Most Sole treadmills have a lifetime warranty on both the motor and the frame. This is truly an above average warranty for the fitness industry, and it speaks volumes about the confidence their company has in the construction of their machines.
The team at Sole continues to prioritize making their equipment top-notch, while keeping their prices on the more affordable side in comparison to the competition. Indeed, Sole has even kept the subscription  to their digital programming more affordable than competitors.
We like Sole's brand philosophy, warranty, and new digital programming. The Sole F65 is a durable, well-built treadmill that is ideal for runners looking for a folding treadmill that can operate without an internet connection.
There are not too many drawbacks to the Sole F65 at all, although some users have observed that the raised buttons on the console are not as easy to clean as a flat surface would be, and the large motor hood at the front of the deck may inhibit a full stride for some users.
 The Sole F65 is reduced to $1,399.99 with $99 flat rate shipping. A great value!

NordicTrack Best Treadmill Under $1500
Icon Fitness is the parent company of both the NordicTrack and ProForm treadmill brands. NordicTrack is a very popular brand name in fitness equipment, and sometimes it's difficult to separate hype from reality.
So the question is: Are NordicTrack Treadmills really worth it? We think so, and here's how we arrived at that conclusion.
Our Review Team has always been impressed with the focus and drive of NordicTrack's company leadership. NordicTrack emphasizes innovation while also devoting considerable resources to construction and design. In fact, NordicTrack dedicates an entire room at their corporate headquarters to subjecting their machines to mechanical abuse by dropping weights on the deck and running the motors at high speed for hours on end to test them.
So yes, we think NordicTrack treadmills are worth it. At the very least, we think you should compare other models to NordicTrack before you decide.
The NordicTrack EXP 7i is available for less than $1500.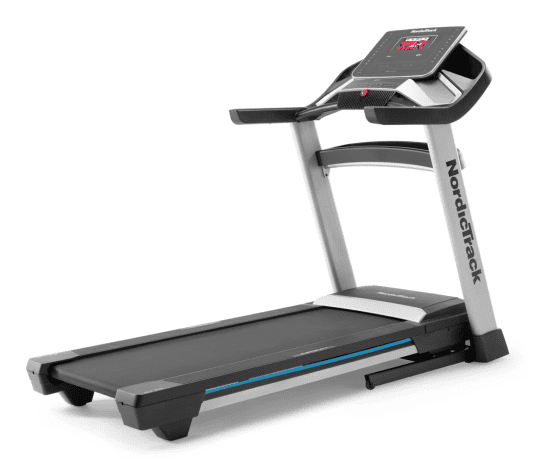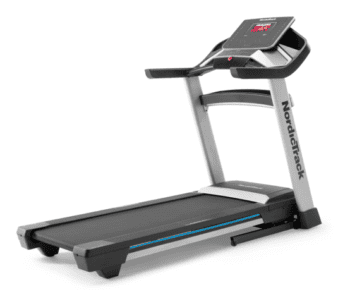 NordicTrack treadmills tend toward the pricier side. One model from NordicTrack falls into the price point between $1000 and $1500 –the NordicTrack EXP 7i.
The EXP series is considered NordicTrack's line of budget-friendly machines. This line of treadmills was previously known as their "T-series," but was recently updated to be known as the EXP series. There are 3 EXP models, the EXP 7i, the EXP 10i, and the EXP 14i.
The EXP models are all marketed as the "entry level" NordicTrack machines. They offer many of the bells and whistles associated with NordicTrack commercial quality treadmills, but at a more affordable price point in comparison to other NordicTrack models.
The most budget friendly option of NordicTrack's EXP series is the EXP 7i treadmill. Typically priced around $1,300, the EXP 7i comes packed with features that anyone will appreciate – from those looking for casual cardio all the way to avid runners.
3.0 CHP DurX Commercial Plus Motor – This is a powerful, high-quality motor. This motor has a SMART-Response drive system which allows for reduced vibration and self-cooling.

20" x 60" Treadbelt

– This treadbelt size is standard for the EXP machines from NordicTrack. The 60″ length makes the EXP 7i comfortable for tall users and those with a longer running stride. The deck is designed with the FlexSelect cushioning from NordicTrack to lessen joint impact.

0-12% Incline

–The 12% incline capability is high enough that you will really be able to challenge yourself during your workout.

0-12 MPH

– A standard top speed for treadmills is typically 10 MPH, so a top speed of 12 MPH is great for those who don't want to be limited while exercising. With incline and speed ranges like this, you'll always be able to keep pushing yourself further.

7" Smart HD Touchscreen

– A 7″ display screen is not huge, but is sufficient for most people.

Other Features

–Compact 77.3" L x 35.3" W x 59.6" H footprint, 300 lb. weight limit, 1.9" rollers, Two 2" speakers, Bluetooth® capabilities, fan, EasyLift™ Assist, and integrated tray.

Warranty – 10-year frame, 2-year parts, 1-year labor.

Digital programming

—The subscription-based interactive digital programming technology available on Icon fitness brands (NordicTrack and Proform) is known as iFit. All NordicTrack and ProForm fitness equipment comes iFit enabled as part of the standard features.
Subscribers can access workouts, community support, and fitness tracking from their treadmill screen or personal device. 
iFit is built on long experience and fitness research. iFit.com, was originally founded in 1989 and set the standard for the personal training technology that is now ubiquitous in the fitness space. Research shows that some form of tracking, motivation, and accountability is required if we want to make progress toward our fitness goals.
What we like and don't like about NordicTrack
The NordicTrack EXP 7i is a folding treadmill with a compact footprint that still has a generously sized treadbelt and an excellent incline capacity. With this treadmill, you can accomplish challenging workouts in a small space, even if you're tall and have a longer stride. And of course, the iFit technology will hold you accountable to your fitness goals and keep you motivated and working out consistently.
The NordicTrack EXP 7i is an outstanding choice and will perform well for you, especially if you're an avid walker who is building up your fitness level to include jogging and light running.
On the console of the NordicTrack EXP 7i, you'll enjoy a 7" touch screen for accessing iFit content. Our review team observed that the 7" touch screen is placed high up on the console, which could make the user experience challenging for shorter individuals or those with limited vision.  If you think the 7" touchscreen might be too small for you, you might want to consider the NordicTrack EXP 10i instead. It's in the next price range up, but if screen-size is a concern, it could be a deciding factor on whether you're enjoying your workouts and working out consistently.
And of course—and this is true for any of the models in this price range—if you're actively training for a marathon or other elite athletic endeavor, we would recommend you consider a commercial treadmill to support your efforts. Commercial treadmills are NordicTrack's specialty, by the way. You can find out more about our pick for best commercial treadmills in another post.
 ProForm Best Treadmills Under $1500
ProForm is the largest selling brand of Icon Fitness, the world's largest fitness equipment company. As mentioned above, Icon is also the parent company NordicTrack.
Quality parts and excellent customer service are a priority for ProForm. This brand is able to offer "more for less" thanks to the support and resources of Icon Fitness so that ProForm treadmills consistently offer higher mechanical specifications and better technological features than competitors in the same price range. All ProForm machines include iFit digital programming as a standard feature.
ProForm is a well-known brand among professional athletes, in part because of the brand's long-standing partnership with the Boston Marathon. The established professional roots of ProForm are a benefit to residential treadmill users, bringing a solid reputation and time-tested components to your workout.
As a whole, ProForm treadmills consistently out-spec competing brands, meaning that the ProForm models offer superior components and features for the money.
Two models from the ProForm brand made our list of best treadmills under $1500.
The ProForm Carbon T10 is available for less than $1500.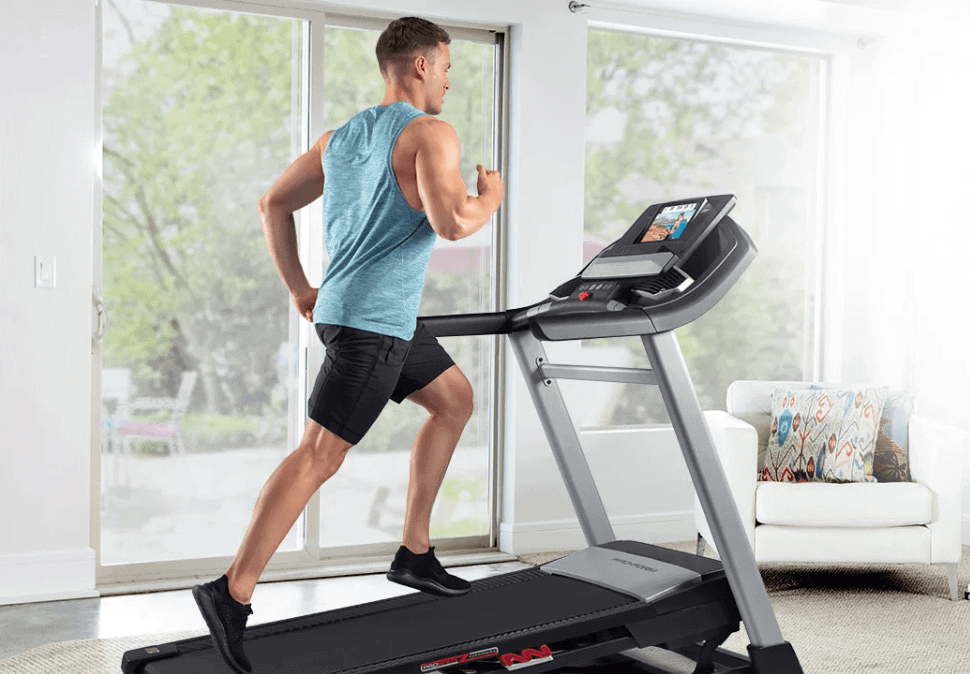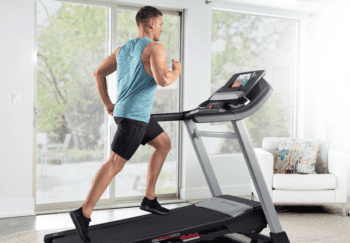 The ProForm Carbon T10 not only offers a wide array of features, but is also available for "free." You heard that right, this model is known as "the free treadmill."
Thanks to an established promotional program, ProForm offers this treadmill for free with the purchase of a 3-year membership to the iFit interactive fitness technology. Your treadmill plus your 3-year access to iFit will cost you just over $1,400 at the time of this posting–an excellent value.
We've already mentioned iFit, and the incredible features and benefits of this technology are worthy of multiple stand-alone articles. With iFit, you can enjoy workouts led by credible and even well-known professional trainers right from your living room. You'll experience interactive workouts where your trainer controls your incline and speed—just to keep things interesting. And of course you'll track your progress with connected fitness stats. You'll be able to run through international cities and remote trails in real time with other participants from around the globe. You can even sync your machine with Google Maps to simulate real life scenery. All of this is possible with your iFit Membership and your "free" Carbon T10 treadmill.
Besides iFit, what else do you get with the Carbon T-10? Here are a few of its features and specs:
2.75 CHP Mach Z™ Motor

– This motor is designed to run quietly and maintain a cool temperature. This motor is a slight upgrade from the 2.6 CHP motor found on the Carbon T7 treadmill.

10″ Full Color SMART HD Touchscreen

– This is one of the main features that differentiates the Carbon T10 from the other model in the Carbon series, the Carbon T7. If a larger screen isn't a huge deal to you, you may want to opt for the T7 as it's a similar machine for a slightly lower price point.

0 – 10 MPH Speed, 0-12% Incline

– Both the incline and speed on the Carbon T10 feature QuickSpeed Button Control. This allows you to adjust your speed and incline instantly with the touch of a button.

20"×55″ Treadbelt

– This length belt will provide ample room for most users. However, if you are taller than 6'0″ you may want to opt for a machine with a 60″ belt.

ISO Flex Cushioning

– ProForm Treadmills are equipped with cushioning throughout the entire deck so you can take advantage of a longer workout and a faster recovery.

Folding Technology

–Featuring ProForm's SpaceSaver® Design with EasyLift™ Assist, the T10 is designed to fold neatly and easily out of the way when your workout is complete.

9" Rollers

– This machine has "precision balanced" rollers that not only reduce wear and tear on your treadmill but keep noise to a minimum as well.

Workout Fan

– The Carbon T10 features a built-in CoolAire fan with two speed settings.

300 Lb. Weight Limit

– The Carbon T10 is built for up to 300 lb. user weight limit.

Warranty

– 10-Year Frame, 2-Year Parts, and 1-Year Labor… a fairly standard warranty.

Digital Programming

– We've already described iFit above, but we'll add here that we're big fans of iFit and other digital programming technologies because of their power to bust the boredom factor and keep you motivated to work out consistently.
What we like and don't like about the ProForm Carbon T10
The ProForm Carbon T10 features a 10" touchscreen on the console, which makes viewing the iFit classes a joy.
This treadmill has a compact footprint and is easy to fold, so it's ideal for use in smaller spaces or on an upper floor.
Overall, this treadmill offers an extremely affordable way to dive into achieving your fitness goals with the help of iFit technology. Just think of all you can accomplish with your 3-year iFit membership and this powerful piece of fitness equipment!
It's difficult to remain objective when you're faced with an offer like this, that seems too good to pass up, like the offer of a "free" treadmill.  So… the question is: Are there any drawbacks to the Carbon T10?
Our Review Team notes that the Carbon T10's running surface is 20" wide by 55" long, which may be too restrictive for some users.
And the warranty on ProForm treadmills is not as robust as we prefer. As mentioned in previous posts, we've discussed that the quality of the machine is directly reflected in the strength of the warranty.
However, we do acknowledge that ProForm has a solid professional reputation that remains strong. And their warranty is standard, if not exceptional. Our conclusion is that ProForm products are worth investing in if they meet your needs.
The ProForm Carbon T10 is currently FREE with the purchase of a 3-year iFit family membership (Total price of $1,403).  Or, pay just $39/month for 36 months. 
Shop now at www.ProForm.com/treadmills
The ProForm SMART PRO 2000 is available for less than $1500.
A second treadmill from ProForm falls into the under $1500 range — the SMART PRO 2000.
The ProForm SMART PRO 2000 offers excellent value and features for its modest price. According to recent ratings of a popular consumer magazine, this model was given an impressive rating of 'excellent' for ergonomics and exercise range.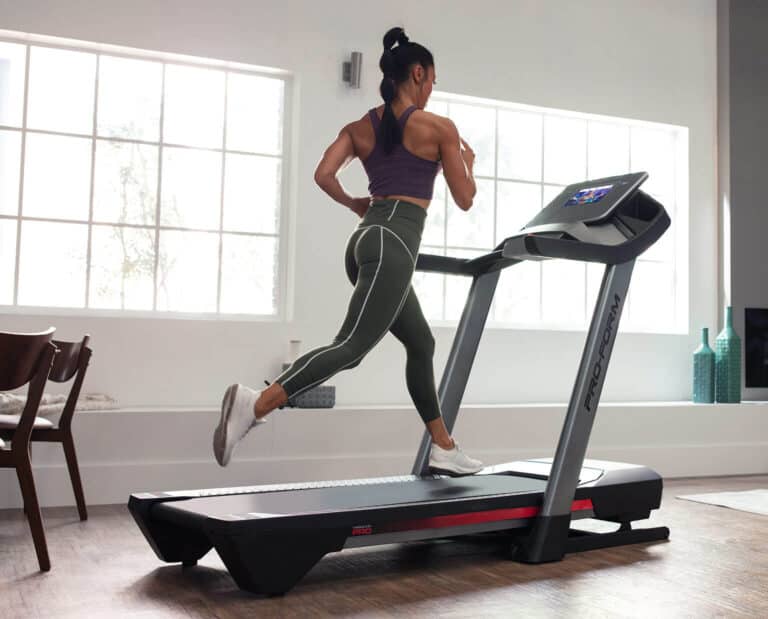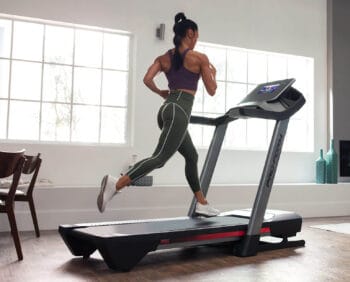 What do you get for your money with the ProForm SMART 2000? Here are some of its specs and features:
3.25 Continuous Duty HP Motor

— ProForm designs their motors to run cooler and use less energy than the competition. This is a decent motor. However, if you like the ProForm brand and are going to be running frequently or training intensely, we suggest you consider the ProForm SMART PRO 9000 in the under $2000 price range.

10″ HD SMART Touchscreen

– This display will allow you to monitor your fitness stats while you're exercising. It also lets you view your iFit programming.  A very nice feature to have on this machine.

Bluetooth® Audio Capabilities with Dual 2" Speakers

– ProForm is known for having some of the highest quality speakers on the market. So, organize your playlists, plug in your device, crank up your tunes, and get moving!

Declines and Inclines

— The ProForm Pro 2000 treadmill has a deck that both inclines to 12% and declines to 3%. This allows you to simulate running up and down hills so you can target additional lower body muscles.

20″ x 60″ Running Surface

— When our Review Team visited the company in person, they made a point to inform us that the 60″ is the actual running surface. They mentioned that other companies advertising a 60″ tread belt may have a running surface as much as 4″ shorter because part of the belt is covered by shrouds. This is an excellent length for speed and interval training.

ReBound Pro™ Cushioning

— This is the newest cushioning technology that ProForm has to offer. This technology will reduce impact to your joints so your knees, ankles, feet and hips will experience less stress during your workout.

Warranty

— The ProForm Pro 2000 comes 10-year frame, 2-year parts, and 1-year labor warranty.

Digital programming –

ProForm treadmills are iFit enabled. With iFit technology, your membership brings you a seemingly infinite number of amazing trainer-led workout experiences right in your own home. With these resources at your disposal, you'll never be bored and you'll always have an accountability and support structure in place to keep you on track toward meeting your fitness goals. A free 30-day trial to iFit is included with your purchase of the Pro 2000 treadmill.
What we like and don't like about the ProForm SMART PRO 2000
We love that the ProForm SMART PRO 2000 has the ability to both incline and decline so you can train your body to run up and down hills. It also has a Bluetooth compatible heart monitor so you can hook it up to your heart rate strap.
And of course, we love having access to iFit with a generously sized color display. Even if the ProForm treadmills did not have features like iFit, full color displays, and the ability to incline and decline they would still be a good value because of the upgraded mechanical components. But when you factor in the innovative features you get an excellent value that's hard to beat with a ProForm treadmill.
As previously mentioned, the warranty on ProForm treadmills in general is not as robust as we would prefer. Over the years, one thing that our Review Team has been wary of is the decline in warranty offerings from ProForm. Previously, ProForm had one of the leading warranties in the industry, but we have observed a steady decline in the service coverages on their machines. You'll get much better warranty options from other brands in the industry like Horizon or Sole.
But despite their sub-par warranties, ProForm still remains a top player in the game in terms of specs and technology. ProForm treadmills are all about value and getting the most for your money. Because they succeed so well at this proposition, they sell massive amounts of treadmills per year.
Although the ProForm SMART PRO 2000  will work well for walkers, joggers, and runners, we do offer one word of advice.  If you're a serious runner, and you like the ProForm brand, we strongly suggest you consider the ProForm SMART PRO 9000, which is in the next price range up—the under $2,000 category.
  ON SALE! The ProForm SMART Pro 2000 is priced at $1,499, or pay as little as $34/month with financing. 

Our number 1 Pick for Best Treadmill Under $1500 
All the treadmills featured in this post are excellent choices if you're looking to purchase a treadmill in the price range between $1000 and $1500.
Only you can decide which model is the right choice for your body, budget and fitness goals. With that in mind, our Review Team chose three runners-up and a winner in this price category.
Our third runner-up for Best Treadmill Under $1500 is: Sole F65
Sole F65 is a durable machine that works well both online and offline. Online, you get access to outstanding subscription-based digital programming via Sole's Studio. And the machine will also work without any internet connection at all—affording you the option to simply get on and go without any bells and whistles if you so desire. Because the Sole F65 allows you to enjoy the freedom of simply going on an indoor run without being plugged in, it is a breath of fresh air for many users.
This machine is ideal for users who like to simply be present during their workout without digital distractions. The Sole F65 is durable and sturdy, and folds up for storage, with the added benefit of 4 wheels instead of 2 for easy movement into and out of storage.
Read more about the Sole F65 here.
Our second runner-up for Best Treadmill Under $1500 is: Horizon T303
Horizon T303 is a solid machine all the way around. Horizon offers the ultimate freedom of choice in digital programming by putting you in control of your preferred sources of online fitness training and motivational guidance. Your Horizon treadmill integrates with your existing subscriptions and devices instead of dictating which programs you must subscribe to.
This machine is ideal for anyone who has growth-oriented fitness goals, wants to choose their digital fitness programming, and appreciates a robust warranty.
Read more about the Horizon T303 here.
Our first runner-up for Best Treadmill Under $1500 is: ProForm Carbon T10
The ProForm Carbon T10 is not only loaded with features, but you can get it for "free" with a 3-year subscription to iFit.  Just think of what you can accomplish on your fitness journey over the next three years with access to world renowned trainers through iFit! And with a "free" treadmill, to boot!
Beyond marketing, this machine is ideal for anyone who is interested in leveraging the power of iFit to build a consistent fitness program around walking, jogging and light running. The machine folds up and is compact for use in a small space, even on an upper floor.
Read more about the ProForm Carbon T10 here.
And the winner is… wait for it…
Our Review Team picked the NordicTrack EXP 7i as our Number 1 Best Treadmill Under $1500.
We chose this model as our overall winner because it fits your needs perfectly if you're beginning a fitness journey and would like to take advantage of the innovative digital programming NordicTrack offers.
This treadmill is ideal for you if you are building a consistent fitness routine around walking and light jogging and need a compact treadmill that folds up and would work well in an apartment or upstairs floor. The EXP 7i gives you an opportunity to avail yourself of the quality NordicTrack has to offer. In other words, the NordicTrack EXP 7i makes a NordicTrack treadmill affordable.
Read more about the NordicTrack EXP 7i here.
Your next steps to finding the right treadmill under $1500
We know that finding the right treadmill is not always easy. We also know how important it is for you to do your homework. $1500 is an investment and we want you to choose the right machine for your needs. If you want to purchase a treadmill in the under $1500 price range, your next steps are as follows:
Check out the links to the full reviews for the models and brands featured in this post.

Do some brutally honest self-reflection and figure out what you really want from your treadmill.

Take a look at the models in the next step up— the under $2000 price range [link]—just to see if any of them might meet your needs better.

If you find a model you like in the higher price range, crunch some numbers. If you can possibly afford it, figure out how you might be able to spend a few dollars more for a machine that will bring you a higher level of satisfaction. As a result of going through this exercise, even if you remain within your original budget, you'll gain clarity and that will give you the confidence that you're making the right choice.
In this post, we defined the price range "under $1500" to focus on treadmills available between $1000 and $1500. For lower priced treadmills, you'll want to check out our other posts.
In conclusion, if you're looking for a treadmill in the mid-range between $1000 and $1500, you are committed to your fitness journey even if you are just starting out. In this price range, you have a number of excellent choices from top brands including Horizon, Sole, NordicTrack and ProForm.
The machines in this price range will have many numerous performance and comfort features. Any choice you make, among the models listed in this post, should serve your needs well. And if your budget allows, we urge you to take a look at the next price ranges up above this one—treadmills under $2000 and commercial treadmills– to make sure you're making the right decision.
To find the right treadmill for your body and budget, and to help you achieve your fitness goals, follow the links in this post and do your research, following the four steps above.
We hope this post has helped you clarify what is available under $1500. Happy shopping!
FAQs
How much does a reasonable treadmill cost? 

Consumers that are in the market for a budget-friendly treadmill that will still provide good quality and safety features should look around the $1,000 – $1,500 range.

What time of year do treadmills go on sale? 

Typically the best treadmill discounts happen in the winter months, with January being peak time for savings on treadmills.

What is a good treadmill for the money?

Some of the best treadmills under $1,500 are from the brands NordicTrack, ProForm, Horizon, and Sole.

How much do treadmills typically cost?

There is a wide array of treadmill prices on the market, however a median price is around $600.