Are you on the quest for the perfect treadmill for less than 500 bucks that fits your needs
AND is also easy to use, assemble and store?
You don't have time to go to the gym but wanna keep in shape?
You need a treadmill to do some exercise at home, but you have very limited space and little
time to set it up?
If you answered 'yes' to at least one of these questions, continue reading so that we can
discover together the top 6 best treadmills for less than 500.

Keys to choose the perfect treadmill for low budget
One of the keys to choosing the perfect treadmill is that you know how
you're gonna use it.
For occasional use or for one daily hour of jogging or quick walk, these 6 hand-picked
'treadmills under 500' selection is ideal for it.
If, on the other hand, you want to run really fast and intensely, to train and achieve certain
goals for competing, I added a special selection at the end of this article that, for a few more
bucks, can give you all the power you are looking for.
Another key thing to consider are features such as: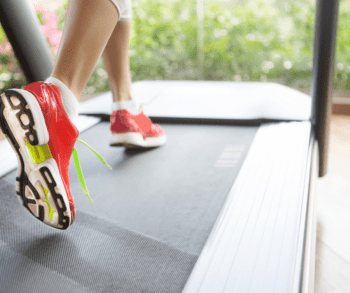 Running Surface: Whether you walk or run, the deck should feel stable and firm. It should
also provide enough cushion to alleviate knee and hip discomfort. A running surface (tread
belt) that is too thin or too short would make running inconvenient.
Treadmill Usage: Consider how many people will be using the treadmill, and the amount of
time spent on it each week. Whether you're training for a race, looking to lose weight,
increase your walking distance or get into shape, you need to determine a primary usage for
the treadmill. If you only intend to use it for walking, a dedicated walking treadmill will
perform better.
Space and Storage: Most treadmills under 500 are compact. So, if you're limited on space, a
fold-up variety can prove useful for your living space. It should also be lightweight to move
around if needed.
Reliability and Warranty: Over time, your treadmill may need to be serviced, especially if you
use it consistently, that's why it's a good idea to choose a brand name that has been for
awhile.
Weight and Motor Size: Pay attention to the weight capacity and motor size as the treadmill
can get bogged down if you're over the weight capacity limit. Treadmills under 500 tend to
support a person up to 400 lbs.
What's not recommended is second-hand purchases, because although buying a
second-hand treadmill may seem like a cost-effective deal, you're not going to know its
history, such as usage and repairs. And it can end up being really expensive!
So now that you are an expert in what to look after when
searching for the best treadmill under 500, here is the ultimate
guide on low-cost treadmills that fit your goals and needs.
Stop holding back on your fitness goals for this 2023, pick your favorite treadmill for home
and get moving!
The Weslo G 5.9 treadmill: our top choice if you are looking for a
really silent running treadmill for under $500.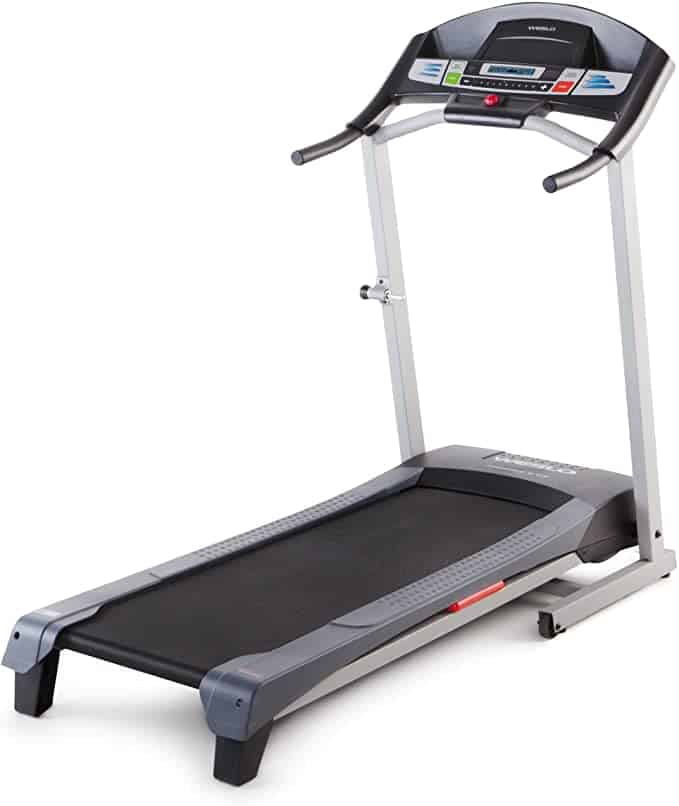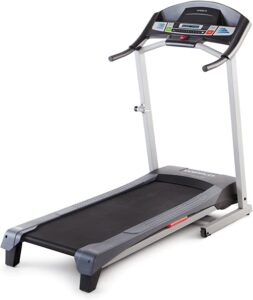 The Weslo Cadence G 5.9 Treadmill folds to save space when not being used. It has a two-position adjustable incline, six workout programs and cushioning to make walking and
running more comfortable.
It includes a Heart Rate Monitor that works by thumb, it reaches 16 Km/h and allows a 2-position manual incline.
It's completely foldable and has a maximum weight capacity of 250 pounds / 113 kg.
Pros: It offers some pretty good value for the money it costs. It's also a great time saver given that it takes less than 30 minutes to assemble. It's quieter than other treadmills in the 'less than 500' category. This means that your fitness plans won't mess up with your couple's
sleep or alter in any way the normal life of those who live with you. Plus, it has a very solid construction for its price range.
Cons: On the down side, it rattles a little bit; its features are very basic and the belt can slip
often.
Exerpeutic TF1000 Walk to Fitness Electric Treadmill: the best
treadmill for walking or brisk walking purposes.
If you only intend to walk at a certain pace, this is definitely the best under 500 to fulfill your
walking desires.
It has been made for that and, let's face it, many people buy a treadmill for running but end
up just walking, and there's nothing bad about it.
You can use this treadmill for walking or fast-paced brisk walking (up to 4 miles per hour or
6.5km/h).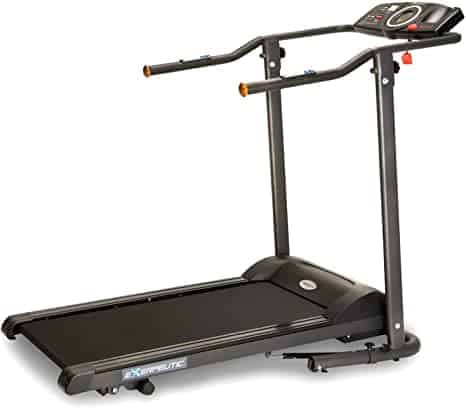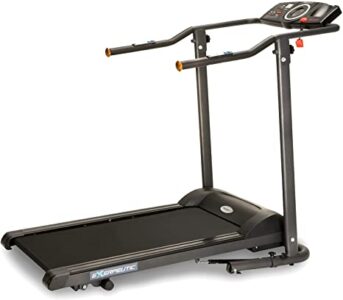 It's rated for users up to 400 pounds (180kg), so this is suitable for a heavy person. A major
advantage is its wide surface (belt) on which you walk. You have much more space than
most 'on a budget' treadmills.
Almost as wide as the commercial ones you can find at the gyms, so it feels much more
stable and natural to walk on and also, much safer!
This treadmill also features comfortable safety handles with heart rate sensors that are more
accurate than thumb-only HR monitors.
It's secret weapon? No matter the time of the day you decide to go on a walk, its extremely
quiet motor makes minimal noise. No annoying neighbors complaining about your weird
training hours.
And you can set it up in less than half an hour so… keep walking!
This foldable treadmill reaches a maximum speed of 6.5 Km/h and has a 2-Position manual
incline. Also, very similar features and strengths that have nothing to envy fitness club
treadmills
Pros: It's a 20″ belt (wide surface to walk on) and also the only one on this list that's for
people up to 400 lbs (180kg). Plus, it has smartly placed speed controls and heart rate
sensors in its long safety handles!
Cons: The only cons is that it's not suitable for running, its belt may require a slight
adjustment by hand, and the handles may be positioned a bit too low for tall people.
Sunny Health & Fitness Treadmill (SF-T4400): our fav all
around-performer with a whole workstation built in!
The Sunny Health & Fitness Treadmill is an all-arounder performer that's very well-known in
the home exercise and cardio equipment under the 'best under 500' category.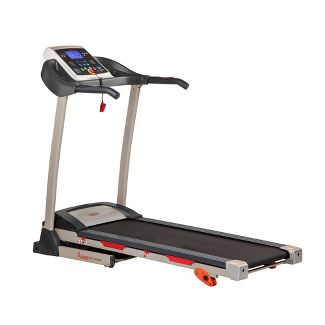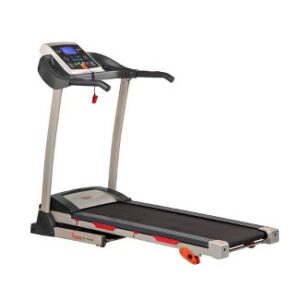 The first shiny thing that will glow for you is its large panel housing a big LCD. Buttons to control the built-in 9 workout programs, phone tablet holder and even cup holders
on both sides!
You can choose from three incline positions; its Heart Rate Monitor works by thumb and it
can reach 14.5 Km/h.
And yes! It's foldable and takes up very little space considering all the features it has.
Pros: To its large LCD panel with customizable programs and its holders for cups, phone and
tablet, we must also highlight its speed control on its handles.
Cons: The only major no-no on this one is that it has a very narrow treadbelt that may make
running uncomfortable for tall people. Plus it has a very limited weight capacity, only 220 Lbs
(100kg)
Our favorite for more intense workouts: The Weslo Crosswalk
5.2T Treadmill
If you are looking for something that goes a little bit beyond a traditional treadmill, this
foldable treadmill under 500 is a really great choice.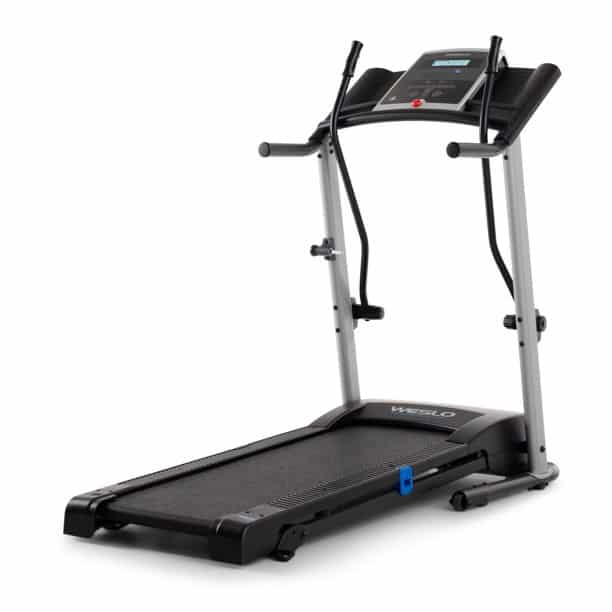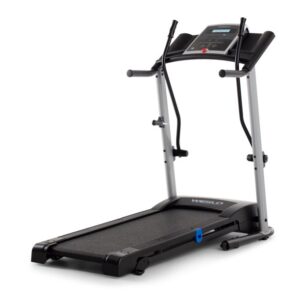 This is the only treadmill that's a hybrid between a treadmill and a cross-trainer! What?! Yes, because the arm bars provide added resistance to your exercise program so
you can get a more intense workout burning more calories.
The cross-trainer type handles give your upper-body more involvement, which makes the
workout more difficult and burns more calories.
You don't have to use the handles. You can just hold the handrails as you would a traditional
treadmill, but it's great to have that option built-in.
As there isn't much control over the resistance of the handles, it's not a true cross-trainer, so
don't expect too much, especially at a low price.
It reaches 16 Km/h, has a 2-Position manual incline, and its maximum weight capacity is 250
pounds (113 kg) which kind of outruns the Sunny treadmill on that one.
Pros: Integrated Cross-handles provide an upper body workout, it is very heavy-duty for its
price range, and it is quiet for all the functionality it has.
Cons: Its unlit display may be difficult to read and not as easy to assemble.
Confidence Power Plus Motorized Electric Treadmill: the only
under 500 we know that comes in three colors… even in a
gorgeous bright pink!
This is one of the best under 500 treadmills we know because it's the most compact and
surprisingly well built.
If you are on a budget but still want a motorized treadmill that performs well, it will be really
hard to find a better value than this one.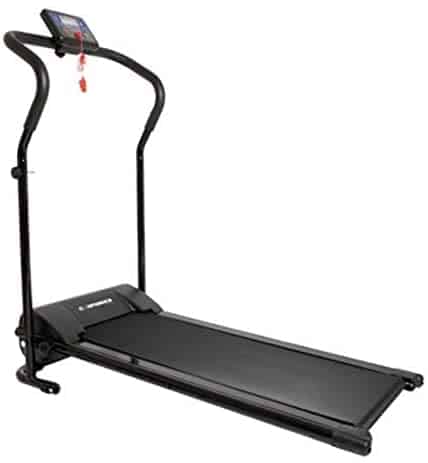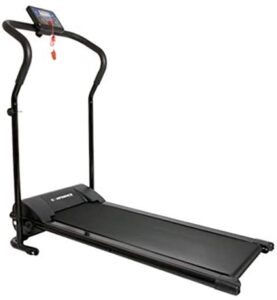 Yes, it is very basic and does not have any bells and whistles like a heart rate monitor or exercise program, but it's the most compact colorful treadmill on our list.
This treadmill is the only foldable under 500 bucks we know of that is available in three
colors, black, white, and even a gorgeous pink!
Also, it reaches up to 10 Km/h and has a maximum weight capacity of 250 pounds (113 kg).
Pros: With basic DIY skills, this stylish treadmill easily converts to a treadmill desk. It is
compact, has a small footprint, requires almost no assembly, and can be converted to a
treadmill desk very easily!
Cons: The major drawback is it stops after 30 minutes, probably to prevent engine
overheating, but some users say you can just restart it and begin again almost instantly.
Another drawback is the narrow tread belt, which makes it inconvenient for tall or big people
to use. I would say it's more for walking than it is for running.
The only customizable options are the speed control buttons.
ProForm Performance 300i Treadmill: Bluetooth tracking for less
than 500
This treadmill makes it possible.
It's usually only found on more expensive treadmills, but we were surprised to find that the
ProForm Performance 300i comes with built-in Bluetooth. With the iFit app (iOS and
Android), you can track your progress and view workout stats.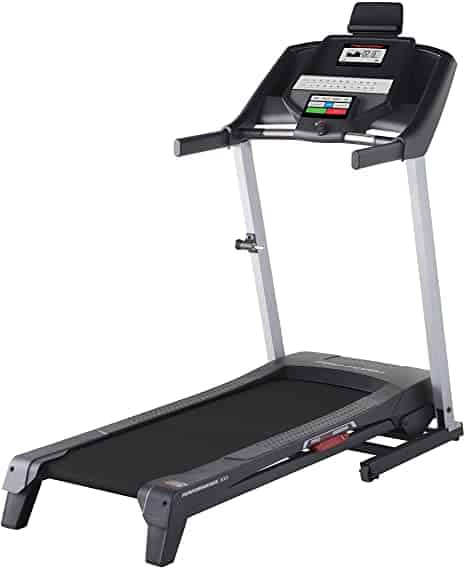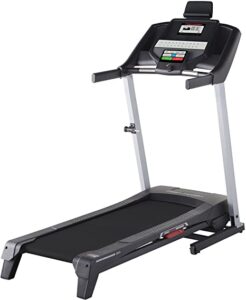 The ProForm Performance 300i packs more features than the others and its exceptional warranty will definitely give you a peace of mind: lifetime on frame, 25 years on motors and 1 year on parts and labor is way more than regular warranties for even the best for 'less than 500' treadmills.
Also, this powerful foldable treadmill has gripping handles for its Heart Rates Monitor; it
reaches up to 16 Km/h, a 10% incline and a great maximum weight capacity: 300 pounds
(136 kg)
Additionally, the device fits through a doorway, making it very portable and easy to move
around the house.
Pros: Very accurate Heart Rates sensors on handles, built-in Bluetooth that connects with
your phone to track progress, a warranty for a lifetime, and really easy to move around
rooms if you're limited on space.
Cons: It takes one hour to assemble and the standard running surface, although really good
for walking and running, can make running less comfortable for taller people due to its
narrowed belt.
So Which One Should You Get? – Treadmill Comparison
Best for running: Weslo Cadence G 5.9 is the most popular sub $500 treadmill. It has a
track record of reliability, especially considering its low price tag..
Best for walking: Exerpeutic TF1000 is the only treadmill that's here that's for walking only.
Sure, you can walk on any running treadmill, but this one was specifically designed and
optimized for it. So if walking is your thing, this is hands down the best treadmill for walking
with a powerful engine and can support a person with a weight of up to 400 pounds (180 kg).
After more intense workouts?: The hybrid Weslo Crosswalk is the obvious choice for this
one. You can get for sure a much more intense workout on this treadmill than you would on
other treadmills featured here.
Best Warranty & Features: ProForm Performance i300 beats all others. It has an amazing
long-lasting warranty period, very hard to find in treadmills under 500. Plus, it has useful
features such as Bluetooth connectivity and is pretty compact and light to move it with ease
around the house.
Best Ultra Low Budget: If we strictly compare performance and price, Confidence Power
Plus performs surprisingly well and much better than you would expect in treadmills under
500.
So When Do You Need a More Expensive Treadmill?
All of the treadmills reviewed above have excellent features, reach a decent speed, and
stand in time for different fitness goals, such as running or walking, in relation to what they
cost, less than 500 dollars. You'll definitely get a fulfilling workout, burn fat and get fit just as
well as you would on more expensive treadmills.
And although you can get just as good of a workout with good treadmills under 500, there
are some instances when you may want to consider purchasing a more expensive one.
Being realistic, you can't compare a budget treadmill that costs under $500 to ones costing
$1,500. That is not a fair comparison.
Would you compare a Lamborghini to a Toyota? I don't think so.
So, here are some instances when you might consider just a bit more on your next treadmill:
You Are More Than Slightly Overweight: The whole point of a treadmill for many is to try
to burn some fat while keeping your heart in good condition. But if you weigh too much and
you want to do brisk walking or running on the treadmill, high capacity treadmills will provide
better cushioning to better protect your knees from impact.
You Are Very Tall: Very tall people may feel more comfortable running on a longer length
belt. Especially if you would also like to do running. .Although tall people can use budget
treadmills just fine, serious tall runners might feel more comfortable on wider, longer belts.
You Plan to Run a Lot: It's true you can also run on treadmills under 500 dollars, but the
longer you run or the heavier you are, you'll need a stronger motor and more cushioning for
better shock absorption to protect your joints.
You Are a Fast Runner: If you are a competition runner, opt for ones slightly above 500
because although treadmills under this price range can reach good speeds, they can't do it
for long and, if forced to, they can become shaky and shocking absorption be greatly
reduced.
So, considering the list we just gave you, this is our top 3
treadmills just above the 500 that can give you way more
advantages, comfort, and effectiveness in the long run:
The NordicTrack T Series treadmill: our top choice if you are
looking to invest in your fitness journey for the long run.
If you're having a tough time deciding on a treadmill and keep looking into the 500 price
range but read things like "don't try to run on it" and keep feeling discouraged, this is a
well-made and sturdy, unshakeable and easily portable treadmill to test. It takes just 30
minutes to set up.
Just one tip: it does take 2 people to assemble because someone has to hold the console
piece while you connect the one wire.
The Horizon T101 treadmill: our fav foldable with a built-in fan!
It's proven to really perform although you decide to use it 6 days a week for about a half hour a
day. This treadmill is large. It also feels safe running on it, really quiet, with Bluetooth. Two
holding spaces for your water bottle, phone, and maybe even your walking weights!
Super easy to assemble. Has also some built-in programs for weight loss, calorie-burning,
race/marathon training, manual, and intervals. The power incline is great and it even has a fan!
If you aren't into the bells and whistles (touch screens, watching workout sessions on your
treadmill) and just want a basic yet sturdy and reliable treadmill, this could be your perfect match.
The ProForm City L6 treadmill: the unbeatable time assembling
treadmill
According to users, this treadmill takes less than 10 minutes to assemble so you can be in
no time enjoying a good run on this treadmill. Its tablet holder is proven to fit a 12.9" iPad Pro
and has also a solid motor and wide belt for your absolute fitness joy.
To Round Up!
Now that you have gone through the 'best treadmill under 500 dollars' review, you can stop
stalking treadmills online trying to find the perfect treadmill under 500 with power incline,
heart rate sensor and that folds perfectly beneath your desktop. Check out this V.I.P.
selection we thoughtfully made for you and have a runtastic fitness journey this year and beyond!
This article was written by Victoria Franco and published in April of 2022. It was last updated on January 10, 2023.