(Last Updated On: September 29, 2017)
How to Make the Most of Your New Treadmill
Congratulations!  You've decided to buy a treadmill!
Buying a treadmill is just the first step towards better health and living for you and your family.  A treadmill will help you improve your cardiovascular fitness, have more energy, and tone your muscles.
Treadmill machines can vary greatly in pricing and features.  Use our Treadmill Buyers Guide to learn about the various treadmill features so you can find the right machine for your body and budget.
Many people make the mistake of buying a treadmill and then using it as an expensive clothes hanger.  Here are 7 tips to help you make the most out of your new piece of exercise equipment.
Tip #1:  Think about how you want to use your new treadmill first.
Before you begin shopping, take a moment and think about how you want to use your treadmill.  Do you want to primarily use it as a walking machine?  Or, are you planning to train for an upcoming race?
Perhaps a machine with extreme incline is right for you?  Do you want lots of bells and whistles for motivational features or are you more concerned about a solid performing machine?
There are many different types of machines out on the market.  Some of them are geared more towards performance with superior components and ergonomic features.
Then there are other machines with very high tech motivation features. They include fitness tracking, virtual exercise routes, and advanced programming to guide you through a workout. Some are great for walking, while others are built to hand the abuse of running.
Once you've defined how you plan to use the machine, you'll have a better idea of what features to look for.  See our Treadmill Best Buys list for a few suggestions in each category to get you started with your search.
Tip #2:  Plan to spend at least $500 for a quality treadmill.
There are many treadmill options out there that cost less than $500.  They can be found at big stores like Walmart, Target, and Dick's.    Be aware that these low cost machines come with some high risks.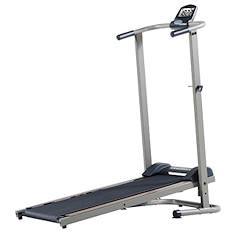 A treadmill is a complicated piece of machinery that needs to handle some pretty heavy abuse.  Cheap machines are able to offer lower pricing because they often have cheap components.  This includes very small running surfaces, low-powered motors, and decks that are too thin for overweight individuals or runners.
In addition, these machines often come with only a 90-day parts and labor warranty.  This means the company does not have confidence that their equipment will last longer than three months.
So you can choose to spend $300 over and over again for cheap machines that don't last or just spend a bit more and get a quality machine, better performance, and a stronger warranty for years of use.
It's up to you…
We understand that this is not always realistic for some buyers.  Just be aware of what you're purchasing into if you do buy a cheap machine.
Tip #3:  Check for a long warranty on frame, motor, parts, and labor.
This leads us right into our next piece of advice for buying treadmills.  Check over the warranty carefully.  Some brands will offer pathetic warranties that only last for 90 days.  These machines are really not worth the money since they are likely to break down quickly.
We like brands that offer a lifetime warranty on frame and motor with several years on parts and labor.  The Horizon T101 is one example of a budget level machine with a lifetime motor warranty.  The Sole F80 is another Best Buy treadmill that comes with a great warranty:  lifetime motor/frame/deck, 5-year electronics, and 2-year service.
On the other hand, the FreeMotion 2500 GS is an example of a high-priced machine with a less than desirable warranty.   For around $2,799, they only offer a 10-year motor warranty on this machine.
Tip #4:  Pay for delivery and set-up for less hassle.
Once you've chosen your treadmill model, it is time for you to bite the bullet and make the purchase.  When you are ordering, consider the delivery options.
Will the company deliver the machine or do you need to drive it home yourself?  If you've ordered online, are they going to deliver to the curb or actually carry it into your home?  Once it's inside, who is going to assemble the machine?
Delivery charges from online purchases may cost an additional $100-300.  This fee needs to be factored into your overall budget.  Sometimes you can pay for them to move the machine into a room of your home and complete the full assembly.  Deliverymen may have limitations on this service where they won't carry it up any stairs.
Lastly, semi-trucks are often used to transport the machines.  Is your home accessible by such a large vehicle?  If not, you'll need to make arrangements with a smaller truck.
Treadmills often weigh several hundred pounds so make sure you've clarified all of these details before you finalize any purchase.  We recommend you pay for delivery into your home and complete assembly for the least amount of hassle.
If you decide to do it on your own… remember to lift with your legs… and good luck!
Tip #5:  Set SMART goals for what you want to achieve with your new treadmill.
When the treadmill is finally in your home and ready to be used, it's time to set some goals!  Don't just assume that the presence of this machine will be enough to help you lose weight or tone up.  You need to have a plan and actually use the machine.
Use the letters in SMART to help you set achievable goals.  Your goals should be: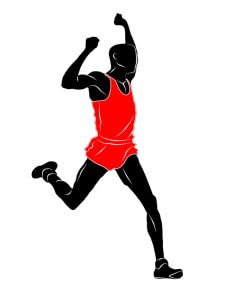 Specific
Measureable
Attainable
Relevant
Time-Sensitive
Make a plan for how and when you will use your machine.  Then, stick with it!
Many treadmills will have some pretty fancy programming to help you achieve your goals.  One of the best programs is called iFit Live and is available on brands like NordicTrack and ProForm.  It allows you to set goals, track workouts, sync to Google Maps, and even workout with Jillian Michaels.  Unfortunately, iFit Live requires an additional subscription cost for ongoing use.
Yowza Fitness has MyLiveLight that incorporates a smart scale for Intelligent Weight Management.  It will automatically adjust your workout based on your recently logged weight to help you maintain or lose pounds.
ViaFit from Horizon Fitness integrates easily with existing fitness apps that you are already using like MyFitnessPal and MapMyRun.  It also offers many of the tracking capabilities and virtual run options as iFit Live without any additional fees.
Sole Fitness has Bluetooth capability on their machines that uses a free Sole Fitness App.
Tip #6:  Keep your treadmill workouts interesting.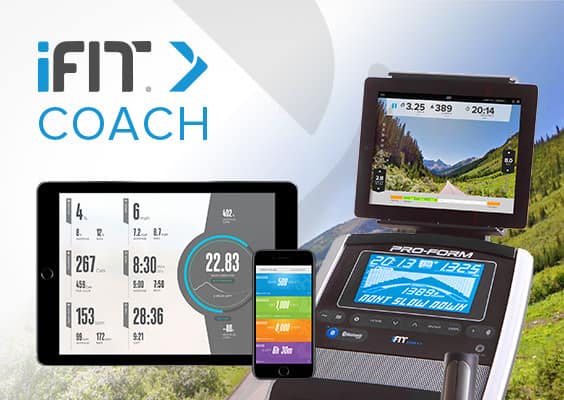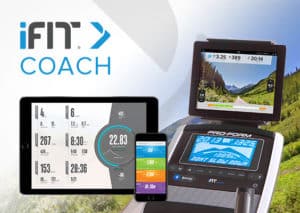 Running in place day after day is not the most exciting thing in the world.  Okay, let's be blunt…it can be downright boring!
That's why you need to keep your workouts interesting from day to day.
Switch things up!
Try running at different incline or speed settings.  Play around with High Intensity Interval Training workouts.  Use the built-in programming on your machine to run virtual routes through parks, foreign cities, or interesting terrains.
Almost every top brand that we recommend has some sort of built in programming to keep your daily workout fresh.  Plus, treadmills now incorporate Internet browsing capabilities, touchscreens, and integrated tablet holders.
Use your treadmill time to catch up on your favorite blogs, watch a recent TV episode, or check out the latest breaking news.
Just remember that you are on the machine to sweat NOT relax.  Keep your workout intensity up and keep your body guessing.
Tip #7:  Be consistent with your workouts!
One of the biggest mistakes we see over and over again is that people get excited, buy a treadmill, use it for a few months, and then…nothing.
This is often the case with New Year's Resolution makers.  Did you know more than 50% of the people who set resolutions to lose weight give up by June?  It's true!
Don't let your new treadmill become an expensive clothes hanger.  Make a plan and stick with it.  Use your treadmill sporadically for disappointment and a higher likelihood of injury.  Use it consistently and you will see results!
Here are some more resources to help you find the right machine:
Treadmill Buyer's Guide – Learn about what to look for on your new treadmill.
Top 10 Budget Treadmills Under $999
Top 10 Mid-Range Treadmills Priced $1,000-$1,499
Top Quality Treadmills Priced $1,500-$1,999
Top Premium Treadmills Priced $2,000-$2,499
Top Premium Plus Treadmills Priced $2,500-$2,999