NordicTrack X9i Incline Trainer Review
| | |
| --- | --- |
| Brand: | NordicTrack |
| Expert Rating: | |
The NordicTrack X9i Incline Trainer is ON SALE!
"Best Buy" For Innovation & Intense Cardio Burn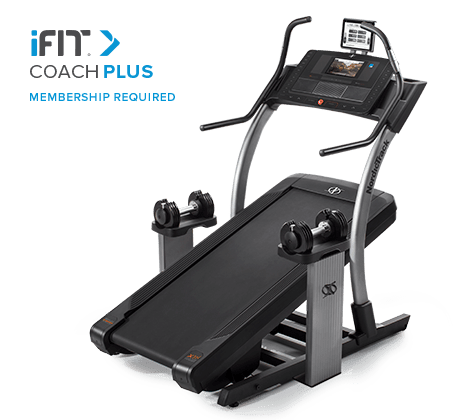 The NordicTrack X9i Incline Trainer is their #1 selling treadmill. NordicTrack first started selling Incline Trainers six years ago.  Since then, they have continually grown in popularity. Incline Trainers are very effective in helping people burn calories, lose weight,and get in shape.
For those not familiar with the Incline Trainer, it is basically a treadmill that inclines to extreme levels of up to 40%.  These machines are generally used for walking because of the extreme incline, although they can also handle running.
Top Features on this Unique Treadmill: 
You can get the same intense cardio workout from running while walking.  It is similar to hiking up and down a steep mountain.
Since you're walking and not running, there is less stress on your joints and back.
However, many individuals still use the Incline Trainers for running.  With the X9i you can either walk at steep inclines, or run at a more level incline.  Of course, if you are a fanatic you can run at steep inclines, but probably not for long.
NordicTrack X9i Incline Trainer Features
7″ Smart HD Touchscreen —The NordicTrack X9i Incline Trainer has a really nice 7″ full screen touch display.  The colorful display shows features and programs along with your iFit stats and virtual course views.
40% Incline and -6% Decline — Being able to incline the deck to 40% allows you to get one of the most intense workouts you will find on any cardio machine.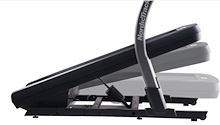 The ability to incline the NordicTrack X9i so steeply means you can burn calories efficiently without the stress and strain that comes with running.  In fact, the company claims you will burn five times the calories  in comparison to using a normal treadmill.
In addition to inclining the machine, you can also decline the X9i  to -6%, which allows you to simulate hiking down hills. This allows you to target different lower body muscles.
22″ x 60″ Treadbelt — The long treadbelt makes the X9i more practical for running.  The extra width gives you a more comfortable walking surface.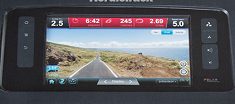 iFit Live Coach Ready— With iFit Live, you can combine the incline and decline features with Google Maps and experience hiking trails virtually around the world.  You can view your progress on the color display by selecting a predefined route, or mapping out your own route.  The NordicTrack X9i Incline Trainer will simulate the ups and downs while providing you with either a satellite, Earth, or street view.   We've mapped out streets in local neighborhoods and were impressed with how accurately it simulates going up and down hills.  How do they do that? 
In addition, you can define your fitness goals at iFit.com and receive an 8-week personalized training routine designed by Jillian Michaels.  She provides audio coaching as you workout.  A new workout is sent through WiFi and automatically downloaded to your Incline Trainer X9i. The results are recorded in real time to your iFit.com account, allowing you to track your progress.
Included with iFit Live are HD videos of world famous terrains. You can run though stunning mountain or oceanfront scenes.  Like with Google Maps, the treadmill will simulate the terrain as you run.
An additional subscription fee is required to access the features.  This model does come with 1-year FREE iFit membership, but you need to pay after the first year. Some of the competitors have fitness tracking programs available at no cost.
---
Check out a comparison chart with all of the NordicTrack Incline Trainer models here.

Also, take a look at the NordicTrack x22i with a 22″ Smart HD Touchscreen or the NordicTrack x11i with a 10″ Smart Touchscreen and 4.25 CHP motor.
---
3.0 Continuous Duty HP Motor — The motor has ample power to run effortlessly at higher inclines and speeds.  It comes with a lifetime warranty, which means it virtually never has problems.
Heart Rate Monitor with Wireless Chest Strap — For those who want to optimize their workout, the NordicTrack X9i Incline Trainer allows you to control the level of your exercise with your heart rate.  This is a technique that is popular with professional athletes.
44 Workout Programs — Included are 24 workouts that target calorie-burning, incline or intensity goals. In addition there are 20 preset iFit Live™ Workouts , which include training with Jillian Michaels, workouts Powered by Google Maps™, event training and a goal-setting center.
Heavy Unit Weight — The NordicTrack X9i weighs approximately 350 lbs., giving it a very solid and stable feel. You will definitely want to get the inside delivery option.
Speakers with MP3 Input — The treadmill has two 3″ speakers that have better clarity than you will find on most fitness equipment sound systems.
Warranty — This machine comes with ample coverage, which suggests this is a very durable machine.  The warranty provides lifetime frame, deck and motor, 5-year parts and electronics, and 2-year labor coverage.
NordicTrack X9i Incline Trainer Review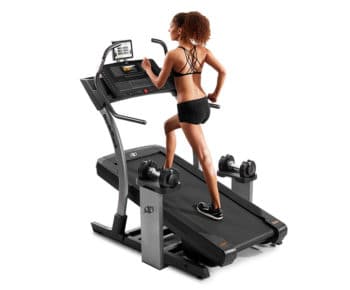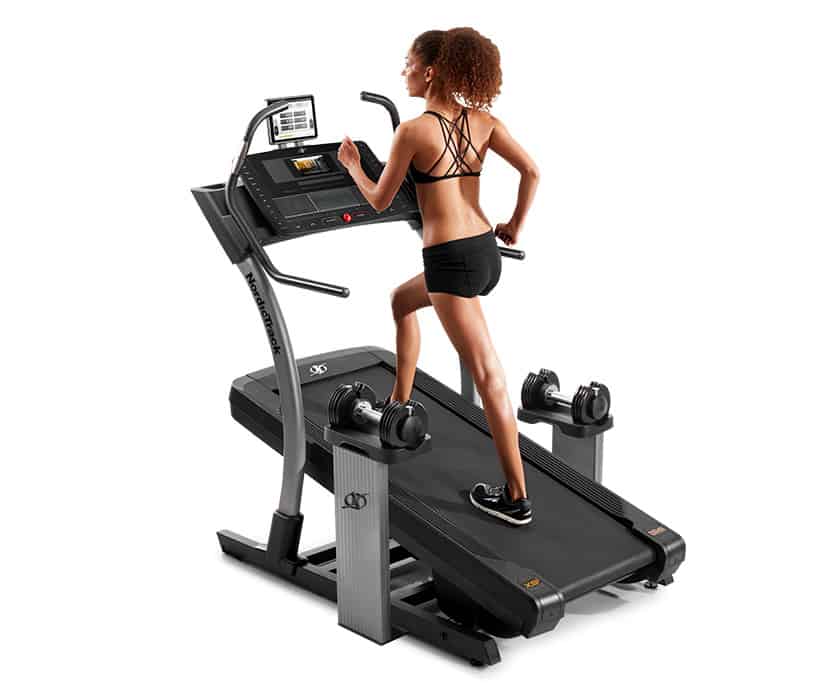 The Incline Trainers have been out for several years and NordicTrack keeps improving on the concept.  The X9i takes the basic idea of walking at extreme inclines and adds…
22″ x 60″ length Treadbelt, allowing you to also run,
-6% Decline, which targets additional muscles and lets you simulate going up and down mountains,
Full Color 7″ Touch Screen Display with Android Browser, which allows you to experience the full impact of iFit Live, in addition to being able to browse the Internet.
During a conversation with one of our contacts at the company he mentioned that the majority of the employees who bought a product through the company selected an Incline Trainer.
So the question is – do you want to spend $2,000 on the premium NordicTrack Incline Trainer, or get a heavy duty treadmill for the same price?  That really depends if you are sold on the concept of extreme incline training.  As mentioned, you can get an intense and efficient cardio workout while walking.  This reduces the impact that comes from running.
We're sold on the concept and would seriously consider an Incline Trainer for a future cardio equipment purchase.  This is especially attractive as age sets in along with its aches and pains during exercising.
Go to www.NordicTrack.com to learn more.