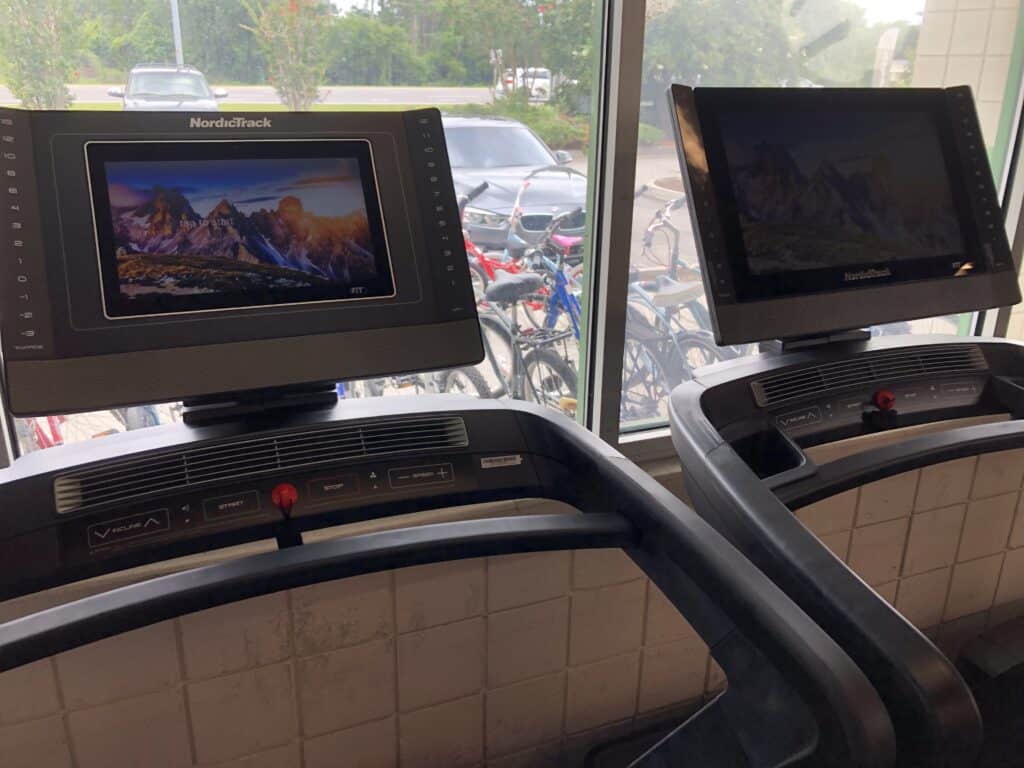 (Last Updated On: September 25, 2022)
When it comes to fitness equipment, a few differences in features can make all the difference. Feature variations can have a big impact not only on the usability of the machine, but the features can also greatly impact the price. With so many treadmills out there, it can get a bit confusing deciding which treadmill is the best fit for you and your needs. In this article, we'll be focusing on two treadmills from the NordicTrack Commercial Treadmill series.
Read More: NordicTrack Review
NordicTrack Commercial 1750 and Commercial 2450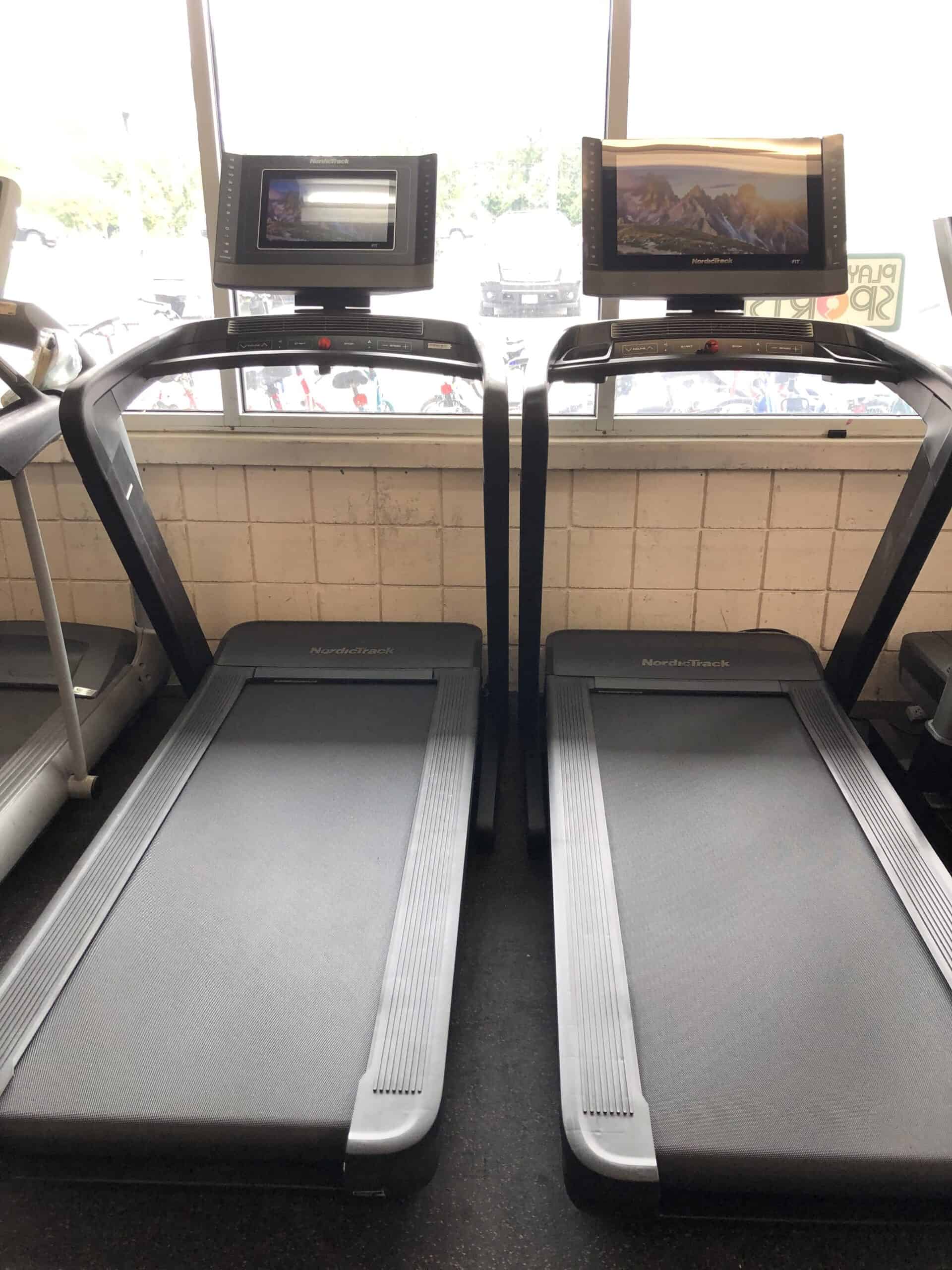 The NordicTrack Commercial 1750 Treadmill and the NordicTrack Commercial 2450 Treadmill are two of NordicTrack's most popular models among consumers. Both of these machines are designed for residential use, but offer some commercial-grade features. Our team has traveled to the NordicTrack headquarters many times throughout the years. One thing that has always impressed us about the NordicTrack brand is the quality of their products. The reason that NordicTrack has been able to stay such a big player in the fitness game for year after year is because of the durability of the equipment that they produce. When you purchase a treadmill from NordicTrack, you can be assured that you're investing in a machine that with the proper care, will last you for many years to come.
Methodology: How Did We Compare the NordicTrack 1750 vs. 2450?
Aside from visiting the NordicTrack headquarters over the years and staying in touch with leadership at the company, our review team wanted to take this comparison a step further. Since NordicTrack launched new versions of both the Commercial 1750 and the Commercial 2450 in 2022, we wanted to ensure that we were up-to-date on the latest specs and providing our readers with an accurate comparison of both of these treadmills. So, the staff at Play It Again Sports in Wilmington, NC, was kind enough to let us use their facility to set up both of these treadmills. Members of our review team were able to put the treadmills side by side and get down to the nitty gritty to determine which treadmill outshines the other.
Read our individual reviews:
NordicTrack Commercial 1750 Treadmill Review
NordicTrack Commercial 2450 Treadmill Review
NordicTrack Commercial 1750 vs. 2450 Comparison Chart
| Features | NordicTrack Commercial 1750 Treadmill | NordicTrack Commercial 2450 Treadmill |
| --- | --- | --- |
| Motor | 3.5 CHP | 3.6 CHP |
| Screen Size | 14" Tilt & Pivot HD Touchscreen | 22" Tilt & Pivot HD Touchscreen |
| Incline | -3% Decline to 12% Incline | -3% Decline to 15% Incline |
| Speed | 0-12 MPH | 0-12MPH |
| Weight Limit | 300 lbs. | 300 lbs. |
| Treadbelt Size | 22" x 60" | 22" x 60" |
| Warranty | 10-year frame, 2-year parts, 1-year labor | 10-year frame, 2-year parts, 1-year labor |
| Folding? | Yes | Yes |
| Fan? | Yes | Yes |
| Speakers | Bluetooth Audio Speakers | Bluetooth Audio Speakers |
NordicTrack 2450 vs. 1750: Which Should You Buy?
Looking at the comparison chart above, it probably appears to be a no brainer that the NordicTrack Commercial 2450 is a better buy than the Commercial 2450, right? Well, not so fast.
There's a $500 difference between the 1750 and the 2450 treadmills. Although the 2450 certainly has some upgraded features, we're not sure if these features actually justify the price jump (for most people).
Screen Size
The Commercial 2450 has a 22″ touchscreen while the 1750 only has a 14″ touchscreen.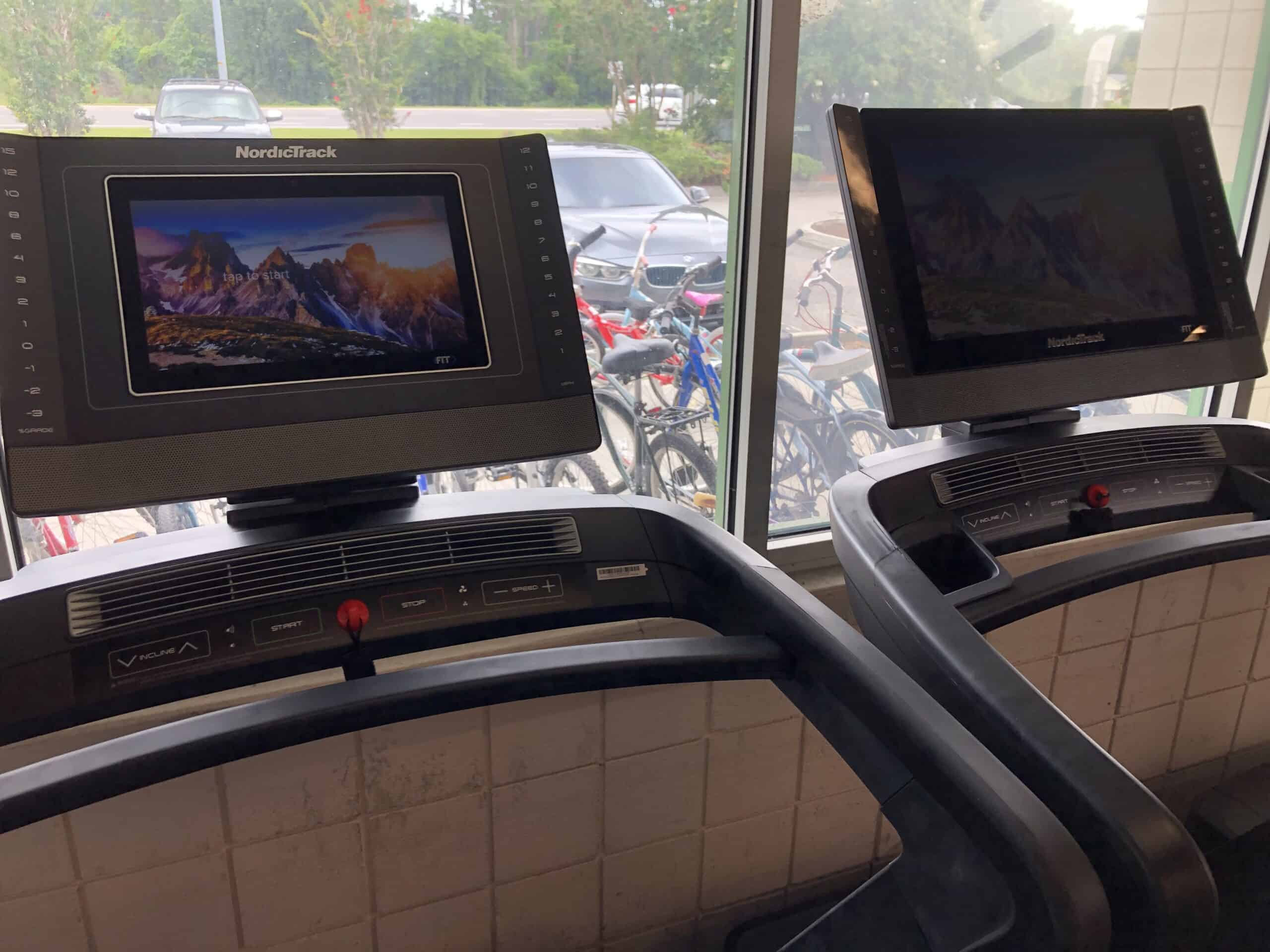 The screen displays basic workout stats in manual mode, but the main attraction of NordicTrack screens is to use their interactive fitness technology, iFit. A quick overview of the features of iFit:
On-demand workouts
World class personal trainers
Workouts across the globe with Google Maps Technology
Fitness/goal tracking and community support
Live studio classes
iFit is a paid monthly subscription that most users of NordicTrack choose to enjoy to help them during their fitness journey. When we were testing out the 1750 and the 2450 in-person, it was actually an agreed upon consensus among members of our team that we disliked the bigger screen. It felt like it was in the way, it was hard to see over for those of us on the shorter side, and it just felt a bit unnecessary. Here are some closer pictures of the screens.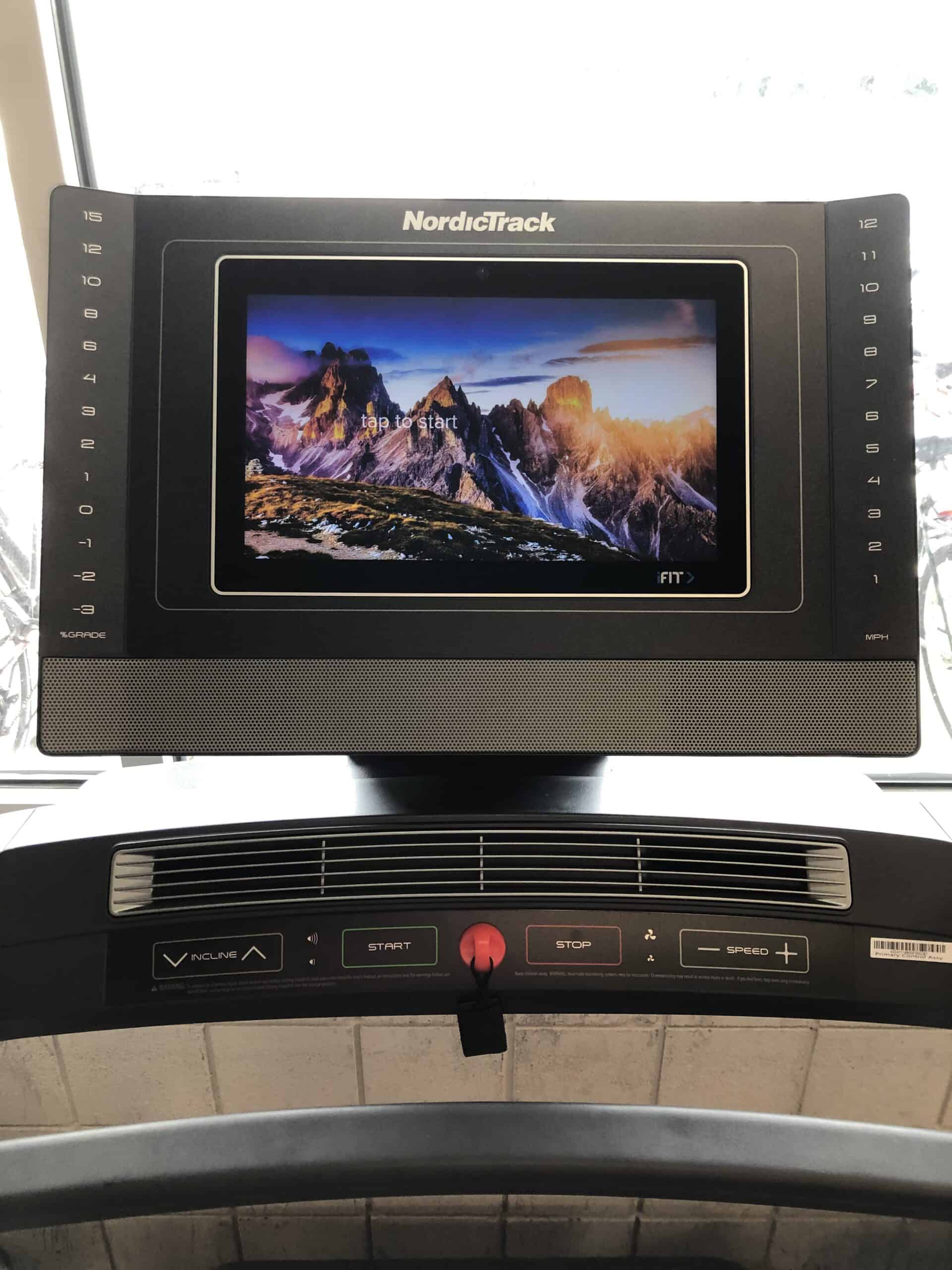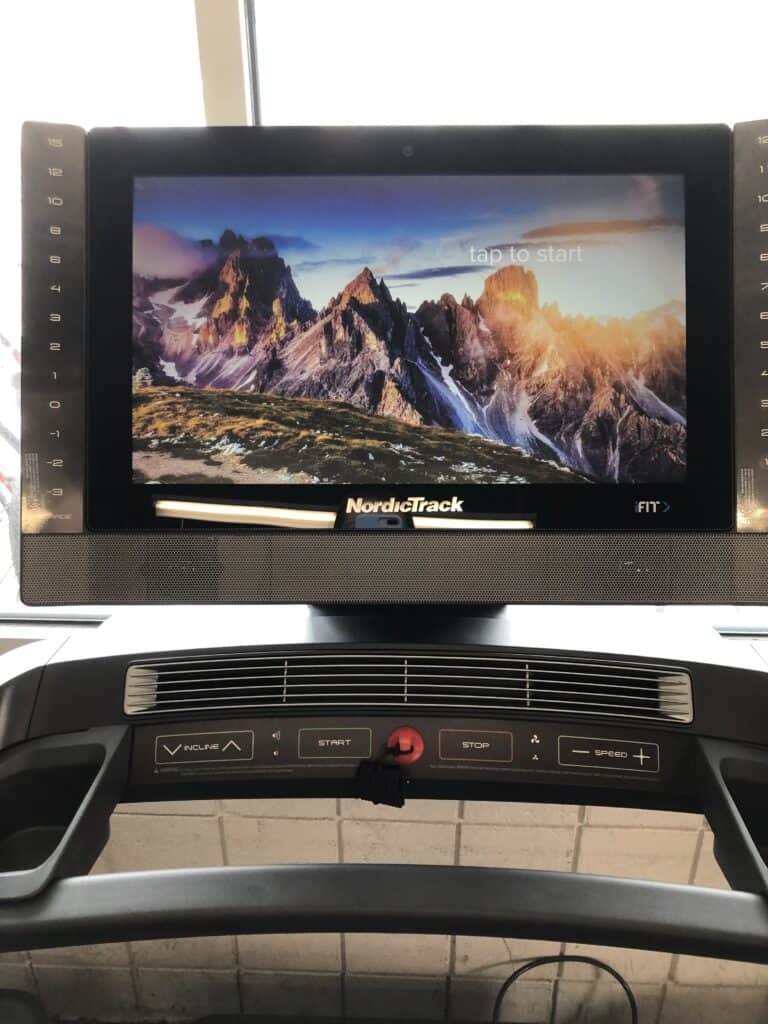 You can see on the Commercial 2450, the 22″ screen takes up the entire console. It actually makes the one-touch speed and incline control buttons smaller, and a bit harder to switch, especially while you're running. So, unless you just really love having a ginormous monitor on your fitness equipment, we don't think that the upgrade in screen size is actually a "winning" feature.
Motor
The Commercial 1750 treadmill features a 3.5 CHP motor, and the Commercial 2450 has a 3.6 CHP motor. What this means for you as the user of either of these treadmills? Absolutely nothing.
In brutal honesty, we tested out the decline and incline of both of these, maxed out their speed capabilities, and there is absolutely no difference in the NordicTrack 2450 vs. 1750 in terms of how the motor effects using the machine.
Incline
To the members of our review team that tested out both the 1750 and the 2450, the incline was the only real noticeable difference. Using a decline and incline on a treadmill mimics going up and down hills, targeting more muscles and burning more calories while you exercise. The Commercial 1750 goes up to a 12% incline level, while the 2450 has a slight advantage, going up to 15% incline. If you really enjoy incline training, this feature may justify the Commercial 2450 for you.
So… What's the Bottom Line?
Now that we've laid out a comparison of the specs, and given an in-depth breakdown feature-by-feature: the question still remains. Which is a better buy – the NordicTrack Commercial 1750. vs 2450?
The Commercial 1750 and the Commercial 2450 are so similar in specs, usability, and features. For most people just wanting to add a treadmill to their fitness journey, we suggest saving a few hundred dollars and choosing the NordicTrack Commercial 1750.
Frequently Asked Questions
Can you watch Netflix on the NordicTrack Commercial 1750?
No, the screen on the 1750 does not allow you to steam Netflix.
Can you watch TV on the NordicTrack Commercial 2450?
No, you cannot watch any type of TV/streaming service on the 2450 treadmill.
Can I use a NordicTrack treadmill without iFit?
Yes, NordicTrack treadmills function in manual mode without an iFit subscription.
Does a NordicTrack treadmill screen tilt?
Some NordicTrack treadmill screens tilt and pivot, including the screens on the Commercial 1750 and the Commercial 2450 treadmills.