NordicTrack Commercial 2450 Treadmill Review
| | |
| --- | --- |
| Brand: | NordicTrack |
| Expert Rating: | |
The NordicTrack Commercial 2450 Treadmill is ON SALE!
A Great Running Machine with an Upgraded 22″ Smart HD Touchscreen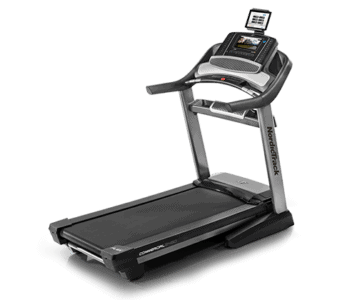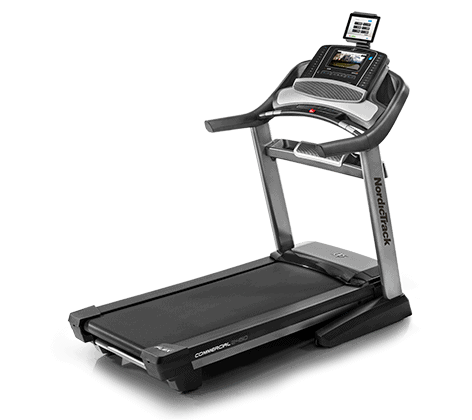 The NordicTrack Commercial 2450 treadmill combines a serious exercise machine with features that take the monotony out of running in place. Instead of staring at your living room wall, you can enjoy the convenience of a 22″ display at your fingertips.  This machine lets you view custom running routes or iFit adventures directly on your console display.
NordicTrack has long been a trusted brand in the treadmill industry. They come from parent company Icon Fitness, which also brings us the winning brand, ProForm Fitness. They are often able to sell more machine at a lower price because this company is the LARGEST manufacturer of fitness equipment in the world.
To further attest to the quality of this machine, the Commercial 2450 recently received a rating of "Excellent" in the categories Ergonomics, Construction, and Exercise Range from a popular consumer magazine.
The Commercial 2450 Treadmill is priced at $2,599.
---
You may want to check out our detailed video review of the NordicTrack 2450 treadmill. 
---
Entertainment and Motivational Features on the Commercial 2450 Treadmill
22" Tilt & Pivot Smart HD Touchscreen – The browser is used to interact with the treadmill.
This allows you to view your iFit workouts directly on the treadmill.
iFit  – iFit has been out for a few years and has proven to be very popular with customers.  That is why it is installed on all the NordicTrack treadmills.  With iFit, your NordicTrack Commercial 2450 treadmill can communicate with the Internet.  Through your iFit account…
You can create customized workouts.

Between the extensive library of on-demand workouts and the ability to join live classes, there's nothing stopping you from reaching your fitness goals. iFit's on-demand workouts range from running routines to yoga and cross training to ensure you get a complete well-rounded workout regimen. Each class is led by one of iFit's world-class trainers to keep you on track and making progress.

You can create customized routes on Google Maps and your NordicTrack Commercial 2450 treadmill will simulate the terrain with the incline feature.  As you run, you can view your progress on the Android browser. Google Maps will provide a street level view of your running route. There is also a library of existing routes through popular city-scapes and national parks. Once again, your results are tracked onto your iFit account.
iFit has an HD video Library of world famous trails through National Parks and walks along popular ocean fronts. Like Google Maps the treadmill will simulate the terrain as you run. This gives you a more realistic experience than the Google Map app.
Note:  This machine comes with 30 day iFit Family Membership Trial.
Two 3" Digitally Amplified Speaker

s,

Bluetooth Headphone Connectivity

– NordicTrack offers some of the best sound systems installed on a treadmill.  Many treadmill companies cheap out on the speakers and they are barely audible.
NordicTrack Commercial 2450 Treadmill Features
4.0" HP Motor – Let's just say – this is a bit of an overkill for a motor in a residential treadmill.  No matter how much you abuse this motor, it will take it and more.
22" x 60" Treadbelt – The Commercial 2450 has an extra wide 22″ treadbelt with a 60" length that gives you a nice comfortable zone for long running strides and interval training.
15% Incline & 3% Decline – NordicTrack is one of the few treadmill companies that allows you to both incline and decline the deck.  This gives you the ability to simulate running up and down hills.  It further enhances the experience of running with Google Maps.
Adjustable Shock Absorption – We're not sure about the logic of this feature.  You can turn off the shock absorption so you can simulate running on asphalt, which doesn't make a lot of sense, since one of the major benefits of running on a treadmill is the reduced impact to your body.  However, some people prefer a firmer running surface.
Warranty – The coverage is similar to other treadmills at this price range; 10-year frame, 2-year parts, 1-year labor.
Overall Review of the NordicTrack Commercial 2450
The NordicTrack Commercial 2450 treadmill is designed to entertain, motivate, and relieve you of the boredom of running in place.  From that perspective, it does a better job than any other treadmill on the market.
On the other hand, how does the Commercial 2450 treadmill hold up to the rigors of running?  Over the years, NordicTrack has significantly improved quality control on their machines which is reflected in their strong warranty.  The durability of the NordicTrack Commercial 2450 treadmill is comparable, if not better, than any similarly priced machine.
If you are someone who suffers from boredom while running on a treadmill, the NordicTrack Commercial 2450 is a great answer.  This treadmill takes top honors for being feature rich.  You may also want to check out our Best Buy picks:  NordicTrack Commercial 1750 and the NordicTrack Commercial 2950.
Go to www.NordicTrack.com for further details!