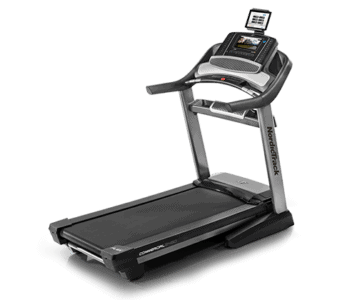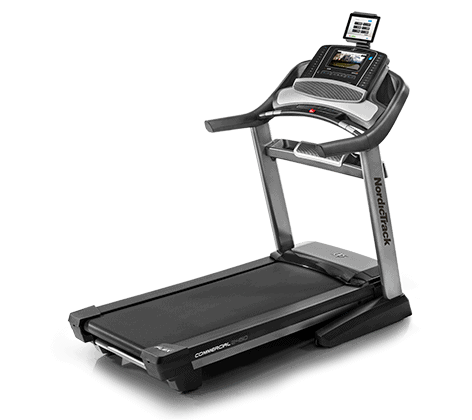 The NordicTrack Commercial 2450 treadmill combines a serious exercise machine with features that take the monotony out of running in place.  Let's face it – running on a treadmill can be incredibly boring in comparison to running outside.  No matter how fast you run, the scenery never changes.
Enjoy the convenience of a 10″ browser display at your fingertips.  This machine lets you view custom running routes or iFit adventures directly on your console display.
Entertainment and Motivational Features on the Commercial 2450 Treadmill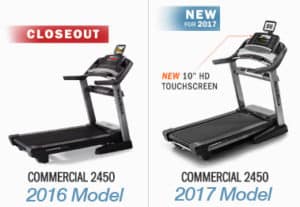 HD 10" Color Android Touch Display Browser – The browser is used to interact with the treadmill, but it can also be utilized to access the Internet.  This allows you to read your email and connect with your favorite websites during your workout.
iFit Live – iFit Live has been out for a couple of years and has proven to be very popular with customers.  That is why it is installed on all the NordicTrack treadmills.  With iFit Live, your NordicTrack Commercial 2450 treadmill can communicate with the Internet.  Through your iFit.com account…
You can create customized workouts.  When you initially set-up your account on iFit Live, you define your fitness goals like running a 5k race or losing weight.  Based on those goals, you can select workout routines designed by professional fitness trainers like Jillian Michaels.  The workouts are progressive and last from 2-4 weeks.  They include audio coaching for further motivation.  After each workout, your stats are uploaded to your iFit Live account, which allows you to monitor your progress towards your fitness goals.
You can create customized routes on Google Maps and your NordicTrack Commercial 2450 treadmill will simulate the terrain with the incline feature.  As you run, you can view your progress on the Android browser. Google Maps will provide a street level view of your running route. There is also a library of existing routes through popular city-scapes and national parks. Once again, your results are tracked onto your iFit account.
iFit Live has an HD video Library of world famous trails through National Parks and walks along popular ocean fronts. Like Google Maps the treadmill will simulate the terrain as you run. This gives you a more realistic experience than the Google Map app.
Note:  iFit Live is available at an additional subscription cost.
MP3 Input and Speakers – NordicTrack offers some of the best sound systems installed on a treadmill.  Many treadmill companies cheap out on the speakers and they are barely audible.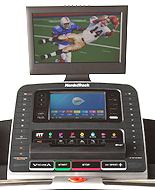 **15" HDTV (Certain models ONLY) – The 2015 model of the Commercial 2450 had an attached 15″ HDTV mounted on the front of the machine.  The newest models no longer come with this attractive feature.  You can still purchase a TV from NordicTrack for $900 and have it mounted on the front, but we recommend you instead use that money towards a regular wall-mounted TV.  You may come across an older model of the Commercial 2450 that still has this feature if you purchase second-hand.
NordicTrack Commercial 2450 Treadmill Features
4.0" HP Motor – Let's just say – this is a bit of an overkill for a motor in a residential treadmill.  No matter how much you abuse this motor, it will take it and more.
22" x 60" Treadbelt – The Commercial 2450 has an extra wide 22″ treadbelt with a 60" length that gives you a nice comfortable zone for long running strides and interval training.
15% Incline & 3% Decline – NordicTrack is one of the few treadmill companies that allows you to both incline and decline the deck.  This gives you the ability to simulate running up and down hills.  It further enhances the experience of running with Google Maps.
Adjustable Shock Absorption – We're not sure about the logic of this feature.  You can turn off the shock absorption so you can simulate running on asphalt, which doesn't make a lot of sense, since one of the major benefits of running on a treadmill is the reduced impact to your body.  However, some people prefer a firmer running surface.
Warranty – The coverage is similar to other treadmills at this price range; lifetime frame and motor, 5-year parts and 2-year labor.
Overall Review
The NordicTrack Commercial 2450 treadmill is designed to entertain, motivate, and relieve you of the boredom of running in place.  From that perspective, it does a better job than any other treadmill on the market.
On the other hand, how does the Commercial 2450 treadmill hold up to the rigors of running?  Over the years, NordicTrack has significantly improved quality control on their machines which is reflected in their strong warrany.  The durability of the NordicTrack Commercial 2450 treadmill is comparable, if not better, than any similarly priced machine.
If you are someone who suffers from boredom while running on a treadmill, the NordicTrack Commercial 2450 is your answer.  This treadmill takes top honors for being feature rich.
Go to www.NordicTrack.com for further details!
---
The video review of the Commercial 2450 was taken at the NordicTrack corporate headquarters in Logan, UT.