Learn More About Using iFit Live
I just got the module for my iFit Live compatible treadmill and in this review I want to relate my experiences setting it up and programming workouts.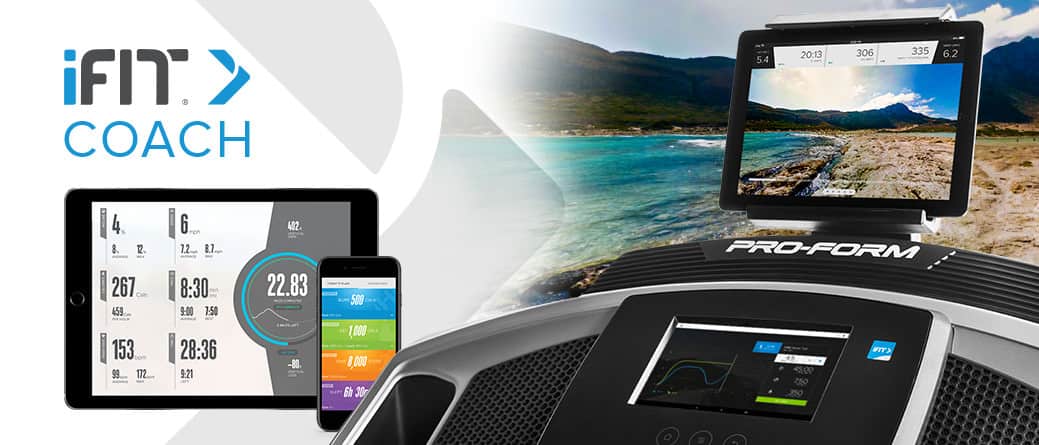 ---
iFit Live Costs
An iFit Live subscription costs $144/yr billed annually ($12/month).  Or, you can pay $15/month for a month-to-month subscription. When you first join, you are given the first month free to try out the system.  If you don't like it, you can get a refund.
Click Here to purchase or learn more.
---
First, there are two categories of iFit Live treadmills.  Those that have the module included and those without the module.  The module is what lets the treadmill communicate with the Internet.  If you have a treadmill with the module installed you can ignore the initial steps below.  However, if you have a treadmill without one, you will need to purchase the module and follow the these instructions.
Basically there are several steps to get started.
Getting your treadmill to communicate with iFit.com.  This is going to require inputting your WiFi password.  So you will need to dig that out.
Defining your weightloss goals.
Setting up your customized workouts or defining routes on Google Maps.
Programming the iFit Live Module
You need to go through a few steps that include…
Plugging the module into your computer and going to ifit.com/install.  You follow the instructions which require you to register your membership.  You also determine how many pounds you want to lose.
Next, you unplug your treadmill and insert the module into the slot on the top of the console.  Once you turn the treadmill on it may take some time for the module to initially program and connect to your ifit.com account.
Once your treadmill is communicating with iFit Live you can start setting up workouts or challenges.  There are basically three options…
Customized Training Programs
Draw a Map with Google Maps or Access Popular Routes
Competitions
Customized iFit Live Training Programs
You have four training options.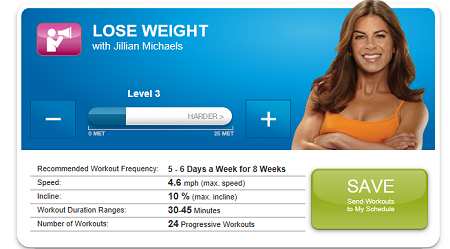 Workouts designed by Jillian Michaels of the Biggest Loser fame.   Each workout includes audio coaching by Jillian. You have four choices of customized workouts based on fitness goals.  They include…
Lose Weight
Power Walking
Get Fit
Performance
Workouts designed by Elisabeth Hasselback that also include audio coaching.  You choices are…
Getting Started
30 Day Body Makeover
Train for a 10K
With each workout it defines the recommended frequency of your exercises, speed, treadmill incline, workout duration and total number of workouts.  The workouts are generally progressive.  For each workout you can define the intensity level from 1-10.  Of course, you can adjust the level as you are working out on the treadmill.  Once you determine which workout is best for your fitness goals and the level of intensity you send to "My Schedule".
As mentioned, as you set up your account you are asked what your weight loss goals are.    After each workout your specs are downloaded  and they show your progress in reaching those goals.  I'm not sure about how exact the calculations are, but you can see your progress towards your goals in terms of calories burned and distance covered.
Race Training Workouts.  They include…
5K Training
10K Training
Half Marathon Training
Full Marathon Training
Ragnar Relay Training (You have a drop down menu that lets you choose one of the race locations around the country.  For example, Wasatch Back.  The treadmill will simulate the terrain.  To learn more about Ragnar relay races go to http://www.ragnarrelay.com.)
Draw a Map with Google Maps
In iFit Live you can trace a route on Google Maps.  This can be on existing roadways or general terrain.  For example, you could trace a route on Michigan Ave. in Chicago, or the trail on the South Rim of the Grand Canyon.  With any route you trace the treadmill will simulate the terrain with the incline.  There are several NordicTrack and ProForm treadmills that also decline, so the treadmill will simulate going up and down hills and mountains.  With the treadmills you will max out at 15%, however if you are using one of the NordicTrack Incline trainers you can max out to 40% incline, which will give you a more realistic experience going up steep mountainous inclines.
Viewing Your Route
To get the full impact of using the "Draw a Map" feature you need some kind of Internet browser display.  NordicTrack and ProForm have several treadmill models that are equipped with Google Android browsers.  They typically start at $1,500 and allow you to not only access the Internet, but also your iFit Live account.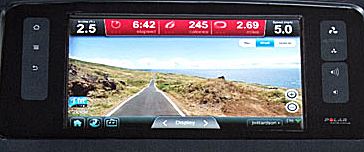 For those treadmill that have LCD displays you  need a laptop or SmartPhone to visualize your progress on Google Maps. I believe a tablet will also work, but I cannot confirm that.  With the NordicTrack C 900 treadmill a laptop fits comfortably on the console, but there was nowhere to place  a smartphone for easy viewing.   I'm sure you could do something with velcro.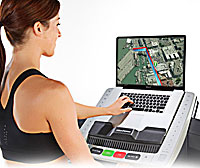 You have your choice of a satellite, map or earth view.  If you mapped a road and Google has a street scene of that road, you can actually see the scenery as you run or walk.  If you are running a trail or a road with no street view you have the option of the earth view, which gives you an animated depiction of the terrain.  Once again, the treadmill will simulate the terrain with the incline option.
I traced a route on a local street in my hilly area.  Once I defined the route iFit Live told me the total distance, the maximum incline, and the total amount of time it will take to walk at 1 mph and the total calories burned.
In addition to drawing map you can choose from an library of existing routes.  They include the Chicago Lake Front, Central Park, Avalanche Peak , Delicate Arch, Death Canyon, Shriner Peak and Marble Canyon.  With the Chicago Lake Front and Central Park you can get street views, but with the others you have to rely on satellite or earth views.  I was told they have plans to send people with cameras on some of these trails for actual photographic views.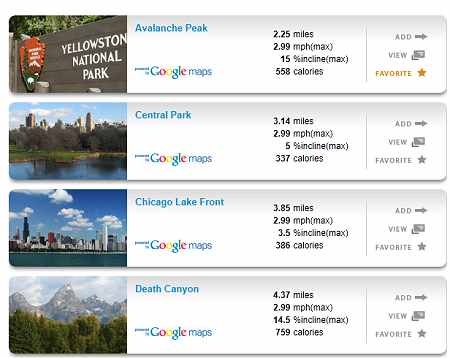 Note: You have to click on a Icon on the upper right corner of the browser screen to get the Google Maps view.
Competitions
iFit Live sponsors races where you can compete with others who have iFit Live compatible machines.  As of the writing of the review there was a 5k and 10K race scheduled through West Cornwall in Connecticut.   The races take place over a week's time.  You can see how you rate in comparison to the fastest time and the average time.
With all these various programs you need to place them in a queue in the schedule section.  From there you can click the buttons on the console to access your My Training, My Maps, World Tour, Event Training and Competition.  I was somewhat confused initially because I had multiple popular routes and I could only access one from World Tour at a time.  It appears you can only have one of each in the schedule at a time.
Our Review — iFit Live
iFit Live is not for everyone.  There are countless people who will just jump on a treadmill and sweat away the calories without motivational programming.  They are content to listen to music or watch TV.  However, most people fail at achieving their fitness goals because they don't have the motivation or the structure to reach those goals.  iFit Live offers both.
With "My Training" you can set goals and get progressive workouts that help you achieve those goals.  The audio coaching helps to further motive you.
Another reason people do not achieve their fitness goals is because they are just plain bored running or walking in place.  The Google Maps and the Competition feature help to alleviate that boredom.  Google Maps can give you the feeling of exercising outdoors, while the" Competition" feature gives you the thrill of competing with others.
iFit Live may just result in a lot fewer treadmills ending up as clothes hangers.
iFit Live is compatible with treadmills and elliptical trainers priced as low as $799 with shipping.  Below are a list of reviews of the current models that are iFit Live compatible.
If you do not currently own a NordicTrack iFit Live compatible treadmill, you can go to www.NordicTrack.com to view all of their fitness equipment.