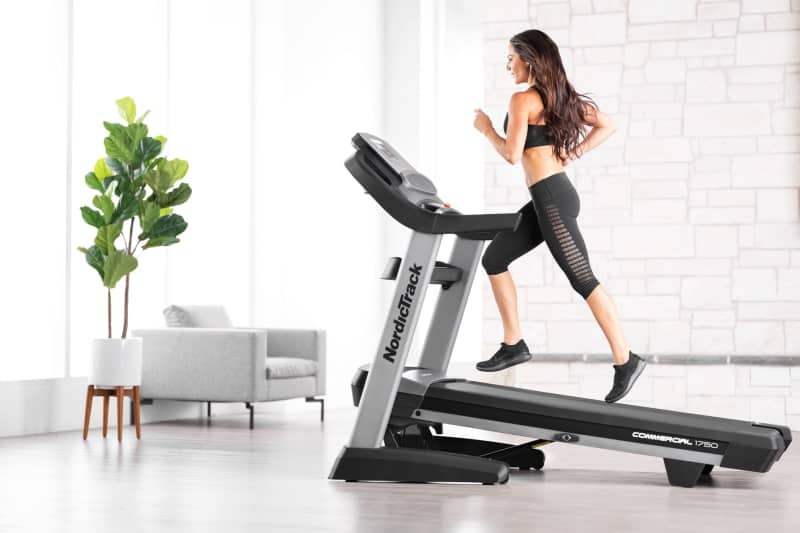 (Last Updated On: July 25, 2022)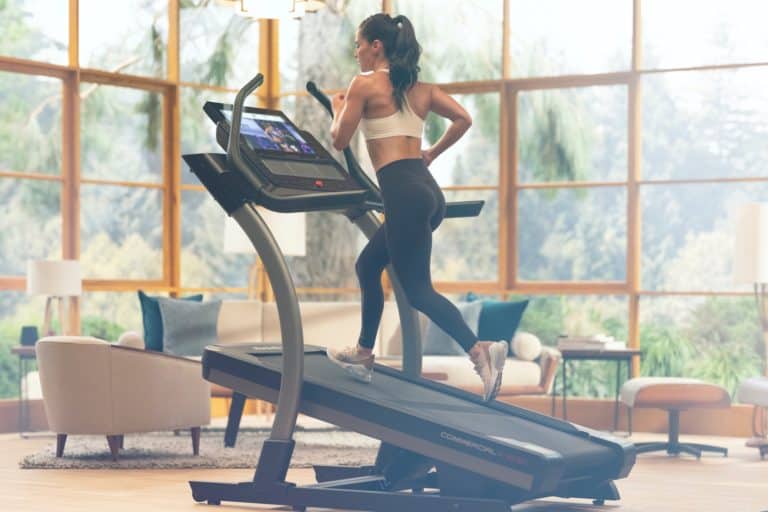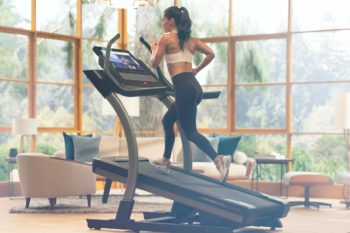 If you just purchased a new or used NordicTrack treadmill, congratulations!
Buying a new treadmill is exciting, but sometimes they can be difficult to figure out. If you need help figuring out how to turn on your NordicTrack treadmill, keep reading because this article is for you.
No matter what model that you have, and whether you're trying to figure out:
How to turn on NordicTrack Treadmill 1750…
How to turn on NordicTrack Commercial X22i…
Or, an older model – like how to turn on a NordicTrack T6.5S…
The steps are the same across the board. 
But first…
Methodology: How the Heck Do We Know?
Our team has visited the NordicTrack headquarters many times throughout the years. We have tried, tested, and put many of their models to the test. You can find some of our testing in action through our treadmill review videos.
To find the most accurate and up-to-date information, I interviewed our contacts at NordicTrack as well as dug through NordicTrack treadmill owners manuals.
The research and interviews ensured that Treadmill-Ratings-Reviews only produced a reliable and easy-to-follow guide for how to turn on a NordicTrack treadmill (as well as some of the other common troubleshooting queries). 
How to Turn on NordicTrack Treadmill [in 4 Easy Steps]
Step #1: Plug in the treadmill power cord into an outlet or surge suppressor (preferred by manufacturer). Plugging a treadmill directly into a regular outlet will usually trip your circuit breaker.
Step #2: Locate the power switch on the treadmill frame (close to the power cord) and turn the switch to the reset position. On NordicTrack treadmills, this switch is usually located on the front of the frame.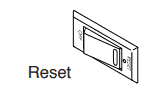 Step #3: Stand on the foot rails of the treadmill. You should only stand on the foot rails of the treadmill when your treadmill belt is not actively moving. Although you may have seen some people jump off the belt onto the foot rails while exercising, this is not a safe choice.
Step #4: Find the safety clip that's attached to the treadmill clip. Place the clip securely on your clothing, and plug the safety key into your treadmill console.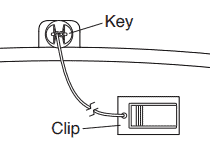 *Tip: The safety clip is attached to a small, long cord. Make sure that the safety clip cord doesn't have too much slack. When the treadmill safety clip cord has too much slack, it can easily get caught in your hands/on the treadmill handrails while exercising. This is not only annoying, as it will reset your entire treadmill workout if it gets caught, but it can also be dangerous.
The next step will be setting up iFit on your NordicTrack treadmill.

How to Turn on iFit on NordicTrack Treadmill
iFit is an interactive fitness technology that is offered by IFIT (previously known as ICON). ICON produces several treadmill brands, the main and most popular ones being NordicTrack and ProForm. Learning how to turn on a NordicTrack treadmill with iFit can be a little confusing if you've never done it before. 
There are a few quick steps to follow to get iFit set up and functioning on your NordicTrack treadmill.
First, connect your treadmill console to your home WiFi network (If it's not working, double-check that there is a green check-mark beside the Network option on your console menu to view available wireless networks).
Next, create an iFit account – There will be a browser button on your console to direct you to the iFit website where you can follow the prompts to create your iFIt membership account.
That's it! After connecting to your wireless network and setting up your iFit account, you're ready to access all the features that iFit has to offer on your NordicTrack treadmill. *Note: At the time of this writing, most NordicTrack treadmills come with a free 30-day trial to test out the technology. After the trial period is over, an iFit membership is $39/month.
How to Use an iFit Workout on a NordicTrack Treadmill
Once you have set up your iFit account, getting started with your first iFit workout is a breeze. Ensure that your safety key is plugged in and your treadmill is turned on, then navigate to the main menu and log in to your iFit account. From there, you'll be able to select your workout from a library of on-demand choices, or hop into a live workout class. 
If you don't want to use the iFIt technology, you'll have to set up your treadmill to function in manual mode.
How to Use a NordicTrack Treadmill Without iFit [Manual Mode]
To bypass iFit altogether, you simply need to turn on your treadmill and navigate from the main menu on the treadmill console. From there, you'll be able to start your walking or running exercise. You can use the controls on the console to adjust speed and incline. You won't have access to all the fancy and fun features offered by iFit, but you'll be able to track your basic workout stats.
How to Set Up Heart Rate Monitoring on a NordicTrack Treadmill
One of the stats that you can track on a NordicTrack treadmill (both with iFit and in manual mode) is your heart rate. Heart rate monitoring during exercise is important, particularly for runners. With NordicTrack treadmills in particular, you cannot use the chest strap monitor and the handrail monitors at the same time. Trying to utilize both will give you an inaccurate read. 
If you're using the handrails to monitor your heart rate, simply place the palms of your hands around the monitoring grips until the console shows your heart rate. 
To use the chest strap that comes with some NordicTrack models, follow these quick steps:
Step #1: Place the transmitter device onto the chest strap snap fasteners.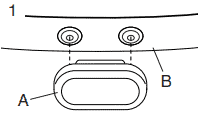 Step #2: Wrap the HR monitor strap around your chest. Tip – the monitor should be tight against your skin, placed under your clothing.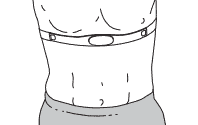 Step #3: Once you have the monitor strap wrapped around you, slightly lift up the chest strap and locate the electrodes. Use saliva to slightly wet these and stick them back to your chest securely.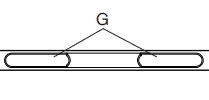 Between each use of your NordicTrack chest strap, make sure that the electrodes are dried thoroughly. 
What If a NordicTrack Treadmill Turns Off During Use?
So, you've gotten your new NordicTrack treadmill turned on and set up. But, there's a problem: it turns off while you're using it. What's the solution? Don't worry… it's usually an easy fix.
There are a few troubleshooting processes you should walk through if you're wondering how to fix a NordicTrack treadmill.
Solution #1: Check to see if the power switch tripped. If the switch tripped during use, you should wait 5 minutes, and then reset it
Solution #2: Double check that the power cord is plugged in. If the cord remains plugged in the entire time, wait 5 minutes, unplug the cord and then plug it back in.
Solution #3: Remove the safety key and re-insert it.
Solution #4: Contact NordicTrack. If you are still unable to get your treadmill to turn back on after a sudden shut-off, you should contact NordicTrack customer support. 
The Conclusion: How Do I Turn On My NordicTrack Treadmill?
Setting up a new treadmill can seem like a daunting task. Even if you're not technologically savvy, this article will help you get started with your new NordicTrack treadmill. If you're still in the market for the best in-home treadmills, be sure to check out the best treadmill options with reviews by our team of industry experts. 
You may also be interested in checking out the best NordicTrack treadmills
FAQs
What is the best NordicTrack treadmill?
One of the most reliable and most popular NordicTrack treadmills is the Commercial 2450 treadmill.
Who can fix my NordicTrack treadmill?
If your treadmill is still under warranty, you should first contact NordicTrack customer support. If your warranty is void or you have a used treadmill, a local fitness equipment store should be able to help. 
Can you use a NordicTrack treadmill without iFit?
Yes. NordicTrack treadmills can be used in manual mode. You just won't have access to the interactive fitness features that the iFit technology offers.
Sources: NordicTrack Owners Manual