NordicTrack Commercial 1750 Treadmill Review
| | |
| --- | --- |
| Brand: | NordicTrack |
| Expert Rating: | |
Recently upgraded for 2023, the NordicTrack Commercial 1750 Treadmill is ON SALE!
Tons of Great Features at an Even Better Price!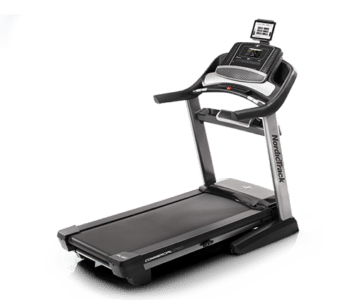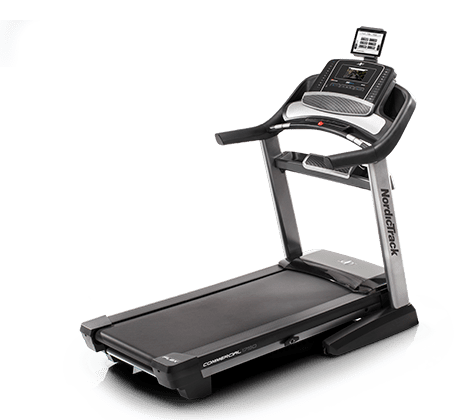 We rated the NordicTrack Commercial 1750 Treadmill a Best Buy for several reasons. Priced in the $2,000 range, it out-specs the competition with features like a 14" Smart HD touchscreen, 3.5 CHP motor, 22"x60" running surface, premium sound system, iFit Ready, and 10-year frame warranty.
In addition, one of our team members has owned a NordicTrack treadmill for over 8 years and has been very satisfied with its performance and reliability. He uses them a few times a week and has never had a problem! A prominent consumer publication gave the the Commercial 1750 a Best Buy review. They rated it excellent for ergonomics and exercise range, and very good for construction and ease of use.
---
You may want to check out our detailed video review of the NordicTrack 1750. 
---
NordicTrack Commercial 1750 Treadmill Features
iFit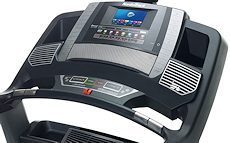 iFit turns your treadmill into an interactive motivational cardio machine. It allows you to set fitness and weight goals through your iFit account. You then have access to iFit's massive library of on-demand workouts and live classes from their world-renowned trainers. iFit will monitor your progress and adjust the routines accordingly. With every workout, iFit will incrementally increase the difficulty so you are continually building cardio strength while you burn more calories.
This fantastic feature prevents you from falling into the all too common 'rut' with boring workouts that seem like a chore. You can further monitor your progress through your online account. Your treadmill will communicate your progress and results to your iFit account.
Note:  The NordicTrack 1750 includes a FREE 30 day trial to iFit Family Membership!
Run Around the World with Google Maps
This feature makes iFit a killer app. You can connect to Google Maps and walk or run roadways and trails around the world. According to NordicTrack, iFit allows you to experience trails all over the world and watch your progress on the display map. To further enhance your hiking experience, iFit automatically adjusts your incline to simulate the physical features of the terrain. You can view your progress either with a map, satellite or street view using a laptop or smart phone. We tried this feature and were able to run down a familiar street while the treadmill adjusted for the hills.
Not only can you create your own routes with Google Maps, you can choose exciting routes from around the world with their video library. From mountain trails to sandy beaches, take your workout anywhere your heart desires. You'll get a real-life feeling as your machine adjusts the speed and incline to simulate the terrain.
How iFit Keeps Your Workout Exciting
Walking or running in place can be incredibly boring. Often the minutes drag by. iFit is designed to motivate the user by creating a variety of entertaining challenges.
What's the Only Downside to this Technology?
The only downside to this entire system is that iFit does require a regular subscription fee. Some similar programs from the competition provide virtual fitness tracking at no cost (although they are not as comprehensive and impressive as iFit).
You can look at this one of two ways.  1)  You use iFit, pay the fee, and LOVE it.  Plus, the initial cost of your NordicTrack machine (with its higher specs) was probably less than other brands. Or,  2)  You decide you don't need the iFit subscription, and you still have a higher spec machine at a lower initial price.  So, don't let the iFit  subscription scare you away.  We're just trying to help you see all sides of the equation.
14″ Tilt & Pivot Smart HD Touchscreen — Here is just one example of the higher specs you can get on a NordicTrack machine.  Sole Fitness is one of our other favorite brands.  They do not offer Smart HD Touchscreens like this on their machines.  The color display is much more visually appealing than your typical one color LCD or LED display. It lets you directly access iFit features. When you trace a route on Google Maps you can display a street, satellite or earth view. This feature is not available on some of the lower NordicTrack models.
---
Check out a comparison of the NordicTrack Commercial 1750 and the Sole Fitness F80 here.
---
3.5 Continuous Duty HP Motor — This is a powerful motor for a treadmill and should run effortlessly at even the highest speeds.
22″ x 60″ Running Surface — It should be noted that most manufacturers rate the length by treadbelt. What they don't tell you is that 1-3" is covered by shrouds. The 60" length is the actual length on the Commercial 1750. In addition, they increased the width of the belt to 22", giving you more comfort space as you run.
Runner Flex Adjustable Cushioning Deck — The Runner Flex deck is designed to absorb the shock of your impact while providing an energy return when you lift off. NordicTrack claims this patented design allows you to exercise longer. Our perception is that it provides excellent shock absorption. Since some runners prefer less shock absorption, the Runner Flex deck allows you to reduce the cushioning to simulate running outside on a harder surface. This is especially nice if you have varied cushion preferences in your household.
3% Decline — With the NordicTrack Commercial 1750 you can simulate running up and down hills, which allows you to stimulate and tone different muscles groups. It inclines up to 15% and declines to 3%. This feature further enhances your experience running up and down hills with Google Maps. NordicTrack is one of the few companies to offer a decline feature.
Two 3" Digitally-Amplified Speakers —NordicTrack offers one of the best built-in sound systems in the industry. It has a sound clarity not found on other brands. You also also take advantage of their Bluetooth audio capabilities and play your favorite jams through your treadmill speakers.
Two Cooling Fan Options – This machine has two separate fans to provide cooling during your workout. An oversized Autobreeze fan is located on the console to target you core. It auto-adjusts according to the speed of your workout. A second fan located on the accessory tray provides another auto-adjusting option so you can stay cool during your workout.
Warranty — The Commercial 1750 treadmill has 10-year frame, 2-year parts, and 1-year labor warranty.
Note: This treadmill has a 300 lb. user weight capacity. 
Our Review – NordicTrack Commercial 1750
NordicTrack is owned by the largest fitness equipment company in the world. They've always ruled the budget category of treadmills through brands like Image, Weslo and ProForm. Over the last few years they have concentrated on building higher end machines, with some very impressive features like iFit.
In the past, we've been critical of Icon products. Actually, we still discourage people from buying their cheap Image and Welso treadmills. However, NordicTrack has gone through an impressive transition. They've made vast improvements in both quality control and customer service, and consequently, offer some of the best value in the $1,000-$2,000 price range. Their machines not only out spec the competition, but they tend to be very low maintenance.
The NordicTrack Commercial 1750 treadmill is a perfect example of the advancements made by the company. It is loaded with impressive features like a powerful motor, extended deck, color display, sound system, and variety of programs. More importantly, it offers iFit, which is the most innovative technologies to hit the treadmill industry in years.
From NordicTrack
We received these comments from the company…
Just so you know, the reason we waited so long to put the Commercial 1750 on sale was to make sure that everything was working shamelessly.  We have always thought that treadmill would be our best and we did not want to release it until it had been tested more than any other treadmill. In fact, it was put through over 2 months of testing, 3 weeks (504 hrs) of pound testing (meaning we pounded the deck with 475 lbs of force, over 1 million times), 200 hrs of human testing, 4 months (1000 hrs) of console testing and that includes white noise, software checks, console functionality and static electricity charges. A grand total of 1704 hours of testing.

I think that makes for a pretty good story and is why we can offer such a good warranty.
NordicTrack 1750 Treadmill Customer Review
The 1750 is my favorite treadmill! I have had a few other treadmills and this one blows them all out of the water. I love the iFit technology that it has. I can run any place I have run before in my life and also run in places that I can only dream of running i.e Paris, Great Wall of China, Beaches in Morocco, etc…

The machine is really strong. My other treadmills seem to always move back and forth when I run but this one has a sturdy base and won't move side to side when I run on it. It actually feels like a treadmill I used to run on at my gym.
Learn more at www.NordicTrack.com.