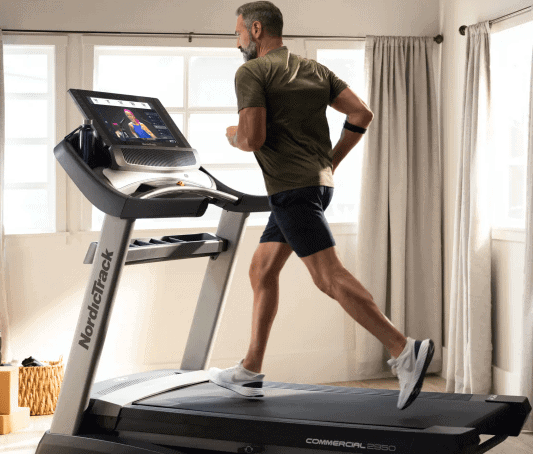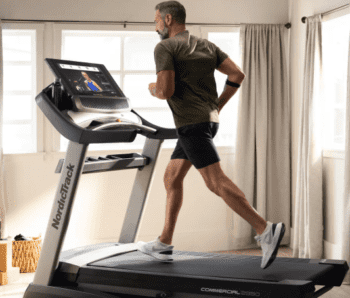 If you want the best that NordicTrack  offers in treadmills than you'll want to consider the Commercial 2950.  It is loaded with features that make it a heavy duty running machine. In addition, it comes with an impressive 22" Smart HD Touchscreen that provides motivational fitness programs through iFit technology. 
There is no other treadmill in the industry that comes close to having all the add-ons that you will find on this model. It's like getting the premium package on a luxury car.
NordicTrack Commercial 2950 Components
22" Smart HD Touchscreen — The full color browser gives you vivid feedback.  It doesn't get any bigger and brighter than this!
4.25 Continuous Duty HP Motor — The motor on the NordicTrack Commercial 2950 treadmill is built to handle serious runners and multiple users.  It also has the additional power needed for excessively heavy individuals.  This motor will run effortlessly at high speed and is relatively quiet.
22" x 60 Running Surface — Your typical treadbelt width is 20".  An extra 2" may not seem a lot, but the extra width gives you a sense that you are less likely to run off the edge.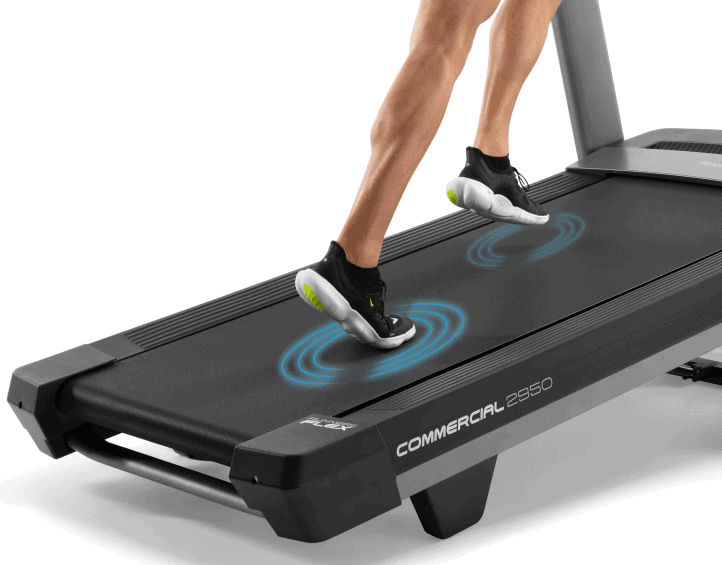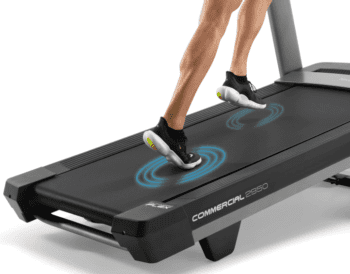 Adjustable Running Surface — They refer to the deck on the NordicTrack Commercial 2950 as the "Runners Flex" cushioning, and it allows you to adjust the shock absorption on the treadmill from a soft landing to a more rigid impact.  This is provided in case runners  prefer a stiffer surface that simulates running outdoors and gives a solid push-off.
2.5" Rollers — It is beneficial to have large rollers because they will allow the belt to rotate less and have more surface area to grip.  In general, larger rollers reduce wear on the belt, motor, and drive system components.
15% Incline and 3% Decline — Most treadmills allow you to incline between 12%-15%, which provides you with an intense cardio workout and allows you to target additional lower body muscles.  However, there are not too many treadmills that allow you to also decline the deck.  This is advantageous because it allows you to simulate running up and down hills, and target additional lower body muscles.
Warranty — The NordicTrack Commercial 2950 treadmill has the most generous coverage available on their running machines.  You get a lifetime frame and motor warranty, 5-years parts / electronics and 2-years labor.  This suggests that NordicTrack is fairly confident about the durability of this treadmill.
Weight Limit – This machine will work well for users up to 300 lbs.
NordicTrack Commercial 2950 Entertainment and Interactive Features
iFit — iFit is not only designed to distract you as you workout, it will also motivate you in achieving your fitness goals.  To fully describe all the features would take several pages, so we will give you the reader's digest version.
The NordicTrack Commercial 2950 comes with a 1-year subscription to iFit so that you can test out all of the features and see if you like it. After that there is a subscription fee, so take advantage of that first year and check out all of the features iFit has to offer.
Customized Exercise Routines –

With iFit you can pick your workouts from their extensive library of on-demand videos. iFit even makes sure that you can get a complete well-rounded regimen with everything from running and HIIT workouts, to weight training and yoga. Whether you are on the machine or on the mat, iFit has you covered. If you prefer something a little more interactive, join a live class led by one of iFit's world-class trainers. The trainer will control the incline and speed on your machine to ensure you are getting the most out of every session.

Sync with Google Maps – Through a partnership with Google, NordicTrack allows you to run the world.  With this program, you can trace a route on iFit using a version of Google Maps.  While you run, your NordicTrack Commercial 2950 treadmill will simulate the terrain and display a street view of your route.  It's just like running down your street but without the bad weather and heat!
Virtual Workouts – In addition, iFit Live has a video library of famous trails and oceanfront hikes.  Like Google Maps, the Commercial 2950 simulates the terrain as you watch your progress running through these landscapes.
Speakers and MP3 Input — Speakers on treadmills are fairly standard these days, however, NordicTrack equips their machines with some of the best sound systems.
Our Review of the NordicTrack Commercial 2950
NordicTrack excels in offering running machines that are heavy duty, provide entertainment, and employ motivation programs so you can reach your goals.  If you review other models you will not find another treadmill that offers such a complete package.
If you are the type of individuals that does not need distraction or motivation as you run in place, then you might want to consider the stripped down Sole F85 for a couple hundred dollars less.  We prefer running outside in the sunshine but recognize that there are often going to be time, weather, or other restrictions that make treadmill workouts a better option. The NordicTrack Commercial 2950 treadmill does an excellent job of taking the boredom out of running in place.
You may also wish to check out the the NordicTrack Commercial 2450 for around $700 in savings.  You'll certainly miss that 22″ HD Touchscreen, but the lower model still has a 10″ HD Smart Touchscreen to guide you through your workouts.  See a complete chart of NordicTrack models here.
Go to www.NordicTrack.com to learn more!*