Great Quality and a 15" HDTV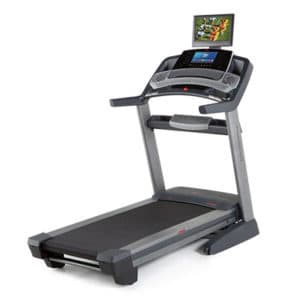 FreeMotion is produced by Icon Fitness, which is the parent company of brands like ProForm, NordicTrack, and other smaller names.  The FreeMotion 2500 GS is unique in that it has a 15" HDTV attached directly to the front of the machine.  This, along with other iFit Live tracking features, make this machine a top choice for motivation and entertainment.
Our only issue with this machine is the price.  One word…wow!  For $3,799, you are getting a machine that shares many of the same features on a machine like the NordicTrack Commercial 2950 that sells for $1,500 less.  Is it worth it?  It's our opinion that you get a much better value by exploring options from NordicTrack, Sole, or ProForm.
Top Features on the FreeMotion 2500 GS
15" HDTV – NordicTrack used to offer this feature on several models back in 2015, but has since removed the option. They found that buyers often got better value out of buying a large screen TV that could be mounted to the wall in their workout area.  That being said, it's pretty nice to have a personal TV mounted directly to your machine for TV and movies.
10" Full-Color Touchscreen – Swipe through your workout stats and view the features of iFit Live on this bright display.
Warranty – Lifetime frame, 10-year motor, 6-year parts and electronics warranty. Considering the price of this machine, the warranty leaves a bit to be desired.  Many other brands would offer a lifetime motor warranty on machines that cost significantly less.  Disappointing…
iFit Enabled – iFit Live is a fantastic program that allows you to set goals, manage a profile, create custom workouts, receive coaching, and run virtual trails throughout the world. It does require an additional subscription fee of about $144/year.  (Pricing may have changed since we last checked.)
38 Workout Apps – Even if you choose not to buy the iFit subscription, you will still have plenty of programs to use on your machine.
4.25 CHP Motor – This is an EnduraDrive motor system that is a bit different from NordicTrack or ProForm motors. Again, it does not have a lifetime warranty, which we feel is significant.
Incline/Decline – Work more leg muscles with incline up to 15% and decline down to -3%.
Large Running Surface – A 22×60" is about as nice as it gets. There are a few reasonably priced models out there with extra-long 63" running decks, but they aren't common.
Folding Frame – This is always a great feature to have for space saving.
Our Review of the FreeMotion 2500 GS Treadmill
This is a really nice machine.  It has great features, a large deck, and a fantastic 15" HDTV attached to the front.  Our main complaints are threefold: 1) It costs too darn much! 2) You might as well buy a regular TV and mount it on your wall for the price.  3) The low warranty motor concerns us considering the overall price of the machine.
You'd be better off looking at a machine like the Sole F85, NordicTrack Commercial 2950 or ProForm PRO 9000.  You'll save money, get similar features, and end up with better value.
The FreeMotion 2500 GS Treadmill is available to purchase on Amazon.com.