Sole F80 Treadmill Rating & Review
| | |
| --- | --- |
| Brand: | Sole Fitness |
| Expert Rating: | |
The Sole F80 Treadmill is On Sale!
An Industry Standard and A Best Buy!
GREAT DEAL! For a limited time, Sole is offering a FREE 90 day trial membership to their interactive fitness technology Studio with the purchase of any Sole elliptical. 
When we're asked for a recommendation for a durable treadmill at a reasonable price, our go to model is the Sole F80. 
We've had the opportunity to visit the Sole headquarters a couple of times and each time we were very impressed with the Sole staff and management's commitment to building the best treadmills in their price range.
The Sole F80 Treadmill has gotten consistently solid reviews over the years since it is a very durable machine at a moderate price.
We are not the only resource to give the Sole F80 a "Best Buy" rating. A popular consumer magazine also gave the Sole F80 a "Best Buy" and rated an "Excellent" in all categories of construction, ease of use, user safety, ergonomics, and exercise range.
This most recent upgrade includes Bluetooth capability so you can track your workout stats on your smart device. A big plus in achieving your fitness goals.
For the money, the Sole F80 treadmill includes heart rate control, large 2.5″ rollers, powerful 3.5 HP motor, and a warranty for lifetime frame/motor/deck, 5 year electronics, and 2 year labor. The Sole F80 was also upgraded with an extra wide 22″ x 60″ treadbelt. Because of the durability of the Sole F80, it is very popular for runners looking for a moderate priced treadmill that can withstand abuse.
The Sole F80 is priced at $1,699.. Sole is Currently Offering the Best Warranty Coverage for a Residential Treadmill: Lifetime Motor; 5-Year Parts and 2-Year Labor. A great value!
 Shop For The Sole F80 Folding Treadmill at Sole.com
*Shipping/Delivery Note: All Sole treadmills come with free curbside delivery. For this standard delivery, the driver will back the truck up as far as they can (which is sometimes at the end of your driveway) and unload your box for you. Treadmills can often be awkward to move and typically require more than one person. Sole now offers Assembly Authority Delivery for $299. An Assembly Authority Tech will unload the treadmill to the designated room of your choice, assemble it, and demonstrate the functionality for you. This new delivery option is a great deal in our opinion.
Check out our Video Review of the Sole F80
Top Features on the Sole F80 Treadmill
Bluetooth Capability – One of our favorite features Sole recently added is Bluetooth capability so you can track your stats using your smart device. Download a free app from Sole Fitness and you're ready to go!
Crowned 2.5″ Rollers – The crowned 2 1/2″ rollers are some of the largest you will find in this price range. In general, larger rollers are better, since they revolve less. The increased size results in less wear on the rollers, motor, belt and bearings. Since they are 'crowned,' the roller is slightly bigger in the center. This allows the belt to track better, reducing the need for adjustments and further increasing the longevity of the belt.
Cushion Flex Running Deck – We were impressed with the Cushion Flex running surface which, in a study, was shown to lessen impact by 40%. This is an upgrade from the Sole F63 and F65 treadmills. It does a better job of shock absorption and reducing the possibility of injuries and strains. It is also advertised as being quieter than other decks with a reversible deck that is wax lubricated.
Incline – The deck on the Sole F80 Treadmill inclines to a full 15% for those that like the intensity of hill training. Several treadmills in this price range only go up to 12%.
Built-In Speakers – The sounds system allows you to connect your iPod or phone and play music directly out of the machine. The sound system is adequate at best.
Folding Deck – The Sole F80 is a folding treadmill with a patented all gear rack & pinion system with the Safety Lock Deck. It is one of the more stable folding treadmills and has Easy Assist folding so that you can lower the deck slowly without it crashing to the ground. Many of Sole's folding treadmills are used in  hotel chains for in-room workouts.
Programs – The Sole F80 treadmill has six preset programs, two customized workout programs, and two heart rate programs. This provides a variety of challenges for both the novice and the elite athlete. However, the number of programs they provide in comparison to the competition is on the low end.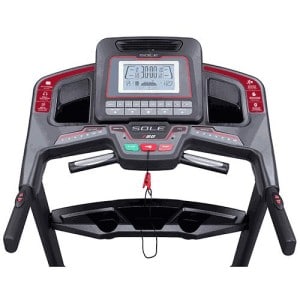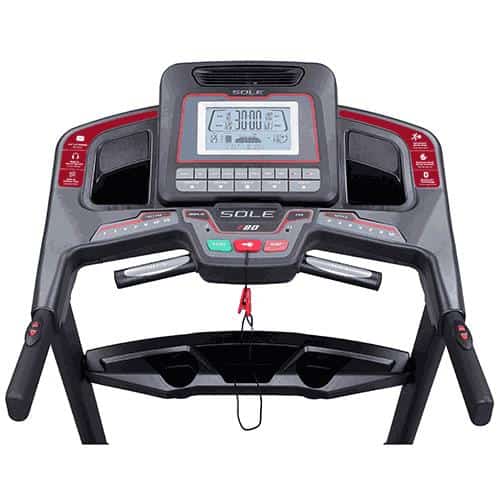 Speed & Incline Control – There are speed and incline controls on the arm rests. Having the controls on the arm rests makes for simple adjustments in contrast to awkwardly having to reach over to the console. This is especially true if you are running.
Console –  The console is one of the better designs we've seen. The 9″ white backlit LCD display is visually appealing and the console also includes a cooling fan. Controls are present for speed, incline, time, distance, calories burned, pulse and pace displayed simultaneously. There is no need to scroll for information. There a 1/4 mile track and a peak and valley graph so you can visualize your progress.
Message Board – A scrolling alphanumeric message board is present to help guide you through set up for the machine.  This feature is designed to help users avoid frustration when they are trying to operate the console.  Overall, we felt the layout of the console was very intuitive. You don't need a programming degree to activate programs or make adjustments.
Click Here to See a Comparison Chart of All Sole Fitness Models
Our Sole F80 Treadmill Review
There are a number of factors that resulted in the Sole F80 treadmill receiving our "Best Buy" award:
Bluetooth capability works with a FREE smart device app so you can track your workout stats. For a folding treadmill, it is very stable. At 250 lbs, you get a very solid feel.
The best warranty at this price range, including lifetime motor/frame/deck, 5-year electronics/parts, and 2-year service warranty.
An impressive track record with hotel chains. If it holds up in a commercial environment, think what it will do in your home.
Excellent components and features, including the 2 1/2″ rollers, 3.5 HP motor, 22″x 60″ tread belt, and wireless heart rate control.
The combination of price, quality, and features makes this an excellent buy.
It should be noted since reviewing both Sole Treadmills and Ellipticals, we have received only one email from a customer asking where to get a minor mechanical problem fixed. More impressive is the fact that we have never had a complaint regarding customer service, except for units bought through Dick's, which does their own service. It appears Sole does an excellent job standing behind their products.
A closing note. One of our team members was at a fitness equipment store that did not carry Sole, but stocked competitive brands. In talking to the store manager, he said if he had a choice of a treadmill at $1,500, he would go with the Sole F80.
The F80 will adequately accommodate both joggers and runners. Serious runners should also consider the Sole F85.
ConsumerSearch.com Review
Based on a variety of reliable sources, ConsumerSearch.com rated the F80 "Best mid-range folding treadmill." They mentioned it has comparable features found in more expensive models.
Customer Sole F80 Reviews
I purchased a Sole F80 for our home at the beginning of the year. I am an avid runner (25 miles per week) and my wife likes to run and walk daily. In addition, we have two 14 year old children who are also active in sports. We are very pleased with all aspects of our treadmill purchase. We looked closely at the inexpensive treadmills at Sears and decided on the Sole F80 because of the high reviews.

It is used daily in our home and currently lives in the corner of our family room. It is easy for my wife to move the F80 in to position and lower the deck and after use, put the F80 back. At 190 lbs, I was concerned with the construction of the F80 and found it to be very well made and very stable during use even with my weight and speeds. I currently am training at 8 – 8.5 mph.

Recommendation – Highly recommended and excellent value!

---

"My wife and I have used our new sole treadmill for a few months now, and can say it has met every need that we have. This treadmill is very sturdy and super quiet. It has a pretty good speaker system on it too. It should last for many years. Much safer than running up and down a busy highway. Well built product/worth every penny."

---

"I bought this treadmill online without even trying it in stores. This had me a little worried because I wanted a nice and stable treadmill since I like to run. Well, I was NOT disappointed in this treadmill. It is by far better than any treadmill I have used anywhere (including gyms)… Over all, this is a WONDERFUL machine, if you don't buy it its your loss."
Go to SoleTreadmills.com for further details.
*Our Sole F80 Treadmill Review is based on personally testing the equipment, in addition to feedback from company officials, customers and sales professionals. We attempt to be as accurate as possible. Changes in options, features, warranties and prices can change without notice.