Sole Fitness F65 Treadmill Review
| | |
| --- | --- |
| Brand: | Sole Fitness |
| Expert Rating: | |
The Sole Fitness F65 Treadmill is On Sale!
One of the Most Durable Treadmills at $1,399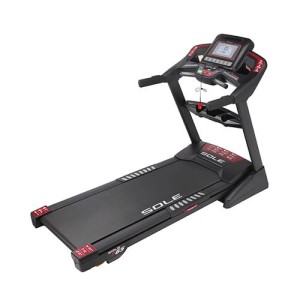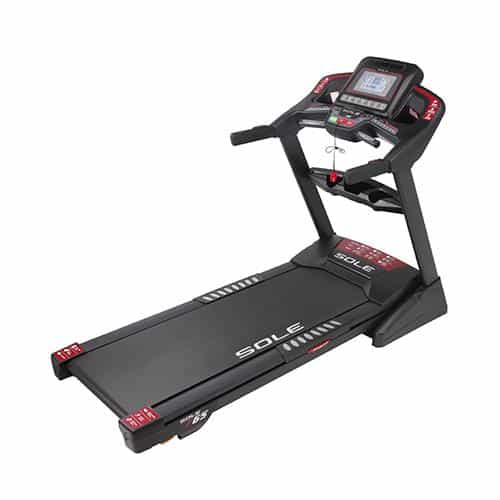 GREAT DEAL! For a limited time, Sole is offering a FREE 90 day trial membership to their interactive fitness technology Studio with the purchase of any Sole elliptical. 
Although Sole Fitness has always had an impressive line-up of treadmills, they had a wide gap from their entry level Sole F63 treadmill to their popular Sole F80 treadmill.  In fact, it was a $600 gap from $999 to $1,599.  And they probably lost sales to individuals who wanted a slightly heavier duty machine than the F63 without spending 50% more.
Enter their new Sole F65.  It actually is similar in many ways to the Sole F80, but cost $200 less.  This latest model comes with Bluetooth capability so you can track your workout stats using the free smart device app.  However, the most important feature found on the Sole F65 is the Sole treadmill quality.  Sole has built a reputation and a successful business on providing some very durable treadmills at a reasonable price.
 The Sole F65 is reduced to $1,399.99. A great value!

Shop now at www.SoleTreadmills.com
*Shipping/Delivery Note: All Sole treadmills come with free curbside delivery. For this standard delivery, the driver will back the truck up as far as they can (which is sometimes at the end of your driveway) and unload your box for you. Treadmills can often be awkward to move and typically require more than one person. Sole now offers Assembly Authority Delivery for $299. An Assembly Authority Tech will unload the treadmill to the designated room of your choice, assemble it, and demonstrate the functionality for you. This new delivery option is a great deal in our opinion.
 The Sole Fitness F65 Treadmill Features…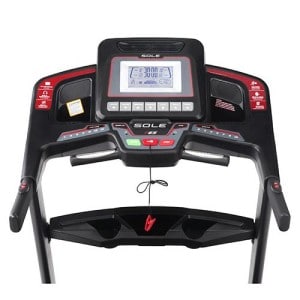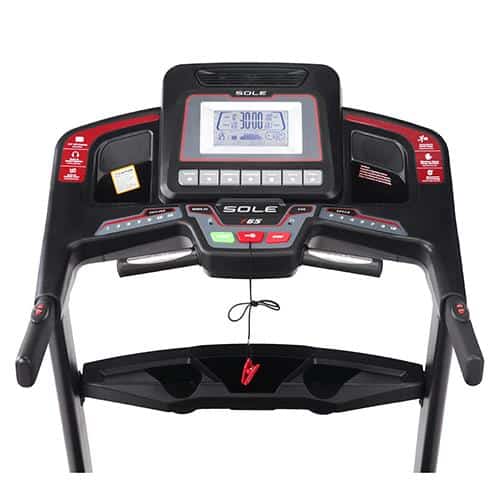 Bluetooth Capability-  This latest upgrade includes Bluetooth capability so that you can use the free smart app to track your workout stats. Research shows that individuals that track their progress are more likely to achieve their fitness goals.

3.25 Continuous Duty HP Motor — The motor is design for both walkers and runners.  It will run quiet and effortlessly even at higher speeds. All the Sole treadmill motors are extremely durable.  That is why they come with lifetime warranties.
22″ x 60″ Treadbelt — The length is adequate for jogging and running. Taller individuals should definitely get a belt that is at least 60″ long.  Plus, this is a nice wide running surface.
2.5″ Rollers — Most potential treadmill buyers do not realize the importance of rollers.  Larger rollers extend the life of the belt, motor and bearings.  In particular with larger rollers the belt has more area to grip.  2.5″ rollers are decent size for this price.
Speakers and MP3 Input — Built-in speakers with MP3 connection are getting to be a standard feature on treadmills.  Listening to music is a recognized motivator for burning calories and getting in shape.   There is also a cooling fan that targets your core.  It won't blast you away, but it does a decent job.
Console Design and Layout — Sole has always done an above average job of designing a user friendly console that also looks good.   There are a series of buttons to instantly change speed and incline.  The machine has a white backlit LCD display that continually shows speed, incline, time, distance traveled, calories, pulse and pace.  There is also a 1/4 mile track feature and a Peak and Valley graph.
Speed and Incline Adjustment on Handrails — We've always liked this feature.  You can adjust the speed and incline right on the handrails rather than having to break your stride and make changes on the console.
Cushion Flex Whisper Deck – The shock absorption on this machine is advertised to reduce impact up to 40% in order to protect your joints.
250 Lbs. Unit Weight — You'll find some companies don't list the weight of their treadmills, because they just don't match up to companies like Sole.  At 250 lbs. you are getting a heavy weight machine that will be very stable and have a solid feel.
'Bullet Proof' Frame – We're not sure why anyone would be concerned about a 'bullet proof frame' design unless you're working out in a pretty shady neighborhood, but that's how Sole describes it.  Nevertheless, the frames are extremely heavy duty and come with a lifetime warranty.
Warranty – Lifetime Frame/Motor, 3 year Deck/Electronics/Parts, 1 year Labor
Check Out a Full Comparison List of All Sole Treadmill Models Here.
Our Review — Sole F65 Treadmill
Here is our take on the Sole F65 treadmill.  For $300 more than the F63, you are getting the same 60″ treadbelt length and only an additional 0.25 horsepower on the motor.  We might suggest you save the $300 and settle for the slightly less powerful Sole F63.
Or you spend $200 more and get the Sole F80 treadmill.  The F80 comes with a better constructed deck, wireless heart rate control, a slightly larger motor (3.5 HP), larger rollers, and a stronger warranty  at 5-year parts and 2-year labor warranty.  That is in comparison to the 3-year parts and 1-year labor warranty with the F65.
Either machine is going to be durable and reliable, that is what Sole is all about.  It just seems that the Sole F80 is a better bargain, besides having an outstanding reputation.  It has won numerous "Best Buy" awards, including one from us.  This newest model of the F65 has Bluetooth capability, and a Sole representative shared  that the entire Sole line will eventually transition to the new Bluetooth capability.
Learn more at www.SoleTreadmills.com.