(Last Updated On: January 10, 2023)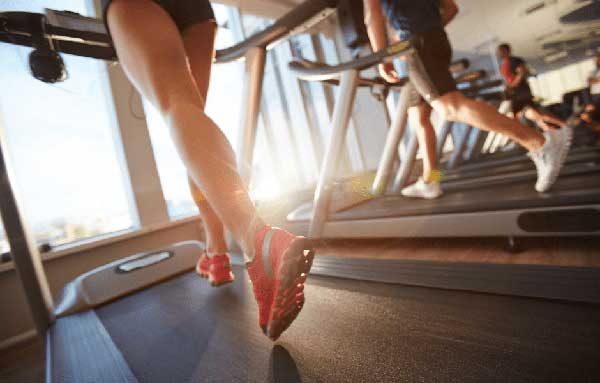 Running, walking, sprinting or jogging on a treadmill is beneficial not only physically, but also mentally. The multiple benefits of using a treadmill might be very clear to some people and not so much for others.
The reality is, there is a big difference between having a treadmill at home and having to go to a gym to use a treadmill. Most of us will appreciate the convenience of running on a rainy day, through the winter blues, and in your own home.
Many home athletes and callisthenic enthusiasts choose treadmills based on their needs. But an increasing customer demand nowadays is the need for shock absorption.

In the event you suffer from achy joints, irritable knees, or pre-existing injuries that you want to avoid revisiting, a shock-absorbent treadmill could mean the difference between achieving your cardio goals or aggravating them.

Although there are numerous other options that offer varying designs, these treadmills all aim to provide their customers with a more comfortable and safe experience.

But, before we delve into the most smooth, cushioned, and even budget-friendly treadmills for shock absorption…
Do you know what the cushioning on treadmills is, and how it works?
How Does A Treadmill Cushioning System Work?
You can exercise for longer periods and experience less fatigue when you use a treadmill that has a great cushioning system. This is necessary for relieving crushing stress on your joints and spine with each step.
The running track of a treadmill is a multi-ply strap that runs over a 3/4 or 1-inch thick deck. Several flexible elastomer grommets anchor the deck to the metal frame. Cushioning for treadmills is provided by elastomers, mainly.
Most of the best machines for jogging offer variable cushioning, which is the best design. They have three sections:
The impact zone is in the front deck. It's where manufacturers place the soft rubber for optimal absorption and cushioning.

The push-off section stays at the rear of the machine. This part offers more stable padding created by stiff rubber.

The transition area is in the middle. The section provides a moderate level of cushioning.
Leaving size, price, and speed aside for a moment, there are key characteristics to consider when you are on the quest for the best cushioned treadmill. These are the 3 key elements that you should look for before deciding on one specific treadmill just because it offers extra shock absorption:
Belt material: the belt is one of the most significant components. As a result, be sure it comes from high-quality materials. Materials such as rubber (single ply tread belt), PVC rubber and the underside of cotton, polyester, urethane or mono-filament (higher quality treadmills that come with 2-ply).
Beware of the advertised 4-ply belt, because they are usually counting the layer of glue as a layer. 3-ply belts do not count the layer of glue.
Ridges: on certain treadmills, the floor has ridges that distribute the pressure of jogging over a larger surface on the running belt. Hence, it does not harm joints.
The machine you're dreaming of won't be nicely cushioned if it's flat in certain spots.
Incline settings: If you put no incline at all when jogging or walking upwards, all contact will travel straight to your feet during your workout, and possibly causing joint injury or pain over time.
Ideally, a 15% elevation for jogging on flat terrain and a 20% slope for people with limited mobility are two alternatives to reduce the contact surface and make it more soft for your joints.
Now, if we focus on exclusively shock absorption and cushioning, these are some features you should look for in treadmills:
Adjustable cushioning: Cushioning can be adjusted on treadmills such as those made by ProForm, NordicTrack, and Horizon. By using this feature, you can turn on or off the cushions based on your preferences.
Sometimes, going too fast can be an issue because over striking may lead to larger impact pressures traveling through the hips and lower back. So consider also how you are going to use it when checking this feature.
Shock absorption: This is one of the most essential characteristics to check. That's the reason we wrote this article!
It makes reference to a cushioning layer used on certain treadmills that protects your feet from hitting the deck's surface, preventing injuries and pain over time.
At least two-speed options should be available on more cushioned machines: low for walking and high for running.
What About Treadmills Pads and Absorption Mats?
Another great idea to add some extra shock – absorption to your treadmill are pads or shock absorption mats. It depends on your style which one you prefer.
To absorb shocks caused by uneven terrain, a shock absorber pad for treadmills covers the running area with a soft, cushioned mat.
Rubber and polyester are both essential components of a great anti-slip mat. During an exercise session, it will not slip or slide on slippery floors.
We suggest that you research these items online before purchasing so that you can place your treadmill on top of them and have it ready to use.
So, What Are the Best Treadmills for Shock Absorption?
As a rule of thumb, the greater the cushioning – technology, the more expensive the machine becomes.
But, don't worry. We have looked around to include different options that suit all types of budget without sacrificing either style or our so looked-after cushioning.
These are our top 6 choices of shock-absorption treadmills:
#1: Sole Fitness F80 Folding Treadmill – Overall Best Treadmill for Shock Absorption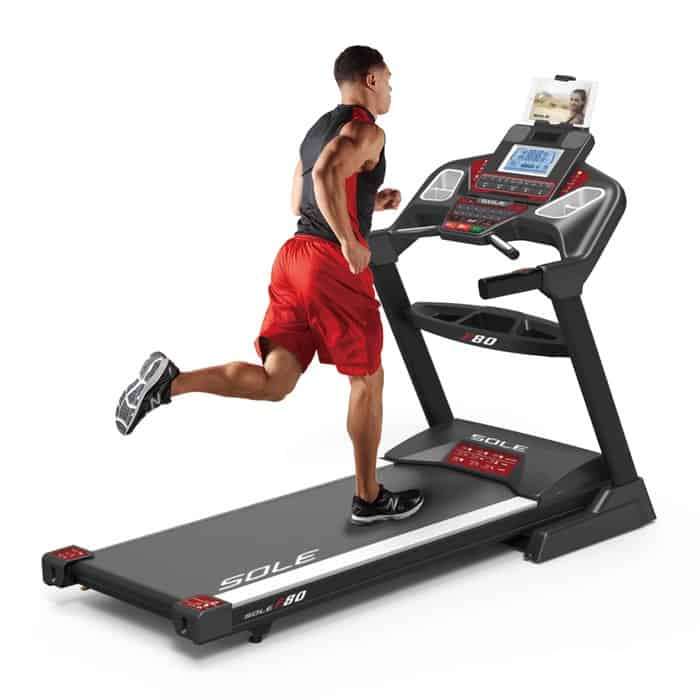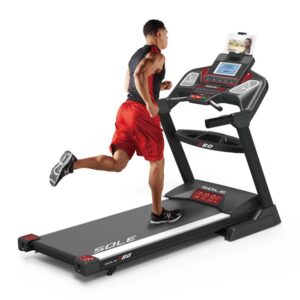 Our team has visited the Sole headquarters many times throughout the years, and we are consistently impressed with the quality and durability that this brand has to offer. An overall Treadmill Ratings Reviews team favorite is the Sole F80. It's extremely comfortable to run on. If you are after a treadmill that can stand high-intensity workouts while remaining safe and comfortable, the Sole Fitness F80 is the treadmill for you.
The F80 originated from the demand of hotels for a treadmill as mobile as a room service cart, yet still stable and powerful. So whether it's a hotel room or your living room, you have the best of both worlds.
You will find everything you need for an efficient workout with the Sole F80 folding treadmill. In addition to its sturdy construction, it has a powerful motor that can handle multiple workout challenges. Several features on the frame support your overall workout experience, including bottle holders, accessory trays, and cooling fans.

There are 15 incline levels and a max speed of 12 mph on the treadmill with a 3.5 horsepower motor. Unlike many other models on the market, it has a massive weight limit of 375 pounds.
When not in use, the treadmill deck safely locks into place and is 100% secured.
Amazing Cushioning Technology
Its Cushion Flex Whisper Deck will reduce joint stress by a formidable 40%, making it one of the most powerful systems out there. This kind of cushioning is a controlled low impact design with the treadmill deck, all-steel frame, and incline system working together.
Warranty
It also comes with a lifetime warranty, providing confidence that this product is built to withstand wear and tear.
Money Saver
The Sole Fitness F80 also offers an affordable price tag, which makes it one of the best products on our list for value for money.
Raving Review:
This is a great treadmill! We are very happy with this purchase. It feels very sturdy, runs smoothly, and it looks great. We bought this thinking that we needed something as quiet as can be, and this is even quieter than I expected! If you turn off the fan, it makes it even quieter. We have this on a treadmill mat on carpet, and it's very stable. The folding up feature of the treadmill makes it easy to save a bit of space when needed, and makes vacuuming underneath a breeze. To be able to push the lever and then let it fall slowly all on its own back to running position is important. I didn't want a treadmill that could fall and hurt kids or a pet if it gets bumped, and I didn't want to trust our teen to rely on strength to lower it safely. The iPad holder (including for the larger Pro) with a USB-A charging port there means that the whole family can cycle through taking turns while having some entertainment. I used a stick-on clip to position a charging cord there, and that cord now blends in and lives right there all the time. I really like the incline and speed up and down buttons on the left and right arms. They are very convenient. – Gloria C.
Click here to read our full Sole Fitness brand review.
Compare Current Pricing Below to Get the Best Deal!
#2: ProForm Carbon T10 Smart Treadmill – Cool-Air and Smart Cushioning for an Extra Power Workout!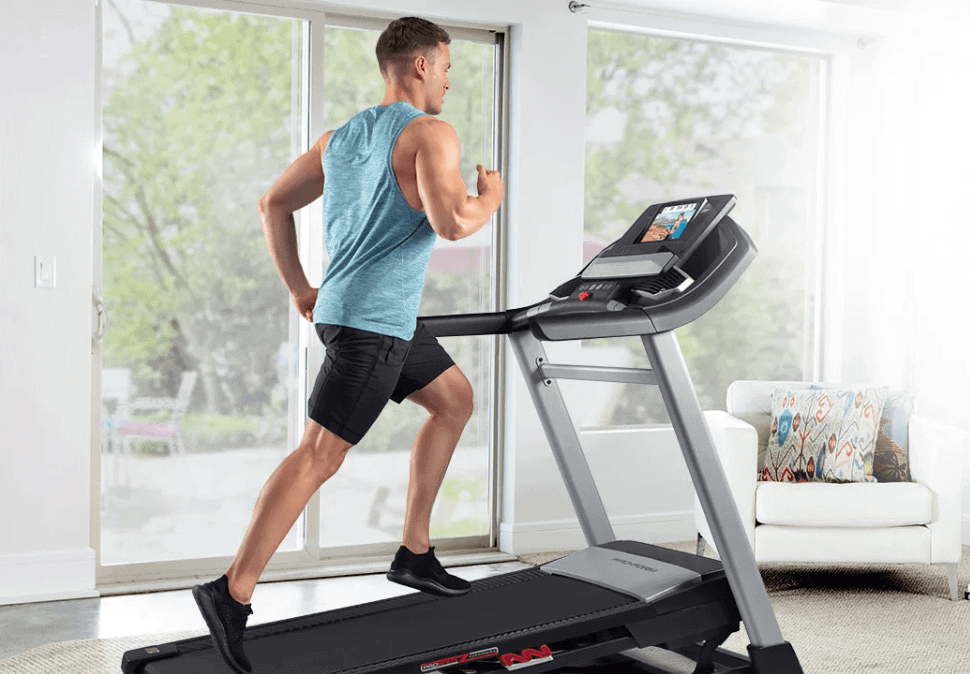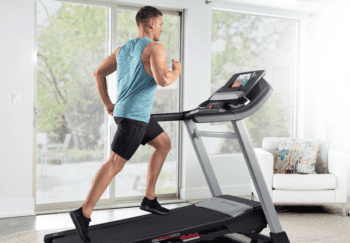 Run after your wildest dreams without running out of space. The Carbon T10 has the EasyLift technology we and our muscles love because it allows us to store it or move it from one room to another without straining them. Free up room between workout sessions. The Cool Training Fan makes each workout a very relaxed experience because you'll get a really cooling powerful breeze with the push of a button.
The T10 Carbon also offers a very immersive experience given that it allows you to stream video-on-demand directly from your computer using a 10-inch HD smart touchscreen.
Pick how high you want to go. This treadmill reaches a 12% incline stimulating all your muscles and challenging yourself beyond your limits. The iFit membership allows the trainers to pick the incline for you, if you wish.
iFIT Global Workouts let you exercise anywhere and study anywhere with a 10-inch touchscreen. The interface makes it easy to track your stats, control your training, and navigate the system.
With its 20″ x 55″ tread belt; you can really stretch your stride worry-free and it also has a weight capacity of 300 lbs.
Warranty
It comes with a 10-year frame warranty and a parts and labor warranty.
The Star of the Carbon T10: ISO Flex Deck Cushioning
This technology not only quietens and softens the impact of your run. Also, the roomy deck is built with ISO Flex, so your legs will have more give, which makes exercising more comfortable.
Raving Review:
I love this treadmill! I've had it for about a month now and couldn't be happy with it. I love the ifit program it has where it changes the settings for you doing workout but I love how you can also just use manual mode! It's kind of heavy but works wonderfully! – Kendall P.
Click here to read our full ProForm brand review.
Compare Current Pricing Below to Get the Best Deal!
#3: Horizon Fitness T101 Folding Treadmill – Best Budget Treadmill for Shock Absorption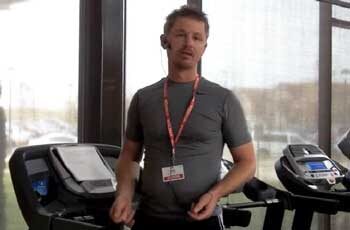 The Horizon Fitness T101 series treadmills are designed to be portable and convenient while retaining a high level of stylish design. Customers can reduce joint and knee strain by 30% using this longer deck system.

This product is full of additional features that continue to set it apart as one of the market's top products. Best of all, it's priced around $700.
With Bluetooth capabilities, it makes your workouts even more enjoyable by adding a personal touch. No matter if you enjoy sweating to music, or on-demand classes, This treadmill makes it so enjoyable to stay connected to the content that moves you and drives your motivation.
It's all powered by a motor which uses the Johnson Drive System, the secret weapon to seamless, silent and responsive motor that recalibrates with each foot fall so you never feel it slows down or it jumps up!. And it also prevents heating.
Three Zone Cushioning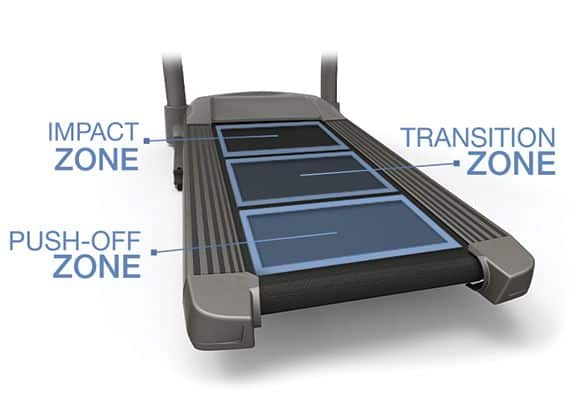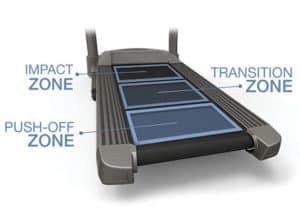 It comes with a unique three-zone Variable Response Cushioning System so you can work out longer, with less fatigue and more comfort. Just like a running shoe, this kind of cushioning softens the impact zone and firmer support in the push-off zone, for just the perfect amount of flexibility and support every step you make.
Warranty
The lifetime warranty on frame and motor is really nice and not so easy to find in this price category.
Raving Review:
I happen to stumble upon this one…I've never heard of the brand and it wasn't listed on any websites of fabulous treadmills…but it should be. For about half the price I found exactly what I wanted.
This Horizon T101 is large. I feel safe running on it…like it's not going to collapse under me. (I'm 5'8″ and 230lbs…and going down now that I have a fabulous treadmill)
It is so quiet!

It has a fan…but that doesn't really matter to me.

It has bluetooth so I don't have to have my phone bouncing in my pocket.

It has 2 spaces to hold things…like my walking weights, phone, a water bottle.

It has a place for a tablet…so I can read while walking.

The power incline is great.

It was super easy to assemble for my husband while I stood by and watched. It is heavy though!
The folding part is really nice…I don't like to leave it down and it is very easy to fold up. It does take up space in my little apartment but I wouldn't trade it for anything.
It has some built in programs for weight loss, calorie burning, race/marathon training, manual, and intervals.
The best part though…the boxes are huge and my 4 cats love them so much that, a week later we still have the bottom portion in our living room so that they can be entertained by it.
If you aren't into the bells and whistles (touch screens, watching workout sessions on your treadmill) and just want a basic treadmill, this is the one for you! I am still excited to get up and use it in the morning…well as excited as one can be to get out of bed to run and then go to work. 🙂 – Jen
Click here to read our full Horizon Fitness brand review.
Compare Current Pricing Below to Get the Best Deal!
#4: LifeSpan Fitness TR3000i Folding Treadmill – The Machine with Extra Cushioning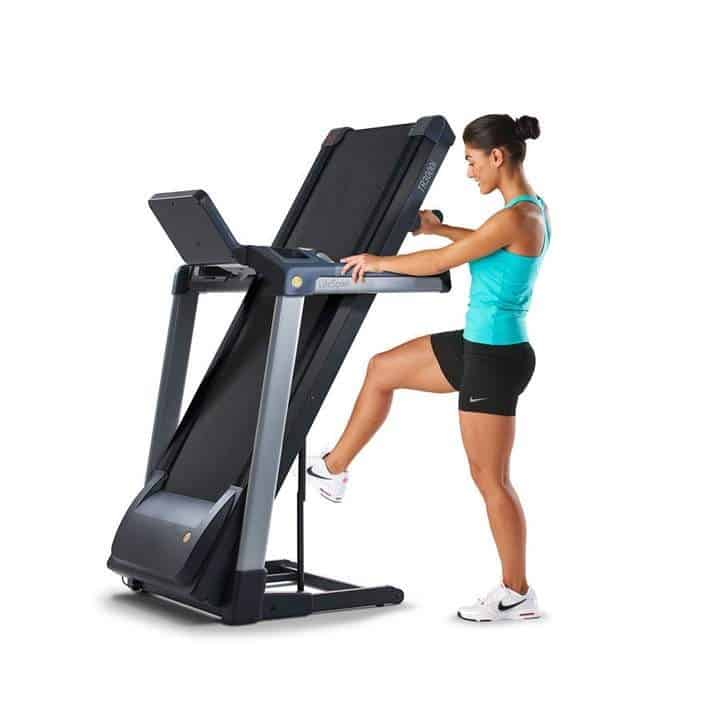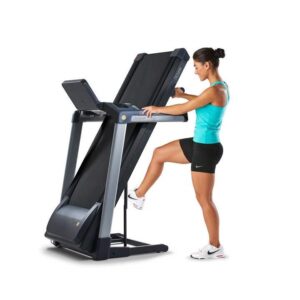 Get closer to your fitness goals with his updated treadmill, with a new full-color touchscreen display. A stable, full-steel frame rests beneath the compact, 20" x 56" running surface, making even your most intense workouts a quiet experience for the whole family. It has a very strong 2.75 motor that offers a smooth experience, making no noise at all.
It also comes with a built-in heart monitor program that will help you to keep your heart rate and it's even designed to adjust the incline and speed for you as you progress.

The treadmill is fitted with a 7-inch touchscreen that has full color. It allows you to keep track of all the stats that are relevant to you; plus, integrated Bluetooth makes it easy to listen to your favorite music. You can play music while you are working out by connecting your smartphone with the treadmill through Bluetooth, music will play through the speakers. The cooling fan also comes in handy for hotter months.
It comes with a really great system, leveraged by the EZfold™ technology which makes both storage and unfolding a snap
This treadmill can go up to a speed of 12 MPH, rising in increments of 0.5 MPH. Also, it can incline upwards to a 15% slope. It has a maximum weight capacity of 350pounds.
Extra Cushioning
8 shock absorbers to shelter the frame from the impact, reduce noise and absorb foot strike making your workout gentler on your knees, back and joints.
Raving Review:
SO QUIET! If you're looking for quiet, this machine is in stealth mode!! I live in a 600sq ft apartment and needed something super quiet, fairly compact, easy on my joints, powerful for running/hills, wouldn't break the bank, and durable. So far, THIS IS IT!! – Jason W.
Click here to read our full Lifespan brand review.
Compare Current Pricing Below to Get the Best Deal!
#5: Sunny Health & Fitness Folding Treadmill – Keep Your Joints Happy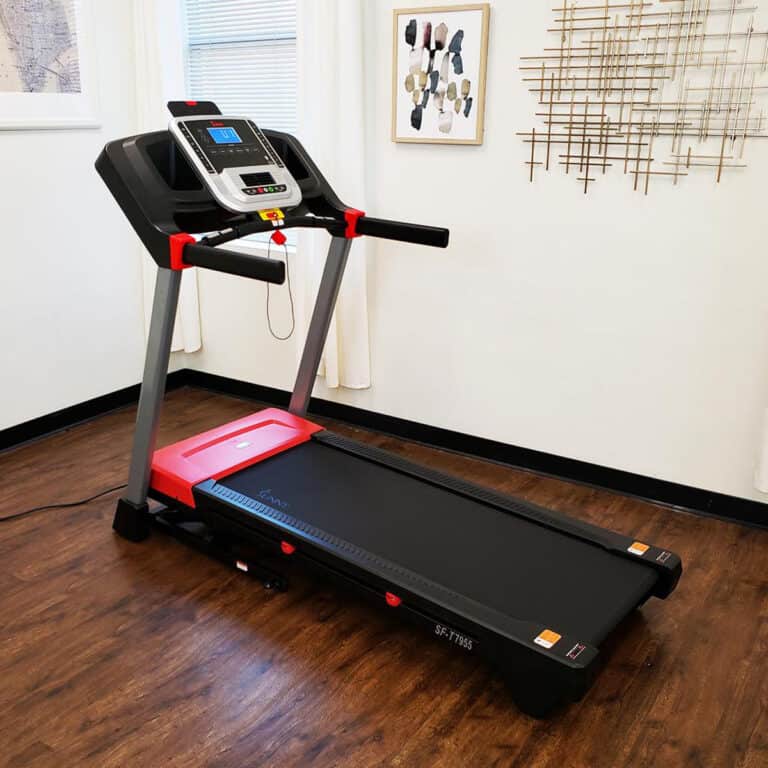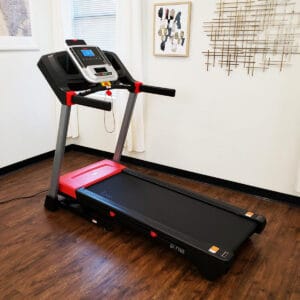 For those in need of serious shock absorbance, the SF-T7917 tread from Sunny Health and Fitness offers this at an affordable price point. The model is equipped with both shock absorbers and soft drops to ensure a comfortable and safe experience in high-intensity training.
Keep your joints happy while avoiding sacrificing the intensity of your workout.
It's SO heavy-duty and still so friendly with your body. While working out you have this amazing shock absorption tech. And when putting it away for the day, its hydraulic mechanism assures safe, hands-free unfolding and its easy-fold design locks and holds the running deck upright.
Also, the built-in transportation wheels for easy portability allow you to simply tilt and roll out for use or away for storage, without straining your muscles. That's why we call it the 'happy joints' treadmill.
Another big one about this treadmill with Auto Incline (15%), is it's built with digital technology and engineered for speed and stability. You can sweat with joy when you get to experience the 15 levels of automatic incline and speed choices up to 9 MPH for a customized workout that best matches your unique fitness goals.
One fantastic feature of this Sunny Treadmill is that the advanced digital technology allows you to pair this machine directly to the SunnyFit mobile app so that you can track your fitness progress. View your performance stats in real time.
Their easy-to-reach pulse grips allow you to comfortably touch the pulse sensors while exercising to track your heart rate in real time. You can customize the workout programs based on heart-rate data.
Comfortable safety pin offers a real life outdoor running feeling with the certainty that if you get too overworked, the emergency stop clip will bring the treadmill to an immediate stop.,
Two Other Great Add-Ons:
The digital monitor to track your speed, time, distance, calories/recline, steps, and body fat percentage. With the possibility to connect it to the SunnyFit App for customized workouts.
No more stop to sip to stay hydrated. The dual bottle holders keep your favorite drink within arm-s length! You have to simply reach down and grab if you need to replenish yourself.
Great Cushioning
Reduce joint impact in every step with the shock absorption technology that is embedded on the low deck treadmill, making it really steady and going up to 265 lbs. weight capacity without problem.
Click here to read our full Sunny Health and Fitness brand review.
Compare Current Pricing Below to Get the Best Deal!
#6: XTERRA Fitness TR150 Folding Treadmill – A Hidden Gem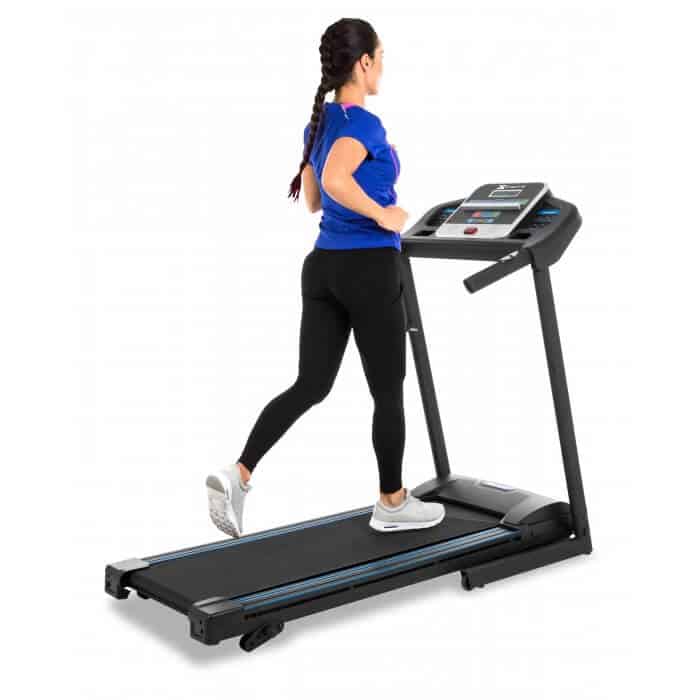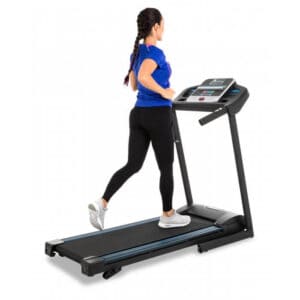 This machine is an excellent choice for anyone looking for a machine that can fit a wide range of goals and stand the test of time.
You can comfortably move on its 16″ x 50″ running surface without worrying about drifting off the machine's side. Plus, its large 5 inch LCD display is easy to read and keeps you updated on all the stats that matter to you: speed, incline, time, distance, calories, and pulse.
The integrated bookrack and accessory holders keep your reading material, remote control, and anything else you need at easy-access for you to grab and the hand pulse sensors are mounted on the side handlebars, these sensors allow the user to quickly check their pulses while they exercise
With a speed range that goes from 0.5 -10 MPH allows users of all fitness levels enjoy a comfortable, safe and motivating workout on its deck. And even more! It helps you challenge yourself and train better, giving you up to 3 manual levels of incline.
Plus, you can have a variety of workouts because it comes with 12 preset programs that offer unmatched challenges for your daily workouts.
The Star of This Treadmill
Cushioned deck technology for maximum impact absorption to keep joints safe and workouts comfortable. Combined with the large running deck, makes it absolutely enjoyable to workout on it. And, it offers shock absorption for up to 250 lb. user weight.
Just Pull the Knob and Go
This treadmill also considers ease of use and storage. It comes with built-in transport wheels and an easy pull knob for folding/unfolding to fit in any space you choose to workout on.
Raving Review:
Kudos to the TR150. Recently received XTERRA 150 treadmill. Unit was well packaged, and all parts were accounted for. Manual provided very easy to understand assembly instructions, which made it very easy and timeless to assemble. Control panel has large easy to read and operate buttons. Have been using (3) days now and am VERY satisfied with the performance and operation. Unit operates smoothly and quietly and is everything I had hoped for. Would have easily given it (5) stars if stats panel was backlit, but other than that which is not a big deal to me, love this machine.- Greg
Click here to read our full Xterra Fitness brand review.
Compare Current Pricing Below to Get the Best Deal!
How Can Shock Absorption Treadmills Help Me Get the Most of My Workouts?
Scientific studies have proven that running over flat running surfaces or hard materials such as concrete or asphalt, has a high and direct impact, not only on your joints, but also on your knees and ankles.
Although most treadmills nowadays come with some cushioning, specially designed shock-absorption treadmills are tailored to address and soften these high impacts and provide an overall healthier workout environment for all levels.
How to Choose the Right Shock Absorption Treadmill for You
To help you ensure that you choose the best treadmill for shock absorption possible, we have a detailed guide pointing out the main types of treadmill cushioning. We included the main technology that well-known brands use. So, you do not have to trust just words you read here and there. Instead, you can check it yourself by looking at the different cushioning technologies each brand has to offer.
Also, keep in mind that whether you have a pre-existing joint injury, or if you don't ever feel pain running on treadmills; finding a treadmill with shock absorption is very important either way. In the long run, pain tends to appear over time on cheap treadmills that don't offer enough cushioning and protection for your joints, ankles and knees. To keep yourself injury-free in your fitness journey,, finding the best treadmill with shock absorption for your body and your budget is necessary.
Elastomer Shock Absorption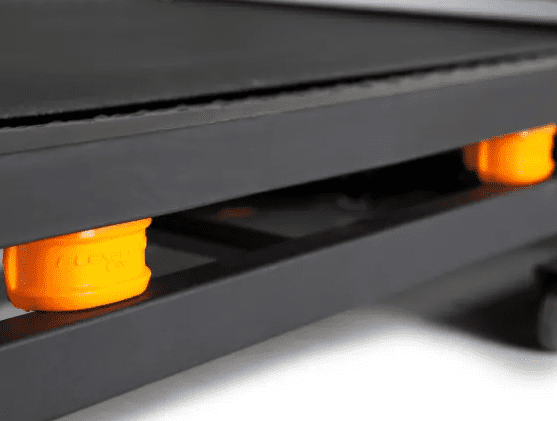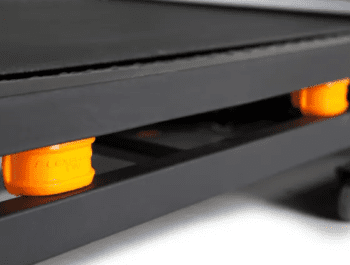 Most models out there are going to use elastomer shock absorption with rubber grommets positioned underneath the running surface.
These marshmallow looking grommets can vary in size along the length of the treadmill. For example, some Horizon Treadmills have larger grommets in the front to absorb the foot fall and smaller grommets in the back to provide a solid and stable push-off point.
Comparing Cushioning Systems
NordicTrack by Icon Fitness: the adjustable treadmill cushioning reduces the impact on the body by 15% to 33% as compared to running on asphalt. Newer options include the adjustable FlexSelect cushioning and the advanced Reflex Cushioning technology to have on and off-road experiences.
ProForm (also an Icon Fitness brand) gives you the option to change the cushioning to suit your preference; it reduces impact by up to 33%.
Sole (now owned by Dyaco International) designed their Cushion Flex Deck in 1992 and it is still recognized as one of the best cushioning systems in the industry. In comparison to running on asphalt, the Cushion Flex Suspension System reduces impact by 40% on the feet, ankles, knees, and spine. With the Cushion Flex treadmill, the all-steel frame and the incline system are designed to create a controlled low impact design.
Shock Systems to Avoid
Cheaper treadmills are going to have decks that angle outwards. This causes your foot to twist slightly with each footfall. Avoid this type of deck, as it can cause injury over time.
Many of the cheaper brands also skimp on overall cushioning. The machines are so lightweight that the entire frame shakes while you run. The impact of your footfalls isn't properly absorbed. We always recommend that you stay away from these cheap machines. You'll be doing your body more harm than good.
The Bottom Line
Treadmills can be quite pricey. You might be able to save money if you opt for one with no shock absorption system or deck cushioning, but you'll be exposed to excessive impacts during your workout session.
Having optimal cushioning is a necessary feature to consider when shopping for a treadmill. You will be able to run more comfortably, for longer periods of time, and reduce the stress on your joints during workouts.
If you are looking for versatility and comfort on a budget, this list is a great place to begin your search. You're better off being safe than sorry when it comes to taking care of your body.
Frequently Asked Questions
Does my treadmill need shock absorption?
Finding the a treadmill with shock absorption is important in order to keep your joints protected during exercise.
Do all treadmills have shock absorption?
Shock absorption varies from treadmill to treadmill. Some brands skimp out on shock absorption to offer a lower price point.
What is the best treadmill for shock absorption?
While there are many great treadmills that offer shock absorption, some of the best for the value come from the brands Sole, NordicTrack, ProForm, and Horizon.
Do I need a cushioning system on my treadmill?
A treadmill that has cushioning built-in will significantly reduce joint impact during your workout to keep you comfortable and safe.
Can I add cushioning to my treadmill?
While you can add a treadmill mat or pad, they are not a replacement for a shock absorption system. Deck cushioning cannot be added to a treadmill as machines come with them already built-in.