Pros and Cons of Our Top Mid-Range Treadmills
If you're committed to making a healthy change this year, then you are likely trying to find the best treadmill out there.  You want something that will help you meet your goals but not totally break the bank.
We've compiled this list of our top picks for treadmills in the $1,000 to $1,499 price range.  Each of these machines has been rated on company reputation, durability, stability, warranty, programming, and ergonomics.  Our team members have personally tested the machines and met with manufacturers to help you find the best treadmill for your body and budget.
Click on any individual treadmill to read our complete review, see current pricing, and see special sales offers: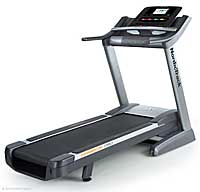 The first treadmill on our list is one of our 'Best Buy' picks because of its large running service, innovative programming, and strong company reputation.  The Commercial 1750 is a NordicTrack machine produced by the largest manufacturer of fitness equipment in the world.  Since their parent company is so large, the brand is often able to offer more bang for your buck.
For $1,499, the Commercial 1750 also offers a 3.8 CHP motor, extra-large 22×60" running surface, adjustable cushion deck, 3% decline ability, dual cooling fans, and 38 built-in exercise programs.
When comparing the specs of the NordicTrack Commercial 1750 to other brands, you are going to notice strong features to enhance your workout and provide entertainment while you exercise.  The most notable of these features is the colorful 7" Android touchscreen which will allow you to view real-time virtual running courses through the built-in iFit Live fitness tracking program.
PROS:  iFit Live is only available on ICON Fitness products which include both NordicTrack and ProForm treadmills.  It takes the whole concept of tracking your fitness to a new level with personalized workout plans, virtual course routes, stat tracking, and GoogleMaps synchronization.  As you work out on a custom route of your own design or one of the pre-filmed routes from around the world, your treadmill will adjust incline to match the real terrain.  It has widely been shown that those who track their fitness stats make better and faster progress towards their goals.  iFit Live is the perfect tool to help you do this.
CONS:  It should be noted that iFit Live does require an ongoing cost for a subscription.  If you are serious about your health, then we see no reason why this cost should prevent you from buying a NordicTrack machine.  If you'd prefer free fitness tracking software, you may prefer one of the machines from Yowza, Sole, or Horizon.  Also, the user weight capacity on the Commercial 1750 is 290 lbs.  If you exceed this weight, you would be better off with a more heavy duty machine in a higher price range.
**Read our comparison of the the Nordictrack 1750 and the Sole F80 here.  Two of our most popular models! 
Sole F80 (Best Buy) $1399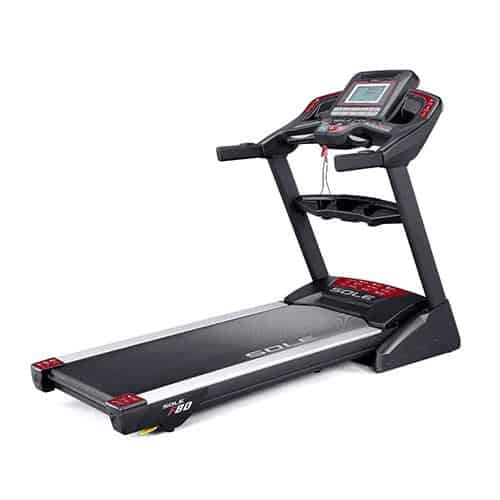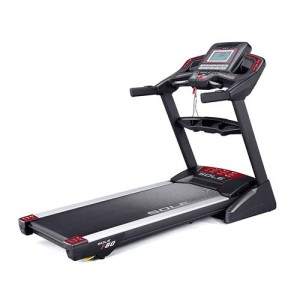 Sole Fitness is one of our favorite brands because they consistently produce durable and lasting machines.  Many popular consumer publications agree with us and the brand has received numerous "Best Buy" ratings.
At $1,399, the Sole F80 is a solid option with heart rate control, folding design, 3.5 HP motor, cushioned flex running surface, crowned 2.5" rollers, a warranty for lifetime frame/motor/deck, 5 years on electronics, and 2 years on labor.  This model is very popular with runners who want a reasonably priced machine that can withstand many miles per week.
PROS:  One of our favorite features on the Sole F80 is the extra-large 22×60" deck.  This running surface is only 2-inches wider than a standard machine, but it makes a big difference.  Anyone who is pushing 6-foot in height will also want to go with a 60" deck to avoid feeling cramped.
Sole Fitness machines also added Bluetooth capability within the last two years so you can track your fitness stats.  Unlike iFit Live, the Sole Fitness app is completely free and will let you set goals, track your results and watch as you make progress week after week.
CONS:  The fitness tracking capability and built-in workout programs may be free on the Sole F80, but they are not quite up to the standards of iFit Live.  The F80 comes with six preset programs, 2 customized workouts, and 2 heart rate programs.  While this machine will work well for joggers and runners, those of you who are VERY serious runners should consider the F85.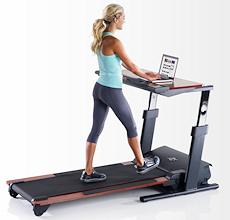 There are few things worse for your body than sitting at a desk hour-after-hour, day-after-day.  Numerous scientific studies have shown that too much sitting can cause heart disease, colon cancer, muscle degeneration, brain fog, back strain, and more!
To combat this problem, NordicTrack designed a line of treadmill desk with a built-in work surface so you can keep your body moving at the office.  This NordicTrack Treadmill Desk Platinum edition has an 18×60" running surface, 8 MPH speed range, 3.0 CHP motor, 10% incline, reflex cushion deck, and iFit Live capability.
PROS:  One of the top features that we like on this treadmill desk compared other brands is its ability to convert into a sitting desk.  It has a hybrid design that will let you fold up the treadbelt deck and fold down the work surface so you can sit at a normal chair.  This design gives you the flexibility to use the desk both ways to match your specific day's needs.
CONS:  When this model was first released it came with an extra wide 22" treadbelt.  Since then, the belt has been narrowed to only 18".  We were sorry to see this change, but the machine is still totally usable as a walking desk treadmill.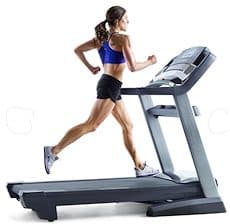 It is time for us to introduce a solid brand contender in this pricing category.  ProForm comes from the same parent company as NordicTrack so it contains similar quality of parts and customer service.  As with NordicTrack, ProForm is often able to offer 'more for less' with higher specs and better tech features.  In addition, these machines include iFit Live programming.
The ProForm PRO 2000 is a special machine at only $1,299.  In the recent ratings of a popular consumer magazine, it was given an impressive rating of 'excellent' for ergonomics and exercise range.  Top features include a 3.5 CHP motor, 22×60" running surface, iFit Live compatibility, 32 installed workout programs, speaker system for MP3 player and an 8" cooling fan.
PROS:  The PRO 2000 has the ability to both incline and decline so you can train your body to run up and down hills.   It also has a Bluetooth compatible heart monitor so you can hook it up to your heart rate strap.
CONS:  Although this machine will work for walks, joggers, and runners, we do throw in one word of caution.  If you are a serious runner, you will probably want to upgrade to a machine in the $2,000 price category.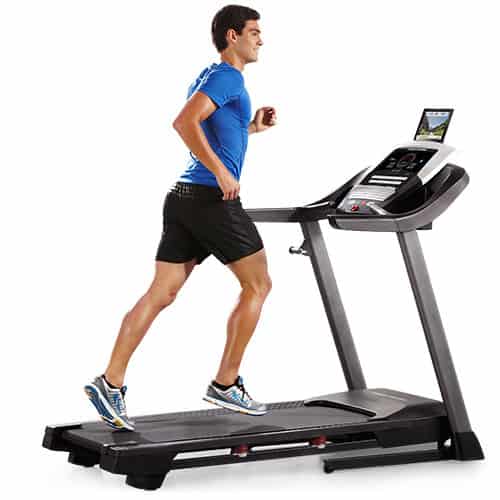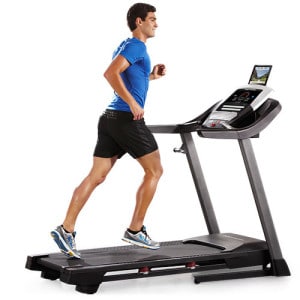 For just $200 more, you may be interested in another ProForm option in the PRO 5000.  The largest difference here is the addition of a 7" full color touchscreen.  The PRO 5000 also has a 4.0 CHP motor, 15% incline/-3% decline, folding design, 22×60" deck, iFit Live, and 34 installed workout programs.
PROS:  A color touchscreen is a great feature to have on an iFit machine because it means you can take full advantage of features right on your treadmill.  You will be able to view your custom running route by syncing with Google Maps.  Or, you can run one of the pre-filmed virtual courses filmed from exotic locations around the world.  A personalized workout program will help you make better progress towards your goals.
CONS:  Keep an eye on the pricing for this machine.  At $1,499 it's a great buy, but this pricing may not last.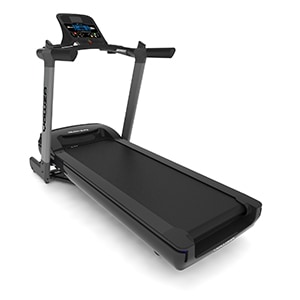 Joining our list at #6 is a machine from Yowza Fitness.  This is a smaller company based out of Florida that specializes in providing personalized customer service.  In fact, we'd rate them among the very best.  The Delray Elite comes with a strong lifetime warranty on its motor and frame along with a 5-year warranty on parts and 2-year warranty on labor.  A strong warranty is a good indicator of the quality on a treadmill.
PROS:  The Yowza Fitness Delray Elite uses a patented swing arm suspension system that is totally unique to this brand.  A swing arm at the front of the deck allows the entire running surface to absorb the impact of each footfall.  At the same time, you will have a nice firm surface from which to push off.  Another of our favorite features on the Delray Elite is their motion control system.  This unique feature lets you increase or decrease the speed on your machine with the quick wave of a hand in front of motion sensors.
CONS:  The fitness tracking program on the Delray Elite is not as strong as ViaFit (from Horizon) or iFitLive (from NordicTrack and ProForm.)  It does offer a few special programs for heart rate control and a 5K LEARN program.  Still, it's not quite up to the same standards as those other brands.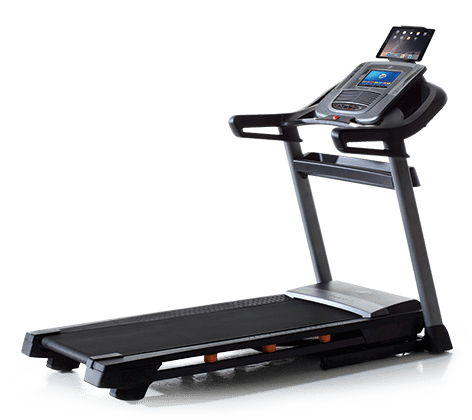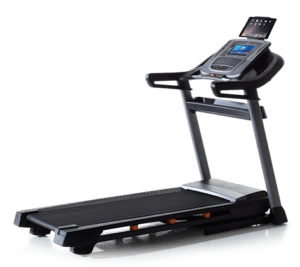 This machine has been added to our list mainly because of its large 10" Android browser display.  For only $1,299, this is a great deal.  The NordicTrack C1650 has also received a Best Buy rating and Excellent rating for ergonomics and exercise range from a popular consumer magazine.  This folding machine comes with a 20×60" treadbelt, adjustable cushioning and iFit Live.
PROS:  A 10" Android touchscreen on the C1650 will be perfect for taking advantage of the iFit Live fitness tracking programs.
CONS:  While this machine is great for walks and light runners, anyone who is very serious about running high mileage will want a more advanced machine like the NordicTrack C 1750.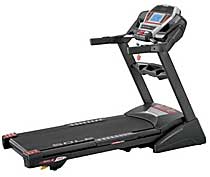 The Sole F65 splits the pricing gap between the Sole F63 and popular F80.  Once again, the top feature on this machine is the basic Sole Fitness quality.  This company always provides top notch durable machines at a reasonable price.  The F63 also features Bluetooth capability for fitness tracking through the Sole Fitness app, 3.25 CHP motor, 20×60" treadbelt and an extra sturdy "bullet proof" frame.  (Yes, the company actually advertises this way!)
PRO:  If this price range is in line with your budget, you'll be getting an excellent machine with free fitness tracking, a strong motor and great warranty.
CONS:  This is machine is great, but it could be even better.  If you can stand to spend $100 more, you can upgrade to the current pricing of the Sole F80 for a wider 22" running surface, stronger deck, wireless heart rate control, larger motor, and even better warranty.  It's really just a matter of figuring out what you are willing to pay.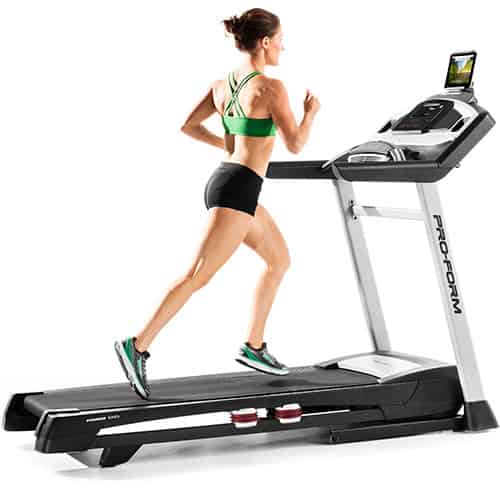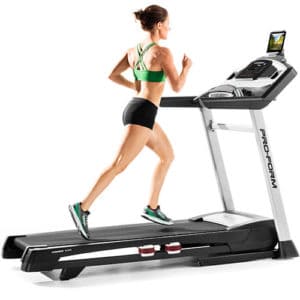 #9 on our list is the big brother of the ProForm's very popular Power 995i budget model.  The ProForm Power 1295 is a mid-range version with even more improved features.  A 7" Smart HD touchscreen will let you interact directly on your console with the features of iFit Live.  Plus, you'll enjoy a stronger 3.5 CHP Mach Z Commercial Plus Motor, more workout apps, and a better warranty.
PROS:  This is a 20×60" treadmill that will work well for taller users.  Plus, it uses a space saver design so you can fold it up when not in use.  This saves floor space in your home and also allows for easier cleaning.
CONS:  Remember that iFit Live does require an additional subscription fee in order to use the features.  It's one trade off since you're getting the machine at an awesome initial price.  Luckily, you can still use the treadmill without the fitness tracking features if you decide to forego the subscription.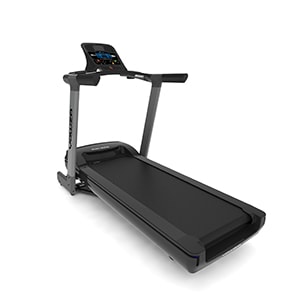 The Delray Grande from Yowza Fitness is the little brother to the Delray Elite shown above.  At only $1019, it could practically be included in our budget treadmill ranking.  This, along with all Yowza machines, is a factory direct sales model so you get more for your money.  Remember too that Yowza offers some of the best customer service in the industry.
PROS:  A 60" deck length will work well for taller users.  Plus, the thickness on this belt will provide durability.  Finally, this model also includes Yowza's patented swing arm suspension system.
CONS:  The fitness tracking on this model is not as sophisticated as for other brands, but it still offers some nice functionality.  Best of all, the fitness tracking on this machine is FREE and requires no subscription.
We hope that list has given you some direction in purchasing your next mid-range treadmill priced between $1,000 and $1,499.  You may also want to check out our budget recommendations or some reviews of machines in the Quality Treadmill $1,499-$1,999 category.
Also check out these articles:
Treadmill Buying Guide | 7 Helpful Tips
How to Select the Best Running Treadmill for your Body and Budget: Treadmill Benefits (Part 1/3)
How to Select the Best Running Treadmill for your Body and Budget: Treadmill Benefits (Part 2/3)
How to Select the Best Running Treadmill for your Body and Budget: What Should You Pay? (Part 3/3)