---
Best Buy Treadmills for 2017
---
"Best Treadmill" Buy ratings are based on:
Treadmill Quality
Product Performance
Innovative Features
Customer Feedback
Company Reputation
Product Warranty
---
Price Range: $200 - $699
For those on a limited budget, the Horizon T101 is our recommendation at around $649. This treadmill is best suited for walkers and light joggers. Horizon is manufactured by Johnson Fitness based out of Wisconsin. This company also manufactures the extremely popular Matrix brand and they are known for using high quality components for very low maintenance machines. The Horizon T101 is a straight-forward and well-built machine that will help you reach your fitness goals. Click to read our
Review Here
and learn how Horizon's unique vertical integration sets their machines a cut above the rest. Normally in this pricing category you sacrifice quality and/or service but with Horizon, you are backed by excellent components and impeccable customer service. Or visit the manufacturer at
JohnsonFit.com
.
---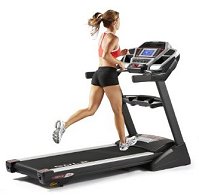 Runner-up: $1,000 - $1,499
We have recommended the Sole F80 as one of our best buys in this pricing category for many years.  It is a durable machine at a competitive price based on the features.  The "Cushion Flex" surface is impressive along with some of the largest crowned rollers in the industry which speaks of the long life expectancy.  When we recently visited the Sole corporate headquarters in Utah, the owner of the company mentioned this model is so successful they have trouble keeping it in stock. Read our full review on the
Sole F80
here or visit the manufacturer direct at
Sole.com
to learn more
---
Price Range: $1,000 - $1,499
The Commercial 1750 includes some very impressive specs for the price including a 3.5 HP motor, 22″ x 60″ treadbelt, sound system, color touch screen display and a 5-year parts and 2-year labor warranty. However, what makes the Commercial 1750 a standout is the innovative iFit Live feature. Your treadmill communicates with the Internet, allowing you to download customized workouts from Jillian Michaels, track your progress online, and simulate running trails around the world while you visualize it thru Google Maps. Read our full
review here
as we feel the total package makes the Commercial 1750 a winner. Also, you may wan to visit the manufacturer site
NordicTrack.com
to learn more!
---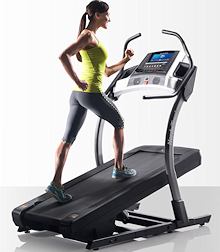 Runner-up: $1,500 - $1,999
Recently, a friend of mine said "The Incline Trainer is Brutal". I thought to myself "I should try one of these but she is probably just out of shape and bluffing, LOL". Was I wrong! If you prefer running I would recommend a treadmill as the X9i works best at walking up extreme inclines (like hiking a mountain). You can adjust the incline up to 40% and decline down to 6% to similate going up and down hills. The advantages are you get an intense cardio burn, plus there is less shock and impact to your body because you are walking. The NordicTrack X9i Incline Traienr comes with an extra long 62" belt, and you get a 10" Android browser that also lets you access the Internet. Read our full
review here
as this is one of NordicTracks hottest sellers. Also visit the manufacturer site at
www.NordicTrack.com
to learn more.
---
Price Range: $1,500 - $1,999
Our team recently returned from Yowza Fitness Headquarters in FL which is the manufacturer of Yowza Equipment. Prior to our visit other brands were featured in this pricing category. (cough, cough, we removed them!) After meeting the engineers at Yowza and spending two full days testing their equipment, we quickly updated our reviews to reflect our positive experience. Features such as a patented swing arm suspension system, Intelligent Weight Management, and motion speed control make this treadmill very appealing. Read our complete
Review Here
as we feel with a 10 year parts warranty and customer service you expect, this treadmill will last you a long time. Also, visit the manufacturer at
YowzaFitness.com
---
Price Range: $700 - $999
ProForm has received our Best Buy recommendation on their ellipticals for many years based on design and satisfaction. While ProForm has offered treadmills in the past, we never recommended their budget models. With recent quality enhancements we now feel ProForm is a major player in this pricing category. For a folding treadmill in the budget category, The ProForm Power 995i should be your choice. This treadmill blows away the competition pumped with features such as a long 20x60" deck, 30 workout programs and large 2.5" rollers. It has received "Excellent" ratings for ergonomics and exercise range. Read our
Review Here
as we have personally tested this machine against competitors in the same price range and the ProForm Power 995i gets our "thumbs up" Best Buy award. Also, visit
www.ProForm.com/Treadmills
to learn more.
---
Price Range: $2,000 - $2,499
The NordicTrack Commercial 2950 is a top of the line machine with a powerful 4.25 CHP motor, large 22x60" running surface, and 10" smart HD touch display. It comes with an adjustable running surface that both inclines and declines along with a 5 year parts/electronics and 2 year labor warranty. Finally, you can use the features of iFit Live to add excitement to your daily run. Read our complete
Review Here.
You'll learn why NordicTrack is one of the most popular brands on the market. Also, visit the manufacturer at
NordicTrack.com
.
---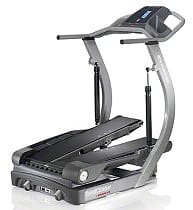 Runner-up: $2,000 - $2,499
One of the most innovative inventions we have seen, the Bowflex TC200 offers an alternative to a stair stepper, elliptical and a treadmill. It's designed primarily for walking but you can increase the incline to achieve equal calorie burning from running without the impact on your joints. Read our full
Review Here
to learn the benefits of the Bowflex TC200. Also, you may want to visit the
Bowflex TreadClimber TC200 Bowflex Catalog
---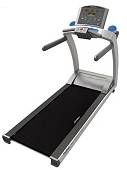 Price Range: $3,000+
The frame and the components on the Life Fitness T5 Treadmill are commercial grade which makes this one of the most durable on the market. The 7 year parts warranty is evidence of its dependability. However, that is only half of the story. The Life Fitness T5 is designed with biomechanical and ergonomic features that give it one of the most rewarding treadmill workouts in the industry. Read our complete
Review Here
as our team tested all Life Fitness products and reported "the shock absorption is exceptional". In addition, at this pricing range we highly recommend the Track+ console option as it's well worth the additional investment. Check out the manufacturer's website at
LifeFitness.com
---
Note: Our 2017 Best Treadmill ratings are based on personally testing the machines, professional feedback and customer testimonials. We attempt to be as accurate with the information that is provided. Be aware that manufacturers change prices ,machine features and designs without notice, and may not be reflected in our Best Buy reviews.