Did you know that regular exercise is not only good for your heart, but also for your brain, sleep, and helps you lose weight faster?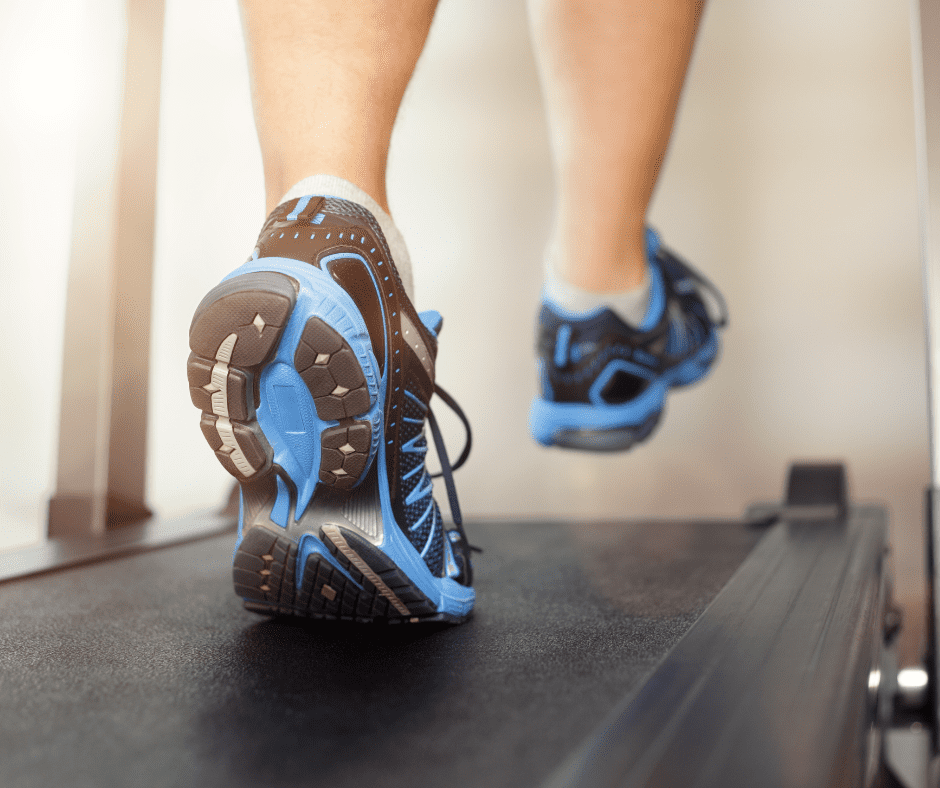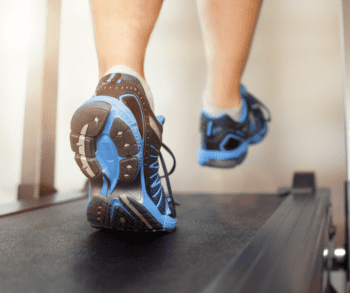 Nowadays, more and more people are starting to see the treadmill as the number one training choice as it reduces the impact on back, knees, and joints, plus gives you all the benefits of running or walking outdoors without suffering from sore muscles or fatigue.
A big plus? You can turn Netflix on, binge watch your favorite series or movie WHILE getting fit, making it easy to exercise for longer. 
It's also available to you 24/7. And, as the ones we selected for you are extremely silent, there is nothing left that prevents you from exercising when you want to.
You don't have to buy the most popular brand with the highest price tag to get a good, solid treadmill. Given that a good treadmill should be able to withstand continuous daily non-shaky use, in this post, we share with you the best treadmill under 800.

These treadmills are really gentle on your budget, yet strong and durable enough to get the job done. They're also very compact and don't take up much space.

So, read on to discover our 9 under 800 best treadmills that will stand the podium all year long.
As Good As A Gym… But Without The Growling of Other Gym Buddies
We're happy to say we managed to find 9 awesome and sturdy treadmills in this price range. And you don't have to break a sweat to find them because we've done the hard work for you. You're welcome! 
To be honest, we didn't expect to find more than 15″ long-running decks and 12% power-adjustable inclines on the 'best home treadmill under $800' because those are usually features exclusive of high-end treadmills. 
And some of these golden running power machines we've found even have lifetime warranties and amazing anti-shock systems!
Best part? They are all made by well-known companies, all offer powerful inclines, and they all fold for easy storage, making them perfect for home use.
What are you waiting for? Indulge in this go-to guide and pick your next running partner from this detailed list: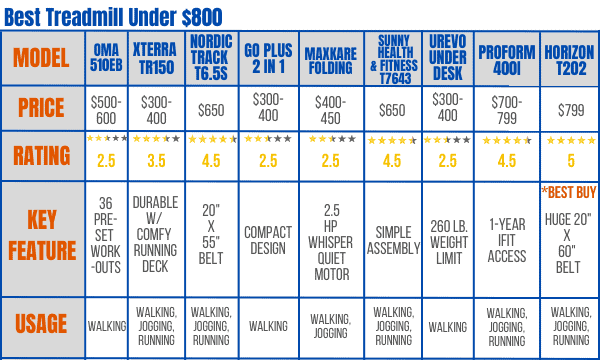 *Note: Purchase price will vary depending upon online/store availability. The listed price is a range we typically see the machine available for. 
Horizon T202 Treadmill: the secret tool to target 'hard-to-train muscles' 
The Horizon T202 has the most impressive incline in the 'best under 800' category reaching a 12% steepness. 
Owning a machine with such an incline will let you target those hard-to-train muscles such as your calves, hamstrings, and glutes.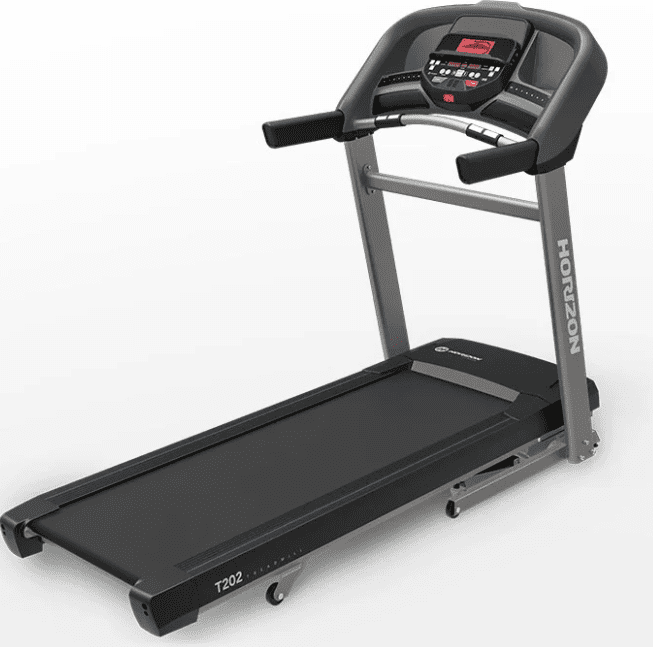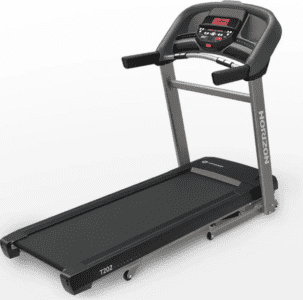 Also, walking or jogging at an incline will also burn twice as many calories as walking on a flat surface!
It also holds the title of 'best warranties on the market' with lifetime on both frame and motor.
This treadmill also boasts the largest running deck of any treadmill in the 'best under 800 dollars' range with a 20″ x 60″ running belt.
You can see running belts this size on machines costing twice this one, so it's a joyful surprise to see a gym-sized belt on a machine in this price range. 
Why is the running belt size THE most important thing to look out there when buying a treadmill? Because it defines who can use the machine and for what.
The only deal-breaker given its price, could be that it just comes with 5 workout programs. but many treadmill apps can be synced with the Horizon T202 to keep you occupied and challenged, plus Horizon Fitness does provide a no subscription sports app.
'Horizons Free Sports' app lets you connect your tablet and Bluetooth to a heart rate monitor. This is an excellent app for the more serious runners out there as you can use a heart rate chest strap to track your heart rate.
Features such as top speed of 12MPH suitable for walking, jogging, and running thanks to its 2.7CHP motor, with a 3-zone deck cushioning – anti-shock as the cherry on the top.
And yes, it's foldable!
Cons:
It doesn't include a heart rate monitoring chest strap and has a weak cooling fan.                                                             
OMA 5108EB Folding Treadmills: ditch the need for a fitness coach with this one!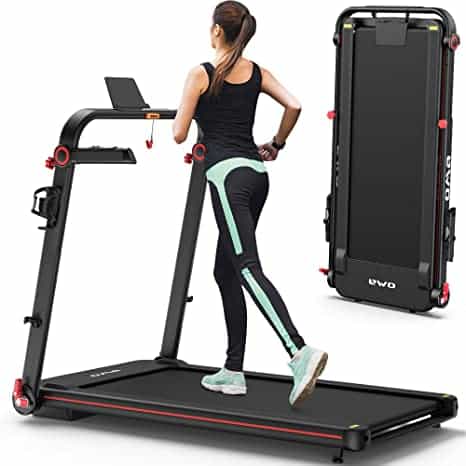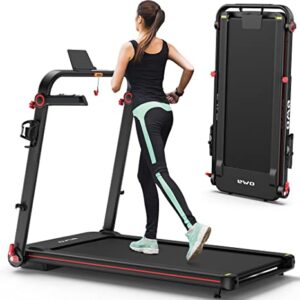 If you want a treadmill that can endure continuous use and is light enough to walk on, the OMA 5108EB is the treadmill for you. There's nothing complicated about this machine, and it can be used to walk, jog, or run and can support up to 300 lbs.
The assembly process is a breeze; it won't take more than 30-minutes to have it set up and ready for use.
Given it has 36 preset programs and 3 custom programs designed by professionals to get you in the best shape of your life, you don't have to second-guess anymore when it comes to your workouts.
Track your speed, distance, pulse, time, and calories on the screens while adjusting your speed or start/stop the machine all from the control buttons on the handles. 
It has a powerful, smooth and not that noisy 2.25HP motor and also comes with a manual 3-level incline. Adjust it to increase the steepness of the running belt and get your heart pumping!
Cons:
The only downside of this fantastic and versatile treadmill is it has a narrow running belt.
TR150 XTERRA Fitness Folding Treadmill is our top choice for tiny spaces
!
The XTERRA TR150 is a great entry-level treadmill that's perfect for daily home use.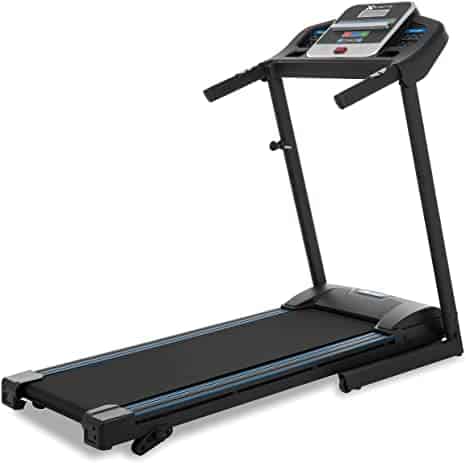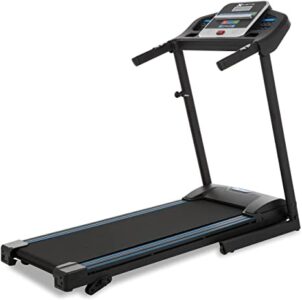 For its low price, it offers great features that will exceed your expectations, no matter if you are beginner or professional.
Its compact design makes it a great choice for those with limited space and you can expect to have it ready for use in less than 30 minutes. 
Its large running surface provides enough room for users to walk, jog or run. It's durable enough to withstand daily use. With a 10-MPH speed range, both avid runners and those training for a marathon can comfortably use this machine.
Plus, XTRAsoft cushioning technology provides cushioning at multiple points on the treadmill for maximum support and impact absorption, which means you can exercise for longer without feeling sore.
Wanna spice up your routine? You gotta give its 12+ preset workout programs a try so that you can say 'goodbye' to being afraid of getting bored just fast-pacing on your brand new shiny and super foldable treadmill.
It also gives you the freedom of jogging, running or walking at any time you please because, although it has a powerful 2.2HP motor, it's surprisingly quiet and very smooth.  
When you're done, lift the deck and it folds up nicely, saving you some precious floor space. Overall, the treadmill is designed to be very compact such that it doesn't take up too much space.
Cons:
One of the downsides of this space-saving incredible treadmill is that the 3-level manual incline doesn't make much of a difference, it's hardly noticeable. Also, there's no auto power off button and no holding spaces for your training complements.

Treadmill Ratings Reviews Team Testimonial
TRR Team Member Brook personally owned the XTERRA Fitness TR150 Treadmill in her home for many years. Here's what she had to say…
I purchased my XTERRA Fitness TR150 brand new at a local sporting goods store. The box fit in the back of my mid-sized GMC SUV (with the back seat folded down). After bringing it home, set-up was a breeze. My husband and I assembled it in around 30 minutes. I ran on the treadmill at least 2-3x a week for a year. The pre-set programs are a nice bonus feature, so you can just hop on the treadmill and let it think of the workout for you. The shock absorption on this machine is nice. I get shin splints very easily, and never had any issue with running on this treadmill. We moved once with the treadmill, and it was so easy to fold and put on a moving truck, bring into our new house and unfold it. It's a durable machine to be priced so well. When it wasn't in use, I kept it folded up in our office. It folds up so you can place it against a wall and keep it out of the way in the corner of a room. Recently, I sold my XTERRA treadmill to join a local gym. However, it was a great treadmill for me and I'd recommend it to anyone who is on a budget. 
UREVO Under Desk Electric Treadmill: your hidden mood booster under your desktop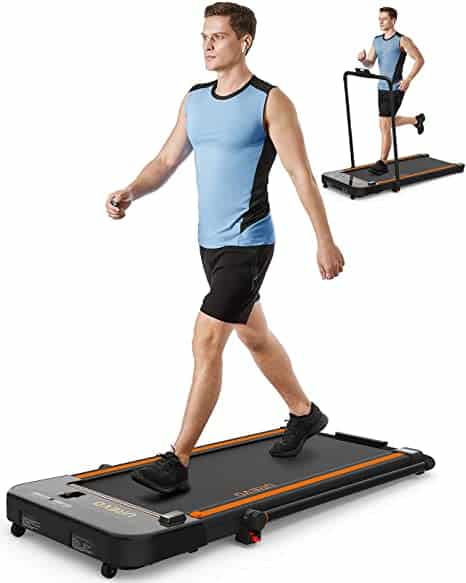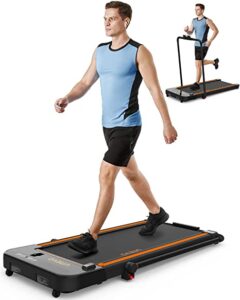 Always daydreamed of a treadmill that was a completely foldable machine for easy storage under your desktop….or even your bed? With this electric treadmill, you get exactly that. Under desk treadmills can be beneficial to both the brain and the body. Plus, it also comes with transportation wheels to move it around. From the bedroom to your home office, why not? 

This is the perfect option for those looking to begin exercising at home, but it is not for experienced runners as it is capped at 7.5 mph.
Regarding assembly, you can have it unboxed and running in as fast as 20-minutes.
Not the quietest of machines, but neither too distracting. It is still possible to listen to some music or watch your favorite show on Netflix on its flat display area that works as a multi-functional support, able to hold laptops, tablets, and water bottles. 
Its well-built frame keeps it steady when running or walking AND supports individuals of up to 260 lbs. The LCD console records your time, distance, and calories as you exercise and it does not rock or shake when in use.
Cons:
On the downside, it offers no incline, it has no pulse sensors on the handles, and the running belt is pretty narrow. 
Goplus 2 In 1 Folding Treadmill: your key to family safety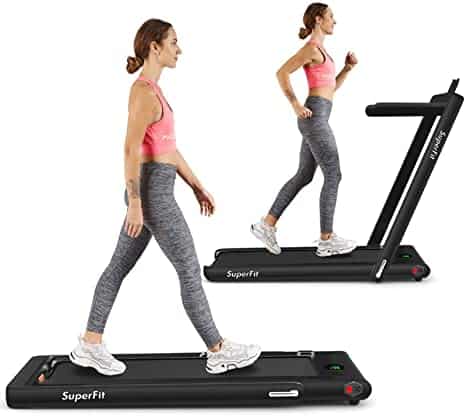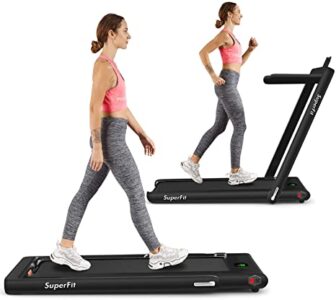 A treadmill designed with safety in mind. If you have kids or little children, this treadmill can definitely give you peace of mind. It just won't start if the safety key is not on. 
Plus, it fits perfectly in small spaces or offices for your walking/jogging exercises.
So, it's a great way to keep yourself moving at home without having to worry about the safety of your kids…or space!
It has a unique 2-in-1 folding design that makes different modes of exercise easier. For example, you can fold the riser to jog or walk, or raise the bar to run at speeds up to 10 MPH. 
A great feature is that its running belt is cushioned with 5-layers of shock-absorbing non-slip material for maximum impact absorption. Your knees, joints, and muscles will thank you for that.
Not to mention it's whisper-quiet motor so that you can binge on your favorite Netflix series while you jog or sync your phone by Bluetooth to listen to your favorite training playlist.
Cons:
The instruction manual is poorly-written and you might miss a few key issues such as lubricating the belt before use and how to connect the remote control. However, the assembly video is very clear with these directions.
The running belt, though wide, is not that long. Taller users might struggle with the 40″L running belt that does not provide enough space for long strides limiting their workouts to only light walking/jogging.
And the really low sound quality of its speakers makes the Bluetooth functionality useless.
MaxKare Folding Treadmill: turn the lights off, turn this one on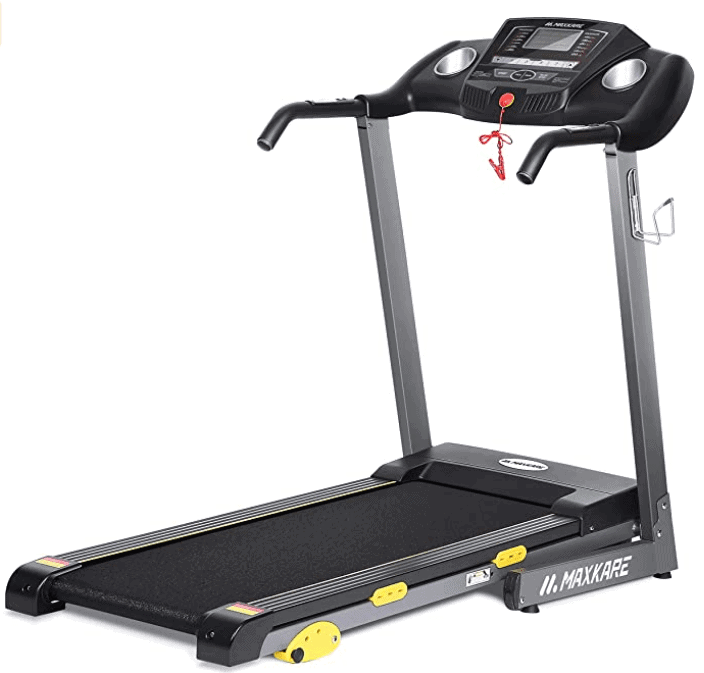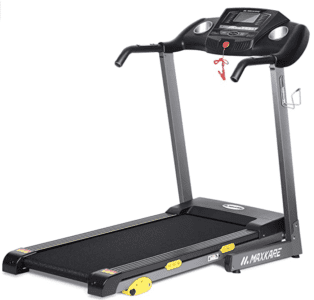 As soon as you assemble this small yet stable machine, packed with 15 training programs (bye-bye, boring routines), you'll notice how the LCD display lights up. It's also backlit providing extra brightness so you can safely use it even in the dark. 
Plus, its 2.5 HP powerful motor is ultra-quiet. So you can run or jog at night without waking anyone… Remember: you don't even have to turn the lights on. 
As you increase speed you can be safe and confident because it's quite solid so no shaking or wobbling and it comes with a cup holder so that you can get hydrated during exercise.
Cons:
Its multi-layer rubber tread belt helps cushion against any impact to your knees or joints as you exercise. However, users have said they felt it was very thin when in use, so good treadmill shoes are a must when using this machine.
Heads-up regarding storage: although it is easy to store with the lift option, you must quickly unlink the wire key used to secure the track then lift. And that makes it a little bit more complicated
NordicTrack T 6.5 S Treadmill: a larger belt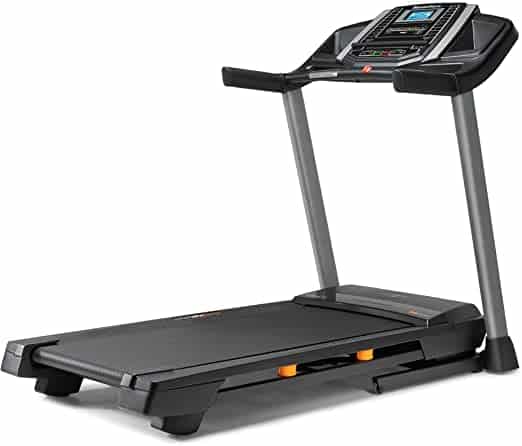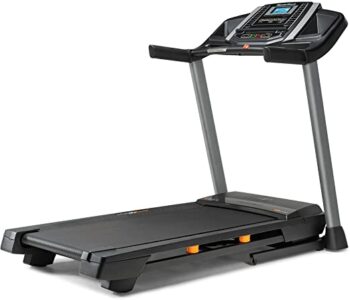 With a good-sized running belt, power-adjustable incline up to 10%, a top speed of 10mph, top speed, 20 built-in workout programs, plus it's iFit enabled, the NordicTrack T 6.5 S has got everything you need to boost your cardio fitness at home. 
Most treadmills under $800 come with belts ranging from 43″ to 50″ in length, so a 20″ x  55″ belt is an impressive size for this price range.
Because of the belt length, we have to say the 6.5 S is best suited to walking and jogging, although some shorter users will be able to use the machine for fast-paced workouts as they have shorter strides.
The FlexSelect cushioning system guarantees that no matter the intensity you reach during your training, joints and knees are safe from impact. 
It has an impressive 300lb weight capacity and it's really solid, so we think it's a great price for a feature-packed treadmill.
Cons:
We had to work hard to find a downside on this one and it could be these models are not equipped with cooling fans. It's not a major one!
*Note: The NordicTrack T Series is no longer available on the NordicTrack website, however it can be found both in-person and online in large retail stores and sporting goods stores. 
Sunny Health & Fitness T7643 Heavy Duty Walking Treadmill: a warm ray of gym-quality 
This Sunny Health & Fitness T7643 treadmill has the feel of a professional gym-quality treadmill at a budget price. It's a heavy-duty machine that's well built to support high weight capacity users.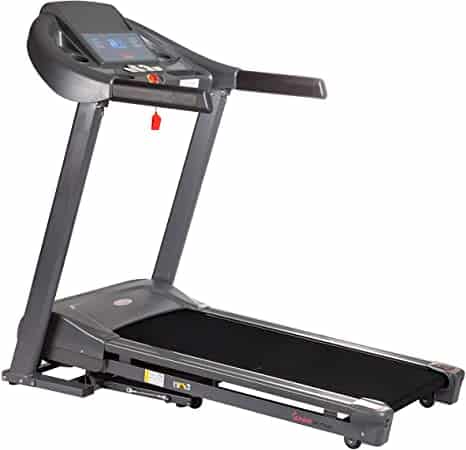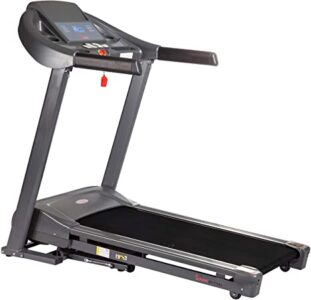 Also, its extra-wide 20-inch running belt makes this a great choice for taller users as they don't have to worry about bumping feet into the edge of the treadmill as they exercise.
The 2.5 HP motor isn't as quiet, but the noise isn't too loud to get in the way of your favorite series, your music, or become annoying for those in the room with you.
 When you receive it, all you have to do is attach the arms and the console to the arms.
Even though this unit doesn't come with an adjustable incline, the deck is built with a slight incline to make your workouts more challenging.
Speed change is really smooth and the belt doesn't jerk when adjusting to the increments. And it takes up to 350lb of weight without a minimum shake.
Backlit LCD helps keep track of your distance, calories, and time. Accessories such as cups and water bottle holders are a welcome addition. 
Once you finish exercising, use the soft drop mechanism to fold it up nicely to save some floor space without breaking a sweat. Let's leave that to the treadmill!
Hot tip: it comes with a user manual that suggests lubricating the belt before use and also a maintenance schedule to keep it in good shape.
Cons:
Although slightly inclined for more challenging workouts, there's no possibility of adjusting it. 
And while assembly is pretty easy, check beforehand if you can get extra hands to help you with unpacking because it's heavy.
ProForm 400i Treadmill: a HD studio training at home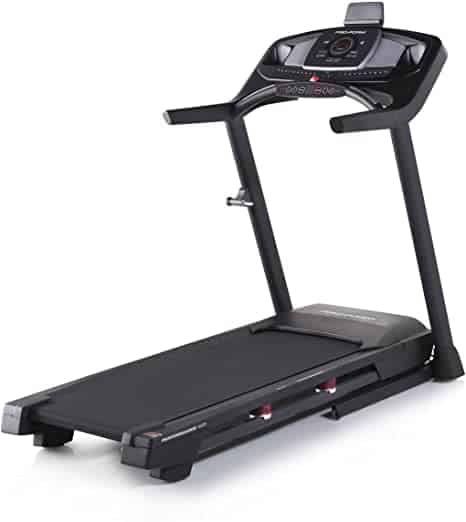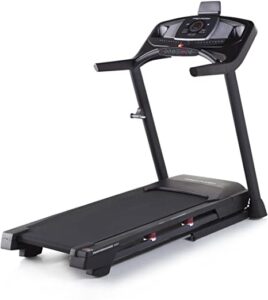 A 10% incline with a 1-year free subscription to iFit and 50 built-in workout programs, is a sweet deal for such a powerful treadmill under 800.
Imagine your treadmill instantly mimicking the terrain you are running on. Not only does this make the cardio session more realistic, it also lets you focus more on your workouts as you don't need to adjust any of the settings yourself from the monitor. And this is a really cool feature of the iFit app.
And you can view all your studio training classes and jog anywhere in the world – viewed through your very own HD 7″ color screen, so no need to use a tablet or a phone.
If you have been looking for a treadmill for walking and light jogging, the ProForm should suit your needs fine. Its belt can be a bit narrow for intense running.
And to round it up, it has an impressive warranty: a lifetime on the frame, 25 years on the motor, and 1 year of parts and labor.
Cons:
It may not be powerful enough for serious runners; it has small track rollers and no wireless heart rate monitoring.
*Note: The ProForm 400i Treadmill is no longer available on the ProForm website, however it can be found both in-person and online in large retail stores and sporting goods stores. 
Closing The Deal
Because of the vast difference in quality on offer in the under $800 price range, it's worth taking some time to read up on important features that the best treadmills under 800 should offer.
Many people find themselves having to send back treadmills because they either didn't suit their body sizes or fitness needs. Sending back large fitness equipment is a headache; it's the last thing you need!
For us, having in consideration features plus benefits and price, Horizon Fitness T202 treadmill outshines everything else in the 'best under 800' category. The running deck size is its main selling feature, and if you've owned a treadmill before, you will know how important it is to have as much space as possible to exercise comfortably.
It is the only machine under 800 dollars that you can use for walking, jogging, and running. with an incline better than its competition. So too is its top speed and warranty.
But, always bear in mind who is going to use it, for what and for how long. Family safety in case of having children may be a major factor to consider when picking the best under 800 treadmill. .
It all comes down to the space you have, your workout needs and your fitness goals. And that's all we have considered in this detailed guide, so you can weigh in on every factor and choose with confidence.