Most fitness equipment manufacturers sell only fitness equipment and related products, but MaxKare is an exception. According to the company web site, MaxKare also offers products for "…Home Comfort, Relaxation and Massage, Flexible Heated Solutions, and Baby Care."
All this in addition to treadmills.
If you're not a fan of reading, the bottom line is that we are very hesitant about most MaxKare treadmills and suggest Horizon Fitness treadmills for a more reputable brand, that is still offered at an affordable price point.
A Company That Does it All

What we typically find with companies like this, who attempt to be a one-stop-shop, is that they can't be excellent in every area. Some of their products may be fantastic. Others, not so much.
We demand excellent quality in our fitness equipment—especially treadmills—because when used properly, for their intended purpose of regular exercise, treadmills must withstand a lot of use.
That's why we advise everyone to do their research… and why we do our best here at Treadmill Ratings Reviews to help you gather reliable information along the way.
When you're searching for the right piece of fitness equipment and finally decide to spend your hard-earned money on it, you want to make the best choice for your investment. Ideally, you'll choose a brand that specializes in quality fitness equipment and offers ready access to dedicated customer service.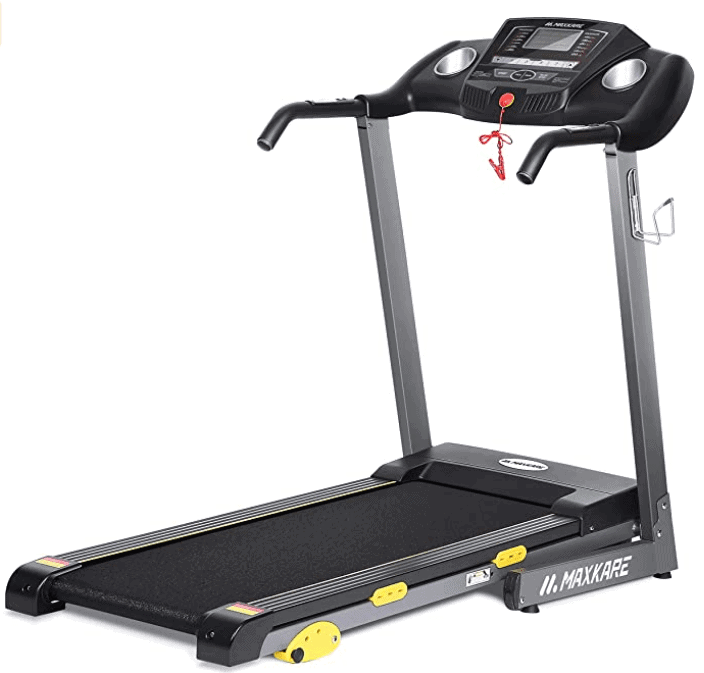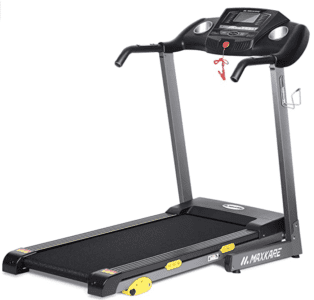 At one point, MaxKare treadmills were available exclusively on Amazon. You could not purchase treadmills from the MaxKare company website. However, that seems to have changed. The company has apparently streamlined their Amazon store these days to offer only heating pads, heated wraps and bedding, and massage devices.
The full array of MaxKare items, including the treadmill, is now available on their web site. We see this as a good thing, because the MaxKare Amazon store was admittedly a bit confusing back in the day.
However, their company web site is not much better. They truly sell a little bit of everything, so sifting through the site to find the treadmill can be challenging. We found the treadmill by starting our search for treadmills on the "top sellers" page of the company site.
The MaxKare treadmill is lightweight, compact, and foldable, which makes it attractive for small spaces. It's also very affordable, priced at under $389.99.
By the way, if you're looking for a folding treadmill, there are some key points to consider. We have more detailed information for you here.
Why We're Hesitant About MaxKare
We were first drawn to MaxKare because they had surprisingly good reviews on Amazon when they were selling the treadmill there. At one point, the MaxKare folding treadmill had 4/5 stars on Amazon with almost 2,000 reviews to its credit.
We followed the reviews for a while and noted that some reviewers began offering mixed opinions on this treadmill over time.
The main complaints included broken pieces, no response from customer service, and one reviewer made this comment on the treadmill's compact size: "Unless you are under 5'8″, you should avoid this treadmill."
Here are some of the other Amazon reviews that stood out to us:
---
"Treadmill arrived promptly. Was put together in little time. Works great, Would recommend if you need a treadmill or cannot exercise outdoors yet need to get your walking exercise each week/day this is the one for you. The whole family uses it."

---

"Decent treadmill. The manual for assembly depicted wrong images of bolts that can cause confusion but not the worst to figure out. There is a little slip / "backroll" as you walk but went into this expecting this to not work as well as a full-sized treadmill."

---

"I brought this treadmill to use at home so that way I can work out at home. Shipping took about 2 weeks for me and assembly wasn't too hard. However, the machine I received had a broken piece of plastic on the arm with the speed adjustment so now I can't adjust speed using that. I have contacted the seller and they told me they would send over a replacement part but it has already been 2 months and still haven't got it with no response now. The treadmill belt itself also has an issue where if you don't run consistently on the center, it moves and causes it grind against one side. Other than these, it works but I probably should have bought something a little better than works better and more consistently."

---

"Do not buy this product unless you are shorter than 5'8. I'm 6'2 and my wife is 5'8. Nether one of can see the screen standing up. It's small and compact but not meant for anyone taller than 5'7."
As noted above, at the time we're posting this review (in March of 2022), MaxKare is no longer offering treadmills through their Amazon store. While the current MaxKare Amazon store emphasizes heating pads and wraps, heated bedding, and massage devices, the current company web site is where you'll find the treadmills.
So if you're interested in purchasing the MaxKare treadmill, head on over to their site . Note: At the time of this writing, the MaxKare treadmill was sold out with no indication of when it might be back in stock, so we recommend you check the site periodically.
Meanwhile, we have an alternative recommendation…
MaxKare Treadmill vs. Horizon T101 Treadmill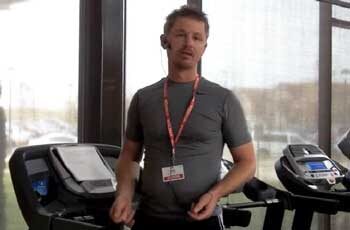 Although there is a bit of a price jump between the MaxKare treadmill and the Horizon T101, we feel it's worth spending the extra money on a more reliable treadmill from a more reputable brand.
The Horizon T101 treadmill is still a very affordable option, selling for less than $700. And we feel the Horizon T101 offers infinitely better features.
Width and Length –

The deck width on the MaxKare treadmill is pretty small. It's 17″ wide, and they don't list a length. In comparison, our recommended treadmill, the

Horizon T101

, has a deck space of

20″ x 55″

, which will be much more comfortable for most users.

Speed –

The electric folding treadmill from MaxKare has a speed range of 0.5 – 8.5 MPH. This is not a bad speed range at all, especially considering the price point. However, we're not sure how many people would find it comfortable to run at the faster speeds on such a limited deck area. The Horizon T101 goes up to 10 MPH

and

(as mentioned above) has a larger deck space to keep you more comfortable at higher speeds.

Incline –

There is a 1-3 degree manual incline offered on the electric folding treadmill from MaxKare. The Horizon T101 has 10 (yes, 10!) levels of incline.

Safe and easy folding

– Folding treadmills are ideal for small spaces and offer the promise of easy storage. But there's nothing easy about injuring yourself while attempting to fold or unfold your equipment. MaxKare's folding mechanism is basic and manual, while the Horizon T101 has a reassuring safety feature. Horizon's signature Feather Light Folding mechanism allows the console to descend slowly in a controlled manner to avoid accidental injury when folding your treadmill for storage.

Motor –

The MaxKare folding treadmill has a 2.5 HP motor, which we do not advise for running as MaxKare suggests. Typically, we recommend a 3 HP minimum motor on treadmills for runners.
However…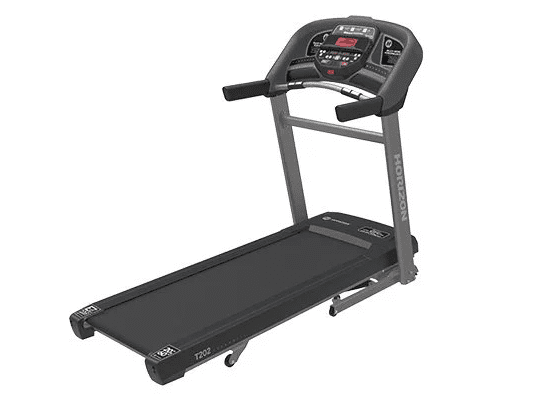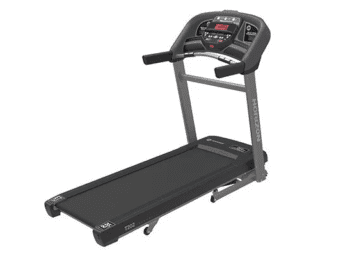 While the Horizon T101 also features a 2.5 HP motor, the major difference is this motor is built by the manufacturer specifically for the Horizon T101 Treadmill. Because this motor is engineered specifically for the treadmill, it runs more efficiently, which minimizes maintenance issues over time. Don't let this small but mighty motor fool you! Its efficient operation and seamless integration gets the job done… and then some.
Warranty –

To be very honest, the warranty from MaxKare is confusing. On their website, they say,

"MaxKare will replace any product found to be defective due to manufacturer flaws; refunds are available within the first 30 days of purchase."

It's worth noting that some of the reviews on Amazon from the recent past have stated that the company is extremely difficult to contact.
In contrast, the Horizon T101 offers a lifetime warranty on the motor and frame. It also has a one-year warranty on parts, cushioning, and labor. And the company is easy to contact whenever you have questions or concerns.
Additional features
It's also worth noting the wide array of additional features the Horizon T101 Treadmill offers such as:
Innovative cushioning system for a more comfortable stride

Bluetooth connectivity -Backlit LCD display

Integrated tablet holder and USB charger

30 workout programs
What people are saying
Satisfied customers have commented that the Horizon T101:
is "easy to assemble"

has a "very quiet motor"

is "sturdy, smooth, and quiet"
Based on our personal experience, our analysis of features, and comments from satisfied customers, we feel the Horizon T101 Treadmill is a much better investment than the MaxKare treadmill. The bottom line, in our opinion, is that Horizon offers more bang for your buck in terms of product quality, warranty, and customer service reputation.
To find out more about the Horizon T101, including more detailed comments from satisfied customers, check out our full review here or click here to shop directly at horizonfitness.com.
MaxKare Treadmill FAQs
Are Maxkare treadmills any good?
MaxKare offers budget-friendly treadmills, but due to their sub-par features and less than ideal warranty there are better options out there.

Do MaxKare treadmills incline?
Yes, but they have a minimal incline range.

How much do MaxKare treadmills weigh?
MaxKare treadmills are notoriously lightweight and unstable, around 100 lbs.

Are MaxKare treadmills worth it?
Although they come at a cheap price, MaxKare treadmills are not worth it. Horizon offers affordable treadmills that are durable and safe.