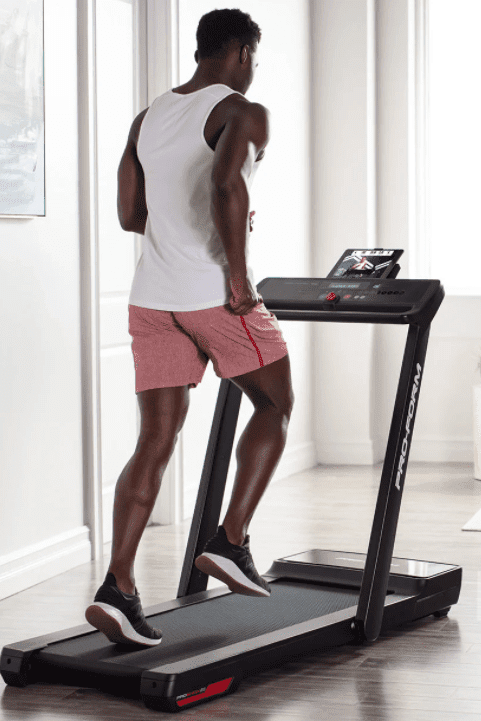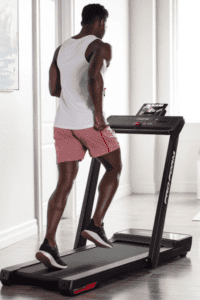 If you are someone who is dedicated to staying fit, but not able to head to the gym every single day, then having a treadmill in your home can help to keep you motivated and on track.
A lot of people are hesitant to buy fitness equipment due to the huge investment that these machines require.
What if we told you that there are options out there that are not only functional but also affordable?
When a treadmill is less expensive, it's not necessarily because it is less effective. The unavailability of some modern features like fancy frills or digital screens cuts down the prices. The functionality of the treadmill is what's most important.
So, if you are ready to start your fitness journey but confused about buying a budget-friendly treadmill, this article is going to help you.
We are going to discuss the best treadmills available on the market with a price range between $500 and $600 to help you reach your fitness goals without breaking the bank.
Consider These Factors While Shopping for a Treadmill for Around $600
There are a few things that you should take into consideration when you begin your shopping process to ensure that you fight a machine that not only fits your budget, but your needs as well. 
It's important to consider a variety of machine aspects before you decide on whether or not a treadmill will be the right fit for you. 
Manual or Motorized
There are mainly two categories of fitness equipment that come in the 600-dollar price range. The categories include manual models and motorized models. A manual treadmill relies on the physical movement of your body to propel the belt and get the treadmill going.
On the other hand, if you opt for a motorized or automated one, the treadmill will have a built-in motor that moves the belt on its own. 
Both models have several benefits.
Manual treadmills can offer more intensive exercises, requiring you to incorporate more muscle groups, and burning more calories. They don't require electricity, are relatively safer, and are also less expensive.
Motorized treadmills, on the other hand, are easier to use, provide more speed, intensity, and activity options, and are ideal for prolonged training sessions. 
Weight Limit
When looking for the finest treadmill under $600, consider the weight capacity of the machine as one of the biggest factors. This is important because if your treadmill is not equipped enough to withstand your body weight while exercising, the machine will break down a lot quicker, or could even result in injury.
Speed
Speed is another important factor to consider when it comes to finding the right treadmill. The higher the speed range, the more intense your workout can be. 
When determining which speed range will be optimal for you, consider the type of exercise that you'll be doing on your treadmill. If you're a walker, a lower speed range will work. If you'll be jogging, or even running or sprinting, choose a machine that has a higher speed option. 
Dimensions and Size
Don't overlook this factor as it is a very vital one. So, consider the size of your treadmill and whether it will fit in the space in your home.
It's a good idea to figure out where you'll put the treadmill and estimate and take measurements before you select your treadmill model. 
Best Treadmills Under $600
#1 Pick: ProForm City L6 Treadmill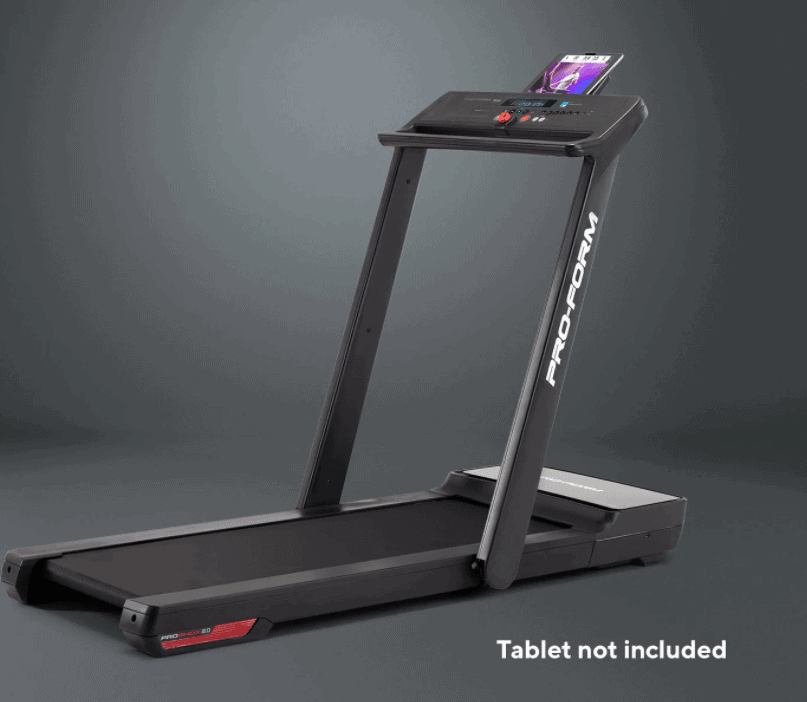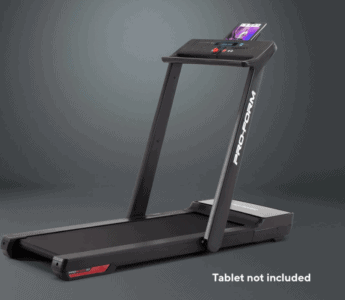 This treadmill model from ProForm has fantastic features. It has many functionalities, despite being priced under 600 dollars. The City L6 is a fairly new launch to the ProForm treadmill line up. The last time that we visited the headquarters, our team was very impressed to see a budget friendly option released from such a major player in the industry. ProForm is known for producing quality equipment with the latest and greatest technology.
Some of the top features to note on this treadmill include:
17.5″ x 45″ deck area
29″ W x 70.25″ L x 44.5″ dimensions
250 lb. weight limit
0-8 MPH speed
Pro Shox Cushioning
Bluetooth Capability
The ProForm City L6 is iFit-enabled and a 30-day free trial is included in the price. The device has a built-in tablet holder and a small display panel. Users can use iFit or other exercise apps through the tablet holder by using any smart device.
Other benefits that come with using this model include:
The model has a small running area, which is ideal for a home where space is limited.

Customers receive a strong warranty plan with the purchase. The machine comes with a 10-year frame warranty and a one-year parts and labor warranty.

The folding option is nice for those who want to store the treadmill away when it's not in use.
Compare pricing on the ProForm City L6 Treadmill to get the best deal!
Read our in-depth ProForm City L6 Treadmill Review.
#2 Runner-Up: Horizon T101 Treadmill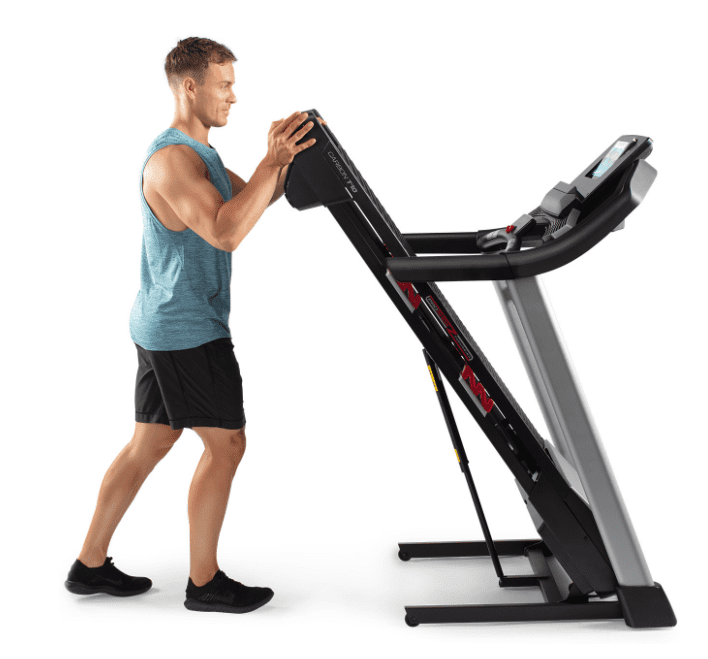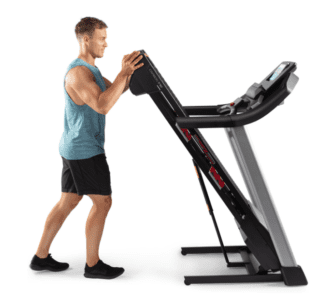 The Horizon T101 treadmill is a $600 dollar treadmill that is quite popular among gym lovers. This fitness machine boasts an impressive and top-notch quality drive motor that operates at low RPMs. This feature helps a lot in reducing noise, so if you're working out in a shared area, this will be a nice feature.
*Note: The Horizon T101 is regularly priced at $649 but frequently goes on sale to be under $600.
Our team has visited the Johnson Fitness headquarters (the parent company of Horizon) many times over the years. The Horizon T101 has been a fan favorite among our review team. One of our favorite aspects of this machine is the quick 30 minute assembly, it's one of the easiest treadmills to set up. 
Some other top features to note on the Horizon T101 Treadmill include:
20″ x 55″ running surface
Up to 10% incline and 10 MPH speed
Three zone variable response cushioning
Folding
Cooling fans
30 workout programs
Backlit LCD display 
Compare pricing on the Horizon Fitness T101 Treadmill to get the best deal!
Read our full Horizon T101 Treadmill Review.
Final Thoughts
When it comes to opting for a treadmill under a 600-dollar budget, things become a bit tricky. This happens because the newer models from different brands have a lot of technological advancements that are very advantageous… but also cost a lot.
However, if you want to purchase a budget-friendly treadmill with basic features equipped to help you on your fitness journey, there are definitely options out there. We picked the ProForm City L6 and the Horizon T101 treadmills because of their top-notch qualities and their brand reputation.