The Bowflex TreadClimber offers a new concept in cardio exercising.  If you've seen the informercial, and you would have to live in a cave not to, the TreadClimber promises you will "Get the Body Your Want in Half the Time."  There may be some validity to their claims, which are:
The TreadClimber increases your heart rate quickly — and keeps it there!
Allows you to burn more calories and lose weight more effectively!
Works more core muscle groups at the same time
Minimizes joint impact — Very important!
And it does all of this without running or jogging
Bowflex also recently released a treadmill line up that includes the BXT 216 and BXT 116 models.  These are both solid machines with some unique technology options that we really liked.
Check out a comparison chart of all Bowflex machines here.
How the Bowflex TreadClimber Works

The innovative design is based on a "dual motion treadle system". These treadles move up and down with the motion of your footsteps.  It is like having a cross between a treadmill, stair stepper and an elliptical trainer.  And because you are walking and not running the TreadClimber is shorter in length, thus taking up less floor space than a treadmill. As much as a foot or two.
Read our comparison of the BowFlex TreadClimber TC100 and TC200 here.
More Efficient Workout
Yes, the TreadClimber does give you a more efficient workout in comparison to walking or running on a treadmill.  The design does allow you to work your large core muscle groups more efficiently. An independent consumer magazine stated at 2 mph and 3.5 mph you burned twice as many calories as on a flat treadmill at the same speed.  Although, if you crank up the incline on a treadmill you will also burn more calories at a lesser speed, but probably not as efficiently as the TreadClimber.
However, the advertisements suggest you can get the body you want.  What they don't mention is that the Bowflex TreadClimber primarily works your lower body, and to tone up your upper body you still need to do some type of upper body strength training, which is also true with a treadmill.
Low-Impact Workout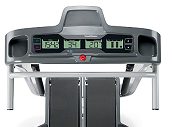 When you run on a treadmill you can impact up to 2.5 times your body weight – imagine the shock to your joints when you run on concrete or asphalt.  Since the treadles on a TreadClimber move up and down in a motion that mimics climbing, you have less impact than on a treadmill.  In addition, the TreadClimber is designed for walking, which is less stressful than jogging or running.  In general, there is less stress to your joints in comparison to a treadmill, but it is not as low-impact as an elliptical trainer.
In the past there were a number of mechanical issues, primarily because of the complexity of the design. We used to get a number of complaints. The company appears to have resolved those issues, and we can honestly say we have not received a complaint in over two years.
---
Read about the Bowflex TreadClimber vs NordicTrack Incline Trainer
---
Top Features on the Bowflex Treadmills
Bowflex Treadmills are much newer to the scene, but they offer some promising features that are worth a look:
Results Series App – Bowflex incorporates built in Bluetooth 4.0 capability into both of their treadmills so that you can connect to a free Bowflex app called the Results Series App.  This system allows you to track your results similar to other free fitness apps that can link to treadmills.
RunSocial – In addition, Bowflex lets you decide if you want to add on additional program packages.  One of our favorites is called Run Social.  It allows you to run with an avatar in virtual locations around the globe.  Routes can be purchased for a few dollars each.  The cool thing here is that you can "meet" your friends' avatars in these locations and go on runs together.  This is a great solution to an other wise lonely running experience.
Daily Burn – The next option package for Bowflex treadmills is a system called Daily Burn that lets you create a more unique workout program suited towards your goals.  With your purchase, you will receive an 8-week trial ($119 value.) Then you can decide if you want to continue with the program.
Display – The displays on the Bowflex treadmills are full color LCD displays.  They also have a Calorie Dial so you can "see the burn" while you're running.  It's an attractive display that certainly stands up well to many of the competition brands.
Warranties – One downside to the Bowflex treadmills is in the warranties.  Both models offer a 15 yr Frame and Motor warranty that pales in comparison to the Lifetime warranties given by other brands.  Now, is this really going to be a big deal?  Chances are – you'll move on from the machine before 15 years is up.  But it's the principle!
Running Surface – We appreciate the large running surfaces on both the Bowflex Treadmills.  The BXT 216 comes with a 22×60″ deck while the BXT 116 comes with a 20×60″ deck.
---
Check out a comparison chart of all Bowflex models here.
---
Our Review – Bowflex
Bowflex is one company that really tries to push the limit with their innovative machines.  The popular Treadclimbers and Max Trainers a certainly evidence of that.
When considering a treadclimber – The issue here is whether you are better off buying a Bowflex TreadClimber or a treadmill.  For $1,500 you can buy a very durable treadmill like the Sole F80, which comes with a lifetime motor, 5-year parts and 2- year labor warranty.  When you start talking about spending around $3,000 for the TC200 you can purchase a commercial grade treadmill for the home.
However, some tests show the TreadClimber does offer a more efficient workout with less impact in comparison to a treadmill, and that may justify the cost. There are countless satisfied customer who have bought the TreadClimber. These machines get results, otherwise tens of thousands would not have bought them.
Just don't get carried away with the hype, and look at the alternatives that are available both with treadmills and elliptical trainers.  After some due diligence you may conclude that the Bowflex TreadClimber is the best answer for achieving your fitness goals.
If you are considering a Bowflex treadmill, then you may want to also check out some options like the Commercial 1750, Commercial 2450, or the Sole F80.  All of these machines stack up well to the Bowflex models.  None of them offer anything like the RunSocial feature though!
To learn more visit Bowflex.com
.
Customer BowFlex TreadClimber Reviews
This is a fine machine, one that will give you a great cardo workout for the time spent. I use it in the winter when I can not use the bicycle for my cardio. Very well build, its not loud, it FUN! IF you are really into your workouts, I suggest you buy it! I use the Bowflex Ultimate 2 for the strength part and the TreadClimber for cardio. VERY well built. If you have a doubt about yourself that you may not continue a exercise program you may want to start cheaper BUT starting a workout program both strength and cardio with cheap stuff will make it much harder to stay motivated also. PS…… Bowflex's customer service department is second to none for service!

---

I am definitely not a fitness trainer but I would have to say that the Bowflex TreadClimber TC5000 (Now the TC20) provides the BEST workout possible for home use. I will agree that it is a bit expensive, but I haven't experienced a complete cardio and full-body workout like I experience on the tread climber. In a matter of minutes, you are pouring sweat and your heart rate is elevated.

---

I bought a TC20 TreadClimber 4 and 1/2 years ago and the motor went out. Went ahead and bought a new TreadClimber because I liked the first one so much and felt it a necessary part of nearly daily exercise. New one works great and a little easier to put together than the old one. A little heavy to move around. After getting the new TreadClimber, I called to see if the old one could be fixed and I was sent a new motor for free! The motor warranty is for 5 years. I am a little intimidated by replacing the motor in the old machine. Be sure to lubricate the treads every 3 months or so, as motor failure can be caused by not lubricating them.

---

I have been using the TreadClimber TC20 since the end of September and am extremely pleased with this machine! I applaud those who were involved in designing it…it is everything that it is advertised to be. I actually look forward to working out now. I have noticed a difference in my energy level and just feel better all around! Thank you so much for such a superb product!