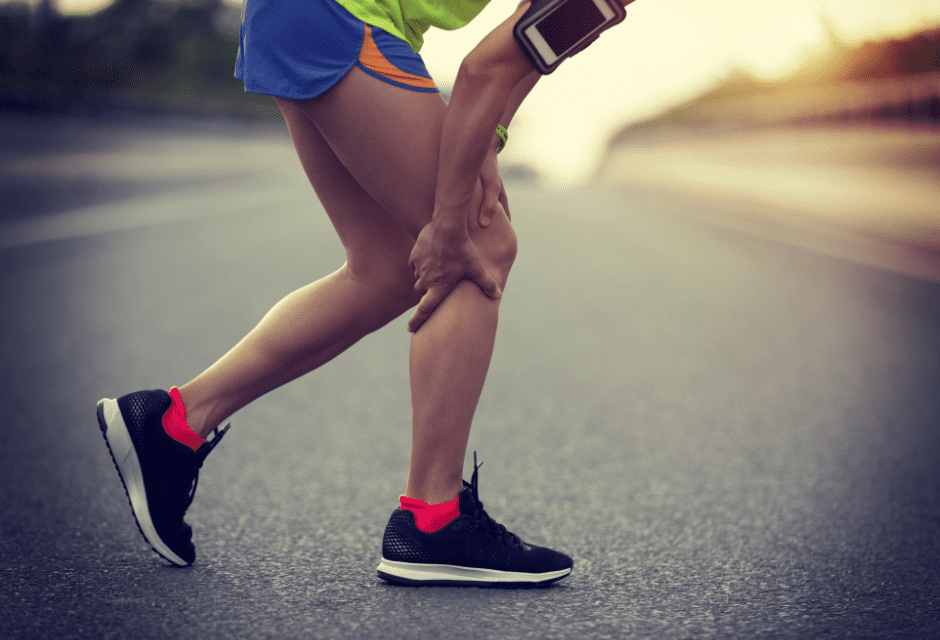 (Last Updated On: January 10, 2023)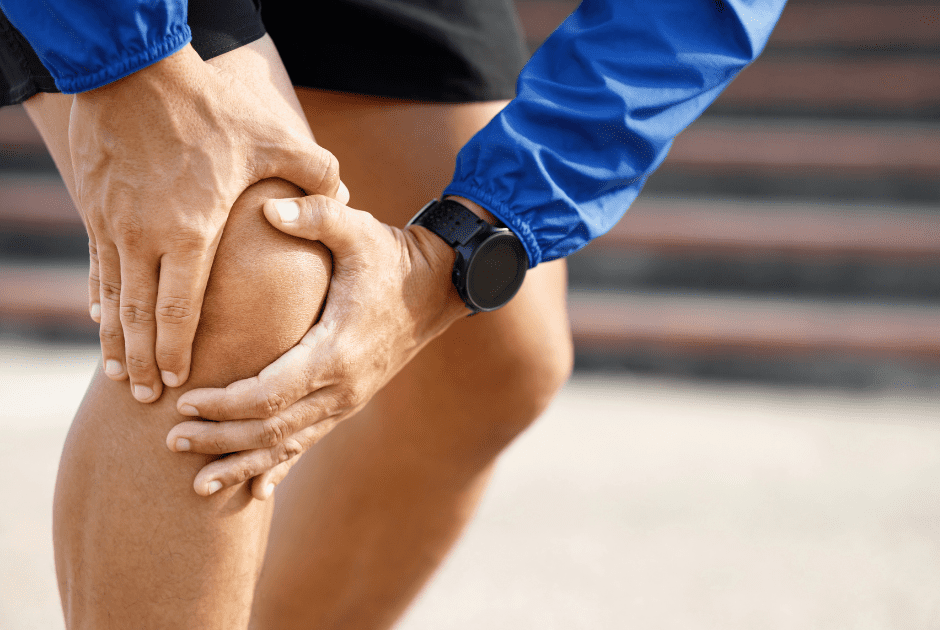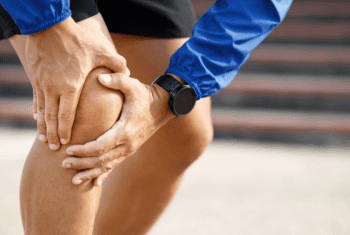 Knees can hurt for many reasons.
Being overweight, injuries, natural aging, or it could be just lack of exercise and movement. Bad knees can serve as a signal for your body to start exercising. Moving your knees consistently can strengthen them, reduce pain and stiffness, and help maintain your balance and prevent falls.
The fear of worsening knee injuries stops a lot of people from engaging in consistent exercise. Why not start with low-impact walking? It's not only easier on your knees, but research shows that it can actually help.
Investing in a treadmill is a great decision for people who suffer from bad knees. You can stay active, and if you are consistent, the pain in your knees could actually reduce substantially.
However, choose a treadmill cautiously.
You want one that is safe, offers great cushioning, and will help your knees – not hurt them. We've compiled the best options out there to keep you injury-free and healthy.
The 4 Best Treadmills for Bad Knees
The Overall Best Treadmill for Bad Knees: NordicTrack Commercial 1750

Horizon 7.4 AT

Echelon Stride

Bowflex Treadmill 10
The Best Treadmill for Bad Knees: NordicTrack Commercial 1750
Best Buy for: People looking for a dependable treadmill with superb cushioning and all the bells & whistles.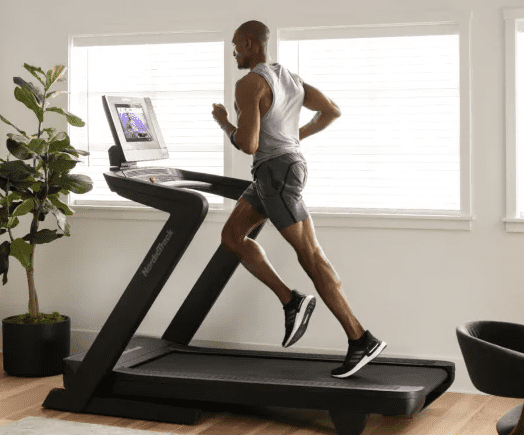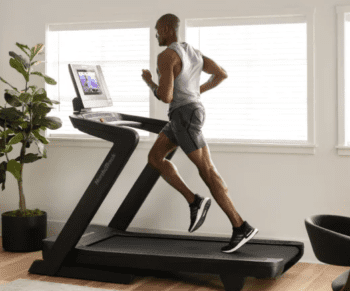 The NordicTrack 1750 is the best treadmill for bad knees because the deck has comfortable cushioning and an array of decline and incline settings that you can choose from. The 14-inch tilt and pivot touchscreen helps monitor your performance as you exercise, and lets you work with professional fitness trainers to keep you motivated and entertained through the interactive iFIT technology. 
NordicTrack has a design that works well despite bad knees, because the deck is much lower than other treadmills. A low step up height will make it painless for you to get on and off the machine.
Also, you can walk backwards and downhill on the 1750 treadmill thanks to its premium-grade decline feature. Studies indicate that this could decrease knee pain  considerably, but if that makes you uncomfortable, you can easily switch to standard forward walking, or walking with an incline.
Although the deck cushioning that was available with the earlier models was not the best (2013-2021), the cushioning in the deck of 2022 – 2023 model is worth every penny. 
Other notable features on the 1750 treadmill from NordicTrack include:
-3% decline up to 15% incline
Large 22″ x 60″ tread belt
Strong and quiet 3.5 CHP motor
Folding design with easy-lift assist
Great warranty: 10-year frame, 2-year parts, 1-year labor
Compare current pricing below to get the best deal!
Horizon 7.4 AT
Best Buy for: People who want customizable deck cushioning.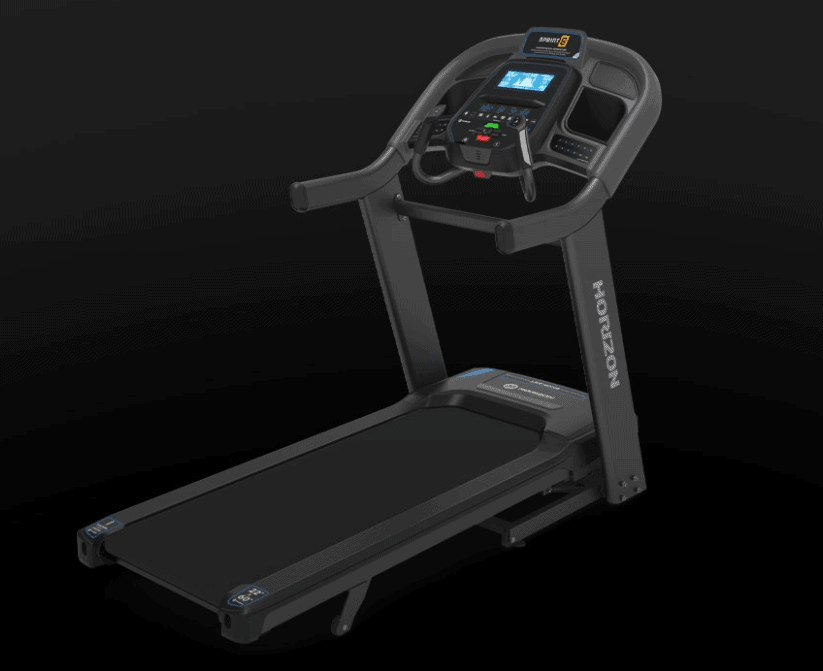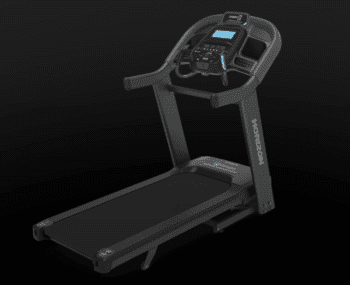 The Horizon 7.4 AT's most distinguishable feature is the cushioning of the deck. The deck is built with an exclusive three zoned response cushioning, making it a great choice for people who suffer from knee pain. The deck features three different running "zones", with different cushioning at each zone. The design is made specifically to accommodate each different step of your stride, giving you customized flex and support.
The Horizon 7.4 AT has dial control, so that even as you exercise you can quickly increase or decrease the speed, or adjust the incline or decline.
Other great features on the Horizon 7.4 AT include:
Spacious 22″ x 60″ tread belt
Connect directly via Bluetooth with fitness apps like Peloton, STUDIO, and Zwift
Folding
0.5 – 12 MPH speed, 0-15% incline
8.25″ display screen
Excellent warranty: Lifetime frame and motor
It should be noted that if you live in a small space, the Horizon 7.4 AT is a heavy-duty machine. Although the treadmill is foldable, it weighs 318 lbs., which can make it difficult to move.  
Compare current pricing below to get the best deal!
Echelon Stride
Best Buy for: People who live in small spaces.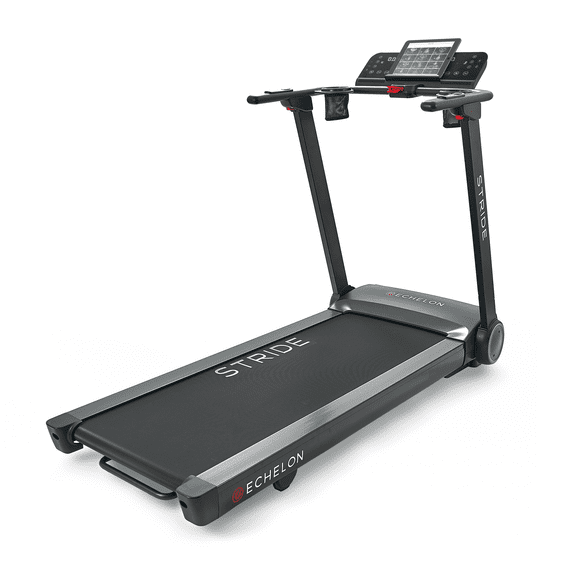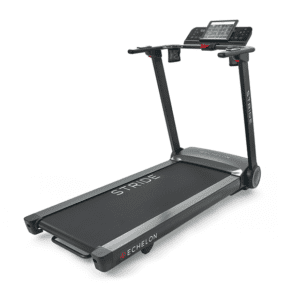 This auto folding, compact treadmill from Echelon is a dream if you're cramped on space. The Echelon Stride treadmill folds down to just 10″ tall, so you can literally put it under your bed when you're not using it. Also, you don't have to worry about aggravating your knee pain with trying to fold up a treadmill, because the Stride folds up with just the touch of a button.
The impact absorbing rubber running deck is very comfortable and forgiving to walk on. It provides ample shock absorption so that you'll be focused on your workout – not on your knee pain.
Some other top features on this treadmill are:
Handlebar sensors for HR monitoring
Up to 12 MPH speed and up to 12% incline
Live on-demand workout classes
Compact 4.5 foot tread belt area 
We saved the best feature for the last. The Echelon Stride is pre-assembled, meaning you only have to unbox it, plug it in, and start exercising.
Compare current pricing below to get the best deal!
Bowflex Treadmill 10
Best Buy for: People who want to introduce interactive programming in their fitness routine.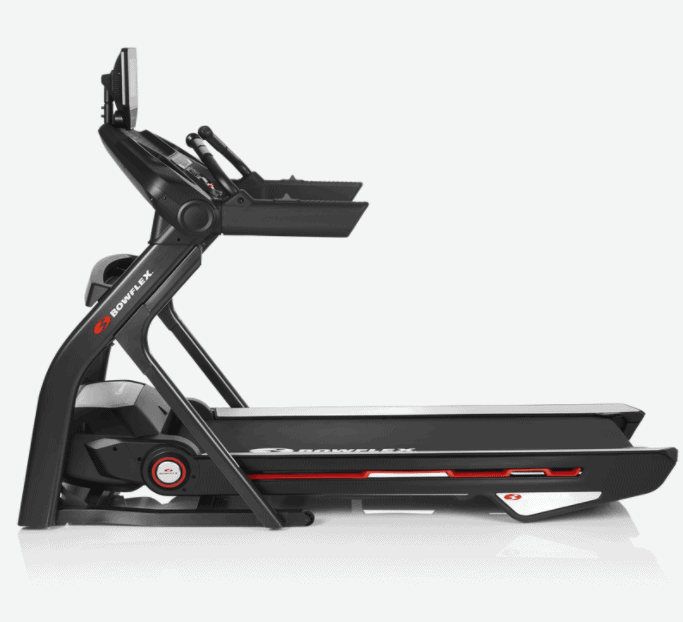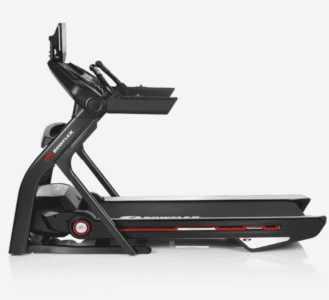 The Bowflex Treadmill 10 is a beast of a machine, and has a weight capacity of 400 pounds. The runners deck has ample cushioning, which will reduce the impact on your bad knees.
The Bowflex Treadmill is all about combining comfort with technology. Its compatibility with the JRNY programming will ensure an exercise routine that's never boring. The Treadmill 10 has one of the best touchscreens on the market, which connects to JRNY fitness technology or lets you stream your favorite TV shows. 
The Treadmill 10 has the most wide range of decline and incline out of all the treadmills on our list. It offers -5% decline up to 15% incline. This is great for bad knees, as you can choose the walking style that's most comfortable for your knees.
Other features to note on the Treadmill 10 from Bowflex: 
Large 22″ x 60″ deck area
Folding with SoftDrop technology
Great warranty: 15-years frame and motor, 5-years parts, 1-year electronics, 2-years labor
But it is bulky and, although foldable, is not very compact to accommodate in small spaces.
Compare current pricing below to get the best deal!
Conclusion
We hope this guide will help you in buying the best treadmill for your bad knees, and with consistency in exercising, strengthen your knees and reduce pain over time.
FAQ 
What are the benefits of using a treadmill with bad knees?
Walking on a treadmill can increase blood flow to injured knees and promote healing and reduce pain. Consistent walking and movement will strengthen joints and muscles, and prevent further injuries. 
What should I look for in a treadmill if I have bad knees?
The most important features to look for in a treadmill when you have bad knees is great deck cushioning and a wide tread belt. 
Are treadmills good for bad knees?
Studies have shown that regularly walking on treadmills, particularly while using an incline or even walking backwards, can significantly reduce knee pain.