If you've ever shopped around for any type of fitness equipment before, chances are you have heard of the brand Bowflex. Bowflex began selling their products in 1986 – so needless to say, they have a few years of experience under their belt as a fitness brand. If we could summarize Bowflex and their products in just one word, it would be dependable. Their brand is known for having durable equipment, with top-notch warranties, and exceptional attention to customer service.
Recently, Bowflex has revamped their treadmill line. During the process, they ditched a lot of their older models and consolidated into only two treadmill machines – the T10 and the T22. As we mentioned, Bowflex excels in the durability department of manufacturing fitness equipment. However, what Bowflex has not been known for in comparison to other brands such as NordicTrack and ProForm is their technology – until now that is.
You have probably heard of NordicTrack and ProForm's fitness technology known as iFit that is standard on all their fitness machines. With their new treadmill line, Bowflex has also focused in on integrating well-built machines with their digital fitness platform, known as Bowflex JRNY.
Top Features on Bowflex Treadmills
The Treadmill 10 and Treadmill 22 machines from Bowflex are much newer to the scene, but they offer some promising features that are worth a look:
*Note: At the time of this review publishing, both treadmills from Bowflex come with a one-year free membership included in the treadmill price ($149 value).
Bowflex JRNY – Bowflex's new digital fitness platform offers users a new approach to conquering their fitness goals. When using JRNY, enjoy features such as…
Curated music playlists to keep you motivated
Fitness tracking at your fingertips to help you track your progress and celebrate your accomplishments
Personalized fitness experience
On-demand library of classes with world-class fitness trainers
50+ destinations to choose your workout location
Stream your favorite entertainment during your workout (Netflix, Hulu, Prime Video, and Disney+ compatible)
Real-time coaching allows fitness coaches to keep you on track and motivated during your workout
Smart recommendations based on your fitness goals
Large Display – The displays on the Bowflex treadmills are full color touchscreen displays. The treadmill 10 offers a 10″ console, and the treadmill 22 offers a huge 22″ console.
Generous Warranties – One major perk to Bowflex treadmills is the warranty. Both models offer really extensive warranties for the industry – 15-year frame and motor, 5-year parts, 1-year electronics, and 1-year labor. This is one of the best warranties that you will find on fitness equipment and it says a lot about the quality of their products.
Roomy Running Surface – We appreciate the large running surfaces on both the Bowflex Treadmills.  Both the Treadmill 10 and the Treadmill 22 comes with a 22×60″ deck. The 2 extra inches on the width may not seem like much, but it makes a really big difference.
BowFlex Treadmill 10 Review
Although Bowflex consolidated their machines, don't let that fool you. The treadmills that they offer are no joke for in home treadmills. As their more budget-friendly option, the Treadmill 10 certainly doesn't skimp out on any features. This machine will be a great fit for anyone looking for a mid-range priced treadmill with great cushioning and a huge deck area.
The Bowflex Treadmill 10 is currently priced at $1,799. 1-Year Bowflex JRNY access included ($149 value). FREE shipping.
BowFlex Treadmill 10 Best Features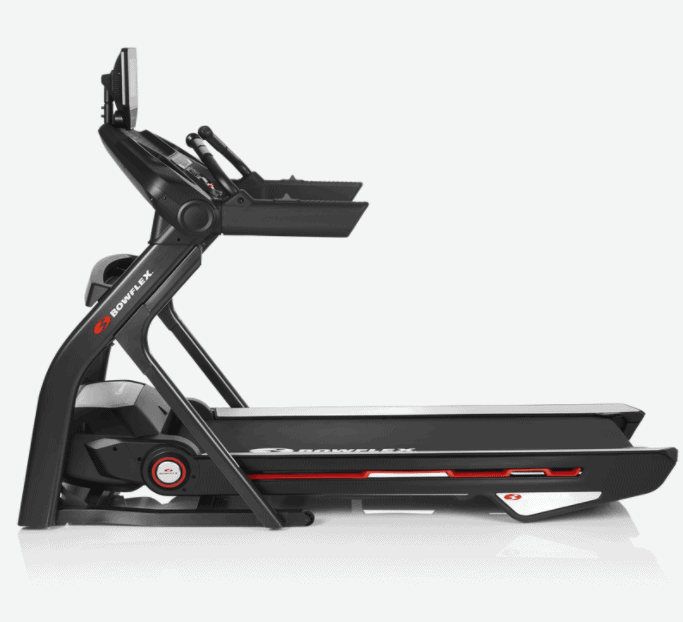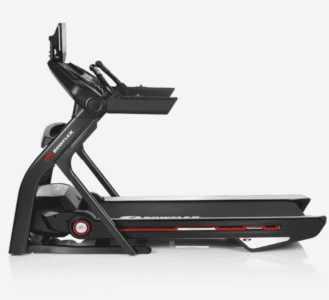 Incline & Decline – An impressive -5% decline up to 15% incline will let you mimic going up and down hills during your workout. Not only does this target and activate more muscles, but it will really get your heart pumping.
10" Console – This console is a bright and easy-to-read touchscreen. Not only can you access your Bowflex JRNY membership on your screen, but you can also stream your favorite shows on the screen to keep your workout from ever being boring. The console is also adjustable, so you can turn it to whichever angle works best for you.
Cushioned Deck – Featuring the Comfort Tech deck technology, your joints will thank you. Enjoy your workout without having to worry about excess strain or impact.
Powerful Motor – We cannot specify the motor size on the Treadmill 10 because the team at Bowflex refuses to disclose this information. The only statement concerning the motor that can be found is that the motor is powerful enough to handle weight up to 400 lbs. Our review team finds this aspect slightly concerning, as it's very unusual for fitness equipment manufacturers to not disclose the size of their machine motors.
Bluetooth Speakers – With high quality speakers, you can blast your favorite tunes. If you choose to use your Bowflex JRNY membership, take advantage of the curated playlist creator to maximize your workout fun with the best songs.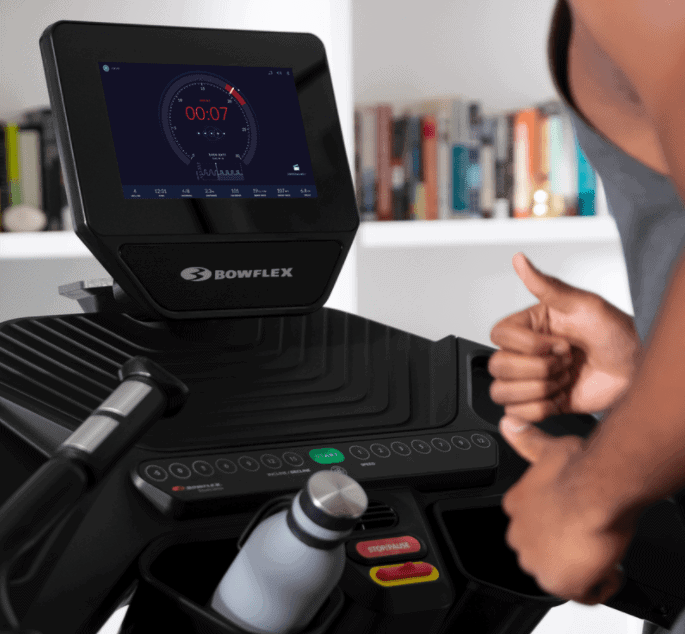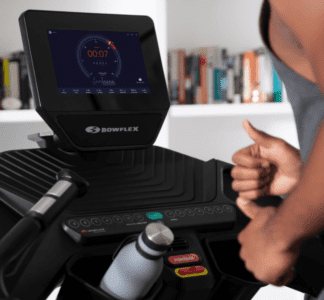 Folding – The Treadmill 10 offers the Soft Drop folding system which uses hydraulics to assist in lowering your treadmill deck. This will assure that your treadmill never slams onto the floor.
22" x 60" Tread Belt – This size tread belt is a commercial grade size, and we are surprised to see it on Bowflex's most affordable treadmill option. This will give ample space for walking, running, and jogging. It will also be comfortable to users who are taller in height.
Up to 12 MPH Speed – You can really challenge yourself and your cardio endurance with speeds up to 12 MPH.
Heart Rate Monitoring – There are horizontal heart rate hand grips on the rails to keep you in track with your target heart rate zones. A nice bonus feature that is unique to Bowflex is that there is a Bluetooth HR armband included with your treadmill. This will provide advanced heart rate tracking capabilities.
Warranty – The coverage on this treadmill in 15-years frame & motor, 5-years parts, 1-year electronics, and 2-years labor.
Bowflex Treadmill 22 Review
If you have used any Bowflex equipment over the years, you know that an upgraded 22" screen was not what the industry was expecting from them with their latest launch. The immersive console is the most notable upgrade feature-wise from the Treadmill 10.
Bowflex Treadmill 22 Features
Incline & Decline – Another upgrade from the Treadmill 10, the Treadmill 22 offers -5% decline up to 20% incline. Can anyone say, High Intensity Interval Training? Wow!
22" Console – The adjustable touchscreen will keep you entertained and motivated throughout your whole workout. Whether you're catching up on your favorite show or enjoying a workout class through Bowflex JRNY, you'll be impressed with this large display screen.
Cushioned Deck – Comfort Tech deck cushioning will give you a softer landing with each step, protecting your joints as well as your spine.
Powerful Motor – Once again, we are not able to specify the motor size on the Treadmill 22. The team at Bowflex refuses to disclose this information. However, it's stated that this machine can handle up to 400 lbs.
Bluetooth Speakers – The sound quality on these speakers is better than some of the competing brands out there. Use your favorite playlist to keep you inspired.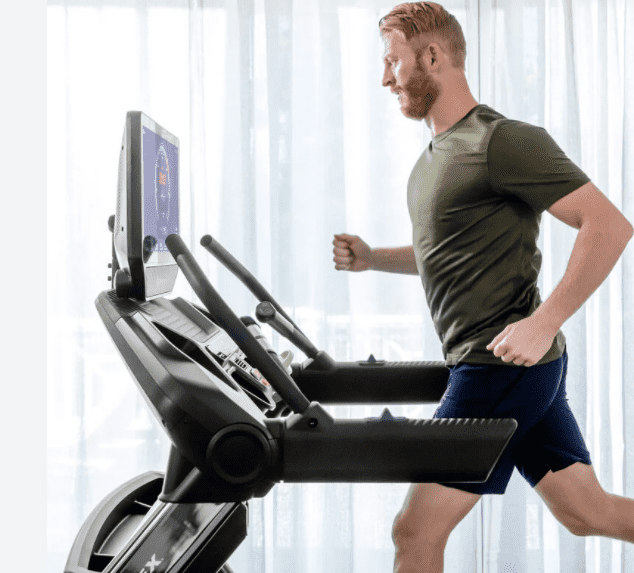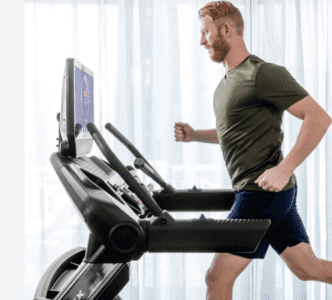 Folding – SoftDrop folding system will keep you (and your floors) safe while storing away your treadmill machine.
22" x 60" Tread Belt – Most people don't realize how much difference the extra space on a treadbelt can make. The standard size is 20" x 55". The extra 2" in width and 5" in length will give you more space to train.
Up to 12 MPH Speed – Get your heart pumping with challenging speed options.
Built-In Fan –Once again, the fans on Bowflex treadmills are fairly decent. They offer 3 different speed settings; high, medium, and low to cool you off.
Heart Rate Monitoring – Contact heart rate sensors on the rails and the Bluetooth heart-rate arm band are both included.
Warranty – The coverage on this treadmill is 15-years frame & motor, 5-years parts, 1-year electronics, and 2-years labor.
Which Bowflex Treadmill Is Best?
Deciding which Bowflex treadmill is the right choice for you will mostly depend on your personal goals when it comes to fitness. Both the treadmill 10 and the treadmill 22 are all-around solid options for treadmill machines with only a few features that differentiate them slightly.
However, picking which is the best option for you can be answered in a few quick questions.
#1 – What is your budget?
Budget will likely be your biggest deciding factor. If you are looking to spend under $2,000, the treadmill 10 is the right treadmill for you. If you are willing and able to spend over $2,000 for a few upgraded features, the treadmill 22 may be a better fit.
#2 – How much space do you have for a treadmill?
Again, this is another big factor consider before purchasing a treadmill. You'll likely want to measure the area that you are going to place your treadmill in to see if there are any size limitations. While the size of the treadmill 10 and the treadmill 22 are very similar, there is a slight height difference. The dimensions of the treadmill 10 are 85″ L x 39.6″ W x 70″ H (215.8 x 100.5 x 177.7 cm), and the dimensions of the treadmill 22 are 85″ L x 39.6″ W x 65.3″ H (215.8 x 100.5 x 165.9 cm).
#3 – How big of a screen do you want?
The treadmill 10 has a 10" screen, and the treadmill 22 has a 22" screen. If you're going to be utilizing a Bowflex JRNY membership and watching workout videos frequently (and/or enjoying catching up on your favorite shows), you might want to upgrade to the treadmill 22 to get the larger screen experience. However, if you are someone who just wants to jump on your treadmill and you aren't worried about the screen entertainment, the 10" screen on the treadmill 10 will be sufficient for you.
#4 – What type of workouts do you most often do?
Another difference between the treadmill 10 and the treadmill 22 is the incline option. Both of these treadmills decline to 5%. However, the treadmill 10 inclines up to 15% and the treadmill 22 inclines up to 20%. The +5% maximum incline may not seem like much of a difference, but it will make a big one in the exertion you're able to output during your workout. If you enjoy HIIT workout programs, and simulating going up and down hills – the treadmill 22 might be worth the upgrade.
Pros and Cons of Bowflex Treadmills
Bowflex has been around since 1986. With over 30 years in the fitness equipment industry, manufacturing and industry experience is one major pro that Bowflex has under their belt. Since their launch, the goal of Bowflex has been to create innovative equipment that allows consumers to bring gym-quality machines right into their home. Their brand now manufactures an array of fitness equipment ranging from unique home gym options, dumbbells, benches, ellipticals, bikes, and of course, treadmills.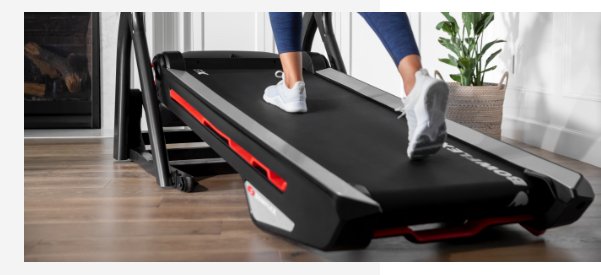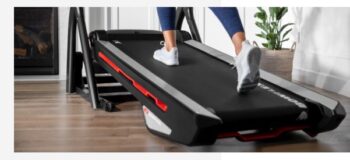 In recent years, Bowflex has really "cleaned up" their brand and their product line. Before, they have had a ton of different products and it has been fairly difficult to keep up with. To put it bluntly – it's been kind of confusing. However, since their recent product consolidation and new launches, we have really appreciated the conciseness and clarity they are providing to their consumer base.
As we mentioned earlier in the review, a major con is that Bowflex won't release the information about the size of their motors. This is the only time that we have ever heard of this occurring after years of writing reviews. Other brands are always very transparent about the motor brand, type, and size. We are weary as to why Bowflex choose to withhold this information. However, with claims that their motors can support up to 400 lbs., we hope that there are large motors in these treadmills.
Another factor that could be a drawback to some is that there are only two treadmills. This may be appealing to some, with less choices to choose from. Some consumers may prefer are a wider variety when it comes to product line up, with more options to choose from.
Is a Bowflex Treadmill Worth It?
Bowflex treadmills will be a great investment for those that are looking for:
A treadmill that folds
Declining and inclining capabilities
Cushioned deck to soften joint impact
An option for interactive fitness technology
Adjustable touchscreen
With the specs on these machines, they are priced reasonably compared to treadmills from other brands in the industry. Their treadmills also have great warranties to back up the features.
This article was written by Brook Norris and published on Friday, 4 February 2022.
Bowflex Treadmill FAQs
How long do Bowflex Treadmills last?

With the proper care and maintenance, Bowflex treadmills will last 10-15 years. 

Where are Bowflex treadmills made?

Bowflex is manufactured by Nautilus, Inc. in Vancouver, Washington.

Can you use a Bowflex treadmill without a JRNY subscription?

At the time of this review, no. Without a JRNY subscription, your treadmill will be locked into store-demo mode.

How much does a Bowflex treadmill weigh?

The Treadmill 10 weighs 323 lbs. and the Treadmill 22 weighs 336 lbs.

Are Bowflex treadmills any good?

Bowflex manufactures high quality and durable fitness equipment.

Do Bowflex treadmills fold?

Yes, both the Treadmill 10 and the Treadmill 22 fold up.