Horizon Treadmill 7.4 AT Review
| | |
| --- | --- |
| Brand: | Horizon |
| Expert Rating: | |
The Horizon Treadmill 7.4 AT is On Sale!
A Best Buy at $1,599 – Combines Quality and Value!
Use code Horizon5 at checkout to save.
One of the new arrivals to the Horizon line-up is the 7.4 AT. As usual, we go into viewing this model with high hopes. Horizon consistently delivers high-end machines that we trust to deliver fantastic results. And there's good reason for this.
Our team recently traveled to the headquarters of Horizon Fitness in Madison, Wisconsin. In order to give the most accurate review possible, we wanted to test out their equipment for ourselves.
Horizon is owned by Johnson Fitness, a company that fosters a culture of wellness and insight. First off, they manufacture all of their own parts. This saves you maintenance in the long run. How, you may ask?
Inside every Horizon machine you will find the Johnson Drive System Motor. It uses larger magnets to run at a lower RPM, which results in a cooler and quieter system. Johnson also provides a completely maintenance free tread belt that has been tested up to 21,000 miles.
By producing parts themselves, Johnson Fitness makes sure you get to enjoy your machine for longer with less work on your part.
So what makes the Horizon 7.4AT Treadmill THE machine for you ahead of all the other Horizon models? Let's find out.
Horizon 7.4AT Treadmill Features
3.5 CHP Motor w/ Rapid Sync Technology – Since we talked about the motor already, let's start there. A 3.5 CHP motor on a mid-level machine is nothing to shake a stick at. This motor is going to keep up with even the most avid of runners. Whether you enjoy HIIT workouts, speed training, or want to run your first (or tenth) marathon. This motor has you covered.
The Rapid Sync feature is a new part of this machine that is quite impressive. This feature makes the motor respond faster when you change speed or incline. When your body is ready to kick it into high gear, the machine is right there with you.
The Rapid Sync Technology means it responds 33% faster than other treadmill motors. This keeps you from having to wait while your machine catches up with your drive.
22" x 60" Tread Belt – Not only does this machine provide power, it provides space. The tread belt on the Horizon 7.4AT Treadmill is long enough to accommodate tall users, as well as those with a longer stride. You will also find the 22" width gives adequate space to keep you from feeling cramped.
3-Zone Variable Response Cushioning – Yes, the tread belt on the Horizon 7.4AT Treadmill is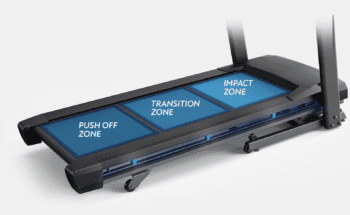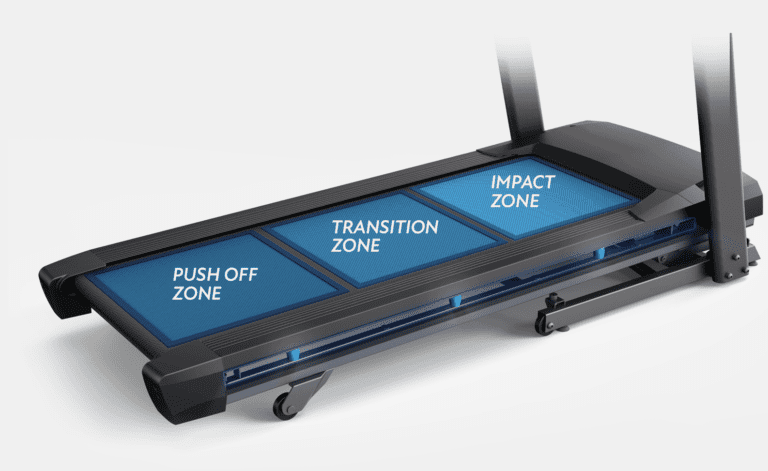 roomy, but its deck is also cushioned specifically to keep you feeling good. The 3-zone cushioning system provides more cushion in the front to protect your joints when your foot strikes the deck. It's then firmer in the back so you are able to push off more effectively and maintain your stride.
0.5 – 12 MPH – When it comes to speed, 12 mph is going to do the trick. Not only is the motor built to tackle your toughest workout, the speed is too. HIIT and speed training will be covered not matter what your goals are.
0-15% Incline – A 15% incline on a mid-level treadmill is impressive, there's no way around that. If you want to push yourself with an intense hill workout, you will feel it with this kind of incline.
Folding Capability – If you live in a small space or share your home with friends or family, you may not want your treadmill to be a topic of conversation. The FeatherLight Folding feature on the 7.4 AT makes it easy to tuck your treadmill away.
Display – This is the one department where you will see a difference between Horizon and other treadmill brands. They don't include the large HD Touchscreen displays that we are seeing on a lot of other machines like NordicTrack or ProForm.
The 7.4 AT has a 16 digit alphanumeric LED display, along with an 8.25" LCD Screen. You can track all of your workout stats, but if you want to use an interactive training app you will need to provide your own tablet.
"The Studio Series" Interactive Training – With the crazy amount of fitness apps out there, Horizon has decided to let you take control of how you train, and who you train with. The 7.4 AT works with any live or on-demand fitness app. This means you can choose the app or the instructor you like, without your treadmill company dictating the options.
The Horizon 7.4AT Treadmill also allows you to do this without having to purchase any sort of subscription from them. This is a really nice thing to see since most companies offer awesome training, at an additional price. With Horizon, you choose how and where you spend your money for interactive training.
325lb. User Capacity – With the ability to accommodate users up to 325lb, most everyone has the chance to start their fitness journey with the 7.4AT.
Warranty – Lifetime Frame & Motor, 5-year Parts, 2-year Labor. This is part of why a company producing their own parts works for you. We live in a time of the diminishing warranty, because things are made quickly but not necessarily to last, that's not the case with Horizon. That's why they back their products with a warranty that's at the top of the market.
See a comparison chart of all Horizon Treadmills here.
Our Review of the Horizon 7.4AT Treadmill –
Once again, it seems that Horizon has knocked it out of the park in terms of performance and quality. Priced at $1399, this mid-range treadmill will give other high-end treadmills a run for their money.
The 3.5 CHP Rapid Sync Motor will not only give you enough power to complete even the most daunting of workouts, the 33% faster speed and incline changes ensure you never fall behind during your interval training.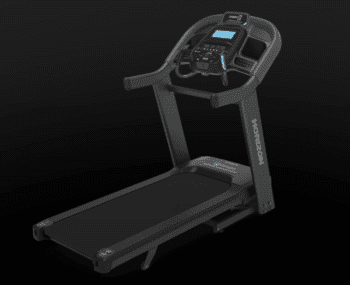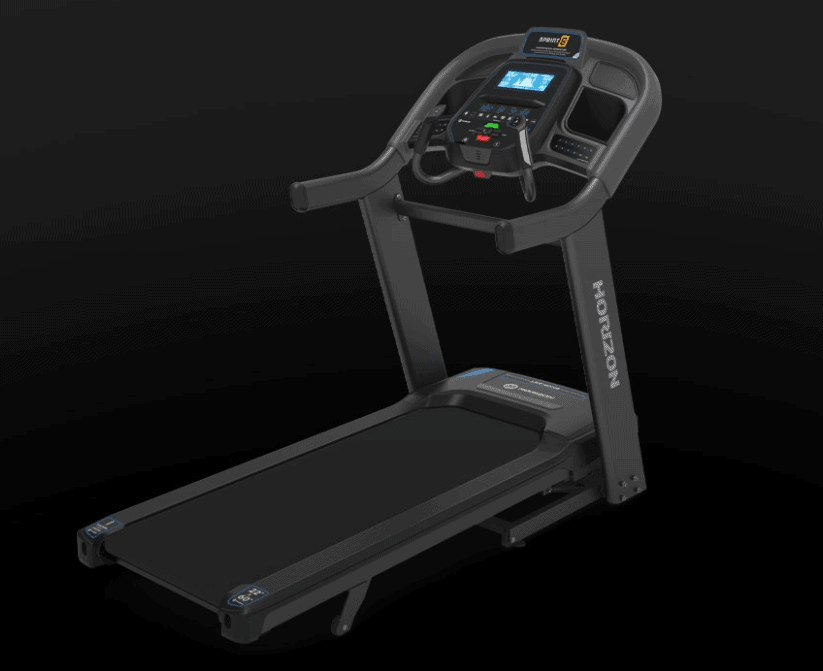 This works in conjunction with Horizon's Sprint 8 workout. This is a high-intensity interval training program that is proven to burn up to 27% body fat in just eight weeks. The Horizon 7.4AT Treadmill will be able to help you reach those results to your full potential. As with all health claims from any company, you really have to be dedicated and putting in the work to see those results, but you can do it.
You may miss the giant HD screen, but the fact that you can access and interact with any fitness app with no additional subscription fees does help soften that blow.
Even with all the great performance features, Horizon still provides the comfort you want. Multi-position tablet holder, Advanced Bluetooth, Energy Saver Fan and USB charging are just a few of the conveniences the 7.4 AT has in store.
All in all, for the price, you are getting a fantastic machine with the 7.4 AT. Plus, it's backed by a fantastic warranty from a company you can count on. If this machine has caught your interest, you may also want to check out the Horizon 7.0 AT and 7.8 AT treadmills. The whole line is filled with some great value.
To learn more about the Horizon 7.4 AT treadmill, check out HorizonFitness.com.