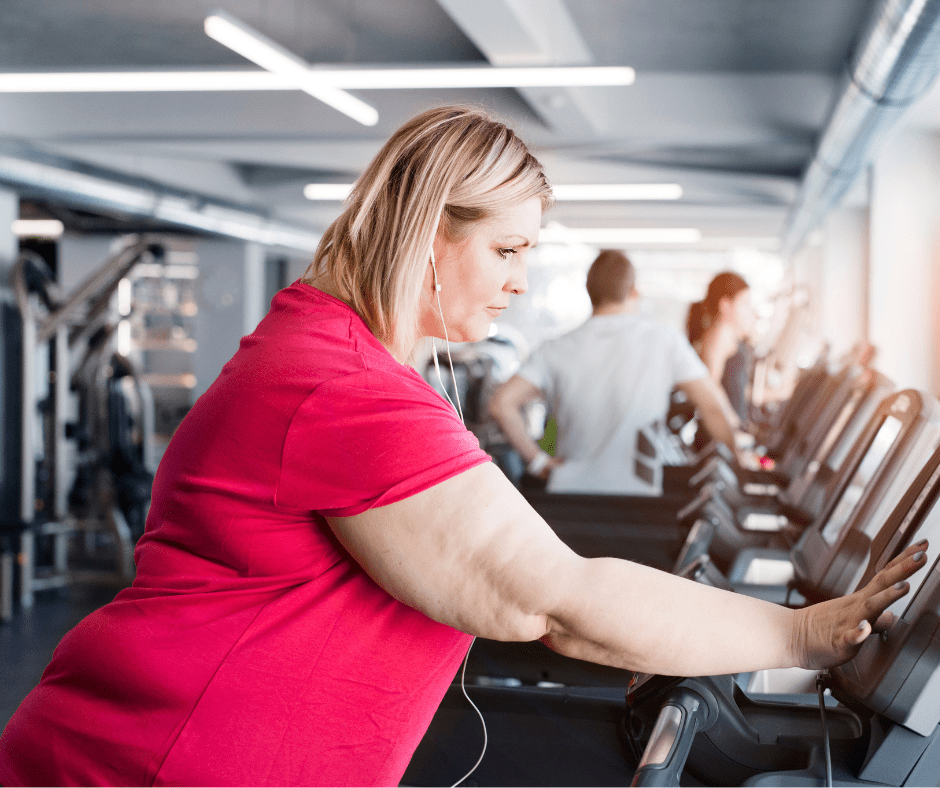 (Last Updated On: January 10, 2023)
Let's face it. Even though we're in 2023, fat-shaming is a real thing.
Many people who are overweight or on the heavier side have a fear of working out in public places. 
An in-home treadmill with a high weight limit can get you on your journey to a healthier version of yourself, without having to worry about subjecting yourself to a crowded gym. 
A treadmill is a great option for exercise beginners. Treadmills are designed for ease of use to meet the fitness needs of all users.
With the right treadmill, you can lose weight, get stronger and develop general fitness, all without leaving the comfort of your own home.
Don't have time to read? Skip right ahead to the list of the best treadmills in 2023 for overweight people. 
What Are the Benefits of Using a Treadmill When You're Overweight?
Treadmills offer many benefits that improve your physical health. And, it doesn't take running a 5K either. Research shows that you can actively walk on the treadmill for only 30 minutes a day, while still enjoying the following benefits.
1. Lower Blood Pressure
High blood pressure is a condition commonly experienced by overweight people as they age that can lead to cardiovascular disease. The best way to avoid this life-threatening condition is to incorporate regular cardio exercise. Training on a treadmill is a great option. 
2. Strengthens Bones and Muscles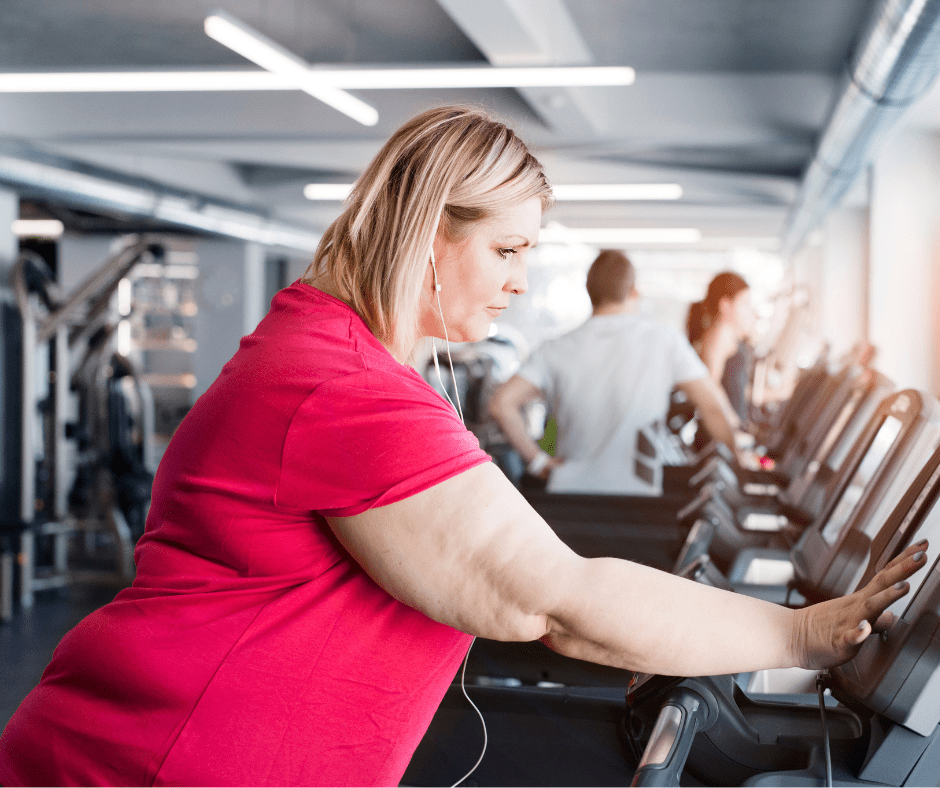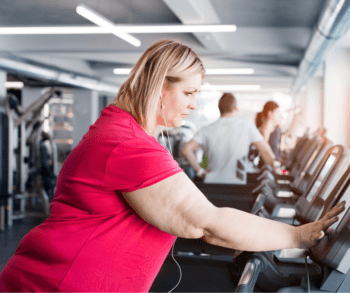 Walking / running on a treadmill increases joint mobility. It also helps you slowly build your muscles. Strengthening and developing your muscles allows you to exercise longer and perform tasks more easily. One of the best tricks is to start at the slowest speed available on the treadmill, while you listen to music, or watch your favorite show on TV. You may not realize that you're exercising. This way you can increase your pace.
3. Lowers Stress Levels
Stress is a commonly used term these days, for both young and old alike. A sedentary and slow lifestyle can contribute to increasing stress levels. Exercise has been researched and shown over and over to reduce stress and cortisol levels. Your happiness plays a big role in influencing your daily activities – the happier you are, the more likely you are to exercise regularly.
4. An Alternative for Outdoor Exercise
Overweight people often feel insecure when exercising outdoors for the fear of judgement by other people. By exercising indoors, you can train comfortably. An at-home treadmill helps you train at any time of day, without having to worry about other people. 
Buyers Guide: 9 Things to Consider When Shopping for A Treadmill When You're Overweight
You must consider a few substantial factors before you buy your home treadmills such as wear and tear, weight-bearing capacity, and fitness characteristics. The first thing to do is to analyze your personal goal. Do you want to burn calories, lose weight, lower your blood pressure, or get rid of diabetes that has been bothering you? Has your doctor recommended you use a treadmill?
Each treadmill has its characteristics, but they are all designed with the same goal of helping you with your body. Let us look at some features, which you must pay attention to before you make that investment.
1. A Large Deck
The deck areas in commercial treadmills are generally quite wide, but it isn't the case with a lot of residential treadmills. Look for treadmills that have a deck area of at least 20″ x 55″.
2. Speed
Consider the type of exercise that you'll be doing. While a lot of overweight people typically start with walking, keep in mind that as you progress in your fitness journey you may want to jog, or even run.
3. Weight Limit
One of the most important characteristics to consider while buying a treadmill if you're overweight is the weight capacity. 
4. Sturdy Frame 
The right in-home treadmill should have a sturdy frame to carry your weight with ease. Pay particular attention to the specifications designed for people who weigh over 300 pounds. Manufacturers need to conduct extensive testing and should specify the parameters.
5. Incline
Since a lot of overweight people will need to take their fitness journey slowly and ease into it, walking is usually the best option. A great way to elevate the intensity of your walking without adding joint impact is to bump up the incline. Look for machine that offers incline levels.
6. Workout Programs
Another thing to keep in mind is workout programming. Some treadmills have built-in programs on the machine. Others have interactive technologies that are available. For example, BowFlex Treadmills offer access to Bowflex JRNY technology. Any type of workout programming or access to fitness technology will be helpful to guide you on your health journey.
7. Warranty
Look for a treadmill model that offers you a good warranty. This guarantees long-term satisfaction with the treadmill.
8. Noise
Noise is a crucial factor to consider when buying a treadmill. You want a machine that operates quietly, especially if you are in a shared living area.
9. Mobility
Many treadmills have a folding function and are easy to store. You may have to sacrifice mobility if you opt for a large machine.
The Best Treadmills with Higher Weight Limits
1. HCI Fitness PhysioMill Treadmill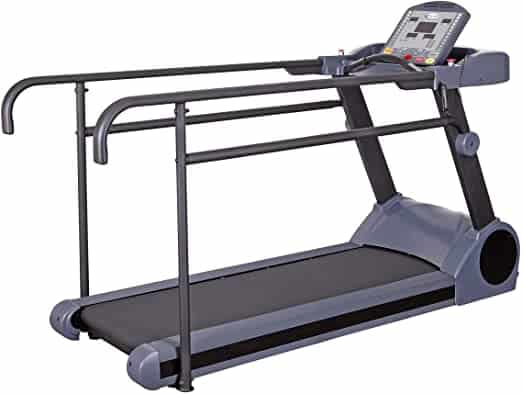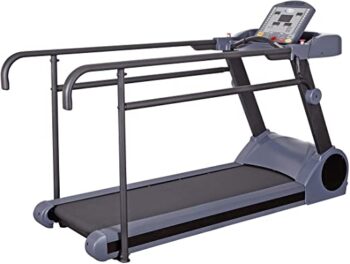 The best treadmill for a 500 lb. person is the HCI Fitness PhysioMill Treadmill. This treadmill is heavy-duty, and comes with maximum safety features to ensure that you can reach your fitness goals in a safe manner. The PhysioMill Treadmill was designed for use in medical settings, such as physical therapy. However, this machine makes a great option for users needing a 500 lb. weight limit treadmill at home.
This treadmill comes with a lot of great features, and it's evident that safety is at the forefront of all of them.
Full length handrails with multiple hand grips
Low deck step up height
Speed up to 12 MPH, that increases in small intervals of 0.1 MPH
Hand-held start and stop remote
Display screen that shows workout stats including pulse and calories
Deck direction can be reversed to incorporate rehabilitation exercises and strengthen joints/muscles
The only real downside to the PhysioMill is the price. It's normally priced around $6,000 on Amazon. However, keep in mind that you only get one body, and investing in your health is one of the best things that you can do. 
Customer Review
AJ Read
"This machine is pro-level. Not a cheap shaker you'd find in a retail sporting goods store. Serious physical therapy equipment. Built like a brick house."
Shop the HCI Fitness PhysioMill Treadmill on Amazon
2. Bowflex Treadmill 10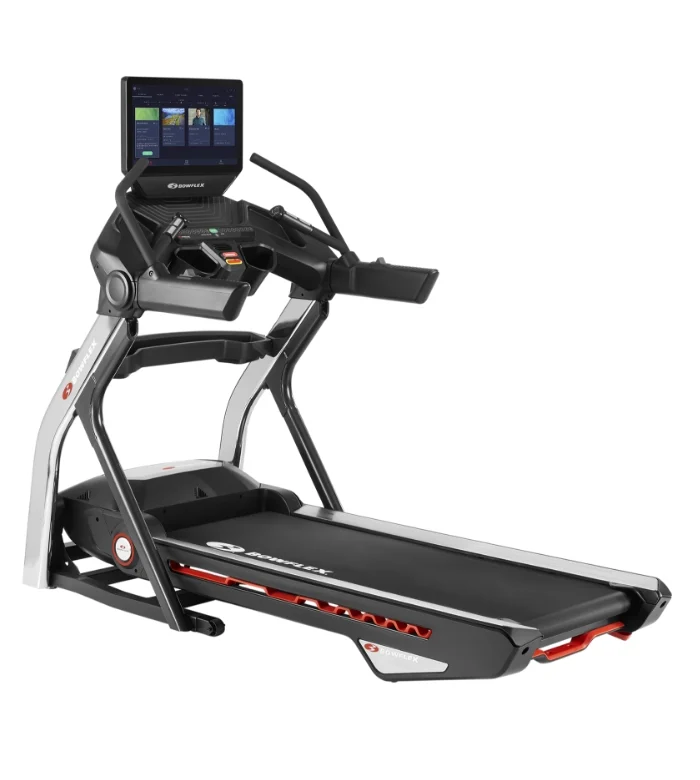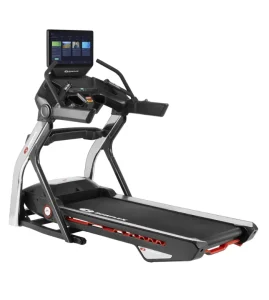 The Bowflex Treadmill 10 foldable treadmill is one of the best treadmills for someone who is obese and looking to get in better shape. This treadmill for a 400 lb. person lets you go between 0-12 MPH, and incline levels from 0-15%.  You can use the interactive JRNY technology exercise programs to assist you with your fitness journey, or stream your favorite shows from the clear 10″ touchscreen display. 
Equipped with a large state-of-the-art running deck (22 "x 60) and a 3.5 CHP motor, it offers an unprecedented running/walking experience.  The SoftDrop folding system help you store away your treadmill easily and safely.
The sturdy, cushioned treadmill can support weights up to 400 pounds
One of the strongest treadmills
Offers the widest tread width for a comfortable workout
Great speed range
Optimal incline
Customer Review 
Teena, 40
"Bought the Bowflex treadmill. More than its functions and features, the look, design, and style of the machine have impressed me a lot. Every time I have a guest at my house, I get loads of compliments. And of course, it helps me keep fit!"
Compare Pricing to Get the Best Deal on the Bowflex Treadmill 10
Shop the Bowflex 10 Treadmill at Bowflex.com
Shop the Bowflex 10 Treadmill at DICK'S Sporting Goods
3. Life Fitness T5 Treadmill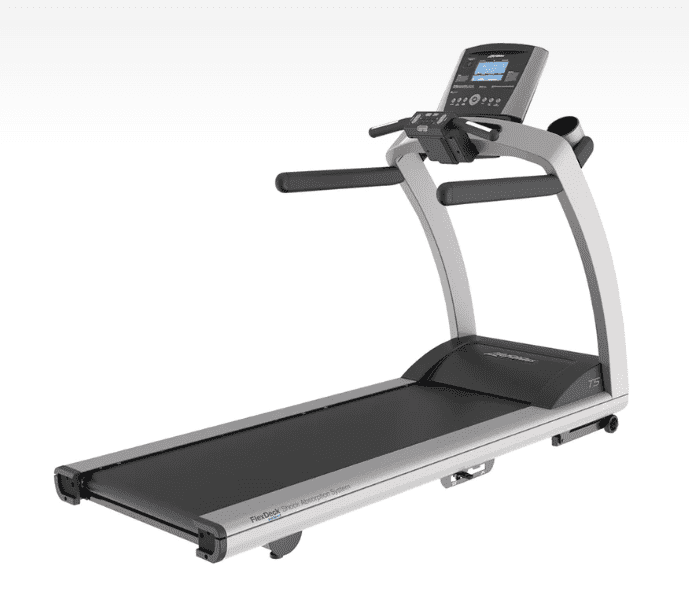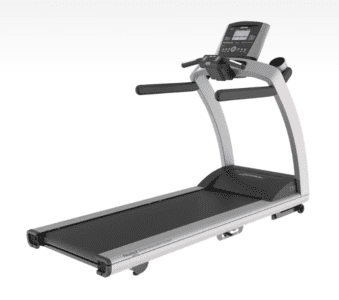 LifeFitness produces commercial grade fitness equipment. The T5 treadmill offers a 400 lb. weight limit. The treadmills from LifeFitness are heavy-duty, and they come with a lifetime warranty to back up their claims. This durable treadmill is easily adapted to the needs of heavier people, and is designed with a large surface that allows for longer strides.
Top speed can reach 12 mph in 0.5% mile increments and some cases 15%
400 lb. weight limit
Large 22″ x 60″ running surface
FlexDeck's customizable design allows for users to adjust deck firmness
Unique console – intelligently designed with two zones for recreation and exercise zones
Connect to interactive fitness applications that enhance user experience
Integrated tablet holder
Customer Review 
Stacy
"One machine and so many benefits – this is all I have to say about this treadmill. I worked on one when I had the time to go to the gym. Now with my newborn, it isn't easy for me to go out of the house. What a great investment I made! Love the machine."
Shop the T5 Treadmill at LifeFitness.com
4. Sole F80 Treadmill
If you're looking for a budget-friendly treadmill that's extremely durable, can hold up to 375 lbs., but won't break the bank – look no further than the Sole F80.
This foldable treadmill is designed for maximum durability to meet the running/jogging needs of heavy users. It has a powerful 3.5 HP motor that will ensure it can withstand heavier weights, while also operating quietly.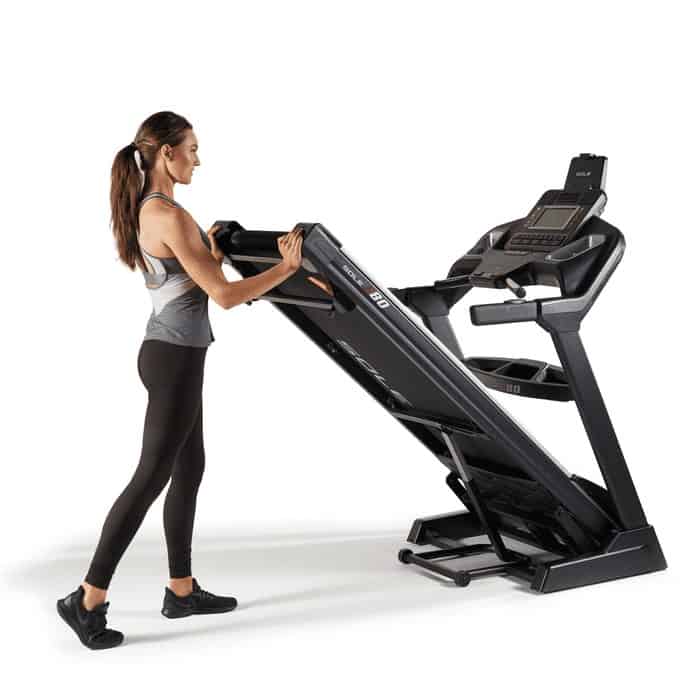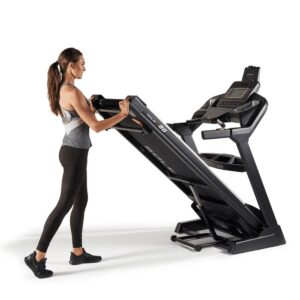 The deck provides 40% impact reduction to the joints in comparison to asphalt running. This will be beneficial for heavy users who tend to strain their joints and knees. There are 10 different workout programs built-in with the Sole F80. You can use these pre-programmed workouts to help you get started on your fitness journey.
The 9 inch LCD console displays key exercise indicators and also features an integrated tablet holder. You get the benefit of a lifetime warranty.
Top features on the Sole F80 include:
A wide and long 22″ x 60″ deck area
.5 – 12 MPH speed
15 incline levels
Excellent shock absorption system
Customer Review 
Kris Baker
"Got a gift from my mom – my new Sole F80 foldable treadmill. I love eating, and now I love shedding the extra weight on this machine. Always felt too lazy to go to a park to walk, and too embarrassed to join a gym. But now I'm glad I have this machine at home. One of the best gifts my mom could give me – good health!"
Compare Pricing to Get the Best Deal on the Sole F80 Treadmill
Shop the Sole F80 at SoleFitness.com
Shop the Sole F80 at DICK'S Sporting Goods
5. Horizon Fitness 7.0 
This is one of the best silent treadmills that is extremely cost-effective. The key features that make this treadmill for 325 lb. notable area a large deck area, advanced Bluetooth connectivity, and a powerful engine – all at a budget price point. The Horizon 7.0 AT is usually priced for less than $1,000.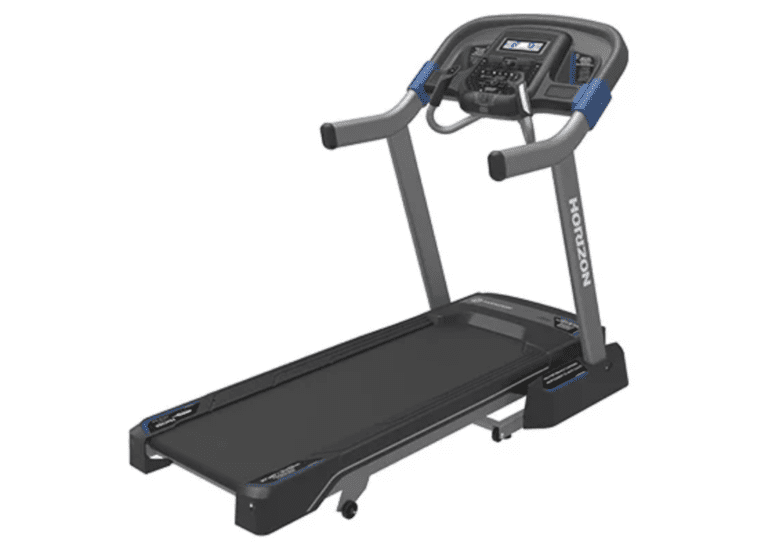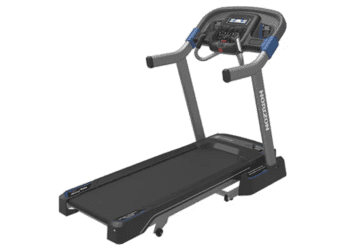 During your workout, you can use the one-touch speed and incline keys to adjust to your desired speed and incline. With an advanced Bluetooth connection, you can use the built-in treadmill speakers to listen to music and watch videos from your smart device.
Other top features on the Horizon 7.0 AT treadmill include: 
Foldable for easy storage
Switch from walking to running with the touch of a key
325 lb. weight limit
15 incline levels
0.5-12 MPH speed
20 x 60″ running area
7″ LCD screen
Customer Review  
Vinita
"I am a working woman, and someone at the office suggested I try the Horizon treadmill. I did my research and homework well and made comparisons between several machines. Finally settled for this one. Haven't used other machines, so can't say this is the best one, but yes, as far as I have used, it hasn't given me any trouble. If you ask me for a rating, I would give this machine a good rating – not only for its features but because it helped me shed 6 lbs. in a month. I am glad I bought it."
Compare Pricing to Get the Best Deal on the Horizon 7.0 AT
Shop for the Horizon 7.0AT at HorizonFitness.com
Shop for the Horizon 7.0AT at DICK'S Sporting Goods
6. LifeSpan TR1200i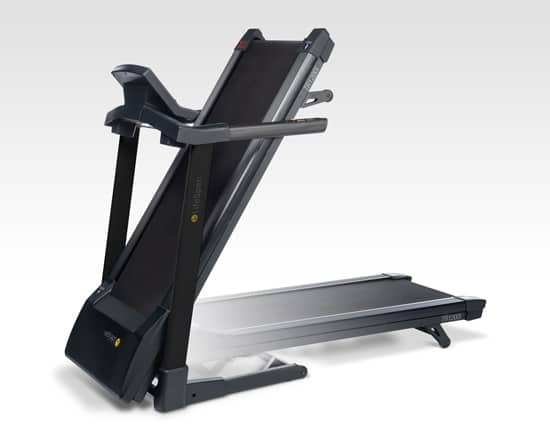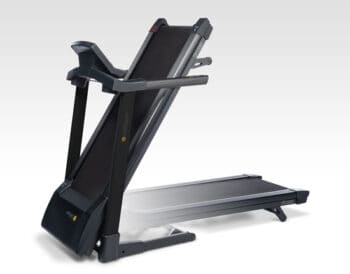 A robust treadmill with the a great price point, the LifeSpan TR 1200i is a base model that offers 15 different levels of incline and can reach up to 11 MPH. It is affordable and great for walking, jogging, and even running. This machine offers a good shock-absorbing surface and a durable tread belt. The LifeSpan TR1200 is one of the best treadmills for users that require a 300 lb. weight limit.
The LifeSpan TR1200i is a heavy-duty machine, featuring a two-layer padded belt with six compression dampers to help absorb shock and reduce joint impact. Two-layer belts tend to last longer, are quieter, and are slightly more cushioned than a standard 1-layer belt. The continuous duty power of the engine is 2.5HP. 
It comes with a great warranty – a three-year parts warranty and a one-year manufacturing warranty, as well as a lifetime warranty on the frame and motor. Here are some other features: 
Maximum capacity: 300 pounds (136 kg)
Belt size: 20 "WX 56" L (51 cm X 142 cm L)
Maximum speed: 11 miles/h (17.7 km/h)
Engine: 2.5 HP Continuous Duty DC
The dimensions: 70.25 "L x 33" W x 55 "h (178 cm L x 84 cm W x 140 cm h)
Folding: yes
Folded dimensions: 39 "L x 33" W x 63 "H (99 cm L x 84 cm W x 160 cm h)
Customer Review 
Roger Red
"LifeSpan is a great brand. I already own a LifeSpan elliptical but wanted a treadmill too. Since the other machine has never given me any trouble. So far so good!"
Compare Pricing to Get the Best Deal on the LifeSpan TR1200i
Shop the TR1200i Treadmill at LifeSpanFitness.Com
Shop the TR1200i Treadmill on Amazon
Conclusion
If you are serious about shedding those extra pounds and not comfortable going to the gym, then choosing a solid treadmill that supports weight loss is important.
The ideal treadmill for an overweight person will offer different speeds and incline levels, a higher weight capacity, provide a great workout experience, and most importantly, safe and durable.
Don't let being overweight discourage you from reaching your goals. You don't have to go into a gym or a fitness class to get started on your journey to health. The right in-home treadmill can get you walking your way to a healthier you in no time.
FAQ
Can I use a treadmill if I'm over the weight limit?
No, it's not recommended. A lot of manufacturers actually overstate their weight limit – so it will be unsafe for a user to use a treadmill where they weigh more than the manufacturers suggested weight limit.
What is the weight limit on ProForm treadmills?
ProForm treadmills vary in weight limits but the average weight limit is around 300 lbs.
What is the weight limit on NordicTrack treadmills?
NordicTrack treadmills have a wide range of weight limits, similarly to ProForm the average weight capacity on their treadmills is 300 lbs.
What is the best treadmill for a 500 lb. person?
The best treadmill with a 500 lb. weight capacity is the HCI Fitness PhysioMill Treadmill.
What is the best treadmill for a 400 lb. person?
The best treadmill with a 400 lb. weight limit is the Bowflex Treadmill 10.
What treadmill can I use if I'm 350 pounds?
The most durable treadmill that can support 350 lbs. in user weight is the Sole F80 treadmill.