(Last Updated On: July 19, 2022)
Learn What Size Treadmill Deck You Need and How to Choose a Quality Tread Belt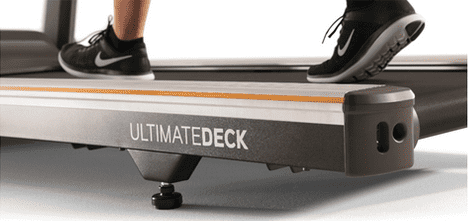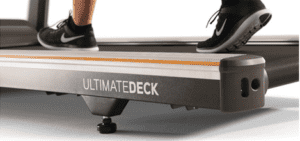 A fantastic treadmill will do you little good if it is the wrong size.  Recommended treadmill sizes vary depending with your intended type of exercise and height.  Plus, you should take into consideration the type of tread belt on your machine.  Read on for a guide on treadmill deck sizes and tread belts.
How to Choose the Right Treadmill Deck Size
Treadmill decks vary in size depending if the machine is intended for walkers/joggers or serious runners.  The widths can range from 16" to 22" and the lengths from 45" to 62".  First off, avoid the 16" belts.  They are just too narrow for a comfortable exercising experience.  Walkers should look for a belt that is at least 18-20" in width.  Joggers and runners are going to want the 20" belt.
A few manufacturers even offer belts that are 22".  Check out the NordicTrack Commercial 2450, or the Horizon 7.8 AT for two examples of nice machines with 22×60" belts.
Next, you'll need to think about the length of your new machine.  Walkers will be okay on 50-54" machines depending on their height.  Joggers will want a 54" length. Finally, runners or folks who are tall should look for a belt that is at least 58" long.
Make sure your chosen brand isn't short-changing you with an exaggerated length measurement.  Sometimes a portion of the belt's top surface is covered by a plastic covering.
Check out this video that compares the deck lengths of the Yowza Osprey folding treadmill and Yowza Delray Elite.  The Delray Elite has a super long 63″ length perfect for the tallest runners.
It used to be that you had to pay a minimum of $2,000 for a 60" long belt, but  today several machines are available from different brands for much less money.  ProForm is a good brand to check out for low cost treadmills with decent specs.  Our Best Buy Treadmills with 60" belts for under $2,000 also include the NordicTrack Commercial 1750 and the Sole F80.
How to Choose the Best Tread Belt Type
Tread belts should offer high performance and a quiet ride.  Always look for a tread belt with a minimum of 2-ply thickness.  This will provide long wear and enough cushioning.
The best quality treadmills will include belts that are pre-lubricated or waxed with high-pressure synthetic compounds and need minimal maintenance.  For example, brands from Johnson Fitness (including Horizon, Vision, and Matrix) have an 'Infinity Belt' that is impregnated with synthetic hard wax making it maintenance free. This tread belt should deliver 20,000+ miles of service as long as it is kept clean.
Some companies, like NordicTrack, require yearly lubrication on the belts for best results and longest lasting use.  This lubrication can be done by you at home or you can call their service group for assistance.
Warranties are a good indicator of quality on a tread belt.  If you notice that the warranty is less than 1 year, then you can assume this particular belt is not going to last.
To clean your tread belt, use occasional vacuuming to remove dirt, dust, and pet hair that would infiltrate the machinery and cause problems.  Representatives from Yowza Fitness recommend a damp towel to lift dried on mud but caution against any type of cleaning product.  The Yowza Boca machine is one of their best value machines with a very spacious 20×63" belt made from multi-layer PVC with nylon-polyester 'Whisper Weave.'
There are many factors to consider when purchasing your treadmill.  Check out our Treadmill Buyer's Guide for more information. Also, check out these 7 tips for first type buyers and 6 questions you should ask yourself before buying a treadmill.