Yowza Boca Treadmill Review
| | |
| --- | --- |
| Brand: | Yowza Fitness |
| Expert Rating: | |
A True "Factory Direct" Buying Option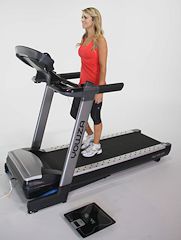 The Yowza Boca Treadmill is one of the top machines offered by Yowza Fitness.   The Boca machine is one of our favorite models from Yowza because of its wide spacious console, comfortable running surface, and innovative technologies.
All Yowza Treadmills are built by GreenMaster, a leading Taiwanese fitness equipment company.  The engineering and durability of GreenMaster machines are the best in their price range. Yowza used to be a stellar company, but things have changed in this last year.  We've seen unreliable product availability and slips in the responses from company reps.  You may want to take your business to a company that's a bit more stable until they clean up their act.
Yowza Fitness is OUT OF BUSINESS.

We are still waiting to hear more information about this company but it seems they are no longer producing machines.  

NOTE:  This was a really good machine, but the company seems to be going through some issues.  Instead, we recommend you check out the Sole F85.  Sole Fitness is a solid company and this machine is excellent. 

See Our Video Review of the Boca Treadmill
Yowza Boca Treadmill Features
Swing Arm Shock Absorption — The Swing Arm shock absorption works like a rocker arm on a car.  You can actually see it working as you walk or run on the Yowza Boca Treadmill.  With each step, the front of the machine cushions your foot's impact.  This helps to protect your joints from excessive strain.  Near the rear of the tread belt, you will experience a firmer surface to provide a stable push-off point.  The Boca Treadmill was our favorite Yowza machine to run on because it provided a forgiving but firm running surface.
IWM (Intelligent Weight Management) System – Many individuals strive to lose weight and get into shape, but lack direction.  The IWM system provides a unique solution where your treadmill is linked up with a Yowza Fitness scale.  The scale comes with the machine and communicates with your treadmill via BlueTooth.  Before your workout, weigh yourself in and this information will be sent to the machine so that a custom workout can be suggested for you.  You can choose to either use this workout, or select manual mode while your results are still tracked on the machine.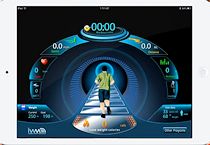 MyLiveLight App — MyLiveLight is a free fitness app that works in conjunction with the Yowza Boca Treadmill.  It also works in tandem with IWM to create custom programs, manage your personal profile, and it allows you to store and track your progress.  Studies show that individuals who monitor their exercise progress are more likely to achieve their goals.  The Boca comes with a tablet holder so you can track your progress in real time.  In addition, the app allows you to share your results through social media with others who may be part of your support group.
Blue Tooth Sound System and Airport —The speakers on the Boca Treadmill operate through Blue Tooth technology so you can easily link them to your smart phone, MP3 player, or tablet on the spacious Airport console.  It is even possible to answer a phone call directly on the treadmill console so that you can easily chat with a friend if they call during your workout.  The speakers are not top-of-the-line home entertainment quality, but they are likely some of the best speakers you'll find on a treadmill.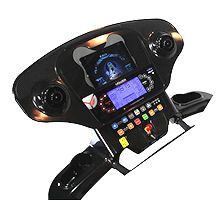 3-Speed Fan — We were impressed with the Boca Treadmill's fans.  Many other machines have tiny fans that do little to provide relief.  The Yowza Boca Treadmill comes with two fans that will actually cool you off.
Motion Speed Control — This was one of our favorite pieces of technology from the Yowza treadmills.  With their patented Motion Control, you can simply wave your hand over sensors to increase speed, decrease speed, or stop the machine. The main advantage — you do not need to break your stride and reach to the console to make changes.
3.5 Continuous Duty HP Motor — A standard motor for this size. Yowza tends to use higher quality motors than many of their competitors.
20" x 63" Treadmill — This is a nice large running surface for people who are taller or have a longer stride.
Wireless Heart Rate Chest Strap — This included device allows you to monitor your heart rate without grabbing the hand sensors during your workout.  It provides more accurate readings and connects to an installed heart rate control program where you define your workout based on your heart rate.   This is a method professional athletes use to get optimized results when they train.
Warranty — If you want evidence of the quality of the components that go into the Yowza Boca treadmill look at the warranty. You get 10 years parts coverage. Typical coverage is usually 5 years.
Lifetime motor and frame
10-years parts
2-years labor
Our Review – Yowza Boca Treadmill
The Yowza Boca Treadmill is an excellent machine with quality components and engineering.  It is ideal for runners and multiple users. We especially liked the Swing-Arm Suspension, Intelligent Weight Management, and Motion Control features.  The spacious Airport console, BlueTooth Speakers, and MyLiveLight features provide additional incentives to check out the Boca.
The Yowza Boca Treadmill may be one of the most durable treadmills at this price point, but it comes from a company that seems to be going downhill.  We're no longer confident in this recommendation, so we'd instead suggest that you check out the F85 from Sole Fitness.