Horizon Treadmill 7.8 AT Review
| | |
| --- | --- |
| Brand: | Horizon |
| Expert Rating: | |
The Horizon Treadmill 7.8 AT is On Sale!
One of the Best Treadmills at $1,999 – Built to Take a Beating!
Use code Horizon5 at checkout to save.
We recently traveled to Madison, Wisconsin to check out the latest at Horizon Fitness headquarters. There have been a few new additions to the Horizon line-up, but the Horizon 7.8 AT Treadmill is the biggest of them all. This machine packs a serious punch and is ready for some major mileage.
As with all Horizon products, you know you're getting quality because they produce all of the parts themselves. Owned by Johnson Fitness, each Horizon machine contains a Johnson Drive System Motor. This motor runs at a lower RPM by using larger magnets. This results in a quieter and cooler system, which means better longevity.
In addition, the tread belt on each machine has been tested to be maintenance free for up to 21,000 miles. By producing the parts themselves, Johnson Fitness ensures you get the most use out of your machine with the least amount of work on your part.
With the Horizon 7.8 AT Treadmill, Horizon has created a treadmill that will be able to keep up with even the most avid of runners.
7.8 AT Treadmill Features
4.0 CHP with Rapid Sync Technology – This is the most powerful motor you will find from Horizon and it's no joke. 4.0 CHP is going to help you reach even the loftiest of goals. If you are planning on logging some serious miles and doing intense training, this machine won't let you down or slow you down.
The Rapid Sync feature is a new part of this machine that makes it better equipped to keep up with you and your fitness aspirations. It means the motor respond faster when you change speed or incline. When you're ready to push yourself to the next level, the Horizon 7.8 AT Treadmill is right there with you. The Rapid Sync Technology responds 33% faster than other treadmill motors. This keeps you from having to wait while your machine catches up with your needs.
3-Zone Variable Cushioning –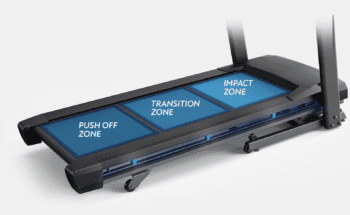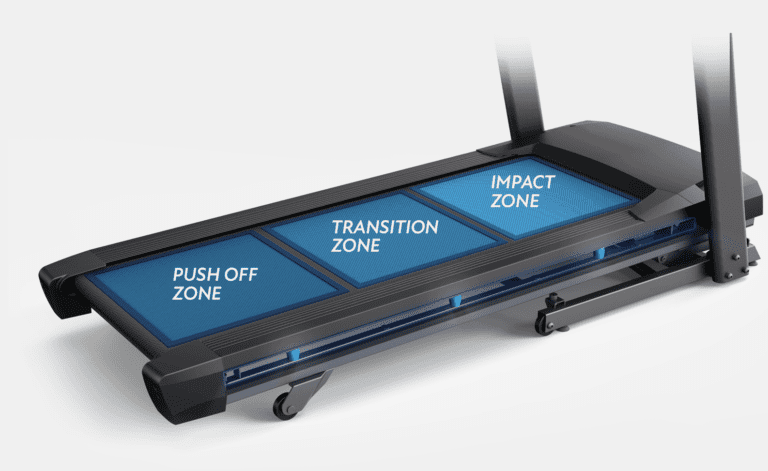 You can rest easy that your stride is in good hands with the variable cushioning on the 7.8 AT's deck. Horizon places more cushion on the front of the deck to soften your foot striking the surface. This relieves stress on your joints. On the back, you'll find the opposite. A firmer surface on the rear of the deck creates a better area to push off and maintain your stride.
22" x 60" Running Area – You'll find all the space you need on the Horizon 7.8 AT Treadmill. The 60" length provides ample space for even the tallest of users and the longest of strides.
0-15% Incline – This incline guarantees you can tackle even the most intense of hill workouts. A 15% incline is larger than you'll find on most treadmills, so the Horizon 7.8 AT Treadmill has a bit of a leg up in this department.
0.5 – 12 MPH – This speed range ensures you can do speed training and HIIT workouts to your heart's content. You can push yourself to reach your goals and thanks to the Rapid Sync Technology, your changes in speed will happen 33% faster. There's nothing holding you back.
FeatherLight Folding Capability – If you live in a small apartment, the ability to fold your treadmill and put it away if a major bonus. Not everyone wants their exercise routine to be the focus of their living room.
350 lb. User Weight Capacity – We have to admit this is pretty substantial. A weight capacity of 350 lb. is more than we see with most models and it's nice to see an option that works for a larger range of people. Nobody should have to miss out on a stellar workout regimen because of their starting weight.
Display – We have talked about this before with Horizon machines and their displays. Horizon doesn't provide the huge, flashy HD Touchscreens that we are seeing on a lot of other brands like NordicTrack or ProForm. The Horizon 7.8 AT Treadmill features a 9.3" high contrast TFT screen and a 16 digit alphanumeric LED display. These allow you to track your workout stats as you go, but you aren't going to be taking a live-class on the machine's display.
If you want to use your own tablet to follow along with another interactive training program, you have a multi-position tablet holder to help you get things right where you want them.
Warranty – We have seen a trend towards somewhat less inclusive warranties from some brands in the recent past. This is not the case with Horizon. The Horizon 7.8 AT Treadmill comes with a lifetime frame and motor warranty, 5 years on the parts and 2 years labor.
This is the benefit of purchasing from a company that manufactures all of their own parts. They can really put their money where their mouth is when it comes to the warranty.
Comfort – Yes the Horizon 7.8 AT Treadmill really brings it with the performance features, but that doesn't mean you are going to be sacrificing comfort. The built-in accessory tray, Bluetooth speakers, USB charging capability and fan will ensure you get a great experience every time you step on.
See a comparison chart of all Horizon Treadmills here.
Our Review of the Horizon 7.8AT Treadmill –
The Horizon 7.8 AT Treadmill is not for the faint of heart, but for the price, you're getting a tremendous machine. Priced at $1899, you are going to be paying for everything you get. So the question really is, "do you need it?"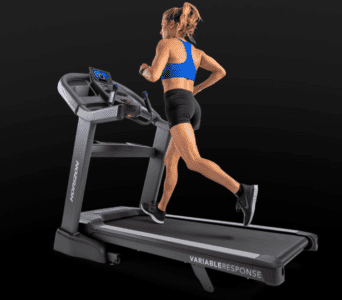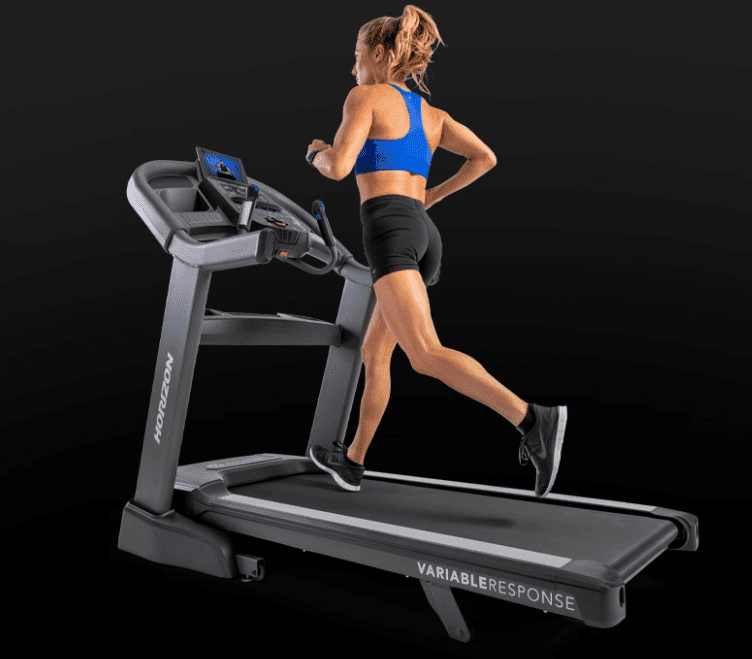 If you are an avid, dedicated runner that really puts in the miles between marathons, then maybe you do. If you really like to push yourself with intense HIIT workouts and speed drills then maybe you do. If you just want to go for a run everyday and live a healthy lifestyle, maybe you don't.
The 4.0 CHP motor with Rapid Sync Technology, combined with the 15% incline and 12 mph top speed make this a machine that can really handle anything. If you are a runner that needs a machine that can keep up with you, the 7.8 AT will not disappoint.
Plus, the quality that you receive from a Horizon product means not only can it keep up, but it will do it with ease. The tread belt and motor are meant for the kind of miles that come with the most intense training. If you don't have plans to conquer the running world, the Horizon 7.4 AT Treadmill or the Horizon 7.0 AT Treadmill may be more your speed. Either way, you know you're getting a quality product and a quality experience.
All in all, Horizon has provided us all with another fantastic machine and an option for those that need a little bit more.
To learn more about the Horizon 7.8 AT treadmill, check out HorizonFitness.com.