Last Updated on September 29, 2017 by Rachael Kraft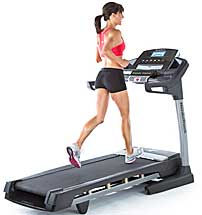 If you are in the market for a treadmill it is important to evaluate your fitness goals and the demands that you will place on your machine before you make a purchase.  The right machine can help you lose belly fat, manage your weight, avoid injury, and even be happier with life.  The wrong machine will only cause frustration and headaches.
How much do I want to spend?
Probably not enough. Sorry, a good treadmill is not cheap. Most people do not know what a treadmill cost. They may have seen the cheap treadmills in Wal-Mart for several hundreds dollars and have the conception that they are adequate.
Treadmills are machines that if used regularly, take an excessive beating. That's why if you want a treadmill that will last, you're going to need to shovel out a few bucks.
On the other hand, you probably don't need to spend $3,000 on a treadmill that you will use occasionally for walking. Unless you have an obsession for big, expensive toys.
What Will I Use the Treadmill For?
Are you training for a marathon, or do you like to casually walk? The difference can mean a couple of thousand dollars in cost.
Individuals training for a marathon or ultra marathon will need a treadmill that has a longer deck, powerful motor and in general is built for abuse. They may also want a variety of challenging programs to motivate and enhance their performance.
Meanwhile a person that occasionally walks can get by with a treadmill that is shorter, has an 18″ wide belt, a medium size motor and an overall design that accommodates moderate use.
What are my Short-term and Long-term Goals?
If you are currently out of shape and your plans are to get back to your old health self, if there was an old health self, you may initially plan to only walk several times a week on your treadmill, but who knows where you may go from there. As you progress you could start jogging 5 or 6 times a week. Will the model you plan to purchase holed up to that kind of strain? It's easier to spend a few hundred extra dollars now then to have to get rid of your current model and purchase a treadmill that can withstand your future fitness goals.
What is the Weight and Height of the User(s)?
When you run on a treadmill the impact is 2 ½ times your body weight. The impact from walking is considerably less. Therefore individuals who weigh in over 200 lbs need to consider a treadmill that can withstand the additional impact. Most treadmill manufacturers overstate their weight limit by as much as 50-75 lbs. If you are in the 250 range you better find a model that claims to at least handle a 300 lbs user. But just think, after constant treadmill use you will have that weight down substantially. Look for models that have a deck that is around and 1″ thick. One half inch decks may break from users that are hefty.
Taller users need a treadmill with a longer running surface. If you are a walker and over 6′ you would probably want a treadmill that has a minimum 52″ treadbelt length. Running, you should have at least 54″. If you are over 6′ consider some of the stretch models that at in the 60′-62′ range.
By the way some manufacturers rate the length of their treadmills by the deck. Unfortunately part of the deck is usually covered by plastic shrouds and in reality the actual running surface may be a couple of inches shorter. You want to go by the treadbelt length, or the running surface for a more exact length.
Read more about finding the right machine for your body type here.
What Motivational Programming Do You Require?
Many treadmill users are content to manually adjust their treadmill speed and incline, while others rely on motivation programs or technology to achieve their fitness goals. Generally treadmills include a series of workout routines that adjust the speed and incline and are geared towards different fitness goals.
Over the last several years a number of treadmill companies, including Smooth Fitness, are making their treadmills interactive with Internet. For example, Smooth's Virtual Fitness Trainer lets you download videos of famous trails and landscapes around the world. As you walk or run the video progressing the the scenary. Your stats are downloaded onto a app, allowing you to track your progress.
How Many People will use the Treadmill?
If more then one person is going to use the treadmill then that means at least double the usage. If you are both runners then the overall stress is doubled. Think about the abuse a treadmill must go through when it is used regularly. That is why cheap treadmills do not last, and that is why they are backed with short-term warranties.
These are some very general guidelines, other factors like weight and height must also be taken into consideration:
For two people using a treadmill for walking spend at least $800.
For two people using a treadmill for light jogging spend at least $1,200.
For two people using a treadmill for running spend at least $1,500.
Also, you may want to consider a model that stores user profiles for multiple users.
These are just a few guidelines that are important when purchasing a treadmill. Buying the right machine from the start will prevent you from having to upgrade in the near future. Click here for a more detailed treadmill buyer's guide. You will find detailed information that will assist you in buying a informed treadmill consumer. You will also find reviews on over 100 treadmills, including NordicTrack, ProForm, Sole, and Bowflex Treadmills.