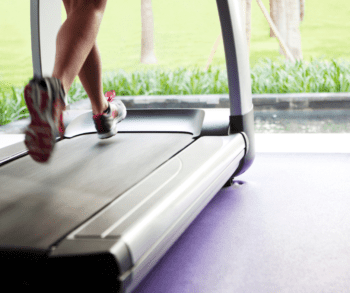 With everything going up (hello inflation!), it is more important than ever to find ways to cut expenses without sacrificing our wellness and comfort. And this can become a challenge.

Luckily for us fitness junkies, it's now easier than ever to squeeze in a quick cardio workout in a breeze with compact low-budget treadmills that can fit right below our bed.

That's why we did this guide with the most affordable and greatly reviewed treadmills for you to keep things moving no matter if you can't keep your gym membership. These treadmills will help you stay fit and on track with your fitness goals.

But, before we run to read our top fav treadmills under 400, we've put together some features that you should pay attention to when choosing low-budget machines. We have considered them all and it's always a good idea to have them in mind.
What You Should Look for When Purchasing a Treadmill Under $400
Take measurements: We know that you can get really excited and worked up after reading our guide but plan wisely your available space to determine what type and size of a treadmill to buy.


Delivery: An important feature we often dismiss is is delivery. If possible, having at least three people helping you during the delivery day. Or, at least, a folding aluminum cart. They are usually heavy, and if you have to go up some stairs or carpets, things can get tough. You can injure yourself or break the treadmill. Let's avoid all that.
Comfort: What type of shock absorption does the treadmill have? Deck absorption will not only impact your comfort levels while exercising, but the safety of your joints and muscles too.


Top Speed: Get clear on how you're going to use it so that you choose a horsepower that goes with it. If you are just after walking, a 1.0 horsepower is okay. But, if you want to do some jogging or serious running, you should search for 2.0 horsepower or more.


Folding Design: Our space is key, and if you work from home, even more. No matter where you live, we like to avoid things getting clumsy, right? So you need a treadmill that takes a small space and easily folds flat for storage. Not every treadmill is foldable, be aware of this.


Weight Limits: The weight limit the treadmill supports is a vital aspect to consider because if you break the weight limit, the manufacturer may not cover the warranty anymore.
Deck Size: It is important to pay attention to the running deck size, each model has a different size of the deck. A 16-18″ running surface width is just right for this kind of budget and still allows you to be comfortable when working out. 
Our 8 Best Under 400 Treadmills
#1: Sunny Health & Fitness Foldable Walking Compact Treadmill
Your everlasting fitness pal with a lubrication reminder built-on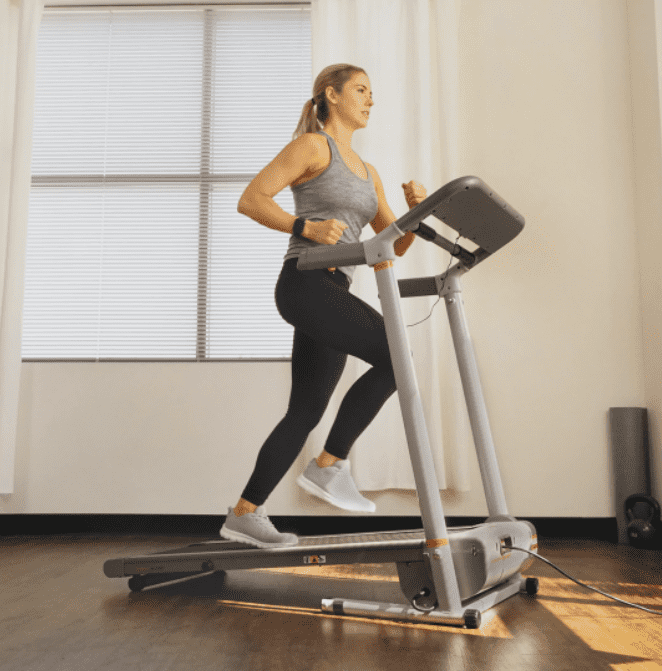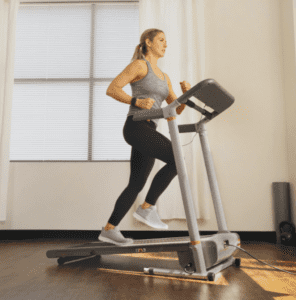 Keep your cardiovascular health by exercising on the Sunny Health & Fitness Foldable Walking Treadmill. The shock-absorbing walking surface (43W X 14L in) is equipped with a space-saving design. 
This walking treadmill is capable of reaching up to 7 MPH. Just grab the seamless onboard pulse sensors to monitor your heart rate while you exercise.

Take a quick look at the luminous LCD to track your time, speed, distance, calories burned, and pulse. And with confidence push the solid built-in buttons to start or stop and accelerate on your compact yet sturdy treadmill.
Never worry about forgetting to maintain your treadmill!
This one is designed for the long run because it comes with a built-in maintenance reminder that will remind you when it is time to lubricate your treadmill.
Also, step with confidence because it can support up to 220 lb. Don't let its aesthetic and compact look fool you! 
Finished working out?
After your workout is done, fold it with ease upright to save space. The transportation wheels assure that you protect your floors and your body, as it effortlessly slides from room to room.
Click here to read our full Sunny Health and Fitness brand review or click here to buy this treadmill directly on their website. 
Raving Online Review:


Light and quiet! I had no problem setting this up by myself. It's much quieter than other brands I've used. I like that it's perfect

for my tiny space too, easy to fold up and set aside. The display is bright and controls are convenient. Good motor and high speed compared to other treadmills I looked at. All in all, I am impressed with the quality of this treadmill and highly recommend it. – Greta P.
#2: Weslo Cadence G 5.9i Treadmill
Small space-friendly and foldable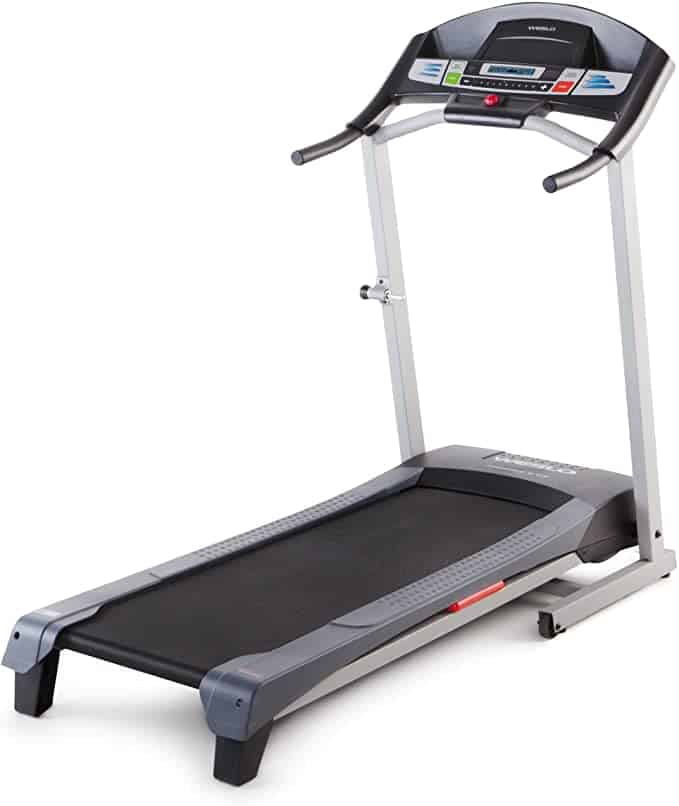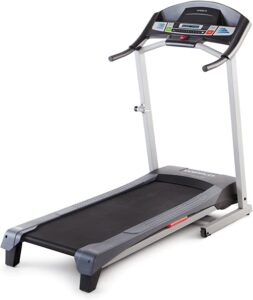 Despite its size and compactness, the Weslo Cadence G5.9i has two manual incline adjustments, and is an affordable treadmill for people up to 275 pounds. 
If you desire a compact, folding treadmill that won't take up much space and you're really looking to strengthen and condition yourself through light jogging and walking, this treadmill could be ideal for you. As the solid built machine this Weslo Cadence is, people often choose this treadmill because of all its positive features.
A big plus is that you get  a taste of the popular interactive fitness technology, iFit. Bluetooth technology connects the treadmill to iFit, so you get the full benefits of the app while you're exercising. The free trial allows you to experience the extensive workout options and trainers offered by iFit for one month before you purchase.

Plus, you can exercise at any time of the day indoors with this one because it has a quiet motor and two incline that allow you to adjust the deck up for more intense, uphill work. Or keep it straight flat for speed work or gentle walking.

The Weslo Cadence G 5.9 is equipped with a 2.25 HP motor, which is quite a strong motor that runs quietly for such a low price.

The comfort cell cushioning provides a comfortable ride for your joints by absorbing any shocks that they could experience. If you are used to running on concrete, you will experience much less shock.

With wheels on the base of the treadmill, one person can easily move this treadmill, which weighs only 118 pounds. The only downside we could find was it may not be suitable for heavy training and its belt is only 16" wide, so think about how you intend to use it and also your stature. Taller users may find the 16" to be limiting.
Click here to read our full Weslo brand review or click here to shop the Cadence 5.9 on Amazon. 
Raving Online Review:
Awesome treadmill! Really great value. Not as huge as all the other ones we've looked at at the retail stores. I've been using it for about two months now and so far it's really excellent. It's been used almost on a daily basis for one hour per day. Mostly doing walking at close 4.6 mph, occasionally running in 5-10 minute stretches. No issues so far. No bells and whistles but all I was looking for was a simple treadmill with manual speed selection. Running decently quiet – I'm able to watch a movie on a tablet situated on top of the treadmill console. The pulse detector is not working, but got visited by a technician and the replacement part is on order. Very nice and responsive customer service. Overall, I'm very satisfied with the purchase. – Jake
#3: Nero Sports Foldable Electric Motorized Treadmill
Get connected!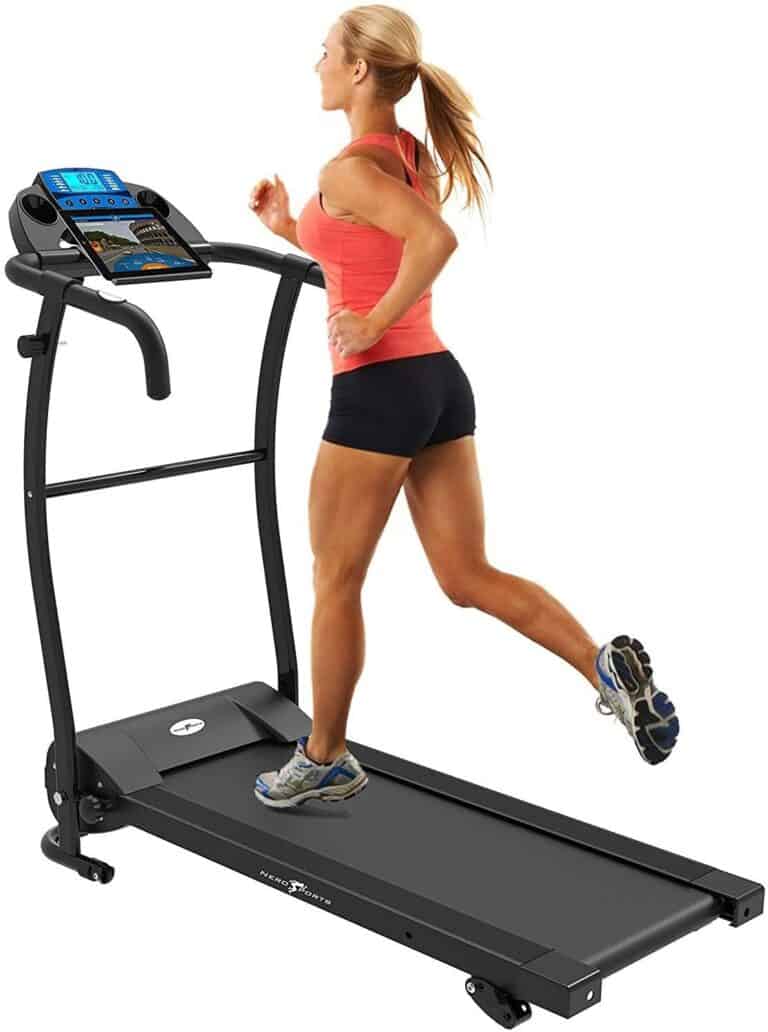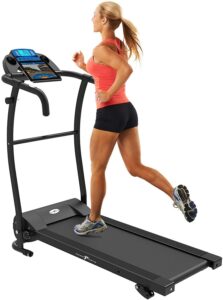 This amazing Bluetooth treadmill (feature usually found in the most expensive models) is perfect to workout at home, strengthen your cardiovascular system, tone your lower body muscles, and provide general conditioning.
Offering a 3 level adjustable incline / elevation for a tougher workout. And also 12 auto programs together with the manual mode option. It even comes with an emergency stop tag. What wowed us about Its latest version is they've added pulse sensors to the stop tag.

Another great feature is the intuitive on board computer that measures speed, time, distance, calories or can scan between them all so that you always can comfortably keep track of your stats. And brag about them if you want! Why not? 
Easy to use
Just pick your speed to suit your workout with a speed range of 0-6 MPH. Its robust tubular steel frame was made to last and can support up to 242 lbs. with absolutely no wobbling.

HOT FEATURE: A big plus is that it connects to iPhone, iPad and Android together with log training your activity not only indoor, but also outdoor. Its pulse sensors can run presets through Google Maps, all by its downloadable free fitness app. GPS signals and a cell phone sensor in the outside world allow recording of running, cycling, and other exercise data. Those who have already registered can view their exercise history and set targets for weekly or monthly exercise.
Click here to shop for the Nero treadmill on Ebay. 
Raving Online Review:


This treadmill works so well in a small space – at the end of my bed to be precise! The incline gives a little more to a workout and I've found the belt speeds to be just right for me. I'm not a runner so fast walking is the best for me. The machine is pretty quiet – I have the TV on when using it and find no problem listening to it. Folding it is very easy and it fits in very well, leaning up against a wall in my bedroom. My husband had no problems putting it together and I'm very pleased with both quality and price of this treadmill. – Lorraine Perkins
#4: XTERRA Fitness TR150 Budget Treadmill
The perfect blend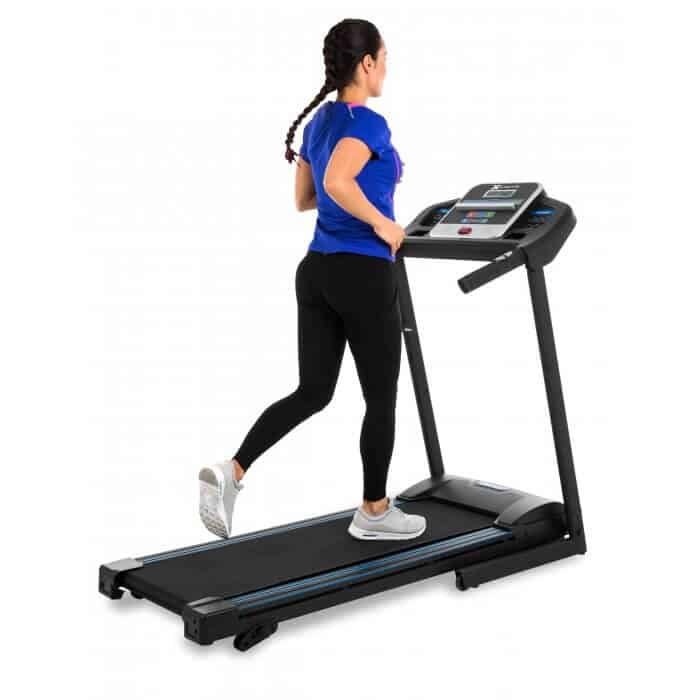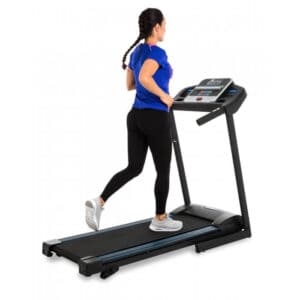 This treadmill by XTERRA Fitness provides both quality and performance while being readily foldable and portable.
With conveniently placed hand-grip pulse sensors on the side handlebars, you can make your heart pound by reaching the maximum speed range of 10 MPH. Also, if you're feeling a little frisky and want to target muscles untrained until now, you have 3 manual incline settings to choose from.

A great thing about the XTERRA TR150 is that all its power comes from a smooth and quiet 2.25 HP motor. And, being so quiet, it still has an amazing maximum weight capacity of 250 lbs. The 12 predefined programs offer the ultimate variety, and the padded deck measures 16″ x 50″.
Integrated shelves and accessory holders provide convenient storage for reading materials, remote controls, and anything else you want nearby, right where you need it. And it also comes with a large 5-inch LCD screen that gives you essential workout feedback.
An absolute fav of this one: it's ideal for interval training because it has quick access to your favorite speeds through the direct touch speed buttons. Hello variety, goodbye mind-numbing workouts!
When your workout is complete, simply fold your treadmill up and store it out of the way with the built-in transport wheels and the really simple yet effective space saver system.
Click here to read our full Xterra Fitness brand review, or click here to shop for this treadmill on Amazon. 
Raving Online Review

This treadmill has totally surprised me! Two years later and it still functions perfectly! The motor still sounds as new as the day I assembled it, the tread still moves smoothly, and all the buttons and programs still work flawlessly.

Definitely a fabulous bang for your buck!! – Heather G
#5: Exerpeutic 100XL Manual Treadmill
High weight capacity while balling on a budget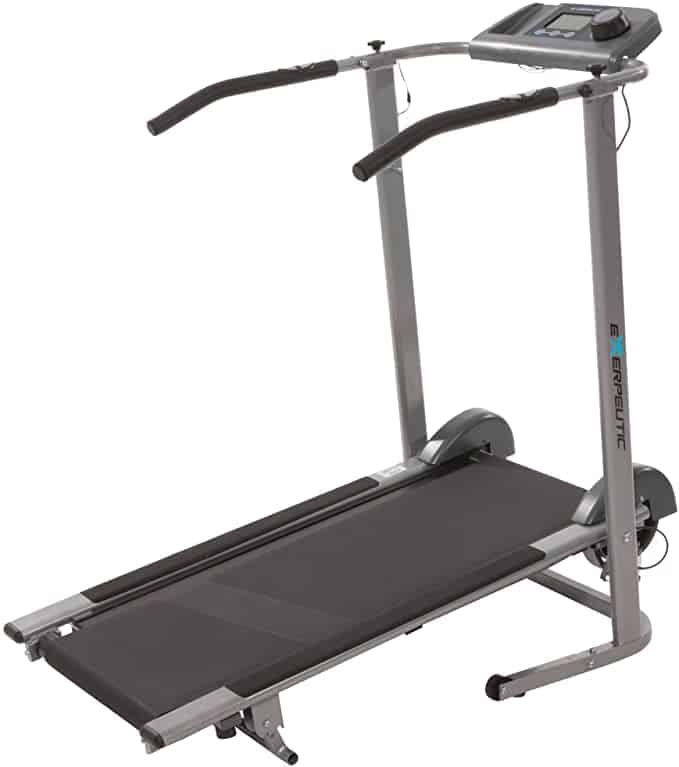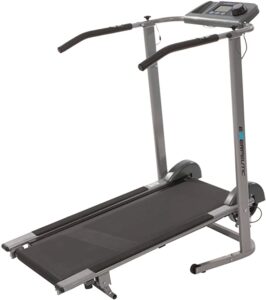 This treadmill will allow you to exercise indoors in a totally new way. Because it's designed 'just for walking' but has many cool features, we decided to add it to our list. Read on and take advantage of the shock absorption.
You can meet your exercise goals with the Exerpeutic Fitness walking treadmill, a lower-power treadmill that's designed specifically for walking at home.
The amazingness of this treadmill is due to its extra-wide belt that's designed for safe and effective fitness walking. The ground-level walking surface and wide side rails make it easy to get on and off the treadmill, while extra-long safety handles provide a convenient grip for enhanced security and balance.

A speed control button is located on the handlebar to make it very easy to raise and lower the speed of the treadmill belt.
An incredible feature for such a low budget treadmill is its heavy-duty frame. designed for extra weight support reaching a maximum capacity of 350 lbs.

It also easily folds for space-saving storage and moves easily on built-in wheels preserving your beautiful wood floors or carpet. And it implies no effort on your side, and saves you tons of space.
Click here to shop for this treadmill on Amazon. 
Raving Online Review

Love a manual treadmill. I have owned a motorized treadmill for 30 years and after having this new high quality manual treadmill makes me believe that I had been missing out for a long time. Who knew! – Richard 
#6: Murtisol 2 in 1 Foldable Treadmill, 2.25HP Under Desk Electric Treadmill 
Take up no extra space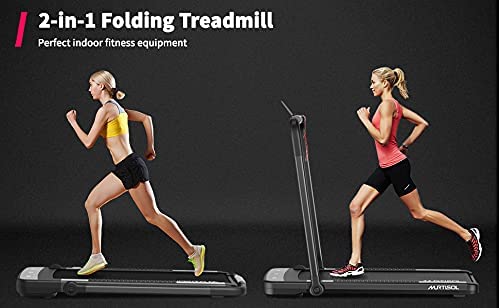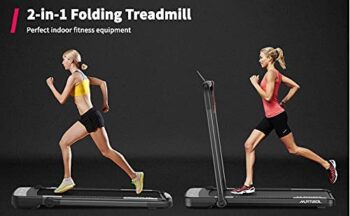 The 2-in-1 treadmill has 2 modes to meet your different sports needs. When the armrest is folded, it can be used as a walking machine at a speed of 0.6-2.5 MPH. When the armrest is raised, the running speed is 0.6-7.5 MPH, and you can run to reach your fitness goal.

It allows you to connect your treadmill to your phone via the Fit Show app, so you can monitor your fitness data while you're exercising.

You can also use the phone holder to watch your favorite movie or listen to your workout playlist. The remote control offers a seamless experience to adjust the speed of movement and stop instantly.

It has an ultra-quiet 2.25 HP motor, so that you can workout without disturbing others, making it ideal for home and home office use. This incredible motor also allows the treadmill to quickly switch between 0.6 miles and 7.5 miles, smoothly.

This foldable treadmill also features a non-slip, shock absorbent technology in its tread belt to offer enough space for all fitness levels.  The 5-layer shock absorption structure can provide a safe cushion for your joints, knees, ankles and muscles.

You'll have a much more comfortable and sturdy workout experience, and enjoy walking or running towards your fitness goals.

A huge plus is it doesn't need to be installed or set up.  It also comes with a safety key to turn it off in case of an emergency, or in case you have kids in the house. It's also really easy to move around and store under the bed or behind a couch.
Click here to shop directly on Amazon for this treadmill. 
Raving Online Review:

I purchased this item because I live in an apartment and needed something useful and compact. This item is it. It has several speeds, comes with a remote, and with an instruction booklet. I use it every day and I am very pleased with it. There is no assembly required (another plus); it comes fully assembled and plug in ready. I recommend this item. – Colin Paxton
#7: Urevo Foldi Folding Treadmill
Save space to recharge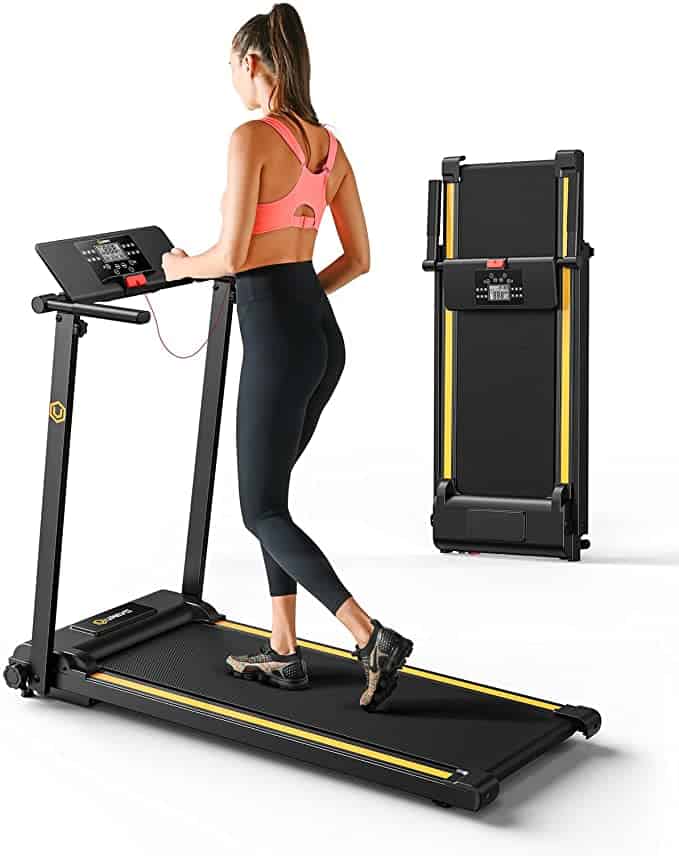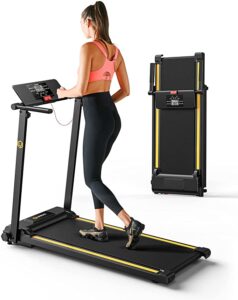 Enjoy much more free room to rest before your next workout without sacrificing quality and excellence. The Urevo Foldi treadmill can be folded up to a 55.2″ x 27.8″x 5.1″ size and become almost invisible under your couch, your bed or your furniture of choice.
It comes with extra support and protection with an ultra-cushioned, anti-slip belt that provides confidence when working out (your joints will thank you later!), all powered up with a sturdy 2.5 HP motor that allows a max speed of 7.5 mph. 
With a 16.5″x45.7″ wider path for extra running freedom, you can move elbows at will and make bigger strides, with nothing holding you back from achieving your fitness goals. 
Not to mention that we know that when we stay entertained, we stay  more motivated. So, come train along with online workout classes, or stream your favorite series while running with its stable phone holder.

An astounding 265 lbs. weight capacity combined with an extra touch of safety with the safe key tag, makes this treadmill a must in the 'best under 400' rank. It has it all for a low price and offers authentic value.
Click here to shop for this treadmill on Amazon. 


Raving Online Review: 

After spending almost every day of quarantine sitting at my computer, I've been having headaches and lower back pain, plus terrible brain fog. This treadmill has made it possible for me to stay in motion while I'm working, which has relieved my discomfort and improved my concentration. The treadmill is small and compact enough to fit in my bedroom, and when it's not in use it can be folded and slid under the bed for storage. It could easily fit under a standing desk, though I find the display panel is large enough that I can just set my laptop on it. Definitely worth it! – Caitlin Nolan
#8: Bifanuo 2-in-1 Folding Treadmill
Your under-desk secret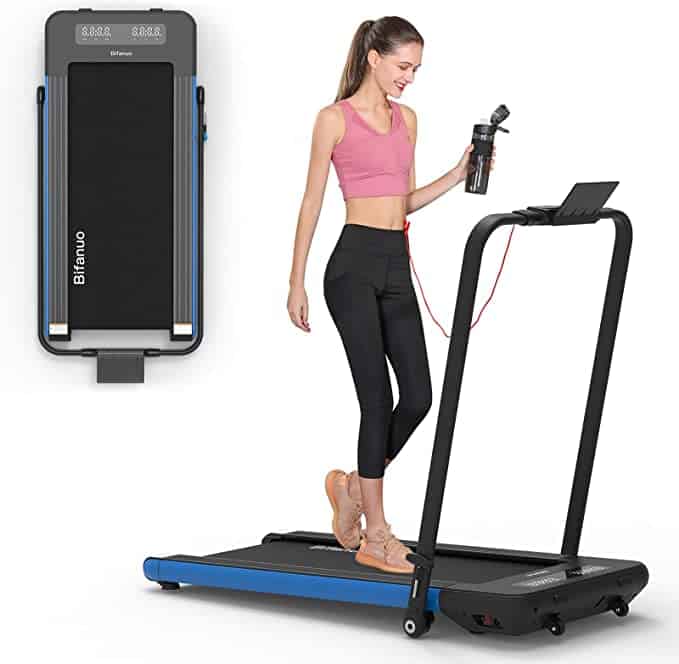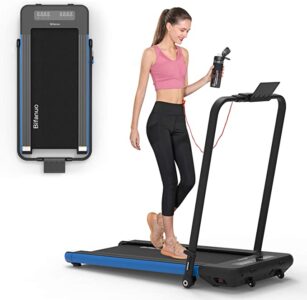 Bifanuo 2-in-1 folding treadmill has 2 sport modes to surprise you:  it can be used as a running treadmill and an under-desk walking treadmill also.

With a sturdy and durable steel frame and multi-layer shield design, it's shock-absorbing and noise-reducing, making your running quieter, safer, and more comfortable.

Fold the riser so you can do other things at your desk… while walking, too! Then raise the handrail and you can run after your fitness dreams. It's incredible ultra-quiet motor, allows you to walk or run without making even a squeak, which makes it perfect for home and also even shared office use. And it reaches a maximum speed of 6.5 mph. 
A real highlight is its 5 layer shock-absorbing structure anti-skid noise reduction running belt which assures a safe cushioning not only for your joints and knees. Also for your back, ankles, and muscles!

Why We Love It
This 2 in 1 treadmill arrives fully assembled. Yes, there is no typo here. As soon as it arrives at your door you can start using it. The breathtaking ultra slim design and transportation wheels offer hassle-free mobility and invisible storage, Just fold it up and walk away… all in one step. Made to last, it stainless frame supports a maximum weight of 260 lbs.  
Surprise Add On Feature
Change speed or stop in an instant with the remote controller. And in case you push the wrong button, you can stay safe because it comes with the easy-to-reach safety key, so it can stop in emergency situations. Or won't turn on if a toddler crawls over it by accident.
Another feature that seems to be just reserved for more "premium" treadmills but we found in this one is the Bluetooth-enabled speakers, and a simple but stylish clear LED display.
Click here to shop for this treadmill on Amazon. 
Raving Online Review: 

I've been using the treadmill for 30 days, every day, I walk at a 3.0 speed for A total of 2-3 hours while I "work" in my home office. Or after work while I watch TV. I could go faster, but 3.0 Speed feels comfortable to me. I burn about 400 calories per day and I've started eating less junk food. I remember reading the reviews a month ago and thinking "I want to do that!" " I want to lose weight"… Well, it didn't take much time… I lost my first 15 lbs. and I am motivated to keep going! Getting this treadmill was the best decision I could ever make to improve my health! – Isa G
The Final Verdict on Best Treadmills Under 400: A Dream or Reality? 
Treadmills give us a "no-excuses"  way to regularly exercise no matter weather conditions, our will, or the work we have to do. All from the comfort of your own home or office.                                                                                                                       
From newbies to advanced athletes looking to keep and improve their fitness level, anyone that's looking to get and stay in shape can really benefit from having a treadmill and using it daily.. 
The great thing about them is that, regardless of the model, all offer to some extent the pace, distance, and complexity of the workout based on your needs. And meanwhile you can binge watch your favorite series or talk on the phone with your bestie. 
Much softer for sore joints and generally to protect your back, your knees, joints, and muscles…
Treadmills offer long, padded platforms that give you the space needed for a long stride and comfortable, low-impact walk or jog without the impact the contact of a concrete surface has.
While many different types, styles, price ranges and colors of treadmills exist, we made this guide having in mind the features we first mentioned so that in the under 400 bucks category you had a wide range to choose from, but all with comfortable wide tread belts, LCD display screen… and we even found some with Bluetooth.

So, enjoy investing all that you are already saving by avoiding that expensive gym membership, delve on this list, go through your space and fitness needs, pick your fav and start running after your healthier and fitter version this year.
Have a different budget? Check out our other best treadmill blogs.