Weslo treadmills are the bargain brand from iFIT Health and Fitness, Inc., formerly known as Icon Health and Fitness*. The Icon name may sound familiar because this company also makes NordicTrack, ProForm, Reebok, Gold's Gym, and other brands of fitness equipment. Weslo is the lowest priced of all the treadmills built by iFIT Health and Fitness.
At the time of this post, you can get a manual (non-motorized) Weslo CardioStride 4.0 treadmill on Amazon for under $200, and the motorized Weslo Cadence G 5.9 is listed on Amazon for under $500 regularly priced, and under $400 on sale. We're reviewing the motorized model on this page.
The low price of a Weslo treadmill may seem very attractive at first, but the one thing we want you to take away from this review is this: You get what you pay for with a Weslo treadmill.
Weslo – The Bargain Brand From iFIT Health and Fitness
Weslo treadmills are designed primarily for walking or light use and are not built to withstand the wear and tear of frequent or long-term exercise. As such, they are not your best tool for accomplishing progress-oriented fitness goals or intense athletic training. Weslo treadmills are not a running machine.
Weslo's treadbelt surface area is very small, measuring 16″ wide and 50″ long. That's an extremely confined space for exercising. If you're wondering if it's too small for you, get out a measuring tape and mark the dimensions out on the floor— then stand, stretch, and stride inside that area to determine if you'll be able to move comfortably on a Weslo treadmill during your workout.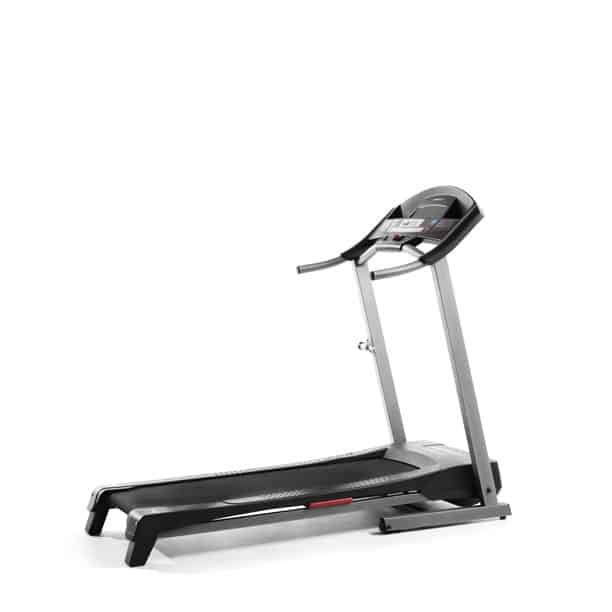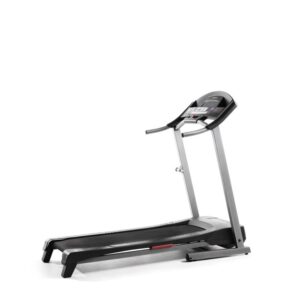 The Weslo treadmill is compact and lightweight. It folds up for storage and weighs in at only 115 lbs. This may seem like an advantage if you're working out in a small space or moving it around a lot. But it also means the machine is not particularly sturdy. Users report this machine tends to feel wobbly or unstable during use.
The shock absorbing capacity on the deck of the Weslo treadmill is very basic, and has a kind of bounce to it when you take a running stride. This bounce is not the same as true shock absorption and can be detrimental with regular use since it sends a reverse shock to the rest of your body.
All of this may make you wonder—who are Weslo treadmills for, anyway?
We've wondered that, too, but Weslo treadmills remain popular and seem to sell well. We think they remain popular most likely because of their extremely attractive low price point. If you're uncertain if regular exercise is for you, and if you're concerned you might spend money for an overpriced clothes hanger, then you might be willing to try a Weslo treadmill as an entry point into the world of home fitness equipment.
Just be aware that if you do decide that regular exercise is for you, you'll soon outpace the capabilities of a Weslo treadmill and you'll wish you'd purchased a sturdier, more durable machine. We believe this is true, even if you prefer walking over running as your cardio exercise of choice. A quality home treadmill that is sturdy, steady, and built to last is a worthwhile investment.
Some features of the Weslo Cadence G 5.9 treadmill include:
16″ x 50″ Treadbelt – This is probably one of the biggest drawbacks to the Weslo Cadence G 59. A 16″ wide belt is very confining. Use the tape measure technique mentioned above to see for yourself just how restricting this space will be to your movement.
2.25 HP Motor – This is not the same as a 2.25 continuous duty hp motor. Continuous duty is the industry standard for rating the power of a treadmill. It represents the horsepower that a motor runs at effortlessly. The 2.25 HP motor on the Cadence G 5.90 is the peak rating. When comparing to a continuous duty motor you probably are getting about 1.50 hp – a small motor that does not have a lot of power. It won't take much to make this motor strain.
Manual Incline – The incline feature on a treadmill is a plus. It allows you to intensify your cardio workout and to focus on different lower body muscles. However, because Weslo's incline control is manual, you have to get off the machine to adjust the incline. Also, there are only a couple of settings.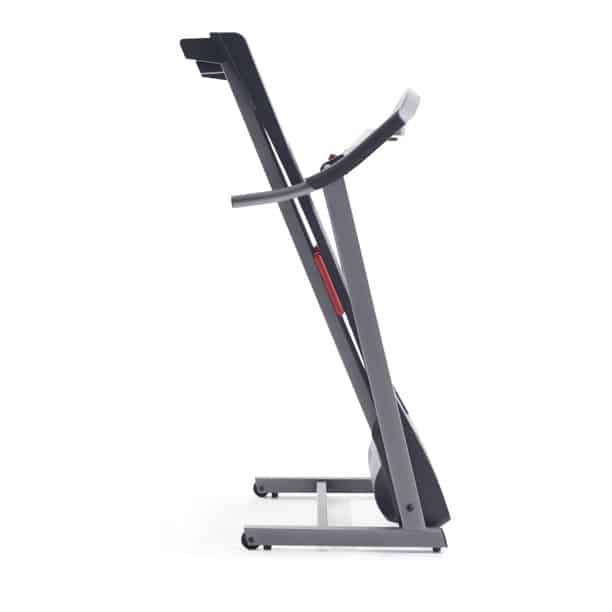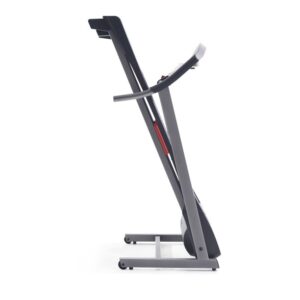 Stability – The stability is compromised by the light weight of the machine. As mentioned above, the treadmill weights approximately 100 lbs. So if you weigh 150 lbs, you are 50% heavier than the treadmill.
Minimal Shock Absorption – While you won't get the kind of reduced impact you'll find on higher priced treadmills, any treadmill can be an improvement over walking on asphalt or concrete.
Warranty – The extent of the warranty reflects the quality of the treadmill. Weslo has extremely limited warranty coverage. You get 1-year on the motor and 90-days parts and labor. The 90 days coverage tells the story. If this treadmill were built to last, the coverage would be longer than that. If you choose to purchase a Weslo treadmill, and an extended warranty is available from your retailer, we highly recommend opting for the extended coverage.
What people are saying about Weslo Treadmills
The Weslo Cadence G 5.90 treadmills get very mixed reviews online, with strong opinions both both for and against them. While there are numerous people who have purchased them and are very satisfied, there are also many who are not so happy.
One very satisfied five-star reviewer on Amazon shared the following about her experience with the Welso Cadence G 5.90 treadmill:
"We put the treadmill in front of the TV and committed to taking turns on it while we watched our favorite Netflix shows. This one big decision and one small commitment has been life changing for us. We now each work out for an hour a day, almost daily and since purchasing the treadmill seven months ago… This particular treadmill was not terribly difficult to put together, does not take up too much space and is much sturdier and enduring than I thought it would be given its smaller size. I highly recommend … this product, which happens to be well priced on top of it all."
A dissatisfied Amazon customer said this about her Weslo Cadence G 5.90 treadmill:
"Worked for 2 years without a glitch. On the 3rd year it started starting and stopping during run within the first few minutes. Now. After no damage done to the treadmill at all, it has stopped working. Completely. Doesn't even begin to move once powered on… You get what you pay for."
Yet another dissatisfied customer observed in her detailed Amazon review of the Weslo Cadence treadmill that the treadmill would not operate properly unless she subscribed to the manufacturer's monthly subscription-based online virtual workout feature, iFit®, which she did not wish to purchase or even try. She expressed her disappointment at how the treadmill owner's manual did not describe how to operate the machine without an iFit® subscription, and concluded that this made her feel as if the manufacturer was attempting to scam the customer.
It's also worth noting that out of 41 treadmills rated by a popular consumer magazine the Weslo Cadence G 5.9 came in second to last.
All that being said, if you're a satisfied user of a Weslo treadmill, please let us know. We'd like to hear from you.
Our Review – Weslo Treadmills
We appreciate Weslo treadmills for what they are… a very small, lightweight, low-priced treadmill. They provide an option for those who are working out in a very small space or operating on a very limited budget.
Having said that, we feel it's important to emphasize that Weslo treadmills are built for casual use. This means infrequent walking. In fact, we're willing to uplevel our opinion to a word of caution: If you plan to buy a Weslo treadmill, please use it only for walking. This machine is not designed for running, and we want you to stay safe and enjoy working out.
That being said, we understand about being uncertain if regular exercise is for you, and being hesitant to spend money on a piece of equipment that might turn out to be an expensive clothes hanger. If that thought keeps circling in your head, a low-priced treadmill can be tempting. We know the less-than-$500 price tag is very appealing, but we suspect you'll be disappointed with a Weslo treadmill. We know we would be.
So, our sincere recommendation is this: If you can afford it, shop for treadmills starting in the $799 range. That's because the models in this price range will generally hold up to regular use and provide you with the results you're looking for in a piece of fitness equipment.
If you're looking for a treadmill for daily workouts and for running we suggest you consider some of the other iFIT Health & Fitness brands like NordicTrack. We prefer the Nordic Track treadmills for home use because they offer a generously sized running surface and supportive shock absorbent deck along with folding for easy storage. And best of all, they're built to last.
While NordicTrack treadmills do have a higher price point than the Weslo treadmills, we've noticed that when NordicTrack treadmills are on sale, you can get an excellent deal.
As ever, when you're shopping for a treadmill, the decision is yours. But if you're looking for a low priced entry-level treadmill we encourage you to check out a variety brands before you invest. We think you'll be happier if you spend a little more on a machine that lasts longer and serves you better.
Click here to learn more about NordicTrack, or click here to shop directly on the NordicTrack website.
This article was written by Lane Therrell and published on Monday, 21 March 2022.
FAQs
Does Weslo make good treadmills?

If you are on a tight budget and have the expectation that you are not getting outstanding treadmill features, Weslo is a good affordable option.

Do Weslo treadmills have incline?

Yes, but it is manual incline which can be a turn off for some users.

Can you run on a Weslo treadmill?

Weslo treadmills have some design and construction limitations that make them more appropriate to be a walkers treadmill.
*Icon Health & Fitness announced its corporate name change to iFIt Health & Fitness, Inc. in 2021.