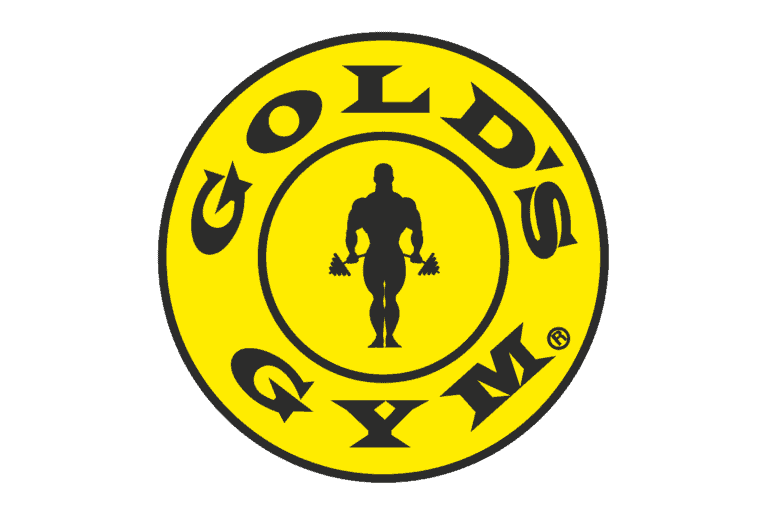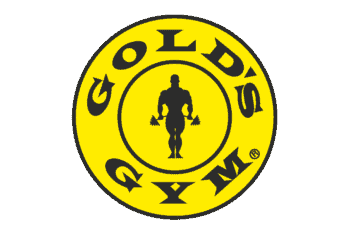 Gold's Gym treadmills are built by Icon Fitness. Icon may sound familiar to you, and that's because they are also the manufacturer of two of the most popular fitness brands in the industry, ProForm and NordicTrack. Icon Fitness is the largest manufacturer of fitness equipment in the world, if not the universe.
Primarily, you will find Gold's gym treadmills in retailers such as Sam's Club and Walmart. However, just because Gold's Gym treadmills are manufactured by the same parent company, doesn't mean that they are comparable to NordicTrack or ProForm treadmills by any means. The Gold's Gym treadmill series is a part of the economy or "budget" fitness equipment line from Icon. These treadmills are not the same heavy-duty, commercial grade equipment that you will find from other brands under the Icon company name. At first glance, the treadmill line up from Gold's Gym seem to be pretty nice, particularly for the price category.
Pros of Golds Gym Treadmills
There are a few things that we really like about the treadmills from the Gold's Gym brand…
Budget Friendly: As we mentioned, these treadmills are mainly sold in discount retail stores. While they do have a few machines that are at the $1,000 range and above, the median price of any given Gold's Gym treadmill is around $500.
Great for Walkers: It's no secret that there are benefits to physical exercise. Recent studies (1) have found that walking daily can decrease your risk of various conditions such as heart disease, stroke, high blood pressure, cancer, and type 2 diabetes. While these treadmills certainly aren't meant to take a serious beating with miles and miles of running, they are perfectly adequate for walkers. Most of their machines have a 2.5 HP motor and walking is about all you'll want to do with that.
Easy Set-Up: One of the most dreaded tasks when purchasing a treadmill is the set-up process. It can really be a daunting task. However, Gold's Gym treadmills do have this aspect going for them. Most users report that set up time is typically around 15 minutes or less.
Shock Absorption: The built-in shock absorption on Gold's Gyms treadmills is actually very nice. Keep in mind the absorption is designed specifically for walkers. If you try to jog on one of these treadmills, you may experience the reverse effect and find the treadmill way too bouncy.
Cons of Golds Gym Treadmills
Now, let's dive into what we don't like – which is a bit of a longer list…
Noisy: If you are in a shared living space or have neighbors anywhere around you, you'll probably want to steer clear of Gold's Gym treadmills. Otherwise, your roommates/neighbors might end up hating you. These treadmills are extremely noisy.
Warranty… Or Lack Thereof: Typically, when a brand is very confident about the quality and durability of their treadmills, there will be an extensive warranty to match. A broad majority of the treadmills from Gold's Gym only come with 90 days of service coverage. So, we'll let you decide what this says about their equipment.
Short Treadbelts: The industry average belt size is 22 inches wide by 55 inches long. Most of the treadmills from Gold's are 16-18 inches wide, and 50 inches long. While shedding just a few inches off your belt size might not seem like a deal breaker, it will make a really big difference in the comfortability you have during workouts.
Lightweight: In a lot of different products, boasting that something is "lightweight" is typically a great product feature. That's not the case with treadmills. The treadmills in the Gold's Gym product line are extremely lightweight. What this will translate to while in use is feeling very unstable.
Customer Service: One of the largest consumer complaints online concerning this brand is that their customer service department is extremely lacking.
Shipping: At the time of this review, if you want a Gold's Gym delivered to your home from an online purchase, you have to pay extra for shipping and handling. You can, however, have it delivered to your local Walmart store with free shipping. Once it arrives at the store, you are responsible for picking up the treadmill and getting it home. If you choose in-store pickup, you will probably need to find someone to help with moving the treadmill. It's a little inconvenient and honestly archaic in our day and age to not offer a home delivery option.
Construction: A lot of the issues found with these treadmills boil down to the overall construction. They are just poorly constructed with cheap components. Gold's Gym treadmills are notorious for breaking down on people.
Should I Buy a Golds Gym Treadmill?
We understand that everyone doesn't have thousands and thousands of dollars to go drop on an in-home treadmill. While our staff are firm believers in finding quality equipment that can fit within your budget, we are not fans of trying to sell people to waste their money. In our opinion, there are much better treadmills out there that are affordably priced and won't break before you even get the chance to use it.
The Best Budget Treadmills Under $1,000
Since the main attraction of Gold's Gym treadmills is the affordability of their machines, check out these treadmills under $1,000. Although they are budget-friendly, they are constructed with quality components and have all-around much better consumer reviews. These machines will be a much better alternative that will last you years and years with proper care and maintenance.
#1 – Horizon 7.0 AT Treadmill: Best Overall Budget Treadmill – $999
Coming in with our #1 spot rank is the 7.0 AT treadmill from Horizon. This treadmill is packed with features like…
3.0 CHP Motor
Steel Frame Construction
20×60″ Running Surface
15% Incline, 0-12 MPH Speed
Heavy Duty 253. LB Unit Weight
Foldable
Variable Response Deck Cushioning
7″ LCD Screen
Lifetime Frame and Motor Warranty
The Horizon 7.0 AT treadmill comes loaded with features, and has an impressive warranty to back it up as well. To learn more, check out our full review here or click here to shop the Horizon 7.0 AT Treadmill .
#2 – Sole F63: Most Durable Budget Treadmill – $999
Sole is a brand that is known for the durability of their fitness equipment. When we are asked for recommendations for treadmills that are really built to last, we direct people to Sole. Some of the top features on the F63 treadmill include:
3.0 CHP Motor
20×60″ Treadbelt
2.5″ Rollers
Quick Touch Speed and Incline Controls
15 Incline Levels, Up to 12 MPH Speed
6.5″ LCD Display
Cushion Flex Whisper Deck
Bluetooth Speakers
Foldable
Lifetime Frame and Motor Warranty
Similarly to the Horizon 7.0 AT, the F63 treadmill from Sole doesn't skimp out in the spec department. To learn more about this machine, read our full review here or click here to shop on the Sole website.
#3 – ProForm City L6: Most Affordable Budget Treadmill – $599
If you're really strapped for cash, the City L6 treadmill from ProForm is the machine for you. Although it's the lowest priced treadmill in our recommendation list, it still has some pretty decent specs. This treadmill is constructed with quality ProForm components and designed to be small-space friendly.
Small Footprint
Foldable
17.5×45″ Treadbelt
1.6 CHP Motor
0-8 MPH Speed
iFit Enabled
ProShox Deck Cushioning
10-Year Frame, 1-Year Parts & Labor Warranty
Since the City L6 treadmill is the most affordable treadmill mentioned, it's fitting that it has the least impressive features in comparison to the others. However, we still recommend this machine as a budget-friendly choice rather than a Gold's Gym treadmill. The City L6 treadmill from ProForm is great for walkers, or those who need to fit their treadmill in a tight space. The best part is that it won't break the bank and it has good service coverage.
To learn more, read our full review here or click here to shop the ProForm City L6.
Honorable Mention – NordicTrack EXP7i Treadmill Priced at $1,099
While it's not under $1,000, the NordicTrack EXP7i Treadmill is priced at $1,099. If you are looking to spend around the $1,000 range and have the extra $99 bucks to put into a machine, the EXP7i is a great option. This treadmill is jam packed with features and although it isn't under $1,000, it is still very reasonably priced when you take the specs into consideration. The best features on the EXP7i treadmill include:
3.0 CHP Plus Motor
Two 2" Digitally Amplified Speakers
Bluetooth Capabilites
7" HD Smart Touchscreen
Smart-Response Drive System
0-12% Incline
0-12 MPH Speed
AutoBreeze Fan
20×60" Treadbelt
FlexSelect Deck Cushioning
SpaceSaver Design
EasyLift Assist
OneTouch Speed and Incline Controls
Now, looking at the EXP7i and the Sole F63 these are very similar treadmills in terms of components and features. However, the main difference is the technological aspects on the machines. Both of these treadmills have a 3.0 CHP motor, 20×60" treadbelt, incline capabilities, folding technology, and shock absorption built into the deck. The primary differentiation between the two is the screen display.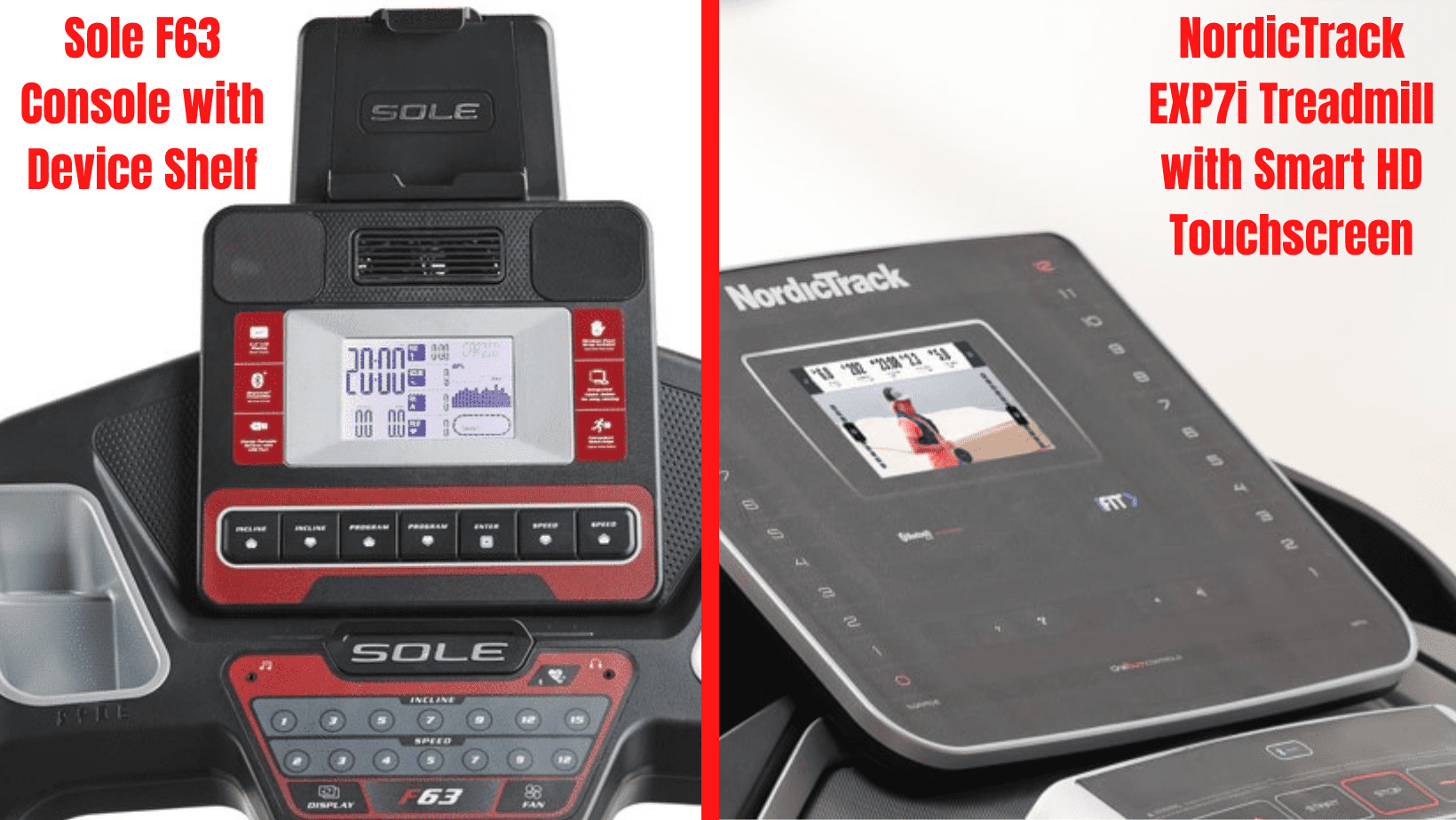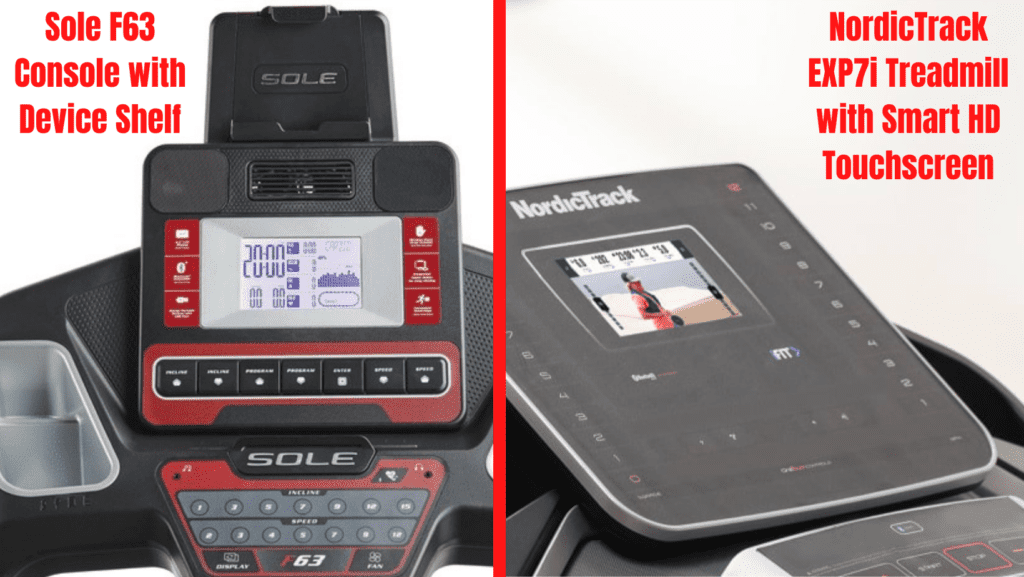 The LCD display on the F63 from Sole is a backlit older style stat-readout screen, whereas the 7" HD Touchscreen on the EXP7i from NordicTrack is much more advanced. The touchscreen will allow you to not only view your stats, but take advantage of the interactive fitness technology iFit. If you don't care much about the extra bells and whistles and just want a solid machine, splurging on the extra money for the EXP7i probably isn't worth it for you.
To learn more, read our full review of the NordicTrack EXP7i Treadmill here or click here to shop directly on the NordicTrack website .
Are Golds Gym Treadmills Worth It?
The low-price points and the advertised features on Gold's Gym treadmill machines just might grab your attention and lure you in. If you're short on money, short on stature and moderate on weight, a Gold's Gym treadmill may work for you. However, these machines are not built for the long haul. At this price range the company has to compromise on the components, engineering and overall biomechanical features. Many consumers that have purchased these machines report issues with their treadmills right out of the box. Due to the many issues and complaints surrounding these treadmills, in addition to the subpar quality of the components; we suggest considering other treadmills that are affordably priced while maintaining integrity.
This article was written by Brook Norris and published on Monday, 14 February 2022.
Golds Gym Treadmills: Frequently Asked Questions
How much does a Golds Gym treadmill weigh?

Most treadmill models from the Golds Gym brand weigh 200-300lbs.

How much do Golds Gym treadmills cost?

The majority of treadmills from Golds Gym cost less than $1,000.

What treadmill does Golds Gym use?

The treadmill most frequently used in Golds Gym is the 430i Trainer.

Are Golds Gym treadmills any good?

Golds Gym treadmills seem like a good deal at first glance with affordable pricing and nice features, there are better budget options out there.

How long do Golds Gym treadmills last?

While most treadmill manufacturers report a 10–15-year lifespan on the average treadmill, Golds Gym treadmills have many consumer reports of being broken right out of the box.
(1) Mayo Clinic (2021)