Delivery and Set-up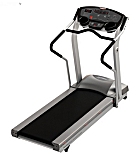 When you purchase a treadmill you need to factor the delivery and set-up options in your overall buying decision. Will the business making the sale deliver to your home and set-up the treadmill or is that your responsibility?
Treadmills are usually simple to set-up, but they will still take you at least an hour or more, unless you have trouble with instructions, in which case good luck. In most cases the treadmill set-up requires bolting the console upright and adding the handle bars.
Fitness specialty stores often include delivery and set-up as part of the overall price. That is one of their strong selling points. Mass merchants usually do not have delivery options and you have to get the treadmill home on your own. Which means you better be driving a pick-up or SUV.
Purchasing on the Internet
Online stores have various options that vary from charging extra for delivery with no set-up, to including delivery and set-up in the overall cost. When making a purchasing decision you need to factor in all additional shipping costs and whether you want to hassle with the set-up. I have seen the delivery charges vary from $100-$300.
VERY IMPORTANT: If you purchase online and set-up is not included be aware of the delivery options. In many cases shipping consists of delivery to your curb in front of your house. Treadmills can weigh up to several hundred pounds. Moving them from the curb to the insider of your house can be a challenge.
I once had a treadmill delivered that weighed 265 lbs. I opted for curbside delivery to save money. The treadmill was so heavy I had to put it in my SUV and drive it inside the garage. Fortunately we were keeping it in the garage. If I had plans to move it to the second floor I would have needed the frontline of the Chicago Bears.
If inside delivery is included or you paid extra for the service, be aware in many cases the delivery men will not carry it up stairs, even a few front steps. Clarify with the company exactly what their limitations are, especially if you plan to have the treadmill on the second floor. The shipping companies often consist of union employees who may not be very cooperative.
I would recommend that if you plan to purchase a treadmill online and it weighs more then 150 lbs, you seriously should consider inside delivery and set-up.
Be aware that often the shipping companies will use semis for deliveries. If your home is not accessible with a semi make arrangements to have the treadmill delivered in a smaller vehicle.
One last note, regardless of where you make your purchase, allow flexibility with the delivery time. There is a good chance the delivery will not arrive at the scheduled time.