Enjoy a 10″ Full Color Touchscreen While You Exercise!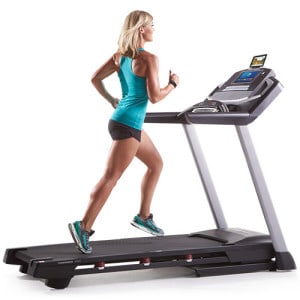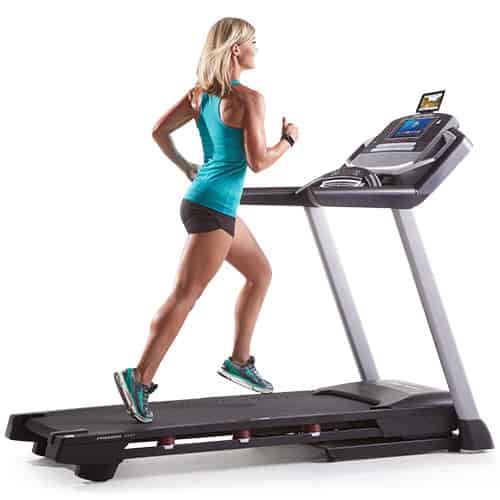 The ProForm Premier 1300 is a model that builds on the features found in the ProForm Premier 900.  It features a larger 10″ touchscreen, stronger 3.5 CHP motor, a longer 60″ deck, and folding technology to help you save on space.
Best of all, the Premier 1300 is iFit Enabled so you are ready to start working out with your machine synced to video routes from around the globe.  Online fitness tracking and coaching programs will help you make better progress towards your goals.  ProForm is part of Icon Fitness, which is the largest manufacturer of fitness equipment in the world.
ProForm Premier 1300 Treadmill Features
3.5 CHP Motor – This size motor will be able to handle your workout without any problems.  There are some machines with larger motors available from NordicTrack and even ProForm, but they tend to be overkill.
10″ Full Color Touchscreen – For me, this is the main attraction with the ProForm Premier 1300.  I love a nice big touchscreen that allows me to swipe through my workout stats and also use additional features to provide some interest to my workout.
iFit Enabled – iFit is a fabulous program available on all Icon Fitness machines including ProForm and NordicTrack.  This system allows you to connect wirelessly to the internet and Google Maps.  You can program  your own routes into the machine and it will sync to the actual terrain (hills and all!)  iFit also allows you to experience running routes in exotic locations like Barcelona and Paris.  The online fitness tracking app includes programs from certified personal trainers to help you reach your fitness goals.  Be aware that iFit does require an additional purchase of a monthly subscription to use its features.
Adjustable Tablet Holder – This tablet holder is really nice because it allows you to mount your tablet in a safe location.  I enjoy watching Netflix or reading blogs while I workout.
20×60″ treadbelt – This is a nice long belt that should work well for almost all users.  The ProForm Premier 900 only has a 55″ inch belt for comparison.
ProShox Cushioning – Proper cushioning is vital to protect your joints from excess stress while you are running.  The ProForm Premier 1300 has cushioning along its entire deck surface.
Folding Technology –  Folding is certainly a handy feature when you want to get the machine out of the way.  It also helps you clean better around your machine.
iPod compatible – No need to mess with headphones.  This machine allows you to plug your iPod directly into the console and hear your music over the treadmill speakers.
Quick Speed and Incline Controls – Quick control buttons are one thing I always look for.  I hate number punching when I'm in the middle of a run.  The Premier 1300 has quick control buttons for both incline and speed.
34 Workout Apps– Even if you choose not to purchase and iFit subscription, this treadmill has enough programs to keep you well entertained.
Workout fan – This fan has both high and low settings and quick control buttons directly on the console for easy management.
EKG Bluetooth Compatible – Monitoring your heart rate during a workout is a great way to make sure you're not going too hard (or going hard enough!)  Use either the pulse grips, or connect your wireless chest strap via Bluetooth (wireless strap is sold separately).
Warranty – Lifetime Frame and Motor, 2 years Parts, 1 year Labor.  (Pretty normal…)
Our Review — ProForm Premier 1300 Treadmill
At the time of this writing, the ProForm Premier 900 is on sale for $999 so it's really hard to come up with a convincing set of reasons to spend almost $1500 more for the Premier 1300.  That Premier 900 sale is just so good!  However, the main differences between the two are as follows:  The Premier 1300 has a larger motor, 5″ extra in length, a larger touch screen, and four more pre-programmed apps.  I think the most important thing for you to consider is the length variation.  If you are pushing 6'0″ or more in height, you would be better off with the Premier 1300.  You will like the extra length and feel more comfortable.  The Premier 900 sale won't last forever though, so be sure to check out the most up to date pricing to make an informed decision.
Regardless of which machine you choose, you'll be getting a pretty nice treadmill from ProForm.  This company is often able to offer higher spec machines at a lower price than competitors.  They are constantly changing prices, sales, and even models, so check back for updates!
Go to www.proform.com/treadmills to learn more.