(Last Updated On: November 21, 2016)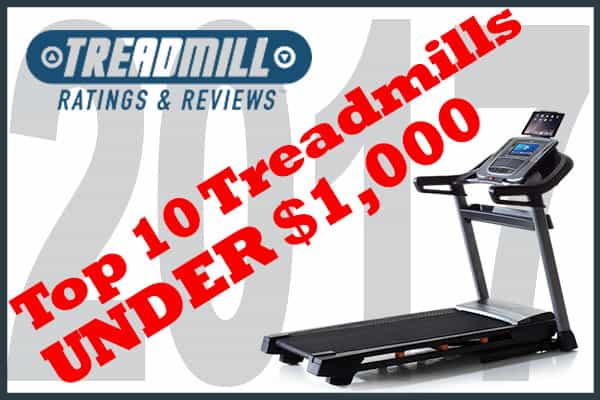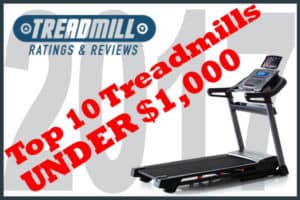 If you are looking for a great budget treadmill to help you get into shape, you've come to the right place!  We've compiled this list of our Top 10 Treadmills Under $1,000.  We rated machines based on the following criteria: stability, durability, warranty, features, programming, and company reputation.
Many of the budget machines out on the market are made of VERY cheap components that will break easily.  Don't waste your money…seriously!  We chose the machines below because they give you the most bang for your buck.  They are from reputable companies with quality components.  Unlike many other treadmill review websites, our team has actually visited the factories and tested the machines!
Without farther ado…here is our 2017 list of the top 10 treadmills available for less than $1,000!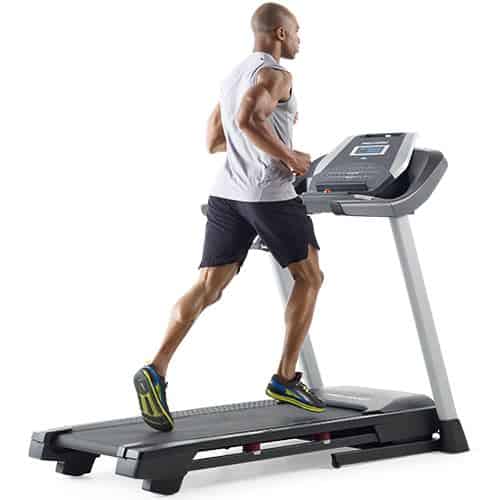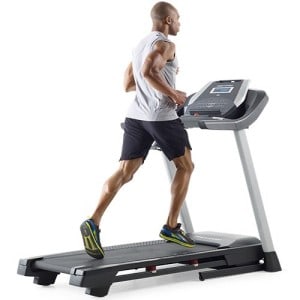 ProForm ZT6 ($599)
Our top treadmill recommendation also happens to be one of the less expensive models on our list.  There are cheaper brands out on the market, but you absolutely get what you pay for.  Those other low quality machines are often very wobbly, have ridiculously small treadbelts, have underpowered motors that strain, and are not adequate for anything more than walking.  Plus, their warranties are often non-existent, which is code for the company saying, "We know this treadmill is a piece of junk!"
In contrast, the ProForm ZT6 is a solid machine from a reputable company.  ProForm is the same company that makes NordicTrack and they are always able to offer higher spec machines for less cost.  The ZT6 has a 2.5 CHP motor that can handle light running, a 20×55" deck, 18 pre-installed workout programs and a folding feature.
Pros: The price!  This is a great machine for people who want to make a lifestyle change and become healthier.
Cons:  This machine is a great deal, but be aware it is a budget treadmill so some concessions had to be made.  We don't recommend this machine for anyone over 250lbs.  Plus, you should be aware it does not have a console fan.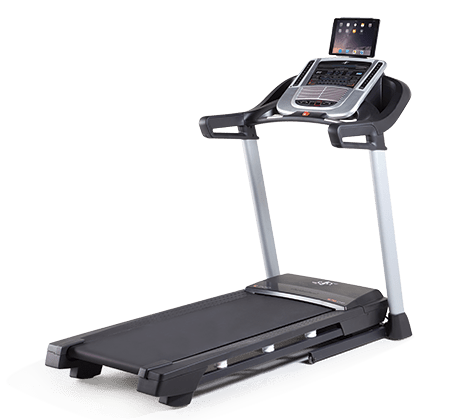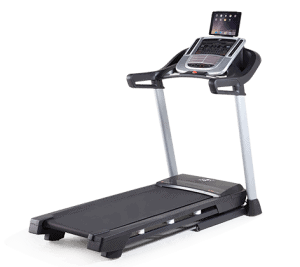 NordicTrack C700 ($799)
NordicTrack is another great company that is known for their innovative technologies and fantastic machines.  The C700 is one of their best values in the budget category.  It is iFit Bluetooth Enabled so you can take advantage of the iFit Live fitness tracking platform.  This feature is the crown jewel of all ProForm and NordicTrack machines.  It allows the user to run virtual courses synced with GoogleMaps.  Your machine will adjust incline to mirror real-life terrain while you view the Google street view on your linked smart device.  iFit Live also allows you to download customized workout programs that get progressively harder over a series of weeks to help you reach your fitness goals.  It's a groundbreaking program unlike anything available from other brands.
Along with iFit, the C700 has an integrated tablet holder, 20 preloaded workouts, 2.75 CHP motor, multi window LED display, 20×55" deck, and a folding design.
Pros:  The NordicTrack C700 is iFit Bluetooth Enabled.  It also has FlexSelect cushioning so you can adjust firmness to match your personal preferences while you exercise.
Cons: You should be aware that the iFit Live does require an additional subscription fee.  It's well worth it if you want to be serious about your fitness goals.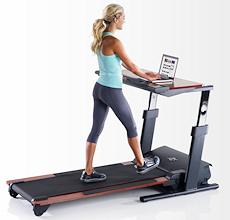 NordicTrack Treadmill Desk ($999)
Overwhelming research has shown that it is unhealthy to sit all day long while at work.  NordicTrack solved this problem by creating a Treadmill Desk that lets you walk along with a desk console in front of you.  Studies have found that this motion actually helps you stay more focused on your projects.  Plus, this treadmill desk is a hybrid model so you can fold up the treadmill deck and still use the desk in a seated position.  It has a 2.6 CHP motor that will easily handle your work-day workout.  Plus, it has a 20×55" deck, LCD console, and is iFit Live compatible.
Pros:  This innovative design will let you walk while doing work, which has been found to deliver many health benefits over long-term sitting.
Cons: Be aware that this particular machine is iFit "compatible", which means you'd need to purchase a $99 WiFi module in order to link the machine to your smart device. There is no incline feature on this treadmill desk.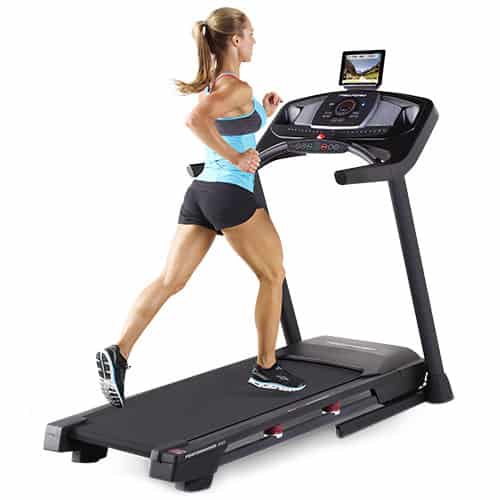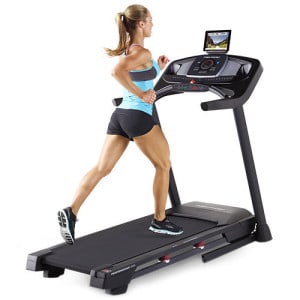 ProForm Performance 400i ($599)
The ProForm Performance 400i is very similar to the ZT6 with a few notable differences.  It is a great machine for light running with a 2.5 CHP motor, 20×55" deck, Bluetooth Enabled iFit Live, tablet holder, and folding design.
It also has a unique Round Watts LED Display that shows you your power output on the console with bright lights.  This display tells you if you are in the Endurance, Tempo, or Peak zone of effort.  There are quick select buttons for interval training so you easily switch between maximum effort and recovery.
Pros:  Once again, the price is the top benefit on this machine.  Plus, you'll enjoy the iFit Live features on your linked smart device.
Cons:  This machine has ProShox cushioning.  There are certainly better cushioning systems out on the market but we still feel this is a significant improvement over walking on the street.  We don't recommend this machine for anyone over 230 lbs although the factory limit is listed at 300 lbs.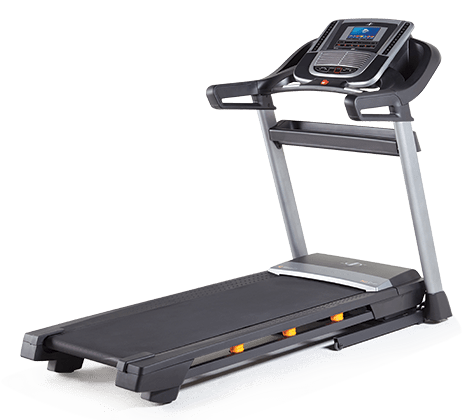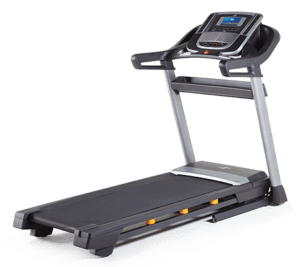 NordicTrack C990 ($999)
The top feature on the NordicTrack C990 has to be the wide range of 32 programs along with the 7" web enabled touchscreen with iFit Live Enabled.  With these two features combined, there is no way you'll ever get bored working out on your treadmill.  The industry has made great strides in finding ways to motivate users and this machine is a prime example of their best achievements.
The NordicTrack C990 also features a 3.0 CHP motor, long 20×60" belt, large 2.5" rollers, 12% incline, FlexSelect cushioning, a tablet holder, and folding capability.  Phew!  That's a long list of benefits for only $999.
Pros: Beyond all of the awesome benefits listed above, this machine also comes with a free wireless heart rate strap ($50 value.)  Your machine will link with the strap to provide continuous heart rate monitoring.  Also, we want to highlight the length on this machine (as it's the first on our list to come in at 60").  Taller users or those with longer strides will definitely want to get the longer deck so they don't feel cramped.
Cons:  Gosh…there's not much we can say that is bad about this machine for the price. I guess we need to concede that this barely squeaks under the $1,000 limit, but the benefits definitely make this a high value machine.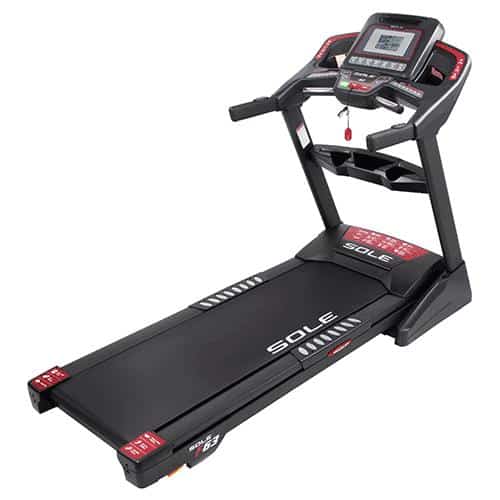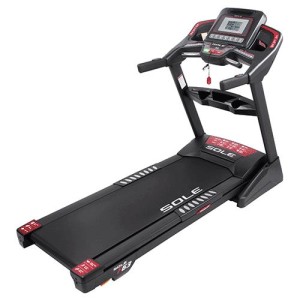 Sole F63 ($999)
We can't make a list of the best treadmills under $1,000 without including one superstar machine from Sole Fitness.  This company is known for making very durable machines that are extremely low maintenance.  They have excellent customer service and stand behind their products.
The Sole F63 is a great machine for light running and includes Bluetooth capability so you can link your machine to a free Sole Fitness app.  This will allow you to track your workouts and progress towards your goals.  The F63 comes with a 3.0 CHP, spacious 20×60" deck, large 2.5" rollers, 6 programs, and a 6.5" white LCD display.
Pros: The F63 weighs a whopping 253 lbs, so it is a very stable machine that is not going to wobble while you exercise.  It is heavier than most other machines in this price bracket.  Plus, it has speed and incline controls right on the arms for easy access.
Cons: This is not the quietest machine in the world and it doesn't have five-star shock absorption.  If you're looking for a quieter or more comfortable running surface, you're going to have to climb up the price bracket a bit with Sole.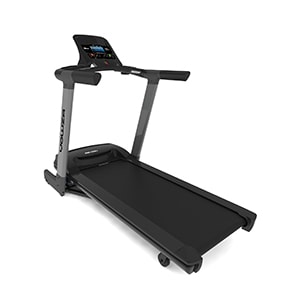 Yowza Delray ($799)
Yowza Fitness is another company that has stellar customer service.  In fact, we'll go as far as to say they offer some of the very best.  The Delray machine is their entry level non-folding machine with their patented "swing arm suspension."  This type of cushioning is a bit different from other types of cushioning on the market.  A rocker arm at the front of the treadmill deck acts like hydraulics to absorb the shock of each footfall.  Then, as your foot travels towards the back of the deck, it encounters a solid surface from which to push off.
In addition, the Delray has a 2.75 CHP motor, 20×55" deck, 15 programs, LCD display, built in speakers, and quick-press buttons for speed and incline.
Pros:  The Yowza Delray comes with a free wireless heart rate strap ($50 value).  We really like the layout of the console and quick select buttons.  They make it easy to transition between speeds.  Plus, you won't find nicer company reps than those at Yowza Fitness!
Cons:  We found that the water bottle holders on the console were a bit narrow.  They would not fit a wide 32 oz Nalgene bottle.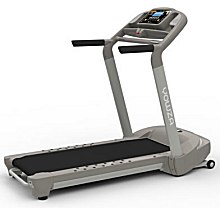 Yowza Osprey ($999)
If you are looking for a very compact folding machine, then we have two choices for you again from Yowza Fitness.  The Yowza Osprey has surprisingly comfortable shock absorption even though it's nothing fancy (8 point spring encased dampening system).  Plus, it has 16 programs, 12 levels of power incline, a 2.75 CHP motor and a 20×52" deck.  Compared to many other folding models we've featured, this machine folds up to a VERY small size.  When folded, it will only take up 24×33" of floor space, so it is perfect for small homes or apartments.
Pros:  The Yowza Osprey folds up to an incredibly small 24×33".  Plus, it comes with a smart scale as part of Yowza's 'Intelligent Weight Management' program.  This system lets you hop on a scale before each workout which will measure your weight and body mass.  The data is wirelessly transferred to your treadmill so the machine can adjust your speed and incline to help you maintain or lose weight.
Cons: This machine is only 52" in length.  Granted, there are many cheap treadmills on the market that are even shorter, but we want to make you aware that taller users may feel cramped on this treadmill deck.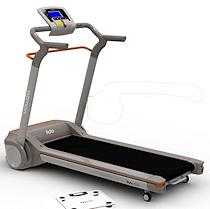 Yowza Lido ($899)
Our 9th treadmill recommendation makes the list not because of price or features, but because of pure compact size.  It's tiny!!  Still, it comes from a great company and this machine will stand up to the abuse of your workouts much better than other compact treadmills on the market.
The Yowza Lido comes with 2" rollers, a 17×51" deck, 2.5 CHP motor, 8 programs, and an Intelligent Weight Management scale.  It can reach speeds of 8.8 MPH and folds up to a depth of only 14 inches!!  You could literally push this into a corner, throw a blanket over it and forget it's even there.  The Lido is perfect for small homes, offices, or apartments.
Pros:  It is a very small folding treadmill and easy to move at only 182 lbs.  It comes fully assembled so you can open the box and start your workout right away.  Plus, it comes with Intelligent Weight Management and a smart scale to help you reach your weight goals.
Cons: There is no shock absorption on the Lido so it is going to feel similar to running on the solid ground outside.  Plus, it only has manual incline with two levels.  Taller users should be aware that it only has a 51" deck.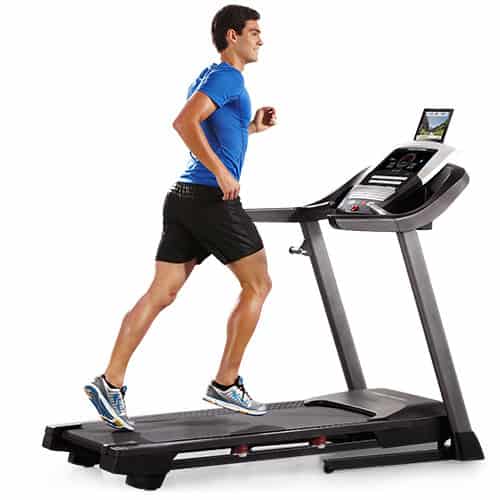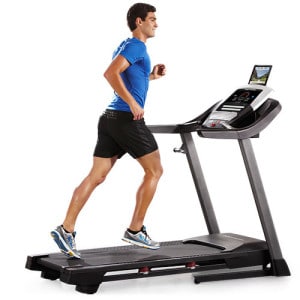 ProForm Sport 7.5 ($799)
ProForm started our list so it's only fitting that they end our list as well.  ProForm is one of the dominant brands in the budget treadmill category because they offer great machines at a low price.  The ProForm Sport 7.5 is only $799 and comes with a noble selection of features.
The Sport 7.5 has a Round Watts LED display along with iFit Bluetooth Smart Enabled feature and an integrated tablet holder.  It has a 2.75 CHP motor and speakers with iPod/MP3 input capability.  The deck is 60" long.  Finally, it features a Lifetime warranty on the frame and motor.
Pros:  Anyone who is over 6-foot tall should really be looking at the machines on our list that are 60" or longer.  Otherwise, they will likely feel cramped on the treadmill deck.  We like that the ProForm Sport 7.5 is iFit Bluetooth Enabled so you can take advantage of all of the awesome iFit Live features.
Cons:  The ProShox cushioning is not going to blow your mind, but it is certainly better than running on pavement.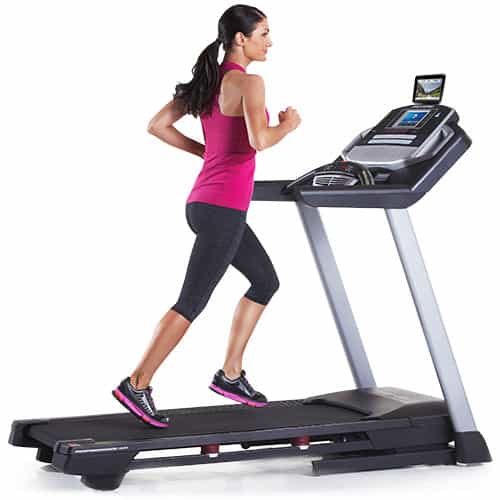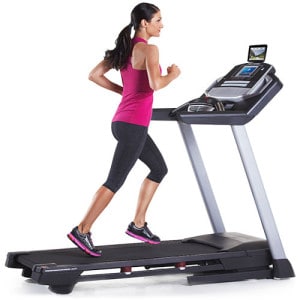 Honorable Mention:  ProForm Premier 900 ($829) CLOSEOUT
This machine would have made our list except for the fact that it is currently on closeout with ProForm.  At the time of this article writing, there are about 400 models left.  If you're quick, you might be able to snag this great deal.  (Our apologies if it's already sold out…)
We like this machine because it offers a LOT of features for under $1,000.  It has a 3.0 CHP motor, 20×55" treadbelt, folding feature, and an integrated tablet holder.  ProForm is a solid company that comes from the same manufacturer as NordicTrack.  Since the parent company is so large, these companies are able to offer much higher specs at a lower price.
Pros:  The best thing about the ProForm Premier 900 is the 7" web enabled touchscreen.  Plus, ProForm is one of the companies that offers the iFit fitness tracking program.  You'll be able to run virtual courses synced to GoogleMaps, download customized workout plans, and track your fitness progress on your online iFit account.
Cons:  You'll find with many budget treadmills that they do have limitations on the amount of abuse they can handle.  For the ProForm Premier 900, we don't recommend buying this machine if you're over 300 lbs.  Plus, taller people may need a longer 60" treadmill length.  Finally, you should be aware that there is an additional subscription fee for iFit.
If you are looking for more sophisticated programming, better shock absorption, more jaw dropping displays, or a machine that can handle serious running, than we'd urge you to consider some treadmills in the next price bracket.  You can get a seriously nice machine for a just a few more hundred dollars that will work well for you long into the future.  Check out more of our Mid-Range Treadmill Reviews to find the one that works best for your body and budget.  Happy shopping!