Yowza Lido Treadmill Review
| | |
| --- | --- |
| Brand: | Yowza Fitness |
| Expert Rating: | |
Great for People with Limited Space in Homes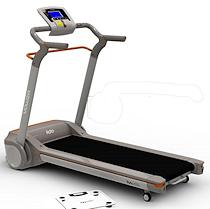 The Yowza Lido folding treadmill is for people who have limited space in their homes.  It is one of the best options for a treadmill that is very compact.  Although we encourage people to get heavy, stable treadmills with adequate size motors, there is one drawback. These models take up considerable space, and are often not very mobile. Several manufacturers are coming out with more compact models that target people who have limited space – such as apartment dwellers.
When we first saw the Lido machine at Yowza headquarters, we were a bit reserved.  Then, when we began to consider the benefits for those with little space, we warmed up to the idea and to the machine.  Unfortunately, Yowza Fitness isn't what it used to be.  Models have been out of stock for extended periods of time.  The company seems to be a sinking ship, so you may want to check out other brands like ProForm or NordicTrack.
Yowza Fitness is OUT OF BUSINESS.
We are still waiting to hear more information about this company but it seems they are no longer producing machines.  
NOTE:  
Check out some of the competitively priced folding machines from ProForm.  For example, the
ProForm Power 995i
.
Check Our This Video Review
Please note:  The Lido has no shock absorption and a slightly different unfolding mechanism than the Osprey shown in this video.  Still, it comes fully assembled, includes the Intelligent Weight Management technology, and has a Lifetime warranty on the motor and frame. 
The Yowza Lido Folding Treadmill Pros and Cons
Extremely Compact – When folded, it has a depth of only 14″.  This is extremely compact for a folding treadmill. You can put it against the wall and it hardly takes up any space.
Easy to Move – Your treadmill needs to be easily moved if you have limited space and want a treadmill you can store. When folded, the 182 lb Yowza Lido is fairly easy to move from one location to another.
Comes Assembled – Assembling your new treadmill can be a huge pain. The Yowza Lido comes already assembled. Raise the console, plug it in, and you are ready to burn calories.
2″ Rollers – Rollers are important in extending the life of the treadmill. These are not the biggest rollers on the market. Still, considering how compact and inexpensive this treadmill is, they are larger than we would expect on a compact model.
Running Deck – Although the Lido does not use any form of shock absorption, it does have a layer of dense foam that has been applied in strips along the frame directly under the running deck.
17″ X 51″ Treadbelt – This small running area is a consequence of purchasing such a compact design. Measure seventeen inches and you will see it is not very wide. With this size, you are likely going to be limited to walking or some light jogging.  Also, the length of the belt limits the user height to somewhere around 5″10′, especially if you plan on jogging.  If this particular model is just a bit too small for you, you may be better off looking at the Osprey or Sebring models from Yowza.  With a similar design, they have increased width and length.
2.5 Continuous Duty HP Motor – This is a reasonably decent sized motor for a compact treadmill and should not strain unless the user is extremely heavy.
Manual Incline w/ Two Levels – This is one of the major compromises of the Yowza Fitness Lido treadmill.  You have to manually adjust the incline and there are only two incline levels.  This also means if you want to incline the deck you have to stop the machine, get off, and make the adjustment.
Programs and Console – The Lido comes with eight total programs and can save seven individual user profiles.  This is adequate for those who want some variety in their workout.  The speed goes up to 8.8 mph and there are pulse grip handles to check your heart rate.  The console on this machine is pretty minimal.  It has a safety clip and buttons to control the speed and programs.  It does not have a water bottle holder or fans.
Intelligent Weight Management (IWM) Equipped – This feature is only available through Yowza Fitness. You will receive an IWM scale that wirelessly transfers your current weight to the Lido Treadmill.  You can set your goals on the treadmill and it will create a customized workout program to help you reach your goals.
Decent Warranty – This is the best warranty you will find on a compact treadmill – Lifetime motor and frame coverage, and 2-years parts/electronics and 1-year in-home labor.
Our Review – Yowza Lido Folding Treadmill
As a compact treadmill, the Yowza Lido folding treadmill is probably the best design available. It weighs more than other compact designs resulting in a more stable frame. We were impressed by the quality of this machine for the price.  If you have limited space this is an good choice.
However, if space is not an issue, you would want to consider a treadmill with a larger surface area, larger motor, and power incline.  We recommend you check out some folding options from a company like ProForm or Sole Fitness.
One more note: The Yowza Lido treadmill is not designed for tall and extremely overweight individuals.  It should not be considered for multiple users, although it should handle two moderate users.