Feature Rich at a Bargain Price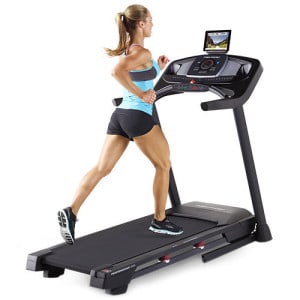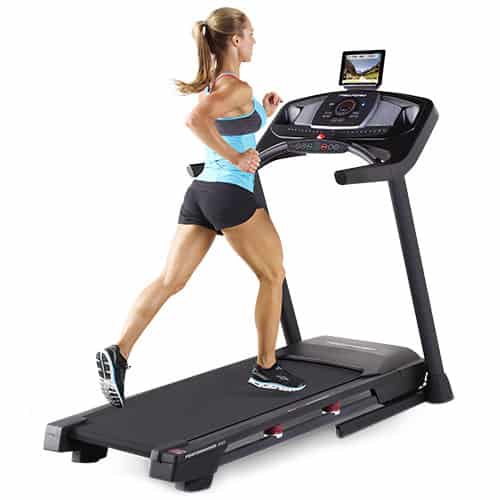 Price Alert: $300 OFF the Regular Price!
One of the reasons ProForm is so successful is they offer more for less and the ProForm SMART Performance 400i is a perfect example.  The Performance 400i includes an integrated tablet holder and is iFit Coach Ready. ProForm is part of Icon Fitness, which also builds NordicTrack, Gold's Gym, Weslo, Epic, and Image. ProForm is able to offer some of the best value in the $600-$1,000 price range.
The ProForm Performance 400i treadmill is a great example of high quality for a lower price. It has some limitations, but does a great job of surpassing many comparably priced machines.  Although people often buy this as a running treadmill, we would recommend it for primarily walking and light jogging for one or two users who work out several times a week.  Remember that $599 is a low price for a treadmill and it even comes with free shipping!
What's the Difference Between the Performance 400i and SMART Performance 400i?
Every year, Icon releases new models of their machines with upgraded technology and features.  This year, the Performance 400i is being boosted up to a SMART machine with the addition of a 7″ Smart HD Touchscreen, 1-year of iFit membership included, and 50 on-board workouts.
It should be noted that the SMART Performance 400i also has a downgraded 2.0 CHP motor, smaller 1.6″ rollers, smaller 18×50″ treadbelt (this is really disappointing!) and no more tablet holder.
ProForm Performance 400i Treadmill Features…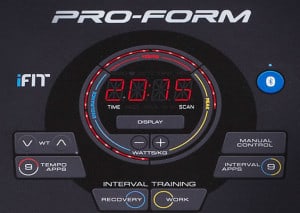 iFit Coach Ready – This feature allows you to download a Google Maps route or create your own so that you can run in exciting locations around the globe.  The treadmill will automatically adjust the incline to mimic trail routes from Mongolia to Barcelona.  The library of workouts is ever-growing and created by certified personal trainers. You can manage you iFit account online to track your progress towards your fitness goals.  The membership for iFit is sold separately online and is managed with a monthly subscription.
Integrated Tablet Holder – Who says you need to put your life on hold while you work out?  This device shelf keeps your tablet safe and secure so you can manage your training tools, email, or entertainment while you work out.
Round Watts LED Display — The display on the Performance 400i allows you to see instantly on the display if you are in the Endurance, Tempo, or Peak zone. The Work button is used when you want to kick it into high gear and then use the Recover button when you want to slow it down.
2.5 Continuous Duty Motor — This motor is more than adequate for walkers and light joggers.  Other brands would charge around $999 for a machine with this size motor.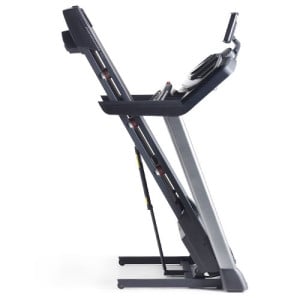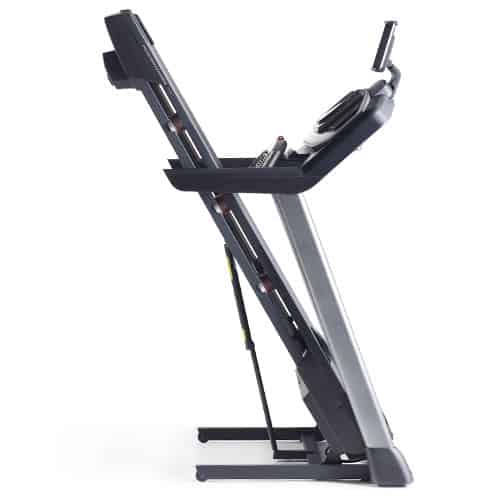 Easy Fold — Folding is always a great feature on a treadmill especially when it has a easy-lift shock to assist with the transition.
300 lb. Weight Capacity — Remember that this is a budget level treadmill so we'd recommend below 275 lbs.
20″ x 55″ Treadmill — This length will work well for most people.  If you're over 6-foot in height, you might want to look at a 60″ length instead.
Shock Absorption —  There are better machines out there with more sophisticated shock absorption.  Still, if you're comparing this to walking on the street, the ProShox deck is a vast improvement.
18 Workout Apps — You get 18 built-in workouts that are designed by a certified personal trainer.  Preset speeds, inclines, and time will help you reach your maximum performance.  We find that these preset workouts help prevent boredom.
Speakers with MP3 Input — Enjoy your music while you workout.  These speakers have decent quality.  You can also plug in your iPod directly into the machine.
Warranty — You get 25 years on the motor and 1-year parts and labor.  Reasonable at this price.  Spend just $200 more for the Performance 600i and you can get a lifetime motor warranty.
Our Review — ProForm Performance 400i Treadmill
The improvements on the console make this a very nice budget treadmill option.  iFit is a truly excellent interactive feature on the Icon machines.  The Proform Performance 400i allows you to take advantage of a trusted name in fitness while spending much less money than you'd expect.  This is a great value at $599 if you're only planning on moderate exercise.
ProForm has the best budget machines in this price range because their machines offer a lot of features for a low price.  You may also want to check out the Performance 600i for a larger motor, longer running surface, more programming, more incline/speed settings, and a better warranty.  Overall, worth it!
Just to repeat – we recommend the Performance 400i at $599, but not the SMART Performance 400i at $999.  At this time, the newer machine is definitely not worth the price tag.
Check out a comparison chart of all ProForm treadmills here.
Go to www.proform.com/treadmills to learn more!