Make the Most of Your Workouts with iFit Live
Below are a list of iFit Live compatible treadmills with links to their reviews. Each is equipped with iFit technology, the popular program that acts as a virtual professional trainer or which lets you run or walk anywhere on the planet. See the iFit Live Review.
How iFit Live Treadmills Work
There are basically three functions to iFit Live equipped treadmills. You can get customized progressive workout routines from professional fitness trainers Jillian Michaels or Elisabeth Hasselback. These workouts target fitness goals like weightloss, power walking, 30 Day Body Makeover, getting fit or performance.The workouts include audio coaching by the trainers.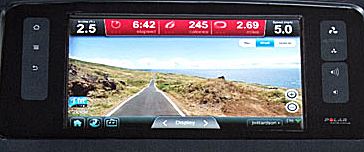 After each workout your results are uploaded onto ifit.com, where you can track your results. You are able to increase or decrease the intensity of your workout. In addition, through Google Maps you can trace routes and your treadmill will simulate the terrain by controlling the incline.
With several NordicTrack treadmills you can also decline the deck so you can simulate going up and down hills. With their sub $1,500 models you can watch your progress on Google maps with either a laptop or smartphone, that you can place on the console. The higher price treadmills come with a built-in full color android browser, where you can access Google Maps direct.
Finally, there are a series of programs that allow you to train for 5K, 10K, half marathons or full marathon races. After you get yourself ready to race you can run in virtual races with other iFit Live Treadmill owners.