Last Updated on November 22, 2021 by Site Admin
iFit Interactive Fitness Technology Review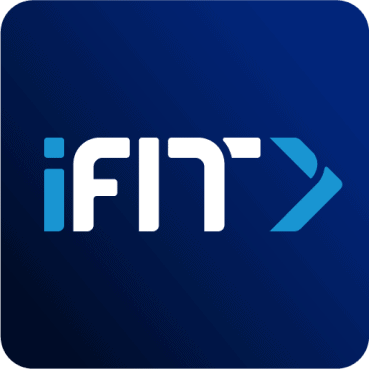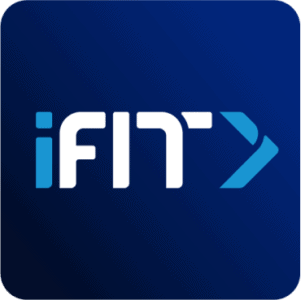 If you've owned a treadmill or been on the market to purchase a new treadmill for any amount of time, you may have heard of the technology known as iFit. iFit.com was originally founded back in 1989, and the application has made huge developmental strides since then. Today, iFit is a world-renowned interactive personal training technology. This software is available exclusively from machines made by the parent company Icon, which will be the brands NordicTrack and ProForm. In recent years, iFit has gained an immense amount of traction and popularity among users.
Recently, members of our review team were able to visit the Icon Fitness headquarters in Logan, Utah. When we were visiting, we were able to try out the iFit technology firsthand and we were thoroughly impressed with the user experience that this software has to offer. Members of our team are not the only ones who have been impressed with iFit – the software currently has over 1.3 million reviews with an average consumer rating of 4.7/5 stars.
Why iFit?
The premise behind the iFit program is to help users better track their fitness activity to be able to make more improved progress overall toward their unique fitness goals. Research has proven time and time again that those who keep track of their fitness progress have better results long-term. A recent participation study found that the participants who utilized a fitness tracker for 12 weeks were more likely to increase their levels of physical activity for years to come (1). In addition, using an interactive fitness technology like iFit will allow users to keep their workout routine fresh and new.
In the fitness world, there is a workout principle known as SAID. This acronym stands for Specific Adaptation to Imposed Demand. Essentially, this principle means that our human bodies adapt specifically to imposed demands. What does that mean for your workout routine? If we keep going through our fitness journey and simple keep on doing the same old exercises and routines, eventually our bodies will adapt, and we will reach a plateau. Using iFit helps to alleviate this problem by always keeping a wide variety of workouts available to users of the program.
How Does iFit Work?
iFit is available for access on all NordicTrack and ProForm fitness equipment. When you purchase your machine, you'll be able to use iFit directly from your treadmill screen. There is a mobile app so that users can connect their account to both their exercise equipment as well as their mobile device. This will allow users to access workouts as well as community support and fitness tracking from anywhere.
*Note: WiFi connection is required for iFit capabilities.
Top Features of iFit
Previously, there have been many different names for iFit and the features have varied from machine to machine. The technology is now all under one category, and the features have been amped up, too!
World Class Personal Trainers
Users will have unlimited access to over 130 world-class personal trainers. Different trainers specialize in different workout categories. Not only are the trainers industry professionals, but during your workout your personal trainer will be able to make automatic adjustments for you. Trainers are able to guide you and challenge you by adjusting your machine speed, incline, and resistance. The days of having to leave your house and go to the gym to have access to your own personal trainer are gone. Enjoy all the perks of using a trainer right in the comfort of your own home.
Variety of Workout Categories
If you thought using iFit meant only being able to work on your walking or running capabilities… think again. There are many different categories to choose from. Some of the options include walking, running, cross-training, strength, yoga, cycling, rowing, and recovery. There's something for everyone at every fitness level.
Live and On-Demand Workout Options
Want to workout in a live studio class? Or would you rather browse through an on-demand workout library and choose the class that you're feeling that day? With iFit, you have the option to do both. Users can choose to get their heart pumping at anywhere and at any time from an ever-growing workout class library.
Or, if you're in the mood for a live class – trainers are available for scheduled live classes on treadmill machines and the tablet version of the iFit app. During the live workouts, users can text their trainer during the live class so that your personal trainer can respond to you in real time if you have a question or need fitness advice. The live workouts give users a more personable experience with their trainers, as trainers can choose to host a class from the comfort of their home, or even on their favorite neighborhood path. In addition, enjoy some friendly competition during live classes with a live workout leaderboard.
Take Your Workouts Global
Working out from home on a treadmill may sound less than glamorous to you, but the exercise variety and the scenery options will keep you motivated, educated, and entertained! iFit is integrated with Google Maps Technology. This integration will allow users to take their workout virtually anywhere across the globe. Get your sweat on with breathtaking views and watch your workout fly by as you take in the new and exciting landscapes with your personal trainer.
Series Training
If you have a difficult time sticking to a workout routine, don't worry, you definitely are not alone. In fact, according to recent studies only about 19% of the United States population engages in sports or physical exercise on a daily basis (2). The series training offered from iFit are perfect for those of us who need consistent motivation and a scheduled program to be able to stick to. There are over 140+ workout series to choose from. The series vary in intensity, workout type, duration, and scenery.
In-Depth Fitness Tracking
The technology keeps a detailed overview of your workout statistics and progress. During your workout, you can keep track of details like heart rate (BPM), heart rate zones, average speed, max speed, and more. When you access your account on the app, it's easy to track your progress over time to see how far you've come when you're able to look back on training statistics from all of your previous workouts.
Community Access
Staying motivated in your fitness journey is not an easy task, and it's even more difficult when you're trying to do it alone. The iFit app offers a community support group exclusively for members, so that you're able to communicate with others who are on the same journey to health that you are. Community will help you stay motivated, inspired, and accountable.
How Much Does iFit Cost?
Most machines from NordicTrack and Proform offer a 30-day free trial of the iFit application so that users are able to test it out. After the free trial is over if you choose to continue your membership, the cost is $39/month.
Is iFit Right for You?

iFit may seem like an unnecessary expense to some. However, when you consider all of the perks, it may actually save you money. How? The average monthly cost of a gym membership in the United States is $50/month. In addition, the national average hourly cost of a personal trainer is $60/hour. So, let's say that you are paying your monthly gym fees and using a personal trainer 3 times/week. This means that your monthly gym expense will be over $700/month. Yikes!
Although your health is something you should always be willing to invest in, there is a more cost-effective way. When you purchase a top-rated treadmill from NordicTrack or ProForm, you'll have the initial cost of the equipment – but after that, it's yours to own! In contrast to a gym, you never own any of the equipment.
After the cost of your exercise equipment is paid off, in the long run you will be saving money by having access to all of the features iFit has to offer for only $39/month. Another added perk is that you'll save on transportation fees, too. All of the iFit benefits can be accessed right from your home.
Which iFit Machine is Best? [The iFit Treadmill Buyers Guide]
Since iFit is available on every fitness machine offered from NordicTrack and ProForm, deciding which machine will be the best fit for you and your needs can be a bit overwhelming as there are many options to choose from. Probably the first and most important question to ask yourself is, how much do you want to spend on an exercise machine? Our expert team of reviewers has narrowed down the Best Buy iFit Treadmills based on budget categories to make machine selection a breeze.
*Note: All of the treadmills in our best buy line-up come with a 30-day trial membership to iFit.
iFit Treadmill Under $1,000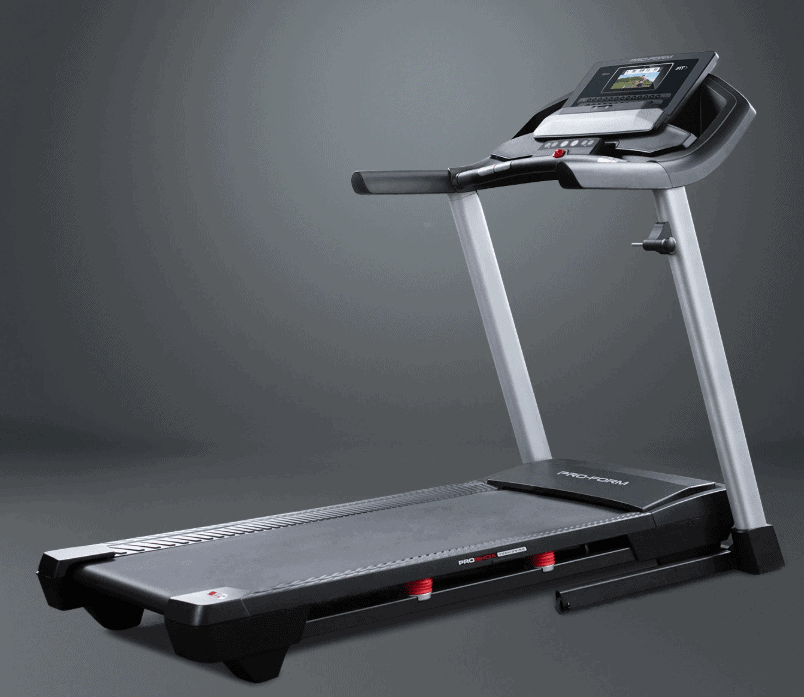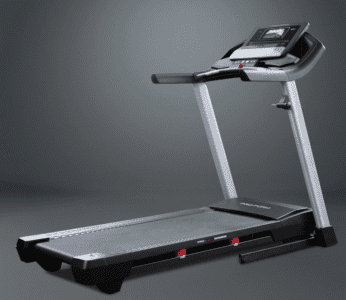 If your budget keeps you under the $1,000 price range, our top recommendation is the ProForm Carbon T7 treadmill. This machine comes in just under $1,000, priced at $999. The Carbon T7 is a great entry-level treadmill for those who are looking to enhance their fitness routine without breaking the bank.
Some of the top features of the Carbon T7 treadmill include:
2.6 CHP MachZ Motor – This motor is perfect for those looking to walk, jog, or lightly run. It's not built for serious runners/tons of mileage.
Speed and Incline – The speed range is 0-10MPH, and the incline range is 0-10%. These speed and incline options will allow you do perform HIIT, sprints, and incorporate hill training in your workouts until your heart is content.
20"x 55" Tread Belt – This belt length will be suitable for most, if you're over 6" it may be uncomfortable to you.
Folding – If you need to keep your treadmill out of the way when you're not using it, you'll enjoy the compact fold option.
7" Smart HD Touchscreen – 7" certainly isn't the biggest screen that you'll find on the market, but it will get the job done and allow you to view your iFit classes on your machine.
iFit Treadmill Under $1,500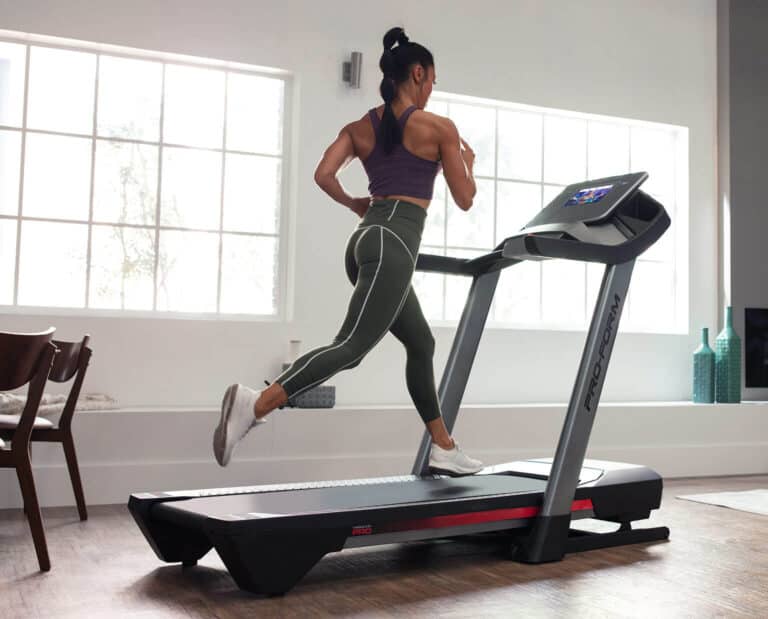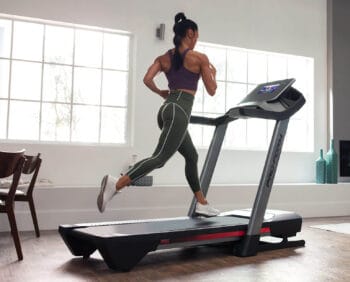 Moving up to the next price range bracket, the best iFit treadmill in the $1,000-$1,500 price range is the ProForm (SMART) Pro 2000 Treadmill. We typically see this machine priced right at $1,499. Although it will run you around $500 more than the Carbon T7 treadmill, it comes jam packed with some pretty impressive features for the price tag.
3.25 Continuous Duty HP Motor – This motor will be able to handle walking, jogging, and running. The continuous duty design is made to run cooler and use less energy.
Speed and Incline – The speed range is 0-12MPH, and a really neat feature on the Pro 2000 treadmill is that there are not only incline capabilities; but decline capabilities as well. This machine allows you to go from -3% decline to 12% incline. What does this mean? During your workout, you'll be able to simulate going up hill as well as downhill. This will increase your cardio stamina and allow you to target a wider range of lower body muscles.
20" x 60" Tread Belt – Fairly standard width and length for the price range.
10" Smart HD Touchscreen – A really nice moderate size screen.
iFit Treadmill Under $2,000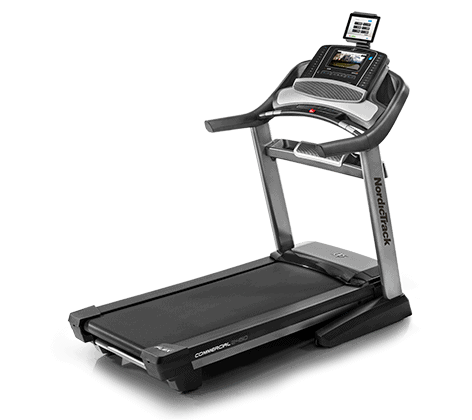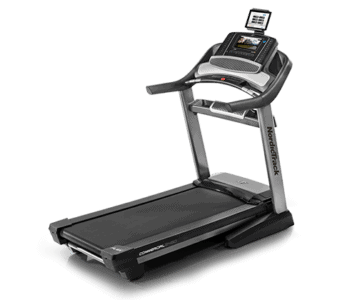 Coming in at $1,999, the next treadmill in the line up is the NordicTrack Commercial 2450 Treadmill. Probably the most impressive feature on this machine is the monster of a motor, so let's get right into it.
4.0 HP Motor – This motor is an absolute beast, especially for the price point. This is a really impressive feature for a residentially priced machine.
Speed and Incline – Similarly to the ProForm Pro 2000, the NordicTrack 2450 allows you to decline and incline during your workout. The range is a little bit more than the Pro 2000. This machine will go from -3% decline up to 15% incline. The speed range is 0-12MPH.
22" x 60" Tread Belt – Most people think that the extra 2 inches in width won't make much of a difference, but it really does help with your comfortability zone especially if you have a lengthy stride.
14" Smart HD Touchscreen – This is a great screen size for the price.
iFit Treadmill Under $2,500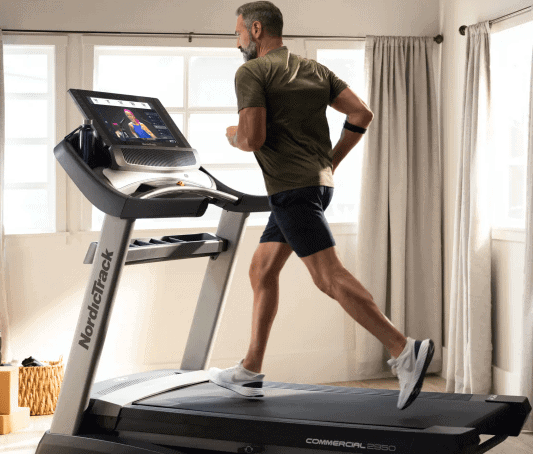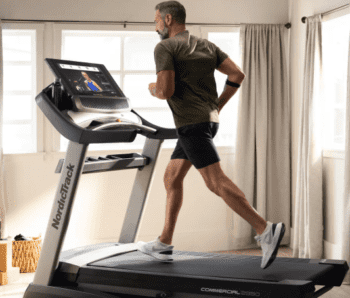 Just under the $2,500 mark, the NordicTrack Commercial 2950 comes in at $2,499. The Commercial 2950 is the upgraded treadmill in the Commercial Treadmill series from NordicTrack. Since it's in the same treadmill category, the 2450 and the 2950 are similar machine designs – but the 2950 definitely has some upgraded perks for the fitness junkie.
4.25 HP Motor – Just when you thought it couldn't get any bigger than the Commercial 2450 motor, it does. The 4.25 HP motor is built to take some abuse and can handle more heavy users.
Speed and Incline – The speed and incline remain the same from the 2450; 0-12 MPH and -3% decline to 15% incline.
22" x 60" Tread Belt – Again, this extra 2 inches in width makes a really big difference.
22" Smart HD Touchscreen – If you're having trouble deciding between the Commercial 2450 and the Commercial 2950 – probably the most differential feature is the screen size. The 2950 has a whopping 22" screen.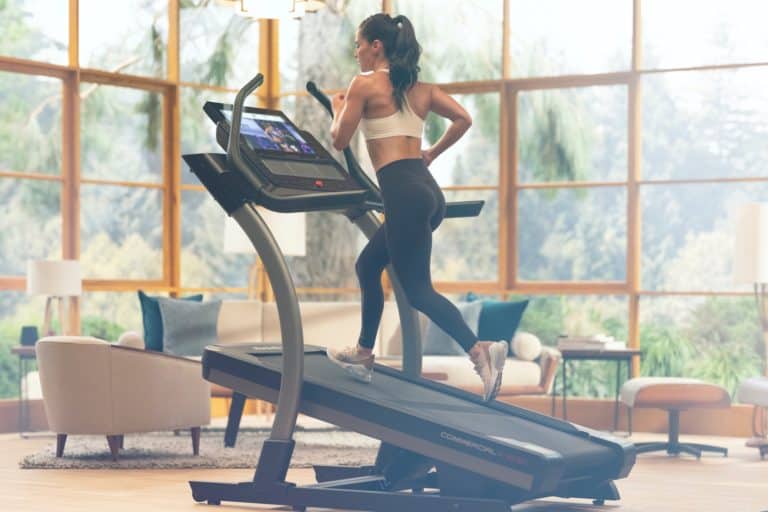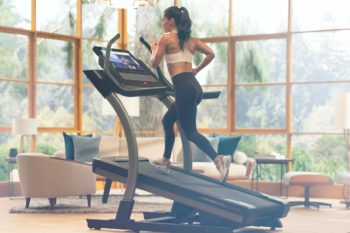 iFit Treadmill Under $3,000
Another NordicTrack machine for the best buy spot, the x22i Commercial Incline Treadmill is usually priced right at $2,999. Although the Commercial 2950 and the x22i Commercial Incline Treadmill are really similar as far as specs, there is one feature that sets the x22i apart from the 2950. The x22i treadmill from NordicTrack offers their Integrated Sled Push feature. Sled Push workouts have gained a lot of popularity in recent years. One of the driving factors behind the buzz of Sled Push is that this workout style allows you to get your heart pumping and burn a ton of calories in a short amount of time. The x22i treadmill has an added push bar as well as sled grips to mimic pushing a sled right on your treadmill machine. You simply put your body and hands in position, place your treadmill at 1.0 MPH speed, and push! This workout is a really beneficial full body burn option.
The Monster Treadmill: iFit Treadmill Over $3,000
If you're ready to invest in a beast of a treadmill, look no further than the NordicTrack x32i Commercial Incline Treadmill. This machine is typically priced around $4,000. Although this machine has a large price tag, the robust feature offerings speak for themselves.
4.25 Continuous Duty HP Motor – Again, this motor is huge and the biggest option you'll find on a residential treadmill. It can handle almost anything.
22" x 65" Tread Belt – Not only does this belt have the extra 2 inches in width, it has an additional 5" in length. This is perfect for anyone who is taller, or who has a long running stride. This is THE largest tread belt that we have seen on a residential treadmill.
Decline and Incline – This machine goes from -6% decline up to 40% incline. Yep – you read that right. The ability to mimic extreme downhill and uphill options during your exercise will deliver a killer cardio workout.
32" Smart HD Touchscreen – This is the biggest screen that you'll find on the market. It's like having a small television on your treadmill.
iFit: The Bottom Line
While iFit may not be for everyone, in our experience it has the potential to be really beneficial to the average consumer. Some recent studies suggest that two of the main reasons that people are unable to stick to the fitness goals in the long run are unenjoyable workouts and no accountability (3). Using the benefits offered from the technology of iFit will enable you to overcome these hurdles.
iFit offers such a wide variety of workout options in essentially every category, so that your workout routine will never be boring. If you want to switch things up, you'll always have the option. iFit helps you stay accountable by keeping track of your fitness statistics, as well as keeping you in close community with others who are working on their fitness goals, too. In our opinion, trying out iFit is worth the shot.