ProForm PRO 9000 Treadmill Review
| | |
| --- | --- |
| Brand: | ProForm |
| Expert Rating: | |
The ProForm PRO 9000 Treadmill Is On Sale!
Designed for Abuse & Loaded with Features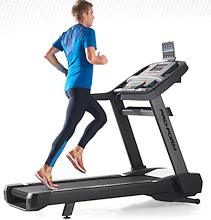 The ProForm PRO 9000 treadmill is ProForm's top of the line model. It comes with every premium feature that ProForm has to offer, and they have quite a few. When our team visited the Icon headquarters in Logan, UT, technology innovations and quality features really stood out to us.
The ProForm PRO 9000 treadmill combines a heavy duty running machine with features that are designed to motivate and entertain you while you run in place. Since running in place can be boring, being motivated or entertained is a big plus. This newest "SMART" model was released in Spring 2018 and has several improvements over the older ProForm Pro 9000.
In this line up you can also find the popular Pro 2000 Model.  You may also want to check machines from ProForm's sister company – NordicTrack.
Enhancements on the ProForm PRO 9000 Model
This latest model was released in Spring 2018 with several upgraded features from the old model.  They are:
* Upgraded motor that is more sturdy and long lasting
* Optimized for iFit with a faster and more responsive touchscreen
* 30 day iFit Family subscription included with purchase
* HD Quality graphics
* Inclusion of Live Trainer Led Workouts with new workouts everyday.
Features on the ProForm PRO 9000 Treadmill
Both Incline and Decline – Every treadmill has the ability to incline, but few allow you to also decline the deck.  The ProForm PRO 9000 declines to 3%, and inclines to 12%. This allows you to simulate going up and down hills and target additional lower body muscles.
Upgraded 22″ HD Touchscreen – This is the main feature that increases the price of this model over the ProForm Pro 2000.  The 22″ Smart HD Touchscreen allows you to access the internet and view your iFit stats.  The Pro 2000 only has a 10″ screen.
1.9" Precision Balanced Rollers – Larger rollers are always better because they require fewer rotations of the belt.  This reduces wear on the belt, the rollers, and the bearings.  It can also reduce noise.
20″ x 60″ Treadbelt – At this price, 20″ x 60″ is fairly standard.
3.6 Continuous Duty HP Motor – This motor is more than you'll ever need.  It will easily handle any sort of abuse you throw at it.
iFit Ready– iFit is a fitness tracking program that makes your workouts more interesting helps you track your workouts and progress towards goals.  Here are three main benefits:
Create unique workouts that are geared towards your specific goals.
Use the system to trace out a route using GoogleMaps and then run the path while experiencing the real life hills.  Your treadmill will adjust incline automatically while you run.
Check your progress on your online profile.  This system allows you to set goals and track you weekly results.
Warranty  – The warranty includes 10-year frame, 2-year parts, and 1-year labor.
ReBound Pro™ Cushioning – This is ProForm's most advanced cushioning on a treadmill. This cushioning technology will keep impact to a minimum, and your joints will thank you.
Bluetooth® Audio Capabilities with Dual 2" Speakers – ProForm has some of the better speaker systems found in treadmill consoles.  Better music means a better workout!
Final Thoughts on the ProForm PRO 9000 Treadmill
As we initially mentioned, the PRO 9000 is fully loaded, and that is what makes ProForm and its sister company, NordicTrack, the most popular treadmills in the industry. They offer extraordinary value. Compare the PRO 9000 to a comparably priced treadmill and see what features they offer. Not many!
What about the quality? The warranty suggests a durable machine that can withstand the abuses of running. This treadmill is designed to take a beating. If you are training for a marathon and care about extras, you may want to look at the Sole S77. But if you want a heavy duty running machine that will motivate and entertain, the ProForm PRO 9000 is your obvious choice.
Check out our comparison chart of all ProForm treadmills here.
ProForm PRO 9000 Customer Review
I love my treadmill. It is the best one I have ever owned; and I've owned three. Pro-form is well built; I know it will last. The software is amazing. The combination use of iFit is a tremendous bonus; it makes working out fun and more challenging. The impact absorbtion is the best; in comparison an unknown brand treadmill I used while vacationing was like running on concrete.
Learn more at www.proform.com/treadmills.