Designed for Abuse & Loaded with Features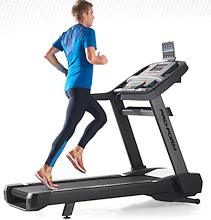 The ProForm PRO 9000 treadmill is ProForm's top of the line model, excluding their Boston Marathon treadmills that are more like incline trainers. The PRO 9000 comes with every premium feature that ProForm has to offer, and they have quite a few.
The ProForm PRO 9000 treadmill combines a heavy duty running machine with features that are designed to motivate and entertain you while you run in place. Since running in place can be boring, being motivated or entertained is a big plus.
Features on the ProForm PRO 9000 Treadmill
Both Incline and Decline – Every treadmill has the ability to incline, but few allow you to also decline the deck.  The ProForm PRO 9000 declines to 3%. This allows you to simulate going up and down hills and target additional lower body muscles.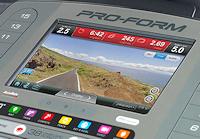 10″ Full Color Touch Screen Display – The display allows you to access the Internet. It plays installed videos, and accesses iFit Live.
iPad Holder – As seen in the photo there is a holder for your iPad or tablet above the display.
3" Rollers – Larger rollers are always better because they require fewer rotations of the belt.  This reduces wear on the belt, the rollers, and the bearings.  It can also reduce noise.
22″ x 60″ Treadbelt – At this price, the 60″ is standard, but most treadmills have a 20″ wide belt. The extra 2″ make a big difference.
4.25 Continuous Duty HP Motor – This motor is more than you'll ever need.  It will easily handle any sort of abuse you throw at it.
iFit Ready– iFit is a fitness tracking program that makes your workouts more interesting helps you track your workouts and progress towards goals.  Here are three main benefits:
Create unique workouts that are geared towards your specific goals.
Use the system to trace out a route using GoogleMaps and then run the path while experiencing the real life hills.  Your treadmill will adjust incline automatically while you run.
Check your progress on your online profile.  This system allows you to set goals and track you weekly results.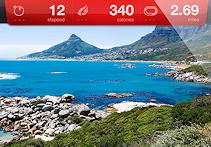 2 HD Video Workouts – Run through Haleakala and Hana, Hawaii with these built-in video workouts. The PRO 9000 treadmill automatically adjusts the incline and decline to match the terrain. In addition, you get audio coaching from a personal trainer that recommends ways to Improve your form and technique.
Warranty – The warranty includes 2-years labor, 5-years parts, and lifetime frame and motor coverage.
Heart Monitor and Control – The ProForm PRO 9000 treadmill comes with the ability to monitor your heart rate and determine the level of your exertion by the rate of your heart.  It also comes with a wireless chest strap for continual feedback.
Speakers and MP3 Input – ProForm has some of the better speaker systems found in treadmill consoles.
40 Installed Workouts – You get a generous selection of installed apps that focus on exercises like high intensity, incline, speed and calorie-burn.
Final Thoughts on the ProForm PRO 9000 Treadmill
As we initially mentioned, the PRO 9000 is fully loaded, and that is what makes ProForm and its sister company, NordicTrack, the most popular treadmills in the industry. They offer extraordinary value. Compare the PRO 9000 to a comparably priced treadmill and see what features they offer. Not many!
What about the quality? The warranty suggests a durable machine that can withstand the abuses of running. This treadmill is designed to take a beating. If you are training for a marathon and care about extras, you may want to look at the Sole S77. But if you want a heavy duty running machine that will motivate and entertain, the ProForm PRO 9000 is your obvious choice.
ProForm PRO 9000 Customer Review
I love my treadmill. It is the best one I have ever owned; and I've owned three. Pro-form is well built; I know it will last. The software is amazing. The combination use of iFit is a tremendous bonus; it makes working out fun and more challenging. The impact absorbtion is the best; in comparison an unknown brand treadmill I used while vacationing was like running on concrete.
Learn more at www.proform.com/treadmills.