Get a Free Treadmill From ProForm, Well Not Really – Learn More!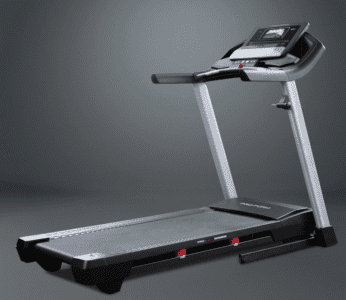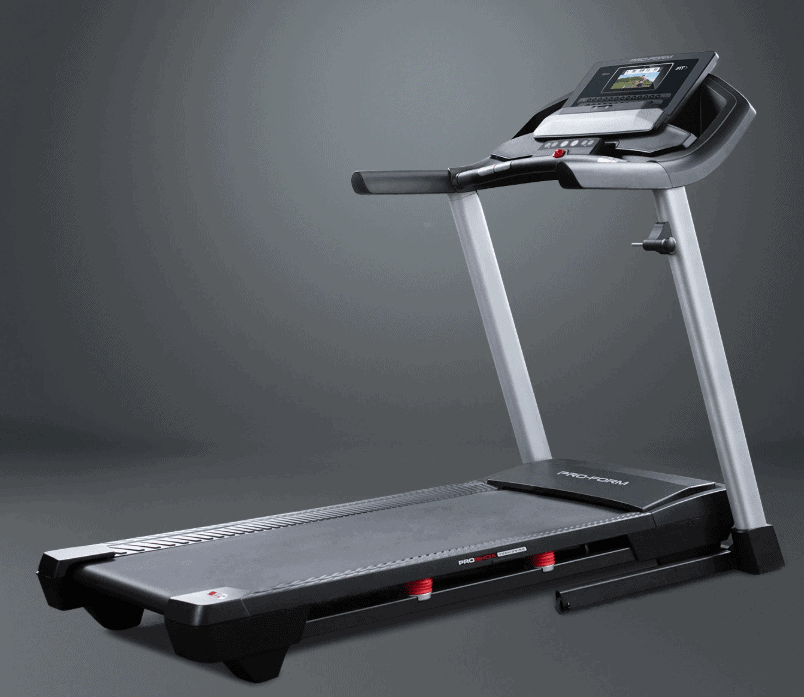 With the Carbon T7 from ProForm, we are seeing not only a new treadmill model, but a whole new way to go about purchasing your new in-home fitness equipment.
We have certainly seen how interactive technology has changed people's views of at-home fitness. It is no longer something you have to be "alone" to do. ProForm's iFit technology gives you access to world-class trainers, the ability to run trails all over the world and utilize an extensive video library of various workout types and difficulties.
With the Carbon T7 treadmill, iFit is what you purchase, the necessary equipment comes for free. You heard that right, the treadmill is free when you purchase the interactive exercise technology! More specifically, when you commit to a 3-year iFit subscription, you receive the Carbon T7 for free. iFit runs $39/month so the total purchase price is $1403 (at the time of this posting).
You may be thinking that you could get a treadmill for less. While that may be true, the Carbon T7 is a treadmill built to keep up with the iFit technology it's meant to be used with. Just because it's "free with purchase" doesn't change the fact that this is a machine built by a trusted leader in at-home fitness.
ProForm Carbon T7 Treadmill Features
2.75 CHP MachZ Motor —  If you are looking to do anything from walking to light running, you won't have any issues with the Carbon T7. For serious runners who like to put in a lot of miles on the daily, this may not be the treadmill for you. There are more powerful treadmills out there to handle that kind of use, but the price tag will certainly reflect that.
0-12 MPH Speed — This is exactly what we expect to see on a mid-level treadmill. You'll be able to do HIIT and sprint workouts to your heart's content. A top speed of 12 mph is nothing to shake a stick at, you'll be able to push yourself and not worry about out ruining your treadmill.
0-12% Incline —  The Carbon T7 offers a 12% incline which means there are definitely some hill workouts in your future. This is a great feature to have with this machine.  Your iFit membership will be taking you on those ups and downs through amazing scenery around the globe during your virtual workouts.
20" x 55" Tread Belt — The size of the tread belt on the Carbon T7 is a little more compact than we are seeing on other models, but should still do the trick for most users. This is really only going to be an issue for taller users or those with a longer stride.
Folding Capacity — On the flip side, this is where being compact is a plus. The Carbon T7 folds for easy storage and its compact size makes it easier to stash away. This is a huge bonus if you reside in a shared living space or a smaller home.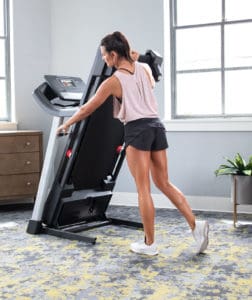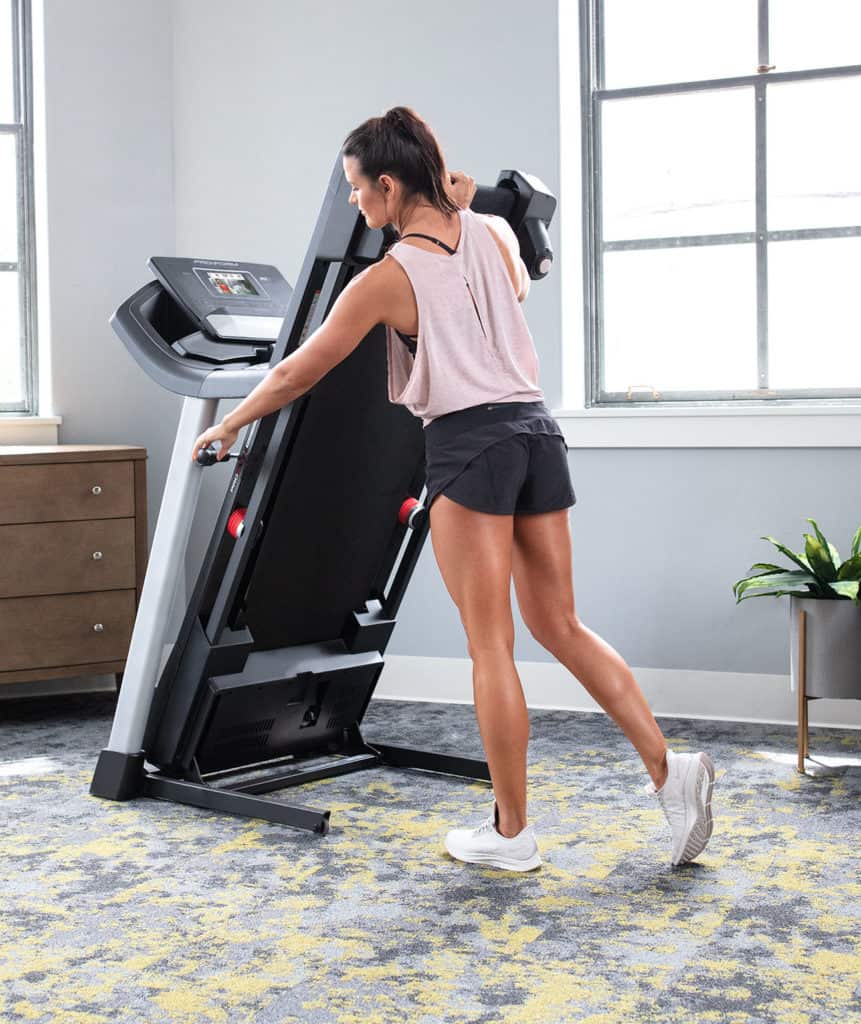 Being able to fold up and put away the Carbon T7 is also great for anyone with children at home. This keeps them from potentially hurting themselves playing with a machine that has to be left out.
7″ Smart HD Touchscreen — Obviously the Carbon T7 is going to feature an HD Touchscreen considering it's made to be used with iFit. While 7" isn't the largest screen out there, it will still allow you really experience all that iFit has to offer. 
It's also worth noting that larger HD screens are a factor that really drives up the price of a machine. If you're wanting a giant HD Touchscreen, you're going to pay a pretty penny for it.
ProShox Cushioning — The ProShox Cushioning system is one that we are familiar with from other ProForm machines. This system relieves stress and impact on your joints when your foot strikes the deck. This means that you will feel more comfortable when you exercise, allowing you to work out longer.
Warranty — Since you're getting the machine for free, it's probably important to touch on the warranty. ProForm offers a 10-year frame, 2-year parts and 1-year labor warranty on the Carbon T7. 
ProForm is not a brand that ever skimps on the warranty and it's nice to see they are offering the same warranty for a free machine as they do for their other models. This really speaks to the construction and performance of their machines.
iFit — Now that we've covered the treadmill itself, we'll take a closer look at what you're actually purchasing.
Streaming Global and Studio Classes —Choose a new locale for each and every one of your classes. You can run trails and street routes in countries around the globe, or join a studio class for a more personal feel. Both of these options are led by iFit's world-renowned trainers that will push you to be your best self every day.
Interactive Training Sessions — You may be wondering what exactly is interactive about watching some else on a screen. The interaction is between you, the trainer and your machine. When you join an interactive session, all you have to do is focus on reaching your goals. The machine will automatically change its speed and incline based on what the trainer is doing, without you having to lift a finger.
Fitness Tracking— iFit automatically records the results from each of your sessions and monitors your progress. On top of that, iFit will recommend workouts that get more difficult as your ability grows. This keeps you from plateauing and ensures that you continue pushing yourself and seeing personal progress.
Video Library — You don't have to be in a live session to take advantage of iFit. There is an extensive video library of workouts you can do on and off your treadmill to get a wide variety of workout routines.
Check out our Comparison Chart of all ProForm Treadmill models here.
Our Review — ProForm Carbon T7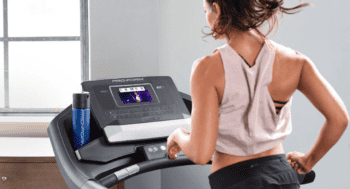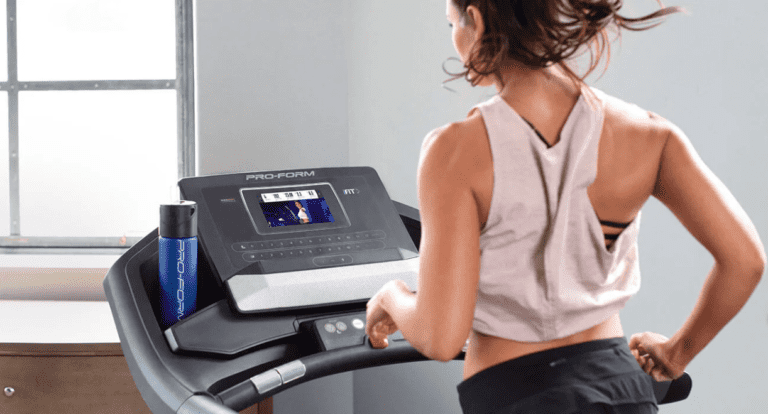 If you're a person that loves using the interactive options available through iFit, getting a free treadmill to do that seems too good to be true… 
But that's exactly what ProForm is offering with the Carbon T7. Buy 3 years of iFit, get a free treadmill. 
For a deal like that, you may expect the treadmill itself to be a bit underwhelming. That isn't the case with the Carbon T7. The 2.75 CHP motor is going to keep up with you and the iFit interactive training sessions. As we mentioned above, if you're a serious runner that puts in a lot of hard miles each day, the Carbon T7 may not be for you. But for the majority of people, the Carbon T7 will have you covered.
The 12% incline and 12 mph top speed are exactly what we expect to see and will have you doing sprint drills, HIIT workouts and hill runs in a flash. The 20" x 55" tread belt may be a little tight for tall users or those with a longer stride. However, that compact size is perfect when you fold it up and stash it away from prying eyes and tiny fingers.
The Carbon T7 does not come with any of the usual preprogrammed workout that we've been seeing on machines for years, but that shouldn't come as a surprise. The purpose of this treadmill is that it's used with iFit, so you should never find yourself pining for those standard programs.
But let's talk price, because we all know nothing is really free.  The treadmill itself is at no cost to you when you commit to a 3-year iFit subscription. If you are a person that puts interactive training at the top of your must-haves for at-home fitness, you should be very excited about taking advantage of this offer.
Go to www.ProForm.com to learn more!