One of the Best Folding Treadmills in the Industry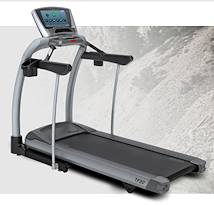 The Vision Fitness TF40 is a heavy duty machine designed to take the abuse of runners, information pills multiple users and excessively heavy individuals. It has a younger brother model called the Vision TF20.  Vision Fitness has a reputation for building quality machines with quality components,and this is probably one of the best folding treadmills in the industry.  It is also backed with the best customer service available, although with the quality of the construction, engineering and the components, the chances of requiring service are slim.
What is particularly appealing about the Vision Fitness TF40 treadmill is that you have your choice of three different consoles that offer a variety of displays and interactive features.  So, if you are a runner who wants just a solid running machine, you can go with the basic console.  If you want interactive features designed to motivate and entertain, you can upgrade to the full color, video display consoles.
Vision Fitness TF40 Treadmill Console Options
TF40 Touch (MSRP $4,399) –  With the TF40 Touch you get a full color 15" touch screen HD display.  There are 16 installed programs, 20 feedback stats, the Sprint 8 workout and two interactive videos.  The optional Passport media player is available.  Further features include, speakers, USB port charger, iPod® and iPhone® compatibility, workout tracking through Nike + iPod® and heart rate training with the included Polar® chest strap and wireless receiver. There is also a calendar-style workout journal that stores data for multiple users.
TF40 Elegant (MSRP $3,599) – The Elegant console has all the features of the Classic, in addition to a full-color 10" LCD screen and 13 programs, including their Sprint 8 workout and two interactive videos that you can view on your display. The optional Passport media player is available.
TF40 Classic (MSRP $2,999) – The Classic offers your basic LED console with 4 different windows for displaying multiple stats.  You getfive present workout programs. An optional feature is their Passport media player that lets you access numerous interactive videos that simulate running or walking in National Parks or European city-scapes.  The footage of the video is based on the speed of your motion and your deck adjusts to the incline of the terrain on the video.  You can also connect your Passport player to your TV.  There is a USB port for charging your smartphone or tablet, and a location to place either on the console. Note: There is also a non-folding version of the Vision Fitness TF40 that cost $200 less. If you do not plan to move the treadmill once it is assembled, then you do not need a folding treadmill.

The Vision Fitness TF40 Features
20″ x 60″ Treadbelt – The extended treadbelt will handle runners and taller individuals.
Continuous Duty HP Motor – Vision uses quality components, including their motor. The motor will run effortlessly even at higher speeds.
1″ Deck – A thick deck that will do a good job of absorbing impact. The deck is advertised as "maintenance free" and good up to at least 21,000 miles.
2.4″ Crown Rollers – These are decent size rollers, which is important in reducing rotation and wear and tear on the bearing, motor, and belt.
277 lbs. Assembled Weight – This is the kind of weight you would find on a commercial treadmill. It will be rock solid.
Extended Warranty – Lifetime frame and motor, 7-year parts and 2-year labor. The 7-year parts coverage is above average and says volumes about the quality of the components.
Our Review – Vision Fitness TF40 Treadmill
If you are in the market for a treadmill that will handle abuse of serious runners, then the Vision Fitness TF40 should be at the top of your list.  The feedback we receive says that the TF40 is an extremely low maintenance machine, and the need for customer service is rare.  However, if you need customer service, you won't find any better in the industry.
Vision Fitness is at the cutting edge of interactive technology designed to achieve your fitness goals. For example, ViaFit allows you to track your progress and define workout programs.  Best of all this feature is free.  A competitor offers a similar feature and charges $120 per year.  The Virtual Active option, available on the high end models, allows you to simulate running on some of the most famous landscapes in the world.  It overcomes the boredom of running indoors.
You can purchase Vision Fitness products online or through fitness equipment specialty stores. The benefits these stores offer is that they will deliver and set-up your machine and service is done in-house. Most importantly, you are typically dealing with professionals that are very knowledgeable about their products.  For a less expensive option, you may want to check out the Vision TF20 as well.
Learn more at VisionFitness.com.