Walk Your Way to Better Health—At Work!
*LIMITED TIME: Sign up for LifeSpan's newsletter and get an additional 10% off your purchase!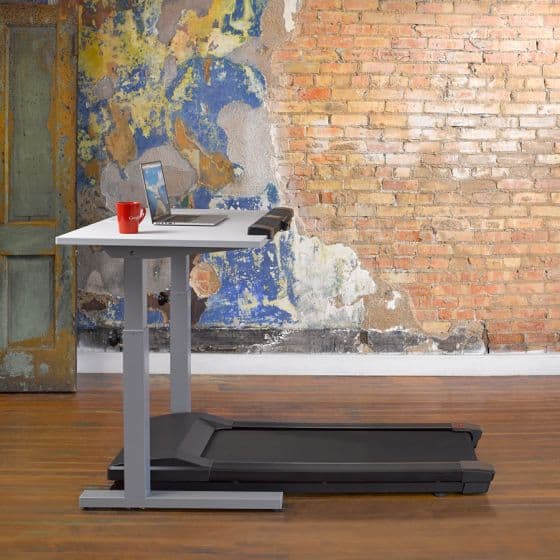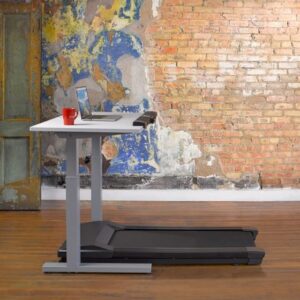 Multiple resources have supported the notion that it is unhealthy to sit at a desk for hours at a time. A treadmill desk is the perfect solution to let you slowly walk along while you type reports, take calls, and ponder the challenges of your daily job—and it's becoming a booming trend.
There aren't many companies that have ventured into the growing market of treadmill desks. LifeSpan was actually the first to pave the way for treadmill desk innovation. LifeSpan has the largest selection of treadmill desks with their TR1200, TR800, and TR5000 lines. We really like that LifeSpan gives you options to customize many of their treadmill desk models to create the perfect treadmill desk for you and your office space. Their TR800 Series of treadmill desks features two different models, the TR800-DT3 and the TR800-DT5.
Note: When purchasing from LifeSpan, you do not have to purchase both the treadmill and the desk. If you already have your own desk and simply want to buy one of their treadmill decks without a desk, that is an option they offer. 
LifeSpan TR800-DT3 Treadmill Desk: Under Desk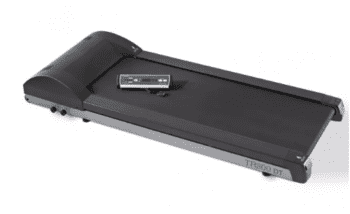 The TR800-DT3 model is a great addition to your home office. This treadmill desk is an affordable and efficient way to add some movement to your workday. This under desk model in the TR800 series is offers a compact design to fit under most standing desks. In fact, if space is an issue for you—the TR800-DT3 is the shortest office treadmill that you'll find on the market. If you're planning to have a sit and stand workstation, the DT3 is probably the model for you. Since it has such a small footprint, you can fit a chair alongside the under-desk treadmill for easy transitions.
TR800-DT3 Features
Reduced Footprint: The compact design of the TR800-DT3 is one of it's most appealing features. It has a footprint of 60.5" x 26", and a walking belt size of 45" x 18". It's also really light weight at just 96 lbs.
Compatible with Standing Desks: Already have a standing desk in your office? Great! Enhance the benefits by pairing it with the TR800-DT3 under desk treadmill. If not, LifeSpan sells standing desks on their website, so we like that you can purchase them together if you don't already have one.
Easy Storage: The TR800-DT3 features dual front-mounted transport wheels to guarantee easy setup and storage.
No Assembly Required: A great feature of the DT3 is that it's ready to use in minutes. It arrives to your door fully assembled out of the box. Just put it in position in your office, plug it in, and you're ready to get your walk on at work.
Comfortable Walking: The deck features 6 independent compression shocks to ensure a comfortable and safe experience on your joints.
2.0 HP Drive Motor: With a 2.0 HP High Torque Continuous Duty Motor, your neighbors or co-workers won't be disturbed by your exercise.
LifeSpan TR800-DT5 Treadmill Desk: Manual-Height Desk
Unlike the TR800-DT3, the TR800 DT5 model is completely adjustable. The TR800-DT5 is ideal for those who may need to make height adjustments. This manual-height standing desk adjusts from 33.5" – 52.5". The wide range of adjustments will allow you to find the perfect ergonomic positioning for your height.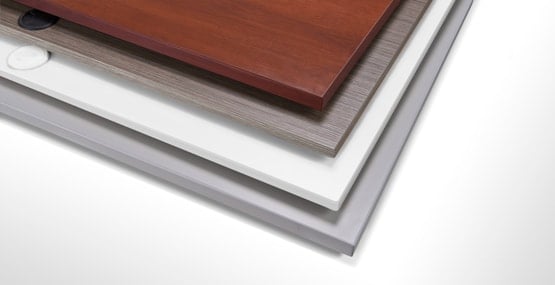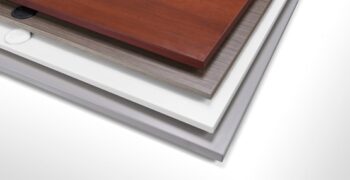 The TR800 DT5 model is also available in different desktop and frame color choices, so you can customize it to match your office theme.
TR800-DT5 Features
Space-Saving Design: Although not as small as the DT3, the TR800-DT5 is still space friendly at 65" in length. The walking belt size is 45" x 18".
Internal Cable Management: Unlike other companies' treadmill desks, LifeSpan offers their industry-exclusive cable management system that directs the power cords of the desk down to the floor through the frame. This cable management design promotes safety and it's visually friendly—you don't have to worry about having cords everywhere.
Marked Belt: With a whisper quiet 2 HP motor, belt markings are a great safety feature to help you and your coworkers always be aware if the belt is moving.
BlueTooth Enabled Console: The TR800-DT5 console is BlueTooth enabled so that you can wirelessly sync your activity data to your phone via the LifeSpan mobile app.
Intelli-Guard Technology: Intelli-Guard Technology keeps you safe by automatically pausing the walking belt when you step off.
Our Review: LifeSpan TR800 Series Treadmill Desks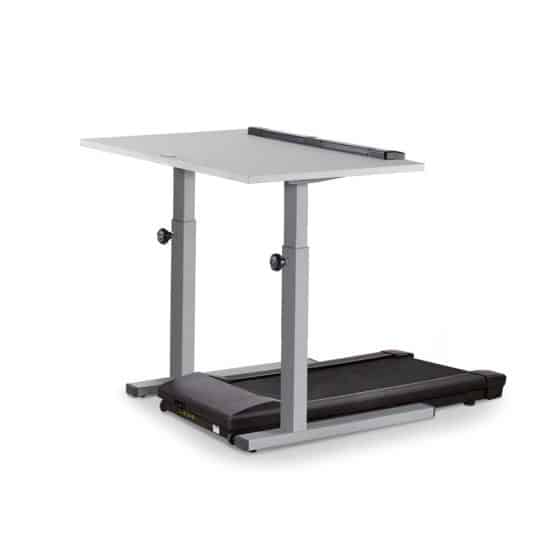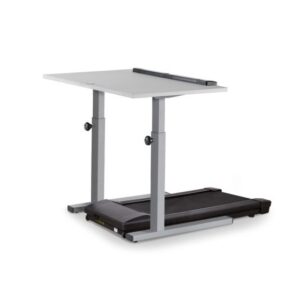 LifeSpan is a company that skips all the "bells and whistles" to really focus on the durability of their products. Although their treadmills and treadmill desks have minimalistic appearances compared to competitors, the quality of their models are top-notch. Both the TR800 treadmill desks have a speed range of 0.4—4.0 MPH. While you definitely won't be sprinting (or even jogging) on these machines, they're an ideal and affordable option for anyone who wants to walk and work simultaneously.
**Note: The max user weight of the TR800 Series is 200lbs. If you are searching for a treadmill desk for heavier weight limit and more usage we recommend the LifeSpan TR1200 Series. It is their "Best Seller" and our "Best Buy" Treadmill Desk.