Last Updated on January 10, 2017 by administrator
A Home Version of the Most Popular Commercial Machine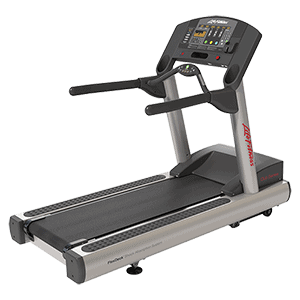 There's a reason that Life Fitness machines are so popular in fitness clubs around our country.  They are extremely well made and durable machines that  will stand the test of time.
This particular model, the Club Series, is a real workhorse.  It  includes heart rate monitoring, a quick start feature, and a beefy 4.0 CHP motor.
Several Life Fitness treadmills have received excellent ratings for ergonomics, construction, and ease of use from a popular consumer magazine.
Features on the Life Fitness Club Series Treadmill
The Life Fitness Club Series treadmill is a clone of the most popular commercial machine from Life Fitness.  If you're familiar with the machine at your gym, then using this at home will feel comfortable and energizing.
The Club series comes with a wireless chest strap for heart rate monitoring and has a FlexDeck shock absorption system that is advertised to reduce knee and joint stress by up to 30%.  The Club Series has a lifetime warranty on frame, shock absorption, and drive motor, with a 10-year warranty on parts and 1-year on labor.  This is an excellent warranty!  The 4.0 HP motor powers a 60×20″ belt that will work for almost all users.
Things We Like:
The warranty on this machine is truly fantastic!  Not many companies will offer a 10-year warranty on parts.  6 years is more typical for top machines.  The quality of a warranty is usually a good indicator for the durability of a machine.  Companies won't guarantee their product for this long unless they are confident it will last.
The large running deck and powerful motor will work well for whatever abuse you throw at it.
This is a beefy machine:  It weighs 431 lbs and can handle users up to 400 lbs.  Don't plan on moving it around much once you have it placed in your home!
Things We Don't Like:
This machine has a pretty basic console.  Yes, the Quick Start feature is nice, but it doesn't have a color touchscreen, web browser, or virtual running courses like other machines on the market.
The price is a bit hard to swallow.  Yes, it's a fantastic machine, but do you really need to pay quite so much?  You may want a Range Rover, but maybe the Ford Explorer would be fine for your needs.  We'll leave this decision up to you.
Life Fitness is PERFECT for you if..
You LOVE high quality ergonomic machines with great construction.
You DON'T CARE about the bells and whistles on more interactive machines.  You just want a good run!
Also see the Life Fitness F3 Treadmill Review.