NordicTrack EXP14i Treadmill
| | |
| --- | --- |
| Brand: | NordicTrack |
| Expert Rating: | |
The NordicTrack EXP14i Treadmill is ON SALE!
NEW!! A Treadmill That Checks All the Boxes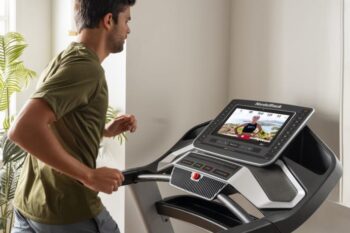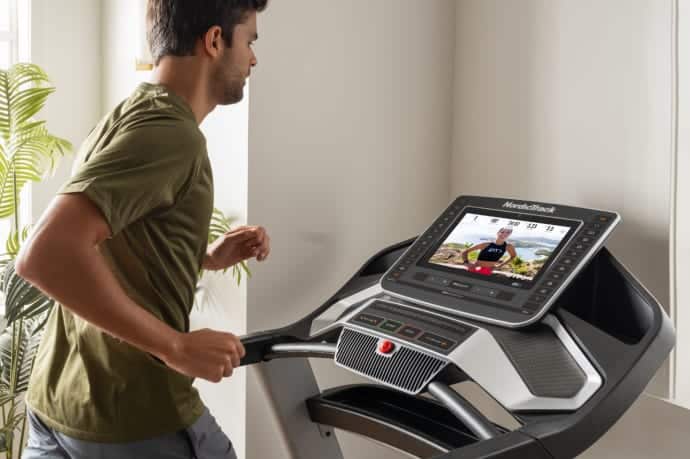 The Nordictrack EXP14i is a treadmill that really checks all of the boxes. The EXP 14i provides the features and performance that even an avid runner will appreciate.  It comes from the parent company Icon Fitness, maker of both NordicTrack and ProForm treadmills.
Icon Fitness is the largest fitness manufacturer in the world, so they are often able to create a higher spec machine at a much more competitive price.
This is just one machine in the fairly new NordicTrack EXP-Series. Let's take a look at why the EXP 14i may just be the treadmill you've been searching for.
The NordicTrack EXP14i is priced at $1,899 with FREE delivery. 0% financing is available. 
NordicTrack EXP14i Features –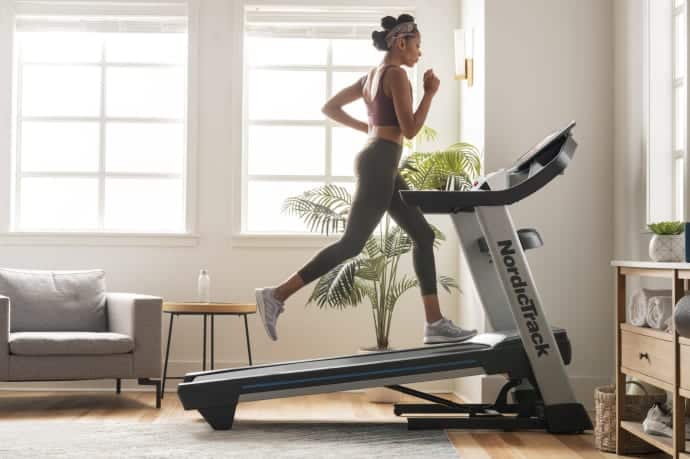 3.5 CHP DurX Commercial Plus Motor – This is a powerful, quality motor for a machine in this price range. The 3.5 CHP motor will be able to handle even those users that really like to put in the miles. This motor is also self-cooling and reduces vibration to ensure quiet, smooth use every single time you step on. 
20" x 60" Treadbelt – This is the standard treadbelt size for most treadmills in this series and it is nice to see the 60" length. The additional 5 inches from the 55″ standard is going to make this very comfortable for taller users and those with a longer stride.
300 lb. Recommended Weight Limit – The weight limit on this machine speaks to its quality construction and sturdy design. This also means that larger users are able to use the EXP 14i to reach their fitness goals.
-3% Decline-12% Incline – This is a solid feature to find on any treadmill. The ability to both decline and incline will allow you to simulate going uphill and downhill. This feature gives not only an extra cardio challenge, but it will allow you to target additional muscles in your legs while exercising as well. 
0-12 MPH – A top speed of 12 mph means that you will never have to hold back because your machine can't keep up. Speed training is a breeze on the EXP 14i and provides you with yet another way to push yourself as your skills improve.
EKG Pulse Grips – In terms of heart rate monitoring, this series of models provides the EKG Pulse Grips, which means that to get a reading, you have to actually hold onto the sensors when you're running. This can be a little awkward for some, however, this wireless heart rate monitor is not an option on the T series.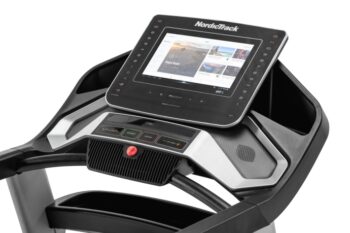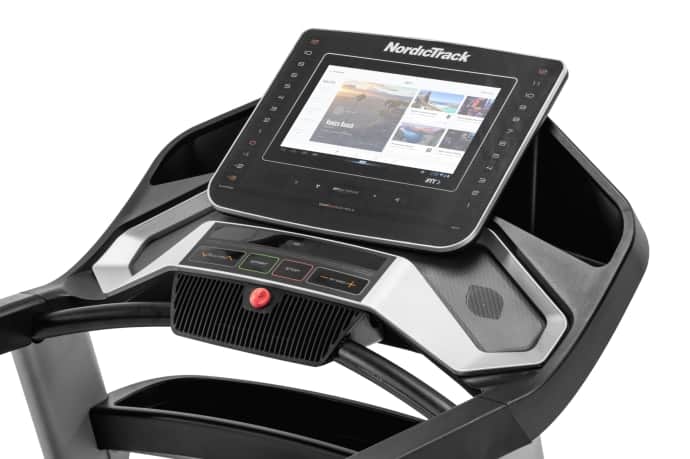 14" Smart HD Touchscreen – You may be getting used to seeing advertisements for giant 30" screens on treadmills, but that's not really what the EXP14i about. The 14" screen on this model may not be huge, but it will provide you exactly what you need to take advantage of all that your iFit subscription has to offer. If at the end of your 30 day trial you've fallen in love with iFit, it does become a paid subscription service.
iFit is NordicTrack's interactive training system and library. It offers a wide variety of features to help make your experience on your machine the best that it can be.
You can take your workout from the machine to the mat with iFit's extensive library of on-demand workout videos. You'll find everything from running workouts, to weight training and yoga.
If you want to take a class that is a little more involved, you have the option of joining a live interactive class with one of NordicTrack's world-class trainers. You'll feel like they're right there in your living room cheering you on. The trainer controls the incline and speed on your machine, so there's so cheating.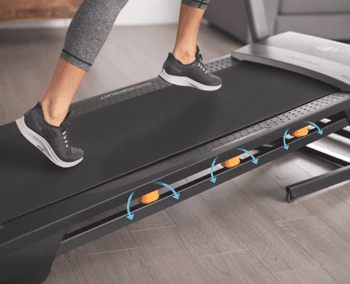 iFit works with Google Maps to allow you to run your favorite routes anywhere in the world from the comfort of home. Design your route and then your EXP14i will automatically change the incline and speed to follow your map.
If you really feel the need to get out without actually getting out, iFit also provides you with a library of video routes from beautiful locations around the globe. Whether you want a morning run along the beach or a jog on a mountain trail, there's something for everyone.
iFit will also track all of your workout stats in real time while you enjoy your workout. Then you can sync your stats to your favorite fitness apps and share your progress with all of your friends.
Other Features – Two 2" speakers with Bluetooth audio capability, Integrated tray and device shelf, AutoBreeze fan, FlexSelect cushioned deck
Warranty – 10-year frame, 2-year parts, 1-year labor
Our Review:  NordicTrack EXP14i Treadmill
The EXP14i from NordicTrack is a great treadmill for walkers, joggers and even more avid runners. The 3.5 CHP motor and sturdy construction make this a machine that is ready to put in the work. The warranty also backs this up 10-year frame, 2-year parts, and 1-year labor.
The -3% decline and 12% incline and 12 mph top speed mean that you no matter what your workout regimen calls for, your machine won't hold you back. The EXP 14i also comes with a 30 day trial subscription to iFit so that you can check out all the fantastic features the service has to offer.
Check out other models in the NordicTrack EXP-Series here.
Learn more at www.NordicTrack.com.