The Vision Fitness Quality at a Moderate Price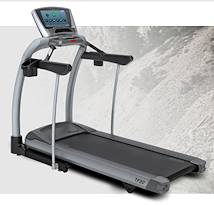 We had the opportunity to visit the Vision Fitness headquarters in Madison, Wisconsin on several occasions. The parent company is Johnson Fitness, a company known for making truly excellent machines.  The TF20 treadmill is their entry level model under the Vision Fitness brand.  This is their premium line sold through fitness equipment specialty stores or online.  It also includes the next step up – the Vision TF40. Overall, the Vision TF20 is a quality and low maintenance machine that has a reputation for durability. Best of all, the company has possibly the best customer service in the industry.
The Vision Fitness TF20 treadmill is unique in that it comes with the choice of three different consoles. This gives you the option to pay for only the bells and whistles that you want rather than paying for features you will not use.  Their upgraded consoles come with interactive workout videos designed to motivate and entertain you as you work towards your fitness goals.
Vision Fitness TF20 Treadmill Review of Console Options
TF20 Touch (MSRP $3,199) –  The TF20 Touch is a pretty sweet looking display console.  It has a 15″ HD touchscreen display for easy 'smart device' style navigation.  It also includes 16 installed programs, 20 feedback stats, the Sprint 8 workout, and two interactive videos. The Passport media player is an option you choose to purchase so your workout scenery can be viewed on your larger television screen.  This console also has a USB port charger, iPod® and iPhone® compatibility, and workout tracking through Nike + iPod®.  It comes with a free Polar chest strap (about a $50 value) and wireless receive.  Finally, you can track your workouts on a calendar style journal directly on your console screen.
TF20 Elegant (MSRP $2,699) – The Elegant console features a full-color 10" LCD screen and 13 programs.  This includes their Sprint 8 workout and two interactive videos.  View your workout scenery directly on the console or purchase the Passport player to link to your large screen TV.
TF20 Classic (MSRP $2,199) – This is your basic LED console with four different windows for displaying multiple stats and five preset workout programs. The optional Passport media player lets you to enjoy several videos that simulate working out in exciting locations.  The video will sync with your  machine to adjust for real life terrain.  The Passport player can also be connected to your TV for a large screen experience.

Note: The prices quoted are MSRP, you may be able to negotiate a better deal with a salesperson at a fitness equipment store.
Watch Our Live Video Review of the Vision TF20 Below
The Vision Fitness TF20 Treadmill Review of Features…
20″ x 57″ Treadbelt – A decent length for a walkers and joggers. However, if you are a serious runner, or very tall, you may find a 60″ belt better suits you.
2.75 Continuous Duty HP Motor – Johnson Fitness products are known for using quality components. This motor is sufficient to accommodate walkers and runners, and will perform very quietly.
1″ Deck – A thick deck that will do a better job of absorbing impact. With this thickness, you don't have to worry about the deck cracking if you are extremely overweight.
2.4″ Crown Rollers – Larger rollers like this reduce rotation wear on your machine.
268 lbs Unit Weight – At 268 lbs. you can expect a solid and stable feel. Also, the treadmill is made with heavy gauge steel, which further adds to the stability.
Warranty – Lifetime frame and motor, 5-year parts and 2-year labor. Standard for this price range.
Our Vision Fitness TF20 Treadmill Review
Vision Fitness treadmills have always been one of the better high-end values.  With the Vision Fitness TF20 treadmill, you are getting a quality machine built to last.  It is designed to take the abuse of running, while minimizing the impact and shock absorption.  What makes the TF20 particularly attractive is the selection of consoles and the interactive features like ViaFit and the Virtual Active videos.  The biggest deterrent to attaining your fitness goals on a treadmill is the boredom of running in place.  With ViaFit you can track your progress and set fitness goals.  With Virtual Active you can simulate running some of the most outstanding landscapes in the world.  You may also be interested in checking out the Vision TF40 for some upgraded features.
One of the best features that comes with any Vision Fitness treadmill is their customer service.  We hear constant complaints about the customer service of one of the other leading treadmill companies in the world.  In comparison, we have never had a complaint about Vision Fitness customer service.  The total package makes the TF20 a winner!
To learn more, check out VisionFitness.com.
Popular Consumer Magazine Review
A consumer magazine, whose name we cannot mention, gave the Vision Fitness TF20 a excellent for ergonomics and exercise range.
* This Vision Fitness TF20 review is based on not only testing the equipment, but also comments, testimonials, reviews and ratings of customers and third parties. We attempt to be as accurate as possible. Warranties, features and prices can change without notice.