Thumbs Up All Around!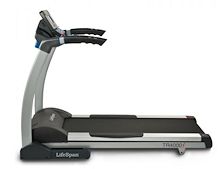 One reason you want to consider buying the LifeSan Fitness TR4000i treadmill is because I am not the only professional source endorsing it.  There are several prominent resources that gave the TR4000i a thumbs-up.
The general consensus is that this is a highly engineered machine equipped with quality components.  I've been to the LifeSpan headquarters in Salt Lake City and was impressed with the staff's commitment to their products and to their customer.   I would put LifeSpan treadmills in the same category as Sole Fitness and Yowza Fitness for durability.
LifeSpan Fitness TR4000i Features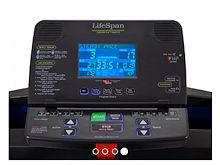 20" x 60" Running Space — The important detail is that the 60" length is defined as running space on the LifeSpan TR4000i.  Often treadmill manufacturers refer to the length of the treadbelt. As much as a few inches of the treadbelt can be under the plastic shroud at the front.  It should be noted that there are a number of companies offering 22" wide running surfaces at this price.
3.25 HP Continuous Duty Motor — Standard size motor for this price.  This motor will easily handle runners and incline training.
2.5" Rollers — Decent size rollers that will reduce noise and wear and tear to the belt, bearings and motor.
Forgiving Shock Absorption — There are two factors that make the shock absorption appealing on the TR400i. First, there are four compressions shocks on each side of the deck.  Many treadmills at this price have only three per side.  Having four better distributes the impact and reduces the shock.  Second, the LifeSpan TR4000i comes with a 2.8 mm thick orthopedic belt, which further reduces the impact and shock to your lower joints and back.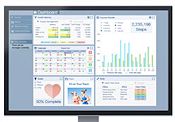 Membership LifeSpan Club — You get a 1-year membership to the LifeSpan Club, which is an application that allows you to track your stats and progress online.   Either through Bluetooth wireless or a USB you  download your stats after each workout. The Club app displays your progress through colorful charts.  There are other features like the ability to create customizable goals, a workout calendar and tracking all your exercise stats in one location.  The LifeSpan Club is not as robust as iFit Live, found on NordicTrack and ProForm treadmills, but it is free for a year.  iFit Live cost around $100 per year.
Warranty — The lifetime motor and 5 years parts warranty is standard, the 1 year labor warranty is below average.   You can get a 3 year extension on parts and labor for $199, however with the TR4000i you are less likely to need service.
Additional Features – Speakers and headphone jack, Contact heart rate monitor and chest strap, 2 heart rate programs, 2 customized user programs and 17 preset programs (5 weight management, 5 healthy living, 7 sports training), Attractive multi-color display
Our Review – LifeSpan Fitness TR4000i
There are two reasons you want to consider the LifeSpan TR4000i. First, the forgiving shock absorption system with the 8 variable density compression shocks, and the orthopedic belt.  Second, the reputation and recognition the TR4000i has received from several reputable fitness and consumer resource.
The LifeSpan Fitness TR4000i treadmill may not have the most impressive specs or innovative features, but it does have an impressive reputation for durability.  Also, the company does a good job servicing their customers.
Third Party LifeSpan TR4000i Reviews
Health Magazine gave the LifeSpan TR4000i a #1 rating. Runner's World suggested the treadmill was solid, durable and stable and good for runners. A popular consumer magazine gave the TR4000i a "Recommend" Buy.  It received an excellent rating for ergonomics, construction and exercise range.  All are strong endorsements.