Last Updated on October 28, 2016 by Rachael Kraft
Commercial Grade for the Home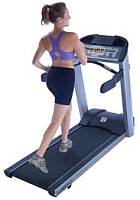 The Landice L7 Pro Sports Trainer is about as good as it gets in the $3,000+ price range. It is commercial quality for the home. There is no denying that Landice makes a very solid and reliable treadmill. It is designed for extensive use or multiple users.
This is the treadmill you will pass on to your children. In fact, it comes with a lifetime parts warranty (1-year labor). It is one of the most generous warranties on the market. The one catch is the treadmill has to be installed by a dealer within a 60 mile radius, and the warranty does not apply to online sales. Not sure why they put those limitations. Online sales come with a commercial 5-year warranty.

I recently tested several of the newly designd Landice treadmills at a fitness specialty store. You won't find these at a Dick's or Sports Authority. It is solid, quiet and runs very smooth. It is a perfect example of a company that has been building treadmills for nearly 40 years. In fact, that is all they build.
Landice uses a very large 3.0 continuous duty HP motor. I know that many treadmill manufacturers state their motors are 3.0 HP, but most are over exaggerating. When you compare the Landice motor to other treadmills, you will instantly notice that it is substantially bigger. This motor is guaranteed to run effortlessly under the most strenuous workouts. It is also one of the quietest motors on the market.
The belt has a comfortable 58″ length, which can handle runners up to about 6'2″. Beyond that you want to go into their L8 series that have 60″ belts.
The machine weighs a hefty 300 lbs. It is as solid as a boulder. You will want this machine delivered and installed by professionals that are former fullbacks.
Our Review – Landice L770 Pro Sports Trainer
With the solid reputation and a new design you can't go wrong with a Landice. Some may think it is pricey, but in comparison to other models it is a good value for a commercial grade machine.
You can get a better treadmill then the L770 Pro Sport Trainer, but plan to spend $1,500+ more.
Consumer Magazine Review
A popular consumer magazine ranked the Landice L770 Pro Sports Trainer as the #1 treadmill. It received "Excellent" ratings for ease of use, ergonomics, exercise range and quality. Considering the rigorous testing that is performed during these test, that is quite a compliment.
Runner's World
Best Buy: Landice L7 Pro Sports Trainer
Best Buy: Landice L8 Cardio Trainer
"An incredibly solid treadmill. Some cheaper treadmills may be better for some people but if you're serious, this is a serious machine."

"It is a thing that is beautiful in motion and you cannot beat the Baldor motor."

"It's hard to pass up the lifetime warranty and if you are a runner, you will love this treadmill."

"With the upgrade to the appearance for this year's model, this one becomes hard to beat for those who are serious about their training."
ConsumerGuide Review
Best Buy Rating
"Landice prides themselves on manufacturing treadmills, and their focus pays off in units like the L7."
Landice 770 Pro Sports Trainer Treadmill Features:
3 hp continuous duty motor
.5 to 11 mph speed range
15% grade elevation
VFX shock absorption system
1″ thick reversible deck
20″ x 58″ four-ply tread belt
2 1/2″ diameter, 14 lb steel rollers
Standard wireless-chest-strap heart-rate monitoring system
400 lb user weight capacity
Dimensions: 32″ x 73″
Weight: 300 lbs
*This Landice L7 Sports Trainer Treadmill Review is based on not only actual testing, but also comments, testimonials, reviews and ratings of customers and third parties. We attempt to be as accurate as possible. Warranties, features and prices can change without notice.